<! MP3 01/28/10 > <! update 00/00/00 > <! pix > <! icons 00/00/00 >

---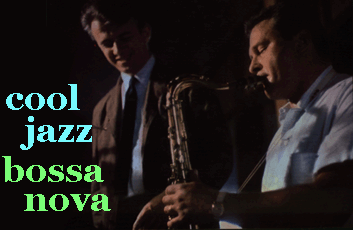 Throughout the 20th Century, Brazilian music and jazz were intimately entwined, particularly during the bossa nova boom of the late 1950s and early 1960s. Here's an overview of Brazilian and Brazilian-flavored jazz, with artists new and old...
This page covers the Letter "D"
---
Brazilian Jazz: A | B | C | D | E | F | G | H | I | J | K | L | M | N | O | P | Q | R | S | T | U | V | W | X, Y & Z | Jazz Compilations | Other Brazilian Styles
---




Miles Davis "Pop: Reflections in Music" (Columbia-Brazil, 1973)
A Brazilian-issue collection with some (though not all) tracks composed by Hermeto Pascoal and some (not all) featuring Pascoal and Airto as part of Davis' band. Davis worked with Airto for a while in the early '70s and recorded several Hermeto songs on various albums...


<! Pop, Reflections in Music by Miles Davis (1973) with Hermeto Pascoal and Airto Moreira 01 - Little Church (Hermeto Pascoal) 02 - Miles Runs the Voodoo Down 03 - John McLaughlin 04 - On The Corner 05 - Sanctuary 06 - Black Satin 07 - Selim ......there is another Hermeto composition in Live Evil, called Nem Um Talvez. It«s too bad they coundn«t do any other recordings together.. Just before Miles passed away, they were talking about recording an entire album together... Hermeto dedicated 2 songs to Miles, one is called "Pra Miles" that has never been recorded in studio, but has many live versions around the web. The other one is called "Capelinha e Lembran¨as" from Hermeto«s album "Eu e Eles". It starts with Little Church (Capelinha) with Hermeto playing four Flugelhorns and continues to the other section (lembran¨as). I think you guys would really like both of these songs!!! ........And "Complete Jack Johnson Sessions" has even more Hermeto compositions. One called Little High People, 2 versions, composed by Hermeto but without his instrumental involvement. .............In fact, one of the tracks in this album, "Selim" is actually called "Nem Um Talvez". >

Paul Desmond "Bossa Antigua" (RCA, 1964)



Paul Desmond "From The Hot Afternoon" (Verve, 1969)



As an architect of the West Coast "cool" style, saxophonist Paul Desmond certainly could lay claim to a big piece of the Braz-jazz puzzle. Sadly, though, this album where he tries to do just that is not one of his career high points, with orchestrations that range from overly-baroque to flat out icky... Still, this does feature some of the earliest jazz recordings of Milton Nascimento's work, and is also notable for the participation of Brazilian chanteuse Wanda de Sa, who was best known for her work with Sergio Mendes's Brazil 66. The rest of the album is devoted to songs composed by Edu Lobo, who was Wanda De Sa's husband for over a decade. This album didn't do much for me, but many folks consider it a classic.
Irio De Paula "Sozinho" (Philology, 1995)

Irio De Paula "Jazz-Samba Ao Vivo" (NelJazz, 1997)


Irio De Paula "Sarava Jobim" (Pacific Time, 2000)


Tom Jobim's canonical compositions get an extra-gooey workthrough, with guitarist De Paula -- who has worked with several major jazz players, including Chet Baker, Gato Barbieri and Eumir Deodato -- leading a mellow ensemble, augmented by string arrangements worthy of the master. In some ways, this is a bit much, but also quite inviting. Depends on your tolerance for "easy listening," I suppose... But I think this is well within the tradition set down by the master, and Jobim fans will probably thrill to the interplay of the guitar and Riccardo Ballerini's sprightly arrangements. Not bad!
Irio De Paula "Sem Batera: 2002" (Azzurra, 2002)





<! more of a straight jazz album >

Irio De Paula "Amigo Baden" (Azzurra, 2002)

Irio De Paula "Samba Jazz" (Azzurra, 2007)

Irio De Paula "Viajando" (Azzurra, 2007)

Irio De Paula "Retrato Do Rio" (Blue Music, 2007)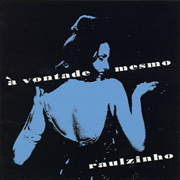 Raul De Souza (Raulzinho) "A Vontade Mesmo" (RCA, 1965)


I'm sure the role of the trombone as a lead instrument has been a constant source of contention among jazz fans, but I have to say that it doesn't do much for me here. Still, this is the bandleading debut of one of Brazil's most successful mainstream jazz players, Raul De Souza, who later emigrated to the US and became a leading session player. Here he works through a primarily homegrown set, including one of his own early compositions alongside material by the likes of Tom Jobim, Carlos Lyra and (for exotic effect) Duke Jordan. I'm no jazz critic, but this album mostly strikes me as a bit unsubtle and overly energetic. Also on board are many of the early leading lights of Brazil's jazz scene, including pianist Cesar Camargo Mariano and percussionist Airto Moreira, who kicks in with some nice Cuban-flavored percussion.

Raul De Souza (Raulzinho & Impacto 8) "International Hot" (Equipe, 1968)



A pretty funky set from an American-style party band whose sound never quite clicked with Brazilian music fans... Trombonist Raul De Souza led this soul-oriented octet, which also featured percussionist Robertinho Da Silva, organ player Helio Celso and saxophonist Oberdan Magalhaes (later of Banda Black Rio). The "Black Rio" soul sound hadn't really hit Brazil yet, so these guys were kind of shooting in the dark... But it's a fun set, a mix of earnest funk and deliberate kitsch... They covered hits like "Spinning Wheel" and "You've Made Me So Very Happy," alongside giddy instrumentals with titles like "Fried Bananas" and "Cantelope Island." It's goofy, but better than I had expected... Worth checking out.
Raul De Souza "Rio" (Trama, 1998)

Raul De Souza "No Palco!" (Eldorado, 2000)





<! Raul De Souza - a bunch more CDs, no MP3 action 10/08 Many of the remaining albums are more "jazz" than Brazilian >

Sacha Distel "Un Amour, Un Sourire, Une Fleur" (EMI-Pathe, 1975)
French jazz guitarist Sacha Distel delves into some Brazilian standards... "Dindi," "Girl from Ipanema," "Agua De Beber..." Stuff like that.


<! 01 - Deixa 02 - Agua de Beber 03 - The Girl from Ipanema 04 - Dindi 05 - Corcovado 06 - Je Crois Qu'On S'Aime 07 - Meditacao 08 - Voce Abusou 09 - Insensatez 10 - Susis Moi 11 - Medlley Orfeu Negro > <! http://loronix.blogspot.com/2007_09_16_archive.html >


Rosinha De Valenca - see artist discography





Joao Donato - see artist discography





Jane Duboc - see artist discography




---
Brazilian Jazz - Letter "E"
---



Other Brazilian Styles
Main Brazil Index


---