<! MP3 01/30/10 > <! update 00/00/00 > <! pix > <! icons 00/00/00 >

---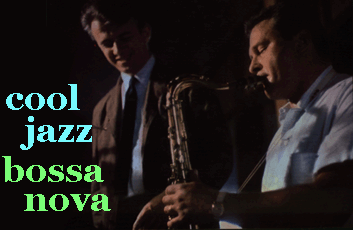 Throughout the 20th Century, Brazilian music and jazz were intimately entwined, particularly during the bossa nova boom of the late 1950s and early 1960s. Here's an overview of Brazilian and Brazilian-flavored jazz, with artists new and old...
This page covers the Letter "L"
---
Brazilian Jazz: A | B | C | D | E | F | G | H | I | J | K | L | M | N | O | P | Q | R | S | T | U | V | W | X, Y & Z | Jazz Compilations | Other Brazilian Styles
---

Dirceu Leitte "Leitte De Coco" (Caju/Milestone, 1993)


A delicious and inventive modernization of the classic choro sound, inflected with a sleek jazz bounce, as well as a taste of the music of the Brazilian Northeast. Saxophonist Dirceu Leitte, of the group Choro So, leads this fine ensemble, which includes, among others, guitarists Dino 7 Cordas and Raphael Rabello, drummer Wilson Das Neves, and veteran choro mandolinist Deo Rian. The set presents the music as neither a museum piece nor as a slick, smooth jazz appropriation of this old Brazilian instrumental style -- rather, it's a lively, vital, fun update... And a nice record to tap your toes to!
Ivan Lins - see artist discography
Romero Lubambo & Raphael Rabello "Shades Of Rio" (Chesky, 1993)


Romero Lubambo & Leny Andrade "Coisa Fina" (Perfil, 1994)


A nice mellow set, with simple acoustic backing from guitarist Romero Lubambo... His fretwork is nimble and light, with a sweetness and delicacy that's quite pleasant to the ear... It often seems that Andrade's jazz background has left her more accustomed to stronger, more forceful arrangements, and at times she seems in danger of simply singing past Lubambo's accompaniment. But for the most part this is quite nice; it's both soft and emphatic, and runs through a wide range of material, from old samba cancao and classic bossa to the sleek MPB of Djavan and other moderns... Worth a spin!

Romero Lubambo "Lubambo" (Avant, 1999)


A surprisingly tame, rather disapointing, release for a John Zorn-related artist. Yes, this fellow's Brazilian, and he's been at the center of much of the Brazilian-related New York scene -- playing on albums by Marisa Monte and the like -- but this album is fairly standard-issue jazz-and-flamenco inflected classical guitar, closer to Andres Segovia than to Baden Powell, or even to Luiz Bonfa. He's a flashy, talented guitarist, and the music is beautiful, but there aren't any new ideas here.

Ze Luis "Guarani Banana" (Malandro, 1999)



An accomplished saxophone player who has toured on the road with Caetano Veloso and other giants of Brazilian MPB, Ze Luis has since moved to New York City, where he is firmly in the middle of the Big Apple's nascent Braz-Jazz revival. Joined by others on the NYC scene, such as Mauro Refosco, Romero Lubambo and Paulo Braga, Luis has put out his own solo album, a mainly-instrumental jazzfest which ranges from muscular Latin jazz reworkings of bossa standards to lighter, dreamier numbers that are reminiscent of Milton Nascimento's Clube da Esquina days (notably "Winds From Africa"). It's not my entirely my cup of tea, but for the territory, this ain't bad.
Ze Luis/Paulo Braga/Nilson Matta "Green Heart" (New Orbita, 2007)


---
Brazilian Jazz - Letter "M"
---



Other Brazilian Styles
Main Brazil Index


---