<! MP3 09/12/08, 01/06/10, 03/04/12 > <! pix 11/19/09, 03/04/12 > <! icons 01/24/11 > <! UPDATES: 09/12/08, 03/04/12 >

---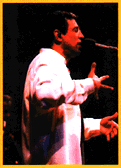 Composer Ivan Lins is one of Brazil's most commercially successful artists, having been embraced by the North American soft-pop establishment in the '70s and '80s. Favoring complex vocal arrangements and glitzy, baroque pop settings, Ivan Lins composes lavish, jazz-tinged pop -- he aimed at becoming a Brazilian Stevie Wonder, though later wound up roughly in the same territory as Barry Manilow. I have to confess, most of what I've heard of his I haven't liked very much, particularly his later stuff, which is just too saccharine for me. But his early work, which helped set the pace for the lavish pop experimentation of the '70s MPB years, is definitely worth checking out.
---
Discography
---

Ivan Lins "Agora" (Philips/Forma, 1970)


His first album, largely cowritten with Ronaldo Monteiro de Souza, can pretty fairly be classified as a disaster -- explosive, but undisciplined. Lins appears to have been shooting for the same Brazilian soul sound as contemporaries such as Tim Maia and Cassiano, but he seems to overreached himself here, in an album that sounds clumsy and poorly produced. Lins' vocals are too forceful, and his accompaniment doesn't soften their impact, it merely pounds the stake in more firmly. But his artistic presence was powerful enough to carry him through, ensuring another crack at this whole recording thing...

Ivan Lins "Deixa O Trem Seguir" (Philips/Forma, 1971)



What an amazing leap between this disc and his first album. While his vocals are still a little lackluster, the music -- thick, rich, sensuous -- ably shows his skill as an innovative, jazz-tinged pop composer. Lins sets the template for the baroque style that he perfected (and later overdid) in the years to come. Complex harmonic arrangements, dynamic strings, a sleek mix of styles and instruments, his distinctive artistic voice arrives, fully mature, on this album. Definitely worth checking out.

Ivan Lins "Quem Sou Eu?" (Philips/Phonogram, 1972)



As his confidence and confortability in the studios increased, Lins zeroed in on a markedly more commercial sound... This disc has a very mainstream approach, which in some regards is a little offputting, but also makes this album more accessible than the bolder-sounding pop experiments that surround it, while still sounding more vigorous than the goopy pop sound that settled into his work later in the decade. Worth checking out. One note of caution: when Lins really goes for it vocally, this can be a bit hard to handle -- he hasn't quite figured out how to make the best use of his limited range & gets kinda warbly at times. (Note: The bonus tracks on the 2002 reissue are quite nice, particularly the rock'n'roll-ish "Tomara" and the bouncy "Quero De Volta O Meu Pandeiro." This version of is definitely worth tracking down.)


Ivan Lins "Modo Livre" (RCA, 1974)



Slick, fusion-oriented pop, but still with a sharp melodic twist here and there. From what I've heard, this is some of the best stuff Lins has ever done. If you can't hang with the occasionally cloying LA jazz sound (Al DiMeola, Al Jarreau, etc.) then you might want to steer clear of this disc. But for the style, this is very good, and definitely worth checking out. Includes some of his catchiest compositions, such as "Abre Alas" and "Deixa Eu Dizer." Wagner Tiso is also on board, playing organ throughout.

Ivan Lins "Chama Acesa" (RCA, 1975)


This album is of a piece with Modo Livre -- same basic style and similarly dense, yet deft, pop-fusion arrangements. Lins's baroque approach might not be to everyone's taste (I'm not sure it suits mine...) but it is perfectly realized, and not nearly as cheesy as his later work would get. If you're wondering what all the fuss was over with this guy, these early albums are the place to start.

Ivan Lins "Somos Todos Iguais Nesta Noite" (EMI, 1977)


Showy jazz-pop vocals with slick '70s arrangements. Moderately vigorous, though not my cup of tea. A couple of attractive tunes, such as "Aparecida," although his voice and the timber of his piano are both irritating, and overly portentous. This album was collected on the 2 em 1 series, along with 1979's A Noite.

Ivan Lins "Nos Dias De Hoje" (EMI, 1978)

Ivan Lins "A Noite" (EMI, 1979)


This album is a little brighter, and less stuffy than 1977's Somos Todos Iguais Nesta Noite (with which it was reissued on a 2 em 1 CD... Still, it's a bit too glossy and florid for my tastes. Includes one track sung en espanol.

Ivan Lins "Um Novo Tempo" (EMI, 1980)


Not the same as his 1998 Christmas album, Um Novo Tempo, listed below...


<! B000TEPLTC ASIN is for Xmas album >

Ivan Lins "Daquilo Que Eu Sei" (Polygram, 1981)


Ivan Lins "Depois Dos Temporais" (Polygram, 1983)


Ivan Lins "Ivan Lins" (Sigla, 1986)

Ivan Lins "Maos" (Polygram, 1987)

Ivan Lins "Love Dance" (Warner, 1988)


Ivan Lins "Amar Assim" (Polygram, 1989)


(Produced by Ivan Lins & Luis Tornaghi)
Another horrid, florid set of bombastic jazz-pop fusion, mired in the electric bass Pastorius-isms, tinkly keyboards and airy synths of the early '80s, with soaring vocals that are reminiscent of Milton Nascimento and Lo Borges. Oh, god... and then there's that saxophone! I'm sure this will appeal to and thrill some smooth jazz fans, but it kinda makes my skin crawl. I suppose it's a personal flaw. Anyway, there's nothing on here that I'd need to listen to again. All songs are co-written with lyricist Vitor Martins.
Ivan Lins "20 Anos Ao Vivo" (Som Livre, 1991)

Ivan Lins "Awa Yio" (Velas, 1993)

Ivan Lins "A Doce Presenca De Ivan Lins" (Velas, 1995)


Ivan Lins "Anjo Do Mim" (Velas, 1995)


Ivan Lins & Chucho Valdes "Ao Vivo" (Velas, 1996)



I believe that this is the original Brazilian version of the Live In Havana album listed below.
Ivan Lins "Tributo A Noel Rosa, v.1" (Velas, 1996)


Ivan Lins "Tributo A Noel Rosa, v.2" (Velas, 1996)


Ivan Lins "Tributo A Noel Rosa, v.3" (Velas, 1996)


A five-song bonus EP that came with the other two volumes...
Ivan Lins "Ivan Lins Sings Noel Rosa" (Velas, 1997)


A syrupy tribute to one of the great early samba-cancao songwriters of the 1930s. While I by far prefer the older, contemporary recordings of Rosa's own time, this is a decent album for the style. Glossy pop, with electric pianos and flugelhorns galore. This does have the advantage, though, that it includes English translations to several of Rosa's best-known songs.
Ivan Lins "Live At MCG" (Heads Up/Jazz MCG, 1999)


Blechh. I'm sure there are folks out there who appreciate this sort of goopy electric-keyboard heavy jazz-pop, but I ain't one of 'em. Yucky and very '80s.
Ivan Lins "Um Novo Tempo" (Velas, 1998)



This Christmas album(!) is not the same as his 1980 album, Novo Tempo, listed above...
Ivan Lins "Dois Corregos (Soundtrack)" (Velas, 1999)


Ivan Lins/Chucho Valdes/Irakere "Live In Cuba" (Velas, 2000)


A live exploration of Lins' love of Cuban music, recorded in concert with one of the island's most popular artists. Valdes and Lins are pretty simpatico -- both of them have veered towards bouncy synth-pop over the years. Although also rather glossy, this is nonetheless a little less drekky than the Live At MCG disc listed above. Lins' more sugary tendencies are tempered by the percussive drive of Chucho Valdes and his band, Irakere, imbuing these songs with a more-than-usual degree of vigor. While still not my cup of tea, this is probably one of your better bets if you want to check out his recent stuff.
Ivan Lins "A Cor Do Por Do Sol" (Abril Music, 2000)


Ivan Lins "Jobinando" (Abril Music, 2001)


A predictably syrupy, synthy outing, in which Ivan Lins and Roberto Menescal pay tribute to Tom Jobim. Very soft-pop jazzy, though relatively restrained considering Lins' earlier work. If the sappy, super-romantic lush stuff is your cup of tea, then this one is definitely for you, though others of a more traditional bent will be driven nuts after a few synth-laden tracks. Classy for the territory, with very delicate, controlled performances.
Ivan Lins "Cantando Historias" (EMI, 2004)


Ivan Lins "Acariocando" (EMI, 2006)



Ivan Lins "Saudades De Casa" (Warner/Indie, 2007)



Not a lot of surprises here - Lins mostly sticks to his own sound, but the bris acoustic samba of "Deus E Mais" is kinda nice. If pressed, I'd have to admit this disc is easier on (my) ears than many of his other albums, less emotive and overtly saccharine... Certainly worth a spin.
Ivan Lins "Saudades De Casa" (DVD) (WEA, 2007)

Ivan Lins "Regencia" (Biscoito Fino, 2009)





<! Vince Mendoza & Metropole Orchestra >

Ivan Lins "Intimo" (Som Livre, 2010)


Includes guest performances by Till Bronner, Jorge Drexler, Laura Fygi, Jane Monheit, Take 6 and others...
---
Best-Ofs
---
Ivan Lins "2 Em 1" (EMI, 1994)


Collects two albums, Somos Todos Iguais Nesta Noite, from 1977, and A Noite, from 1979. See reviews above.

Ivan Lins "Juntos" (Philips, 1984)


A 1974-84 retrospective collection of duets done with this pop-jazz songwriter. Guests include the MPB4, Tim Maia, Djavan, Simone, Patti Austin, and (on the better side) Elba Ramalho, Elis Regina and Beth Carvalho. The last track, with Carvalho, is really the only one I would recommend. Mostly these songs are overproduced and horribly florid.
Ivan Lins "O Talento De Ivan Lins" (EMI, 1994)


Slick jazz-pop from the late 1970s. Draws heavily on the same albums as 2 em 1. See reviews above.
Ivan Lins "Abre Alas" (EMI, 1996)


This also draws heavily on Somos Todos Iguais Nesta Noite, and A Noite. The title track is one of his more accessible, though densely constructed, pop numbers.
Ivan Lins "Novo Tempo: O Melhor De Ivan Lins" (Polygram, 1998)

Ivan Lins "Millennium" (Polygram, 1999)

Ivan Lins "Meus Momentos" (EMI, 1999)


2-CD set.
Ivan Lins "Serie Bis" (EMI, 2000)


2-CD set.
Ivan Lins "Focus: O Essential De Ivan Lins" (BMG, 2000)

Ivan Lins "Serie Sem Limite" (Universal, 2001)


2-CD set.
Ivan Lins "O Amor E O Meu Pais" (Universal, 2005)



This 2-CD set is both a best-of and a tribute album -- the first disc features Lins performing several of his best-known songs, while the second disc has MPB stars such as Gal Costa, Fafa De Belem, Elis Regina and Emilio Santiago sings several others.
Ivan Lins "Perfil" (Som Livre, 2010) <! date? >


---
Tributes
---

Various Artists "A LOVE AFFAIR: THE MUSIC OF IVAN LINS" (Telarc, 2000)



Friends such as Grover Washington, Jr, Sting and Vanessa Williams pay homage to Lins' poppier soft-jazz side. New York City novo Brasilian players such as Cyro Baptista and Romero Lubambo are in tow as session players, but this is awfully, awfully cheesy. Chaka Khan may momentarily raise your pulse with her version of "So Crazy For This Love", but I can't really say as that'd be enough to make this disc worthwhile.
Leila Pinheiro "Reencontro: Leila Pinheiro Canta Ivan Lins" (EMI, 2000)

---
Links
---
Velas Records, a label Lins created in order to showcase MPB and jazz talent, has recently created a North American branch, and has reissued several records previously only available in Brazil. Concentrates on both Brazilian and Cuban musicians.
All Brazilian Music, as usual, has a good biographical sketch and discography... Recommended website!
---



---