<! MP3 09/12/08, 11/15/09 > <! update 09/12/08 > <! pix 11/15/09 > <! icons 01/29/11 >

---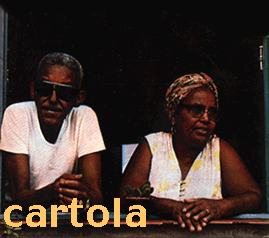 The founder of the Mangueira samba school, and one of the most famous composers of the golden age of samba, Agenor de Oliveira (aka "Cartola")(1908-1980) was also one of the key figures in the growth of Brazilian popular music. In 1928, he founded the popular escola known as the Bloco dos Arangueiros de Mangueira (which later included as its members famous pop stars such as Beth Carvalho and Chico Buarque); Cartola also operated the Zicartola nightclub in Rio, which was an early haven for many musicians during the heyday of bossa nova. Although Cartola's recorded output was slight, and came late in his career, several recent reissues and retrospectives have come out recently which should help bring his legacy back into the public eye.
---
Discography
---

Fala Mangueira! "Fala Mangueira!" (Odeon, 1968)


A magnificent old-school samba album. It's a little difficult to know just where to file this one... "Fala Mangueira" is actually the album title, but while five of the greatest traditional samba artists of the 1960s and '70s share the stage, as it were, on this disc, they are all performing together, taking turns singing the leads on longer medley tunes. At any rate, if you want to hear Odete Amaral, Nelson Cavaquinho, Cartola, Clementina De Jesus and Carlos Cachaca all busting loose on a nice set of tunes associated with (and about) Cartola's famous samba school, then check this disc out. The arrangements and performances are all first-rate, and this has a really nice, friendly feel. Recommended!
Cartola "Cartola" (Marcus Pereira, 1974)

Cartola "Cartola" (Marcus Pereira, 1976)






<! 1 O mundo é um moinho (Cartola) 2 Minha (Cartola) 3 Sala de recepćčo (Cartola) 4 Nčo posso viver sem ela (Bide - Cartola) 5 Preciso me encontrar (Candeia) 6 Peito vazio (Élton Medeiros - Cartola) 7 Aconteceu (Cartola) 8 As rosas nčo falam (Cartola) 9 Sei chorar (Cartola) 10 Ensaboa (Cartola) 11 Senhora tentaćčo (Silas de Oliveira) 12 Cordas de aćo (Cartola) >

Cartola "Verde Que Te Quero Rosa" (RCA Victor, 1977)



A beautiful, masterful '70s samba set with arrangements that range from quiet and hushed, to sweeping and orchestral... all of it grrrreat. You can find most of these tracks on various Cartola best-ofs, but there's something so appropriate and satisfying about hearing the original album that I'd recommend you track this down as well.

Cartola "Cartola 70 Anos" (RCA, 1978)



A later album, made when Cartola was seventy years old, that introduces larger, more swank-sounding MPB arrangements, grafted onto the old-school samba tunes. The age and fragility of Cartola's voice is manifest throughout, though his ability to match it to the vulnerablity and tenderness of the lyrics is a savings grace. On an outward, perfectionist level, this album has readily apparent flaws, but for folks who are willing to forsake slickness for spirit, this album has a richness and depth that's quite lovely. Not bad for an old man!
Cartola "Cartola Ao Vivo" (Eldorado, 1982)
A live recording of one of his last shows.
Cartola "Documento Inedito" (Eldorado, 1982)


A radio interview in which Cartola sings several of his songs.

Cartola "Preferencia Nacional" (EMI/Copacabana, 1998)


An excellent retrospective of his '70s material. No outlandish production touches here-- just plain old lovely, understated, acoustic sambas, with cavaquinho and chorus, and occasional trumpet accompaniment... Admittedly, there is not a lot of stylistic variation on this disc (his first album is a more evocative recording), but this is clearly the work of a master musician, with the calm assurance that the best old-timer musicians tend to get. Recommended.
Cartola "Serie Raizes Do Samba" (EMI, 1998)



Cartola "Divino Samba" (Tropical Music, 1999)
Of the recent Cartola CD retrospectives, I have to say that this is the one that feels the best... Although many of these performances have that certain "old-man" slowness to them (which can be quite charming, if you're in the right frame of mind...), the overall tone of the album is very sweet, and compelling. The sequencing of the CD is perfect -- a gentle, deliberate, calm progression from one great samba standard to the next. Also, at 23 tracks total, you'll definitely get your money's worth! (PS -- for those of you who get ahold of a copy with the liner notes in German, try the link below for an English translation... it's well worth checking out.)


<! B00008O6RN >

---
Tributes
---

Arranco "Samba De Cartola" (Dubas, 1993/2001)



It's a little strange to hear the driving, old-school sambas of escola legend Cartola refashioned into slower MPB ballads... Not that it hasn't been done before, or that Cartola's music didn't already have a romantic elegance to it, but it's the cumulative effect of hearing an entire album's worth of radical retoolings that makes a big impact. I imagine for some, more pop-oriented listeners, this disc way come as a welcome modernization or even as a revelation... For me, though, it's too slushy and stylized, and the vocal harmonies come just a bit too close to the sleek drabness of the Quarteto Em Cy... This has its moments, but on balance, it was a record that I could easily live without.

Cartola/Various Artists "CARTOLA: O SOL NASCERA" (Revivendo, 1998)


An awesome set of antique samba recordings, written by the legendary sambista, and recorded by a host of artists. Most of these tracks are from the early 1930s, although the collection also spans into the early '80s. If you enjoy old Carmen Miranda records, then this disc full of nostalgically-remembered singers such as Sylvio Caldas, Arnaldo Amaral and Francisco Alves should be a real treat. Also includes a sprinkling of Cartola's own rare recordings -- which are quite lovely. A few tracks towards the end are a bit goopy, and the "medley" at the end is clumsily edited, but these are only minor imperfections in an otherwise stunning historical record.

Galo Preto (with Elton Medeiros & Nelson Sargento) "So Cartola" (Rob Digital, 1999)



A live tribute album featuring some of the '70s acoustic sambistas who had worked with Cartola, and who co-wrote several of these songs. It's a sweet performance which takes a little while to gather steam. Initially things are a bit slow -- none of these fellers are as sprightly as they used to be, and the vocals are a bit slurred. But the band is solid, and Sargento's performance gains resonance as the show goes on. Nice stuff.
Ney Matogrosso "Interpreta Cartola" (Universal, 2003)


Fernando Rocha "O Sol Nascera: Cartola Por Fernando Rocha" (Tratore, 2005)


Claudia Telles "Interpreta Nelson Cavaquinho & Cartola" (CID, 1995) <! date? >


Various Artists "CARTOLA - BATE OUTRA VEZ" (Som Livre)
A modern MPB tribute to Cartola's work, featuring Gal Costa, Caetano Veloso, Leila Pinheiro, Beth Carvalho, Paulinho da Viola, and others.
Various Artists "CARTOLA PARA TODOS" (MCD, 2009)






<! lesser-known rockers, mostly, though some "names" >

---
Links
---
Luna Kafe features an excellent album review/essay by writer Egidio Leitao, which describes Cartola's artistic impact in detail. There is also a link to the Tropical Music site, which has an extensive biographical essay written by label head and Brazilian music scholar, Claus Schreiner. (Thanks also to Egidio for help with this discography!)
The Revivendo label, which put out the excellent compilation of Cartola songs reviewed above, also has many other outstanding releases of classic Brazilian music, and is a must for anyone looking into the early roots of samba cancao.
---



---