<! cd: 04/29/03> <! MP3 09/12/08, 01/23/11 > <! pix 11/13/09 > <! icons 01/23/11 > <! UPDATES: 09/12/08 >

---

<! b. 1936 > <! 1973 - govt banned his instrumental album >

Brazilian jazz multi-instrumentalist Hermeto Pascoal hails from the Northeastern state of Pernambuco, and started his professional career as a teenager playing in local forro bands, performing the music of Luiz Gonzaga, Humberto Teixeira, and other local heroes. He soon became a pivotal figure in the nascent Brazilian jazz scene, forming bossa nova bands that had a bit more of an experimental edge than the popular "trio" bands that populated the early '60s club scene. In the early 1970s, Pascoal briefly moved to the United States to pursue his interests in cutting edge improvisational music, always weaving in hints and memories of the regional musics that he grew up on. He has continued through for several decades as one of the world's most consistently challenging jazz virtuosos... I can't say that his music is exactly the kind of thing I go for, but I have heard from folks whose opinions I trust that Pascoal is a phenomenal, mind-blowing performer, capable of making any and all objects he finds into musical instruments. Here's a quick look at the Pascoal albums I've heard so far...






---
Recommended Records
---

Pernambuco Do Pandeiro & Seu Regional "Batucando No Morro" (Tiger, 1958)
Hermeto Pascoal plays accordion on this lively forro set... It's cool stuff, a bunch of choro classics played with a percussive samba rhythm neatly merged with the deft solos of the choro style. Pascoal's playing is lyrical and light, and technically stunning -- likewise, the other star soloist is the flautist Escurinho (anyone know more about him?) who glides along with as much grace as greats such as Altamiro Carrilho and Benedicto Lacerda. Hermeto and Escurinho trade riffs and play in harmony, as the drums and cavaquinho urge them along, crafting wonderful versions of classics such as "Um Chorinho Em Aldeia" and "Um Chorinho Pra Voce." This is a great record, said to be Pascoal's first recording session, and a very interesting merger of styles... Be great if someone would bring it back in print! (PS: anyone know if the bandleader, Inacio Pinheiro Sobrinho, is the same "Pernambuco" who recorded dance albums in the '60s? Just wondering.)


<! Músico(s): Amaro : Baixo de Cordas Arnô Carnegal : Tamborim Boca de Ouro : Cuíca Bucy Moreira : Tamborim Escurinho : Flauta Gilberto D'Ávila : Surdo Hermeto Pascoal : Sanfona Jorge : Violčo 7 Cordas Nilton : Violčo Pernambuco do Pandeiro (Inácio Pinheiro Sobrinho) : Pandeiro Tufy : Afoxé Ubyratan de Oliveira : Cavaquinho >

Conjunto Som 4 "Conjunto Som 4" (Continental, 1964)


A rather bland jazz session featuring Hermeto Pascoal and cohorts Edilson (drums), Azeitona (bass) and Papudinho (trumpet). Although the compositions are from contemprary Brazilian bossa songwriters (all the usual suspects), the sound is pure North American jazz, indistinguishable from their cool, mainstream Stateside contemporaries, except for the inferior, unexciting performances. This album doesn't stack up well compared to Hermeto's infinitely more soulful Quarteto Novo sessions of a few years later. This is a dull, slow going, pale imitation of American jazz.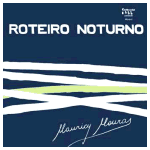 Mauricy Moura "Roteiro Noturno" (Continental, 1964)
(Arranged by Hermeto Pascoal)
A tremendously corny, emotive singer, with deep, throaty tones, Mauricy Moura hearkens back to the bolero-tinged romanticism of the radio singers era, although the band backing him hints at the crisp vitality of the early '60s bossa-nova scene. Perhaps this isn't so surprising, since it's Hermeto Pascoal and his band, with Pascoal providing all the arrangements and playing flute (and piano, on some tracks) along with an otherwise-anonymous "Conjunto Hermeto." In some regards, the accompaniment is sympathetic and effective, although you can sense them champing at the bit, eager to stretch out musically beyond Moura's hopelessly outdated, schmaltzy performances. Still, it was a paying gig. I don't have much info about Moura; apparently he was a regular performer on the Radio Atlantica broadcast, and died in the 1970s when he was only about fifty years old. This was his only full album, although he also released about a dozen singles over the course of his career. Fans of romantic balladeers such as Altemar Dutra or Ivon Curi would probably appreciate this too. Also nice to hear what Hermeto was up to at the time.

Sambrasa Trio "Sambrasa Trio Em Som Maior" (Som Maior, 1966)


Another early, all-star Braz-jazz combo... Drummer Airto Moreira is still apparently working with bassist Humberto Clayber on this album (he is credited on several songs), although Cesar Camargo Mariano, who had previously been in the band, has left for new ground. Hermeto Pascoal also plays on here, one of the first of his and Airto's long period of productive, innovative collaborations.

Quarteto Novo "Quarteto Novo" (EMI Odeon, 1967)


An impressive late-'60s Braz-Jazz album, featuring early work by Pascoal and percussionist Airto Moreira, along with the politically-inclined MPB songwriter Geraldo Vandre, along with guitarists Theo De Barros and Heraldo Do Monte. The album opens with "O Ovo," a brisk update of the turn-of-the-century choro sound popularized by Pixinguinha, Dunga and other Brazilian musical pioneers. The album gradually progresses into more modern, straightforward jazz material (which isn't as much fun) and even a Luiz Gonzaga forro tune. The playing throughout is very rich, well recorded, and vastly superior to many of their more jittery jazz contemporaries, even dipping into a mellow Vince Guaraldi-style vibe. This isn't just a cool footnote into the early careers of several of Brazil's most important musicians, it's also a very enjoyable, well-performed album. Recommended!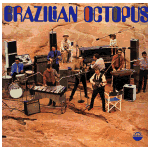 Brazilian Octopus "Brazilian Octopus" (Som Livre/Fermata, 1970)



(Produced by Mario Albanese & Fausto Canova)
Despite the freaky band name, this is a pretty standard-sounding light jazz release, albeit with a lot of heavyweight players in the lineup: guitarist Lanny Gordin, Hermeto Pascoal, pianist Cido Bianchi, bassist Nilson da Matta, and others. Apparently they were assembled as part of a band that played a yearlong live gig at a factory that also liked to host live music events. Pascoal contributed two compositions, and plays throughout; tropicalia producer Rogerio Duprat also apparently collaborated on a few tunes. The music is a mix of smooth jazz (occasionally verging on muzaky kitsch) and some Latin jazz touches, as well as pop-orchestral/spy-jazz material... There are some dark undertones, particularly some unresolved minor chord action in downward scaled string arrangements, and I guess musically there's interesting stuff going on here, but it's more of a cerebral, jazz-lover's thing than an overt wowzer of an album. Certainly for students of Brazilian jazz, this is a cool historical document; kind of easy on the ears as well!


<! 01 - Gamboa (Ciro Pereira - Mário Albanese) 02 - Rhodosando (Hermeto Pascoal) 03 - Canćčo latina (Olmir Stocker - Vitor Martins) 04 - Pavane (B. Octopus - Gabriel Fauré) 05 - As borboletas (A. Popp - P. Cour) 06 - Momento B/8 (B. Octopus - Rogério Duprat) 07 - Summerhill (Jočo C. Pegoraro) 08 - Gosto de ser como sou (Ciro Pereira - Mário Albanese) 09 - Chayź (Hermeto Pascoal) 10 - Canćčo de fim de tarde (Thereza Souza - Walter Santos) 11 - O pássaro (Alexander Gordin) 12 - Casa forte (Edu Lobo) Arranjos: Brazilian Octopus Brazilian Octopus: Hermeto Pascoal - flauta Olmir Stocker (Alemčo) - guitarra, violčo Lanny Gordin - guitarra Cido Bianchi - piano, órgčo Nilson Matta - baixo elétrico Carlos Alberto de AlcČntara - saxofone, flauta Douglas de Oliveira - bateria Jočo Carlos Pegoraro - vibrafone >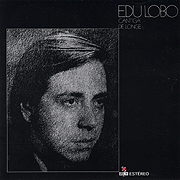 Edu Lobo "Cantigua De Longe" (Elenco/Polygram, 1970)



(Produced by Aloysio Oliveira)
Yow! Cool, creative, catchy post-bossa pop, with driving, baroquely-written instrumentation, subtle guitars and complex vocal arrangements. Hermeto Pascoal, Airto Moreira and a reconstituted edition of their famed Quarteo Novo back composer Edu Lobo on this fine, classic album; Aloysio Oliveira produced it as one of his later releases on the Elenco label. Definitely worth checking out!
Airto Moreira "Natural Feelings" (Buddha, 1970)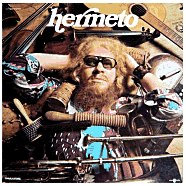 Hermeto Pascoal "Hermeto" (Buddha, 1970) <! 1972? >
(Produced by Airto Moreira, Flora Purim & Tony May; arrangements by Hermeto Pascoal)
A fascinating album, definitely worth checking out. All songs written by Pascoal, with his signature difficult/irritating listening touches woven in, as well as a hefty dose of contemporary jazz-fusion motifs, ala LA Express, et al, and affectionate dips into the old samba-cancao canon. But the dominant force here is an erudite, multi-textured neo-big band sound, drawing on the Stan Kenton/Gil Evans wellspring. Pascoal weaves these threads together with amazing skill... It mght not be a record you'd want to have on at a beach party, but serious jazz fans will want to give it a whirl. And for those with tamer tastes, it's much more accessible than what was to come later in the decade. This was recorded in the United States with a primarily non-Brazilian band (along with Airto Moreira and Flora Purim, of course) with notable players including Ron Carter, Thad Jones and Hupert Laws, with Pascoal featrued on keyboard and flute. (Note: this album was reissued several times, including a 1975 edition on Muse Records, and in 1978 on Imagem.)
Airto Moreira "Seeds On The Ground: The Natural Sounds Of Airto" (Buddha, 1971)


Hermeto Pascoal "A Musica Livre De Hermeto Paschoal" (Verve, 1973)


Paradoxically, one of Pascoal's most accessible and most challenging albums, with a strong lyrical bent that is wed to relentless and ingenious experimentalism. This was the first album Pascoal recorded following a two-year sojourn to the United States, where he jammed with Miles Davis and the elite of the jazz fusion scene. The record caused a huge stir in Brazil when it came out because the disc was considered so "far out" that the military government placed a ban on it -- and Pascoal -- even though the record is all-instrumental!! The offending track was a manically flatulent free jazz composition called "Sereiarei," in which Pascoal toots and squonks along with a flock of farm animals -- turkeys, ducks, geese, rabbits and swine -- in what is certainly one of the most challenging tunes of the fusion jazz era. Also includes Pascoal-ized versions of Brazilian standards such as Luiz Gonzaga's "Asa Branca" and the Pixinguinha classic, "Carinhoso." Unless you're a diehard avant-jazz fan, this record will probably get on your nerves pretty quickly (although I think that's pretty much the idea...) yet it is a remarkably subtle, playful album, well worth checking out.
Hermeto Pascoal "Slaves Mass" (Warner/WEA, 1977)



Robertinho Do Recife (& Hermeto Pascoal) "Robertinho No Passo" (1978) (LP)


An ambitious, but irritating jazz-fusion update of the frenetic, fast-paced frevo style popular in the state of Recife. Guitarist Robertinho do Recife blazes away on noodly riffs, as avant-jazzster Hermeto Pascoal crafts an unusual, challenging soundscape, replete with Moog, keyboards and a large band behind him. I found it all rather grating and annoying, but despite myself I was slowly drawn in to their web, as I gave the disc a second chance. Anyone interested in fusion music as an avant-garde artform, as opposed to a brand of muzak, might want to check this out. The instruments themselves -- the production sound and guitar tone, etc. -- sound quite dated, but the music is quite futuristic, edging into a spazzy kind of electronica, with lots of weird tones and densely layered passages. It's not very pleasant or relaxing, but it is innovative and weird.

Hermeto Pascoal "Zabumba-Bum-A" (Warner Brothers, 1979)


(Produced by Hermeto Pascoal)
Pascoal buffets between kooky avant ramblings and glossier, poppier LA Express-style fusion melodies. A fairly tight, compact set of fast-paced tunes that are either "challenging" or "irritating," depending on your inclinations and mood. Rather Sun Ra-like, overall.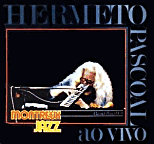 Hermeto Pascoal "Ao Vivo Em Montreaux" (Atlantic/WEA, 1979)



(Produced by Hermeto Pascoal)
An irritating set, packed with standard-issue '70s jazz-fusion tropes and stylizations, as well as some of Pascoal's (a)typical musical challenges. Pianist Jovino Santos Neto anchors a band packed with Brazilian players, and while they do pursue Brazilian themes, it's North American-style contemporary jazz that dominates the sound, a '70s mix of slickness and self-indulgence that doesn't really resonate for me.


<! 11/11: bad source GIF >

Hermeto Pascoal "Cerebro Magnetico" (Warner Brothers, 1980)


A kooky and far-ranging free-jazz album that makes extensive use of indigenous Amazonian percussion and avant-jazz philosophies. Mega-instrumentalist Pascoal plays most of the music on here, apparently multi-tracking on several tunes, to play saxophone, flutes, percussion, woodwinds, piano and guitar, while also drawing on the help of several talented Brazilian jazz players, notably pianist Jovino Jose dos Santos Neto. Although I personally have a pretty short attention span for avantnik jazz, I found this album to be engaging from beginning to end. It's pretty impressive and imaginative; definitely worth checking out.

Hermeto Pascoal & Elis Regina "Elis Regina - 13th Montreux Jazz Festival" (Westwind, 1982)


An excellent album featuring MPB diva Elis Regina, recorded in 1979, shortly before her untimely death, but not released until 1982. This album concentrates on her jazz chops, rather than the pop music she'd turned to in the late '70s. A strong, straightforward performance, with multi-instrumentalist Pascoal providing impressive backup throughout, in a fascinating contrast to his usual avant sensibilities. Highly recommended.
Hermeto Pascoal "Hermeto Pascoal & Grupo" (Som Da Gente, 1982)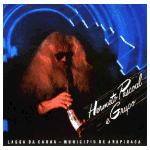 Hermeto Pascoal "Lagoa Da Canoa, Municipio Da Araparaca" (Som Da Gente, 1984)


(Produced by Hermeto Pascoal & Jovino Santos Neto)
A slick, relatively "commercial" set, mixing strong, distinctive Brazilian elements with a solid mainstream jazz foundation. Longtime collaborator Jovino Santos Neto plays keyboards with Carlos Malta on saxophones and flute, while an energetic rhythms section -- featuring bassist Itibere Zwarg, drummer Marcio Bahia and percussionist Pernambuco -- keeps up with Pascoal's lightning-fast arrangements. Although this might not be for everyone (and are any of his albums?) the musicianship is pretty stunning, with tight, elastic arrangements and razor-sharp rhythm changes. Also a lot of "found sound" style vocal adds -- odd recitations, ghotly wolf howls and gibbering by the band -- anticipating the sampling craze of the hip-hop era. In many ways, one of Pascoal's more accessible, adventurous albums, even with all the irritating bits. And there are plenty of those, too.


<! Hermeto Pascoal (flute, picolo, piano, harmonica, accordion, guitar, clarinet, oboe, sax, cavaquinho, etc.) Jovino Santos Neto (piano, keyboards) Carlos Malta (flute, sax tenor, sax soprano) Itibere Zwarg (bass, tuba) Marcio Bahia (drums, percussion) Pernambuco (percussion) 01 – Ilza na Feijoada (Hermeto Pascoal) 02 – Santa Catarina (Hermeto Pascoal) 03 – Tiruliruli (Hermeto Pascoal) 04 – Papagaio Alegre (Hermeto Pascoal) 05 – Vai Mais Garotinho (Hermeto Pascoal) 06 – Monte Santo (Hermeto Pascoal) 07 – Casa de Farinha (Hermeto Pascoal) 08 – Spock na Escada (Hermeto Pascoal) 09 – Mestre Radames (Hermeto Pascoal) 10 – Aquela Coisa (Hermeto Pascoal) 11 – Frevo em Maceio (Hermeto Pascoal) 12 – Desencontro Certo (Hermeto Pascoal / Joao Ba) 13 – 7 x 88 (Hermeto Pascoal) >

Hermeto Pascoal "Brasil Universo" (Som Da Gente, 1986)


Hermeto Pascoal "So Nao Toca Quem Nao Quer" (Som Da Gente, 1987)



(Produced by Hermeto Pascoal & Jovino Santos Neto)
A challenging set which is also one of his most identifiably "Brazilian" records, blending the precision playing of Brazilian styles such as choro, frevo and baiao with the intentional irritation of modern avant-jazz, and the fusion styles of yesteryear. Pianist Jovino Santos Neto helps define the rapid ascents and wild plunges, while forro accordionist Dominguinhos and guitarist Rafael Rabello are among the performers. An interesting mix of avant and accessible, though perhaps not something you'd want to casually relax to at home... Certainly worth checking out, if you're into listening attentively to difficult music, especially if you're already keyed into Pascoal's Brazilian roots.
Hermeto Pascoal "Hermeto Solo: Por Diferentes Caminhos" (Som Da Gente, 1988)

Hermeto Pascoal "Festa Dos Deuses" (Polygram, 1992)

Hermeto Pascoal & Renato Borghetti "Instrumento Do CCBB" (Tom Brasil, 1993)
A collaboration with accordionist Renato Borghetti...
Hermeto Pascoal "Eu Tu Eles" (Radio MEC, 1999)

Hermeto Pascoal & Aline Moreno "Chimarrao Com Rapadura" (Gaueste, 2006)


Hermeto Pascoal & Aline Moreno "Bodas De Latao" (Tratore, 2010)

---
Tributes
---
Stephan Kurmann "Stephan Kurmann Strings Play Hermeto Pascoal" (TCB, 2008)



Hermeto Pascoal appears as a guest performer, as well as longtime collaborator Jovino Santos Neto.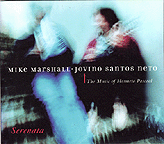 Mike Marshall & Jovino Santos Neto "Serenata: The Music Of Hermeto Pascoal" (Adventure Music, 2003)



Delving deeper into his love of choro, and Brazilian jazz, Marshall explores the work of avantnik multi-instrumentalist Hermeto Pascoal, one of the most original and more challenging modern Brazilian jazz players. On the whole, I would say this set is far less "out there" than most of Pascoal's own albums, but the interplay between mandolinist Marshall and pianist Jovino Santos Neto reveals a strong intuitive link, both between the performers and the music they're tackling. (Santos Neto worked with Pascoal, dating back several decades... see above...) An interesting album with some remarkable moments. Pascoal himself adds a flute solo to one track, giving the album that extra bit of authenticity...


Mark Weinstein "Tudo De Bom" (String Band Records, 2003)



New York-based jazz flautist Mark Weinstein in a jazzy tribute to Hermeto Pascoal, along with guitarist Richard Boukas and expatriate Brazilian players such as drummer Paulo Braga, bassist Nilson Matta and Vanderei Pereira on percussion.


---
Links
---
All Brazilian Music/Clique Musique has a nice entry on Pascoal and his work, including information on many of his side-projects and jazz bands. (In Portuguese and English.)
---



---