<! creation date = 12/12/04 > <! MP3 09/12/08, 11/18/09, 12/16/09, 02/05/13 > <! pix 11/18/09 > <! icons 01/24/11 > <! UPDATES: 09/12/08 12/17/09 - producers 02/05/13 - ASINs, links 04/06/15 - added some info on song lists for Pointer albums >

---
Leny Andrade is one of Brazil's most committed jazz singers, with a career spanning back to the early 1960s. Although she never achieved the same level of recognition as Tania Maria or Flora Purim, it was not for lack of talent or musical depth. Her career has been uneven, though -- in the early '70s, after establishing herself as a samba-jazz singer, she left Brazil and spent several years exploring avant-garde music, returning to straight jazz (and Brazil) only at the decade's end. Some of her stuff is "too jazz" for me, but several records have really caught my attention...
Here's a quick look at her career...
---
Discography
---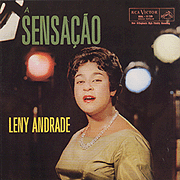 Leny Andrade "A Sensacao" (RCA Victor, 1961)



A powerful, dynamic debut. Leny Andrade was apparently a protege of crooner Ivon Curi, who helped her get a recording contract. Like Elza Soares, who was also starting out at this tme, Andrade displays an overwhelming debt to Ella Fitzgerald, copying Ella's famous scat style right down to the vocal tone and phrasing. It's almost embarassing, but it's also pretty good, and certainly a striking sound for a Brazilian pop singer. The repertoire is all samba-cancao and bossa nova, with several songs by Durval Ferreira, and a few each by new composers such as Luiz Bonfa and Antonio Carlos Jobim. Andrade's approach, with it's powerful gusts of vocalese and exaggerated emotive passages, may have been out of synch with Brazilian tastes -- it wasn't until she had worked the nightclub scene for several years and put out a live album in the more clattersome bossa-trio style that she really made a splash on the national scene. Still, this is a fine album, certainly one of her best and most cohesive... Well worth checking out!


<! 12/09: no producer listed on CD >

Leny Andrade "A Arte Maior De Leny Andrade" (Polydor, 1963) <! 1964? >
A swinging live set in a small Rio(?) nightclub, with Andrade singing in her jazziest, Ella-iest, jauntiest mode. Backing her are bassist Zezinho, Tenorio, Jr. on piano, and Milton Banana providing some particularly dynamic drum accompaniment -- one of his best, most effective straight jazz performances that I've heard so far. Indeed, these guys put most of the "bossa trios" of the era to shame, playing with more force -- and more nuance -- than most. Although her scat singing and stylistic mannerisms get repetitive, this is still one of the more vital Brazilian jazz albums of this era... definitely worth checking out!


<! Leny Andrade - A Arte Maior de Leny Andrade (1964) for Polydor, is a live set, at Bacarrat nightclub (as far as I could search). The recording quality is awesome considering the resources available in the 60's. Leny speaks to the audience on what seems to be a tiny place by the number of hands clapping. The set is full of Bossa Nova standards with arrangements and piano of Tenorio Jr., Milton Banana on drums and Zezinho on bass. Breathtaking. A Arte Maior also landmarks the first recording of Influencia do Jazz (Carlos Lyra). I think this is enought to capture your attention, an outstanding trio and a great diva. Tracks include: 01 - Samba do Avičo (Tom Jobim) 02 - A Morte de Um Deus de Sal (Roberto Menescal / Ronaldo Bôscoli) 03 - Baičozinho (Eumir Deodato) 04 - Amor de Nada (Paulo Sergio Valle / Marcos Valle) 05 - Embalo (Tenório Júnior) 06 - Vai de Vez (Roberto Menescal / Luis Fernando Freire) 07 - O Mar e o Amor (Odilon Olyntho / Jorge Omar) 08 - Vivo Sonhando (Tom Jobim) 09 - Consolaćčo (Vinicius de Moraes / Baden Powell) 10 - Moća Flor (Durval Ferreira / Luis Fernando Freire) 11 - There Will Never Be Another You (M. Gordon / H. Warren) 12 - Influźncia do Jazz (Carlos Lyra) >

Leny Andrade "Estamos Ai" (Odeon, 1965)


(Produced by Milton Miranda & Lyrio Panicali)
Husky voiced jazz vocalist Leny Andrade had worked for several years as a nightclub singer before waxing this dynamic debut album, with backing from Brazilian jazz heavyweights Mauricio Einhorn, Durval Ferreira, Regina Werneck and guitarist Geraldinho Vespar... Although there are rough patches, for bossa-era braz-jazz, these are pretty strong performances, with a good balance of tight compositional arcs and funky lyrical flow. Andrade's scat passages borrow heavily from the like-minded Elza Soares, but also have a subtlety that brings her more in line with North American singers such as Teresa Brewer and Anita O'Day... Certainly worth checking out, particularly if you're looking for some early Brazilian jazz that's a bit above the norm.

Leny Andrade & Pery Ribero "Gemini V: Show Da Boite Porao 73" (Odeon, 1965)


(Produced by Milton Miranda & Luiz Carlos Vinhas)
This concert album documents the "Gemini V" concert series, staged in Sao Paulo in 1965 by songwriter Ronaldo Boscoli and impressario Luis Carlos Miele, which turned out to be one of the most popular bossa nova shows of its time. The music is fairly typical of bossa-jazz albums of the time, marked by a fairly plinky trio accompaniment (courtesy of Luiz Carlos Vinhas and Bossa Tres), with a brisk, cabaret-tinged feel to it. Can't say I care much for Andrade's husky vocal tone, and her emulation of Ella Fitzgerald is a little too obvious (and ineffective, given the musical limitations). The robust Ribeiro, on the other hand, comes off pretty well in a live, duet-vocals setting -- it pushes him a little further than on solo projects I've heard elsewhere, and the richness of his voice stands out. Again, this is pretty typical of its times, but real jazz fans may find it a bit limited, even if Bossa Tres are a bit more nuanced and harmonically rich than many of their jazz trio contemporaries. Besides... those live medleys always give me a bit of a sweet pain...

Leny Andrade "Gravado No Mexico" (EMI-Odeon, 1966) (LP)


Backed by a small combo with Bruno Sauer on vibraphone and Adan Pinheiro on piano, Andrade digs into a deeper, more nuanced jazz groove, a nice departure from the jazz trio sound that dominated Brazilian jazz at the time. There's more texture here, as well as more room to move around; the vibes in particular make this sound distinctive. The downside is that Andrade was still more of a thunderer, and her husky tones are sometimes ill-suited to the more melodic approach... She is undeniably fully committed to the music, but nonetheless this record might not be all that accessible to many listeners, particularly those coming at it from a softer, more bossa-oriented vantage point. Challenging, authentic Brazilian jazz, swinging and fierce, but not always that easy on the ears.


<! Leny Andrade - Gravado no Mexico (1966), really hard to find and perhaps unknown for many, even Leny Andrade aficionados. This is the kind of record that everybody knowns that exist but nobody had the chance to listen. Leny has the accompaniement of Breno Sauer (vibraphone), Portinho (drums), Erneo Eger (bass) and Adao Pinheiro (piano). 01 - Saravá (Samba da Benćčo) (Baden Powell / Vinicius de Moraes) 02 - Canto de Chegar (Mutinho) 03 - Na Baixa do Sapateiro (Ary Barroso) -- Saudades da Bahia (Dorival Caymmi) 04 - Estamos Aí (Durval Ferreira / Regina Werneck / Maurício Einhorn) 05 - Noite do Meu Bem (Dolores Duran) 06 - Aruanda (Carlos Lyra) -- Feio Nčo É Bonito (Carlos Lyra / Gianfrancesco Guarnieri) -- Exaltaćčo ą Mangueira (Da Costa / Da Silva) 07 - O Pato (Jayme Silva / Neuza Teixeira) -- Samba da Mimha Terra (Dorival Caymmi) -- Só Danćo Samba (Tom Jobim / Newton Mendonća) 08 - Capoeira de Oxalá (Luis Carlos Sá) 09 - É de Manhč (Caetano Veloso) -- Menino das Laranjas (Theo de Barros) 10 - Saravá (Samba da Benćčo) (Baden Powell / Vinicius de Moraes) >

Leny Andrade & Pery Ribeiro "Gemini -- Cinco Anos Depois" (EMI-Odeon, 1972)





<! 12/09: no producer listed on CD >

Leny Andrade/Various Artists "DISCOS ODEON - AO VIVO" (Odeon, 1973)


A live showcase for some of the lesser-known artists on the Odeon label, including singers Ari Vilela, Marcia, and newcomer Simone...
Leny Andrade "Alvoracao" (EMI-Odeon, 1973)

Leny Andrade "Leny Andrade" (EMI-Odeon, 1975)


Leny Andrade "Registro" (Columbia, 1979)



A nice, even-keeled samba-jazz album, heavier on the American-styled dinner jazz than the Brazilian side of things. This is a solid album, musically strong without lapsing into treacle or excess, similar to Elis Regina's work, though not as clattersome or as vexing. Good North American equivalents might be, say, Teresa Brewer or Diana Krall. Apparently this was her "back to basics" album, a return to standard jazz vocals after a series of more experimental fusion albums in the mid-'70s... Nice stuff.


<! 12/09: no producer listed on CD >

Leny Andrade "Leny Andrade" (CID/Pointer, 1984)


(Produced by Jose Mauricio Machline & Eduardo Assad)
A fairly brisk, intimate live album, which opens with a mile-a-minute scat rendition of "Estamos Ai," then travels towards a softer, more lyrical approach. It's all too "jazz" for me, but taken on those terms, as a straight-ahead jazz album, this ain't bad. I don't recognize any of the members of her band -- pianist Beto de Oliveira, bassist Ivani Sabino, drummer Lilian Carmona or guitarist Ademir Candido -- but they acquit themselves well... Andrade, however, is the real star performer here, no question about that. Includes the following songs:
1. Estamos Ai
2. Batida Diferente
3. Cantor Da Noite
4. Flor De Luz
5. Trocando Em Miudos
6. O Negocio E Amar
7. Vale O Escrito
8. Velho Piano
9. This Mascarede
10. Si Me Enamoro
11. Embriagador
12. Roda Baiana



<! LENY ANDRADE Leny Andrade (1984) 1984 Pointer 203.0008 Faixas 1 Estamos ai (Regina Werneck, Maurício Einhorn, Durval Ferreira) 2 Batida diferente (Maurício Einhorn, Durval Ferreira) 3 Cantor da noite (Ivan Lins, Vitor Ramil) 4 Flor de liz (Djavan) 5 Trocando em miúdos (Chico Buarque, Francis Hime) 6 O negócio é amar (Carlos Lyra, Dolores Duran) 7 Vale o escrito (Filó, Aldir Blanc) 8 Velho piano (Dory Caymmy, Paulo César Pinheiro) 9 This mascarede (L.Russel) 10 Si me enamoro (S.Mianovich) 11 Embriagador (Fernando Leporace, Nelson Wellington) 12 Roda baiana (Vitor Martins, Ivan Lins) >

Leny Andrade "Leny Andrade" (CID/Pointer, 1985)


(Produced by Jose Mauricio Machline)
Another solid set, with laid-back, unworried renditions of numerous bossa and MPB standards... Andrade's studio crew includes guitarist Ademir Candido, Paulo Roberto de Oliveira on trumpet, Paulo Cesar Ferreira on drums, electric keyboards by Fernando Moraes, and Luizao Maia on bass... It's okay, not really my bag, but most smooth jazz fans would probably love this. She's still a class act. The songs include the following:
1. Clichet
2. Samba De Rei
3. Bebado
4. Contigo Aprendi/Esta Tarde Vi Llover
5. Chico Hipcondria
6. Nao Da
7. Uau
8. Dindi
9. Sessao Passatempo
10. Endredo Do Meu Samba
11. Vai Passar

Leny Andrade "Cartola 80 Anos" (Independiente, 1987)


An odd album, in which Andrade, her vocals sounding noticably on the sluggish side, takes the slinky, bouncy sambas of velha guarda songwriter Cartola and recasts them as slower jazz vocal tunes. The arrangements by pianist Gilson Perannzetta are subdued and unmemorable, as is the album as a whole. (Reissued on the Velas label as Leny Andrade Interprete Cartola)
Leny Andrade "Luz Neon" (Eldorado, 1989)

Leny Andrade "Eu Quero Ver" (Eldorado, 1990)

Leny Andrade "Bossa Nova" (Eldorado, 1991)

Leny Andrade "Embraceable You" (Som Livre, 1993)


Leny Andrade & Cesar Camargo Mariano "Nos" (Velas, 1994)



A collaboration with jazz pianist Cesar Camargo Mariano...
Leny Andrade "Maiden Voyage" (Chesky, 1994)



Leny Andrade & Romero Lubambo "Coisa Fina" (Perfil, 1994)


(Produced by Leny Andrade & Romero Lubambo)
A nice mellow set, with simple acoustic backing from guitarist Romero Lubambo... His fretwork is nimble and light, with a sweetness and delicacy that's quite pleasant to the ear... It often seems that Andrade's jazz background has left her more accustomed to stronger, more forceful arrangements, and at times she seems in danger of simply singing past Lubambo's accompaniment. But for the most part this is quite nice; it's both soft and emphatic, and runs through a wide range of material, from old samba cancao and classic bossa to the sleek MPB of Djavan and other moderns... Worth a spin!
Leny Andrade & Cristovao Bastos "Antonio Carlos Jobim: Letras E Musica" (Lumiar, 1995)

Leny Andrade "Luz Negra" (Velas, 1995)


A tribute to samba elder Nelson Cavaquinho...
Leny Andrade "Bossa Novas" (Albatroz, 1998)


Leny Andrade "...Canta Altay Veloso" (Paradoxx, 2000)


Leny Andrade "E Quero Que A Cancao...Seja Voce" (Albatroz, 2001)



(Produced by Raymundo Bittencourt)
A jazzy tribute to composer Ronaldo Boscoli, one of the founding members of the early bossa nova scene, and an early ally of Andrade, as she entered into the bossa nova scene. Boscoli's old pal, Roberto Menescal, plays guitar on several tracks, and Andrade's longtime collaborator, pianist Gilson Perannzetta, helps anchor the album... For the most part, this just isn't my cup of tea -- too slushy, too jazzy, too lushly produced -- but if you compare this to later work by jazz divas like Ella Fitzgerald and Sarah Vaughan, Andrade holds up pretty well. If you're a jazz vocals/soft-bossa fan, then take my naysaying with a grain of salt... But if you're looking for Brazilian music with a little more bite to it, don't say I didn't warn you.
Leny Andrade "Momentos Bons Da Bossa: Ao Vivo" (Albatroz, 2007)


Leny Andrade & Cesar Camargo Mariano "Ao Vivo" (Albatroz, 2007)


---
Other Media
---
Leny Andrade & Cesar Camargo Mariano "Ao Vivo" (DVD) (Universal, 2005)

---
Links
---
All Brazilian Music has a good profile, along with a generous discography. (In English and Portuguese.)
---



---