<! cd = 11/09/09 > <! MP3 11/09/09, 03/07/12 - lots of adds > <! update 11/09/09 > <! pix 11/09/09 > <! ALLBM 11/09/09 > <! icons 02/01/11 >

---
Azymuth (also spelled "Azimuth") were one of the top Brazilian jazz-fusion bands of the 1970s and '80s. Personall I'm not much of a fan of the style, but for those who are, I'm told this band is pretty groovy. Here's a quick look at their work...
---
Discography
---

Azimuth "Azimuth" (Som Livre, 1975)


(Produced by Azimuth)
Yeesh. This is downright embarassing to listen to... Softcore, disco-tinged, '70s prog-fusion with soporific LA-Muzak aspirations... I suppose there are still those who, with the proper recreational drugs in their systems, still giggle with delight as they curl up with this kind of sleazy listening piping in through their headphones... But as a grouchy clean & sober type, I simply find it tacky & dated. Authentic, to be sure, but tacky nonetheless.

Azymuth "Aguia Nao Coma Musca" (Warner, 1977)



Torturously bad Muzak-fusion... The first half of the album features one spacy, slow tune after another, each merely a flimsy prop for keyboardist/composer Roberto Bertrami to noodle around on one of those horrid, high-pitched electric '70s keyboards... The second half of the album picks up a bit of steam, with light touches of funk and latin-jazz, a bit of flashy drumming and whatnot... The album even closes with a fast, if unsubtle, samba percussion number, taped at some live show... But really, there's not much to get worked up about. I took this back to my local Record Hut as fast as my little feet could go. It's pretty tedious.
Azymuth "Light As A Feather" (Black Sun, 1979)


Azymuth "Outubro" (Black Sun, 1980)


Azymuth "Cascades" (Milestone, 1982)

Azymuth "Rapid Transit" (Milestone, 1982)

Azymuth "Telecommunication" (Milestone, 1982)


Azymuth "Flame" (Milestone, 1984)

Azymuth "Spectrum" (Milestone, 1985)

Azymuth "Tightrope Walker" (Milestone, 1986)

Azymuth "Carioca" (Milestone, 1987)

Azymuth "Crazy Rhythm" (Milestone, 1987)

Azymuth "Tudo Bem" (Capitol, 1989)

Azymuth "Curumin" (Capitol, 1990)

Azymuth "Pieces Of Ipanema" (Far Out, 1999)


Azymuth "Before We Forget" (Far Out, 2000)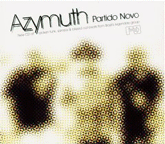 Azymuth "Partido Novo" (Far Out, 2002)



Their classic sound -- smooth, funky fusion, perhaps a little too slick for its own good -- replicated and updated for the electronica age. For the most part, though, this doesn't seem that innovative or techno-ed out, simply the same sort of smooth jazz stuff they did in the '70s. If you were a fan then, you probably won't find much to complain about on here. But if the whole LA Transfer/Tom Scott style never really rang your bell, then don't worry too much about tracking this disc down.
Azymuth "Brazilian Soul" (Far Out, 2004)


Azymuth "Butterfly" (Far Out, 2008)


Azymuth "Aurora" (Far Out, 2011)


---
Best-Ofs
---
Azymuth "Pure -- Best Of The Far Out Years: 1996-2006" (Far Out, 2006)


Azymuth "Azymuth: Remastered And Remixed" (Far Out, 1974/2007)



A 2-CD set, featuring a reissue of their 1974 debut, along with a second disc of remixes...
Azymuth "Jazz Carnival" (Brook, 2011)





<! This German 2006 release titled Jazz Carnival is only an uneven compilation of primarily 2 different albums by Azymuth; mostly tracks from their 1979 "Light As A Feather" and few of their 1980 "Live At The Copacabana Palace".>

---
Links
---
---



---