! MP3 01/06/10, 02/07/11 > <! update 01/06/10, 02/07/11 - some expansions > <! outside 01/06/10 > <! pix 01/06/10 > <! icons 02/07/11 >
---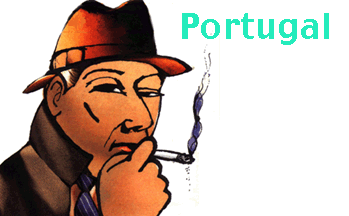 Portugal's colonial ventures led it into the New World, West Africa and into the thick of world trade. Say what you will about the pernicious effects of colonialism; one good thing that came out of their conquering and conniving was the fabulous music. In Brazil and Cape Verde, lusophone music reached rapturous heights, and has helped transform the musical vocabulary of the world. The music of the mother country, however, is a little less well-known. For the last couple of centuries, Portugal's economic fortune has paled in comparison to its old competitors, and during the growth of recorded popular music, there has been a corresponding lack of centrality. Still, the classic Portuguese folk style, the fado, has enduring power, while Portuguese popular music is currently in an Information Age boom. Here are a few recommeded records.
---
Compilations
---
Various Artists "FADO: 1950-1999" (Fremeaux, 2004)



Various Artists "FADOS DE LISBOA - FADOS FROM PORTUGAL v. 1: 1928-1936" (Heritage, 1992)


Various Artists "FADOS DE LISBOA - FADOS FROM PORTUGAL v. 2: 1926-1930" (Heritage, 1992)


These are some of the best archival compilations in Interstate Music's Heritage series-- two very solid volumes featuring rare 78s of Portugal's national music-- the soulful, mournful acoustic ballads known as the fado. These Depression-era recordings are striking for their directness and stark simplicity, which contrast sharply with the increasingly stylized and lacrymose production of modern fados recorded since the 1950s. These ancient tracks captured an otherworldly, plaintive style which would be lost to us without reissues such as these. A swell starting place for anyone who is curious about Portugese music, and completely essential for devotees of the fado.

Various Artists "GREAT VOICES OF FADO v.1" (Arc Music, 2001)


Various Artists "GREAT VOICES OF FADO v.2" (Arc Music, 2002)


Along with a choice Amalia Rodrigues cut or two, these samplers also include more modern artists such as Bevinda, Cristina Branco, Dulce Pontes, Joao Braga and others. More on the contemporary side of things, but also quite nice.

Various Artists "PORTUGAL CANTA" (Revivendo/Again)
An enticingly diverse collection of long-lost Portuguese oldies, including a hefty dose of fado rarities, as well as some fascinating examples of Hollywood-style, Tin Pan Alley-flavored jazz-pop tunes from old Portuguese films from the 1930s. This is a very dynamic and varied set of music, and the fado material is quite nice, as are the bilingual liner notes. This album comes to us courtesy of the Brazilian oldies label, Revivendo Musicas, which also has a stunning catalog of Brazilian releases. Highly recommended!

Various Artists "PORTUGUESE STRING MUSIC" (Heritage, 1989)


Some of the earliest, rarest recordings of Portuguese-language music ever collected in one place. Similar territory to Heritage's fado collections, but with other styles such as polkas, tangos and boleros-- not just the fado. Also, the musicians include Cape Verdean expatriates and Brazilians as well as proper Portuguese artists -- a few of the Brazilian recordings even date back as far as 1908! Really nice, and definitely recommended!
Various Artists "PUTUMAYO PRESENTS: AN AFRO-PORTUGUESE ODYSSEY" (Putumayo, 2002)


Tracing the crosscurrents of Lusophone culture, this collection touches on music from Angola, Guinea-Bissau, Cape Verde, Mozambique, and contemporary Portugal, with artists such as Ze Manel, Jovino Dos Santos, Dulce Pontes and the Mendes Brothers. The opening tracks are a bit florid for my tastes, but the simpler acoustic numbers, featuring folks like Ruy Mingas, Maneas Costa and Agusto Cegos, are quite lovely. A good introductory overview, with several melodic gems, although there are also a few too-pop tunes.

Various Artists "RED HOT + LISBON: ONDA SONORA" (Bar None, 1999)


For some radically newer material, try this follow-up to AIDS charity album, RED HOT AND RIO. This collection focuses on contemporary Portuguese pop, but the influences are overwhelmingly Brazilian. The highlight here is a bilingual duet between David Byrne and Caetano Veloso (who, as it turns out, have very similar voices...) Lisbon's sizable immigrant community is represented by several interesting traces of African traditional and pop music, including a collaboration between Angola's pop legend, Bonga, and Brazil's Marisa Monte and Carlinhos Brown. There are also heavy doses of club and ambient electronica. Some of these efforts are fluid and seductive; others are disappointing. In particular, the illbient talents of New York's DJ Spooky seem poorly utilized, and the lusophone rap of General D is predictably lackluster (he's no MC Solaar); probably the worst track on here is an insufferable fado by the ever-schmaltzy k.d. lang. Overall, though, this is an excellent album, well worth checking out. New to me: Smoke City, who are sort of a Portuguese Portsihead. Recommended!
Various Artists "THE STORY OF FADO" (Capitol Hemisphere, 1997)


Much easier to track down (and probably easier to get into) is this excellent collection of fado material from the EMI empire. The recordings mainly date from the late '50s/early '60s, with a couple of tracks from the early '80s. A wide range of stylistic approaches are included -- fado has always been a pretty marginal player on the international pop scene, with an interesting tension between devout traditionism and the desire pop things up and widen its audience. This collection gives a good sense of the range of experimentation involved, and features many of the key players, such as Amalia Rodrigues and Herminia Silva. Recommended!
Various Artists "VARIACOES EM FADO: 1926-1936" (Iris Musique, 1996)

---
Artists
---
Jose Afonso "Baladas E Cancoes" (EMI, 1967)





<! He is the Father Figure of Contemporary Portuguese Popular Music. The Tremendous Influence this Singer-songwriter (Whose Career Lasted from the 1950s Until his Death in 1986) Had in the Generations that Grew Up During the 1960s, 1970s and 1980s is Immense, in No Small Part Thanks to his Appropriation of Portuguese Folk Traditions and his Innate Grasp of Songwriting. 'baladas E Cantes', Released 1967, Brings Together 12 of his Earliest Recordings. José Afonso also know by Zeca Afonso, this great musician of Portugal, was the voice against the fascist regime in Portugal, is famous them was "GrČndola Vila Morena", that become the anthem of the democratic revolution of April, 25 1974. The poems of their music is very critics of the regime and Colonial War (1961-1974). "O Povo É Quem Mais Ordena" >

Jose Afonso "Eu Vou Ser Como A Toupeira" (Orfeu, 1972)
Bearing a remarkable vocal likeness to American folkie Pete Seeger, protest singer Jose Afonso (1929-1987) turned a background in traditional Portuguese music on its head and thrust his nation's music into the wider social upheaval that blanketed the world in the 1960s and '70s. He was uniquely suited to do so -- having been raised in the impoverished Portuguese colonies of Angola, Mozambique and Timor, Afonso came home to the mother country in 1940, as World War II made life abroad more perilous. As a young man he gravitated towards the town of Coimbra, the heart of the fado tradition, and became a master of the solemn folkloric style. Gradually, he became more and more politicized, and was a key cultural figure in Portugal's 1974 revolution, which led to both a new government and to the abandonment of Portugal's lingering colonial empire. This album is the first of his I've heard; I found it by accident in the Brazilian bins of my local Record Hut, and while it was, obviously not a Brazilian record per se, there was a connection to the Americas: in the booklet inside, there are several pictures of Afonso in Brazil with regional musician Jackson Do Pandeiro. It seems that Afonso may have spent some time in Brazil, before running afoul of the military regime there, and returning to Portugal just as the politcal fervor at home came to a boil. This is an interesting album, though not musically addictive, it has creative arrangements, clearly building off of the folk-protest style, but adding on some unique poppy approaches.
Jose Afonso "Cantigas Do Maio"





<! José Manuel Cerqueira Afonso dos Santos >

Jose Afonso "Como Se Fora Seu Filho"

Jose Afonso "Fados De Coimbra"

Jose Afonso "Venham Mais Cinco"

Armandinho "Fado Archives: The 1928-29 HMV Sessions" (Heritage, 1994)


Rare, archival recordings from a master fado player of years gone by...
Mafalda Arnauth "Mafalda Arnauth" (EMI, 1999)

Mafalda Arnauth "Esta Voz Que Me Atravessa" (2001)

Mafalda Arnauth "Encantamento" (Narada, 2003)

Mafalda Arnauth "Diario" (2005)


Mafalda Arnauth "Flor Do Fado" (Magic Music, 2008)





<! Mafalda Arnauth http://en.wikipedia.org/wiki/Mafalda_Arnauth Mafalda Arnauth "Mafalda Arnauth" (EMI, 1999) B000Q7ZK48 Mafalda Arnauth "Esta Voz Que Me Atravessa" (2001) B00005KKK0 Mafalda Arnauth "Encantamento" (Narada, 2003) B0000CDL5I Mafalda Arnauth "Talvez Se Chame Saudade" (2005) Compilation Mafalda Arnauth "Diário" (2005) B000J10ENS B003DEGXUG Mafalda Arnauth "Flor Do Fado" (Magic Music, 2008) B003DEGNXI - MP3 >

Bevinda "Fatum - Fado De Paris" (Celluloid, 1994)


Bevinda "Terra E Ar" (Celluloid, 1996)


Bevinda "Pessoa Em Pessoas" (Celluloid, 1998)

Bevinda "Chuva De Anjos" (Celluloid, 1999)


Bevinda "Alegria" (Celluloid, 2001)

Bevinda "Luz" (Le Chant Du Monde, 2006)

Bevinda "Outubro" (Felmay/Dunya, 2007)


Bevinda "Serge Gainsbourg Tel Qu'elle" (2007)

Bevinda "Em Caminho: The Best Of Bevinda"


Paulo Braganca "Amai" (Luaka Bop, 1996)


One of Luaka's goopier efforts, this modernized Portuguese fado album integrates a variety of pop styles, from rather iffy 4AD/This Mortal Coil goth-iness and funky drummer trip-hop, to rolling tango-fado mixes. It's an accomplished effort, but after a while it started to get on my nerves. Others may like it much more than I did.


<! also B00004RD0S >

Paulo Braganca "Lua Semi-Nua" (Ovacao)


Cristina Branco "...In Holland" (1998)

Cristina Branco "Murmurios" (MW Records, 1998) <! label & date? >






<! Cristina Branco's second album, Murmurios -her first CD produced in a studio- was a decided milestone in her career. For this album she received the renowned prize, Choc de l'Annee du Monde de la Musique, in France in the category of world music. Cristina was inundated by invitations for live performances and the course of her career was clarified: Cristina Branco would become a fado artist. Listen to this music to discern the rustle of leaves above an almost breathless sigh, clouds slowly drifting in a gathering dusk ... that is fado ... those are the murmurios of Cristina Branco.MW Records. >

Cristina Branco "Post-Scriptum" (L'Empreiente Digitale, 2000)


Naturally, there's plenty of contention in Portugal as to who will be "the next Amalia Rodrigues" -- the new heir to the fadista throne. For some, the smart money is on Christina Branco, a Gen-X Lisbonite who fell under the spell of the fado, and who remains true to the romantic feel of the old music, while injecting a new, reinvigorating sensibility to the style. There's a subtle bluesiness to her delivery, although the instrumentation is traditional and fairly restrained. Mostly, it's her gorgeous, youthful voice that stands out, along with the beautiful, perfectly recorded accompaniment. Great stuff -- well worth checking out!

Cristina Branco "Corpo Illuminado" (Universal Classics/Decca, 2001)



Another elegant fado set -- perhaps more formal and reserved than some might like, but I find it quite lovely. This is a nice album to have on in the background; the music is nice, Branco's voice is lovely, and she doesn't delve into obtrusive melodramic flights that might otherwise distract from the music. (Yes, I know those flourishes are considered an integral part of the genre, but it's nice to get away from them sometimes, too...) Recommended!
Cristina Branco "O Descobridor: Cristina Branco Canta Slauerhoff" (Universal, 2002)

Cristina Branco "Sensus" (Decca, 2003)


Cristina Branco "Ulisses" (Universal, 2005)


Cristina Branco "Live" (Universal, 2006)

Cristina Branco "Abril" (Universal, 2007)

Cristina Branco "Kronos" (2009)


Custodio Castelo "The Art Of The Portugese Fado Guitar" (Arc Music, 2011)



(Produced by Eduardo de Sousa & Fernando Nunes)
Portuguese fado music is a genre like jazz or bluegrass or the blues, which has a very formal, historic style that lends itself to codification and often to a stiff, static feel. It's beautiful, soulful, striking, but can seem like it's come to a creative impasse. Lisbon-based guitarist Custodio Castelo is the welcome exception: this album is multi-facted and richly innovative, taking the distinctive sound of fado guitar and giving it new context and new life. His arrangements are inventive and unique, yet still have the emotional resonance of traditional fado. A worthy heir to the late Carlos Parede, Castelo is one of the most popular guitarists on the contemporary Portuguese scene, having performed with Cristina Branco, Carlos de Carmo, Misia, and even the legendary Amalia Rodrigues. You can see why: he is a marvelous and creative stylist, and this album is deeply rewarding and fresh... If you've sampled fado in the past and wondered what the fuss was about, you might want to give this album a try -- it's quite good.

Deolinda "Cancao Ao Lado" (Four Quarters, 2009)



(Produced by Deolinda & Nelson Carvalho)
An exciting new Portuguese group, revitalizing the fado tradition with new attitudes and approaches to the national song style. The band's vocalist, Ana Bachalao, sings with energy and enthusiasm, but also with a roughness that shies away from the perfectionism and prettiness of many modern fado stars -- the band incorporates various regional and rural folk influences, and reintroduces some of the rugged sound of older folk recordings into the pop sphere. Their arrangements are similarly inventive and expansive; they show a mastery of the dominant fado, with its mournfulness and drama, but also explode into new (or new-sounding) directions. It's a very exciting and vibrant album, challenging and compelling at the same time... I'd love to see these folks play live!

Deolinda "Dois Selos E Um Carimbo" (Four Quarters, 2010)



Madredeus "Os Dias Da Madredeus" (Capitol/Metro Blue, 1987)


One of Portugal's most captivating modern bands, Madredeus weave together classical themes, Gothic chant, Portuguese folk themes and Argentinian tango in a style which suggests an acoustic-oriented Cocteau Twins. The lyrics of Pedro Ayres Magalhaes find their perfect expression with the penetrating yet gorgeous vocals of Maria Teresa Salgueiro, and the accordion and cello-based arrangements which frame them both are lulling and unique. This is (I think) their first album, and in retrospect may seem a little goopy and soft. Still, there's really nothing to complain about... this is great stuff, even though the group hasn't completely perfected their full, evocative sound.

Madredeus "Existir" (Capitol/Metro Blue, 1990)



This album may be their peak -- certainly the churning, chugging song, "O Pastor," is one of their strongest and most captivating tunes. The rest of the album holds up to that promise, although in softer, subtler ways. All in all, this is quite exquisite, and highly recommended.

Madredeus "O Espirito Da Paz" (Capitol/Metro Blue, 1994)


I'm not sure it would be entirely fair to say that this is a case of diminishing returns, but this album doesn't feel all that different that the earlier ones... Perhaps a bit more comfortable and settled into a Dead Can Dance-y world music zone-out vibe. Some tracks explore flamenco and the Arabic side of Iberian music a bit more, though New Age-y synthesizers are also more prominent. Not bad, certainly, but very, very mellow.
Madredeus "Ainda" (Soundtrack) (Blue Note, 1995)



The original music soundtrack from the film, Lisbon Story.
Madredeus "O Paraiso: 14 Cancoes" (Blue Note, 1997)



Madredeus "Lisbon" (Capitol/Metro Blue, 1997)


Recorded as part of their Existir tour, this album is not surprisingly stuffed with tracks off that album. Yet by and large they lack the vitality of the studio versions -- "O Pastor" in particular takes on an unfortunately goth-y feel to it... Mostly, though, this just seems stuffy and self-consciously produced. It's okay, but somewhat anticlimactic.
Madredeus "O Porto" (EMI, 1998)


A 2-CD live set...

Madredeus "Movimento" (EMI, 2001)



At first blush this may seem too sugary, even for devoted Madredeus fans - elaborate, glossy synthesizer beds predominate, and Teresa Salgueiro's vocals keep on a pretty even keel. The album may grow on you, though -- as always, these folks make very lovely music, and her voice is divine. Plus, it's not quite as synthy as it seems at first. Plus, here's some good news: now the band has a website so you can check out their comings and goings...
Madredeus "Palavras Cantadas" (Som Livre, 2001)

Madredeus "Euforia" (2002)


With the Flemish Radio Orchestra...
Madredeus "Electronico" (EMI, 2002)

Madredeus "Um Amor Infinito" (EMI, 2004)

Madredeus "Faluas Do Tejo -- Lisboa: 2005" (Blue Note, 2005)

Madredeus & Banda Cosmica "Metafonia" (2008)


The first album recorded without vocalist Teresa Salgueiro, who went solo in 2007. (See below for more of her music...)


<! is this actually "A Nova Aurora"? listing comes from WP >

Madredeus & Banda Cosmica "A Nova Aurora" (Farol Musica, 2009)

Madredeus "Antologia" (EMI, 2000)



A best-of collection spanning the band's first couple of decades... Sweet!
Mariza "Fado Em Mim" (Times Square, 2002)



Mariza "Fado Curvo" (Times Square Records, 2003)



Although she's got a crazy-lookin' modern hairdo, this Lisbon fadista isn't really a stylistic firebrand; there's little on this album that the great Amalia Rodrigues wouldn't or couldn't have sung on one of her own albums. Still... that's pretty good company to keep. Like Amalia, Mariza approaches the music with reverence, passion and graceful restraint: if you like your Portuguese ballads straight-up, with little modern gloss or high-tech production, this fine, understated album will floor you.
Mariza "Live In London" (DVD) (Silva, 2005)

Mariza "Transparente" (Times Square, 2005)



Mariza "Concerto Em Lisboa" (CD + DVD) (Times Square, 2007)



A majestic, captivating performance from one of the rising stars of Portugal's fado pantheon... She is backed by gentle yet grandiose orchestrations from the Sinfonietta De Lisboa, under the direction of Brazilian cellist Jaques Morelenbaum. He bestows his trademark blend of elegance and gravitas to these sad ballads. Although the music is ripe and redolent sentiment, it is appropriate to the style, and the arrangements are tasteful and subtle, perfectly evocative of the saudade, or nostalgic sadness, of the genre, and shadows Mariza's vocals with his own sorrowful melodies. From the opening note to the album's close, Mariza radiates confidence and utter commend of her audience -- she clearly emerges here as a performer worthy of adoration on the world stage, joining singers such as Maria Bethania and Cesaria Evora as champions of lusophone artsongs. An accompanying second disc, containing a DVD documentary, captures her charm, and explains the history and nuances of fado balladry, including a lengthy exploration of the style's Brazilian roots and its social and political significance during Portugual's decades-long authoritarian dictatorship. A welcome addition to an already powerful release. Recommended!
Mariza "Terra" (Four Quarters, 2008)


Misia "Tanto Menos, Tanto Mais" (Ariola, 1995)

Misia "Garras Dos Sentidos" (Erato, 1998)


Misia "Paixoaes Diagonais" (Erato/Detour, 1999)


With her haunting, expressive voice, and creative, supple arrangements, the younger fadista, Misia, stands a pretty good chance at picking up the mantle of "fado queen" that was left open by the 1999 passing of legendary vocalist, Amalia Rodrigues. As on her earlier album, here Misia stretches the boundaries of the fado, introducing lavish pop production, yet reigning it in just enough to keep the dignified, graceful gravity of the genre intact. This is an challenging album which holds up to repeated listenings.
Misia "Canto" (Warner, 2003)


A tribute to the music of Carlos Paredes...
Misia "Drama Box" (Naive, 2005)



Ana Moura "Guarda-Me A Vida Na Mao" (World Village, 2005)


A beautiful, melodic set of modern Portuguese fados. Vocalist Moura takes a much softer approach to the music than the traditional, keening style popularized by Amalia Rodrigues and her generation of fadistas. She's no less passionate, however, and this is quite a lovely album... Recommended!
Ana Moura "Aconteceu" (World Village, 2005)


Ana Moura "Para Alem Da Saudade" (World Village, 2007)






<! Ana Moura "Coliseu" (live DVD performance from Coliseum of Lisboa) (2008) Ana Moura "Leva-Me Aos Fados" (2009) >
Ana Moura "Leva-Me Aos Fados" (World Village, 2009)


Carlos Paredes "Movimento Perpetuo" (EMI, 1971)





<! second album >

Carlos Paredes "Espelho De Sons" (Philips, 1987)
Paredes is an astounding acoustic guitarist, with a bit of a folkloric-scholarly bent. This is a gorgeous album which highlights his interest in historical instruments -- older, lutelike Portuguese guitars, and the links between classical guitar and the ornate, drippily romantic style of the fado... This is a great record, the kind of thing you can leave in the CD player for days on end.

Carlos Paredes "Guitarra Portuguesa" (Nonesuch, 1989)



Although this is in fairly wide circulation, it's not the Paredes album I would recommend for starters... It's good, but ultimately a bit stiff and scholarly. Still, the guy sure can play!


<! Carlos Paredes (1925, Coimbra – 23 July 2004) was a virtuoso Portuguese guitar player and composer, born in Coimbra, son of the equally famous Artur Paredes. >

Carlos Paredes & Charlie Haden "Dialogues" (Polygram, 1991)


A collaboration with jazz bassist Charlie Haden...
Carlos Paredes "Cancao Para Titi -- Os Ineditos: 1993" (EMI, 2001)

Carlos Paredes "Na Corrente" (EMI, 1996)






<! A 1996 Compilation Drawn from the Unreleased Material that Carlos Paredes Recorded in the Mid-seventies for EMI, 'na Corrente' Brings Together Two NON-LP Singles and Eight Previously Unreleased Tracks Meant for an Album that Paredes Began in 1975 Butnever Finished. >

Carlos Paredes "Guitarra: O Melhor De Carlos Paredes" (EMI, 2000)


Carlos Paredes "Uma Guitarra Portugueso" (DVD) (Immortal, 2007)

Dulce Pontes "Lusitana" (Movieplay, 1992)

Dulce Pontes "Lagrimas" (Movieplay, 1993)

Dulce Pontes "Brisa Do Coracao" (Movieplay, 1995)


A 2-CD live recording...
Dulce Pontes "Caminhos" (Movieplay, 1996)


Dulce Pontes "O Primeiro Canto" (MCA/Polydor, 1999)



One of many younger artists proferred as "the next Amalia Rodrigues," Pontes certainly envisions a grand, epic scope of her new Portuguese fados... A bit too grand in places, particularly on the swooping, florid "Alma Guerreira," which opens this album, and other, similarly dense tracks, the combination of orchestral bombast and vocal gymnastics seems more than a little over the top. To be sure, when she sticks to more-or-less traditional arangements, she is a confident and compelling performer, if a bit icy. Pontes is confronted with the same trouble that accomplished "folk" artists across the world are grappling with: how to expand the vocabulary and artistic reach of their chosen style, without mucking it up in the process. I'd have to say, for my money, Pontes crosses the line more often than not, and this tends to sound both sugary and forced. Still, you have to admire her creative leaps and testing of the old boundaries of the fado... Madredeus fans may find a kindred spirit here, although personally I'd stick with the other guys...
Dulce Pontes & Ennio Morricone "Focus" (2003)

Dulce Pontes "O Coracao Tem Tres Portas" (CD + DVD) (2006)



A live recording...


<! Spanish title on album art: El Corazon tiene tres Puertas >

Dulce Pontes "Momentos" (2009) (Moments)


Dulce Pontes "Best Of" (Movieplay, 2002)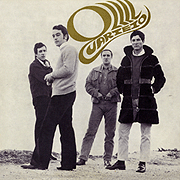 Quarteto 1111 "Singles And EPs" (World Psychedelia, 2005)


An outstanding retrospective of one of Portugal's finest psychedelic/prog rock bands of the late 1960s and early '70s... Led by songwriter Jose Cid, Quarteto 1111 was formed mid-decade in 1966, releasing several singles and EPs, though only one LP followed, Lenda De Nambuangongo, which was steeped in the anti-colonial, antimilitarist leftism of the era, and was consequently banned by the authoritarian government. In many ways what's most striking about this collection, however, are the beautiful, pastoral folk-rock tunes that preceded the group's more spacy, proggy explorations (which are well represented in the last third of the album...) It's lovely and atypical, and stands up quite nicely, all these decades later. If you can track this one down, don't hesitate to pick it up... These guys were cool!
Quarteto 1111 "Onde, Quando, Como, Porque, Cantamos Pessoas Vivas" (Guerssen, 2010) (LP)

Carlos Ramos "Saudade" (Valentim De Carvalho, 1982)
A fado singer of the old school, Ramos's work with guitarist Martinho d'Assuncao and other bandleaders has a fairly staid feel to it, and sounds an awful lot like the type of Greek music you'd hear wafting out of souvlaki restaurants... I suspect there was some sort of watering down at work that made these recordings a little less regionally distinctive than they might have otherwise been... I'm not sure exactly when these old Columbia Records tracks were recorded -- I suspect mainly in the 1950s and '60s, but this LP doesn't include specific information about the time frame -- but I did find this website that tells a little bit about Ramos's career...

Carlos Ramos "Biografia Do Fado" (EMI, 2000)


Amalia Rodrigues/Vinicius De Moraes "Vinicius/Amalia" (EMI/Valentim De Carvalho, 1970)


Late in 1968, Brazilian bossa nova pioneer Vinicius De Moraes made a journey to Lisbon, where, as one of the most renowned modern poets of the Portuguese language, he was duly feted as the guest of Amalia Rodrigues, the world's greatest fado singer. This is a recording of a performance/party at her place, with De Moraes and other poets intoning solomnly and Amalia taking a few turns crooning in the stately style she had perfected years earlier. I didn't actually find this album that much fun to listen to, but it is an important document of the acclaim that the new Brazilian art scene aroused back in the mother country. Worth checking out.
Amalia Rodrigues "The Art Of Amalia Rodrigues" (Hemisphere/EMI, 1998)


The undisputed grand dame of Portuguese popular song, Amalia Rodrigues was to Portugal what Edith Piaf was to Paris, or Oum Kalthoum to Egypt. A masterful fado stylist, her career spanned over six decades. This relatively recent compilation is probably the easiest sampler of her work to find in the U.S. -- and it's pretty choice material, recorded between 1952 and 1970. This would definitely give you a clear idea whether you wanted to track down more of her stuff.

Teresa Salgueiro "Obrigado" (EMI, 2005)


A solo album by Teresa Salgueiro, the luminous lead singer of the Madredeus band...
Teresa Salgueiro "Voce E Eu" (EMI, 2007)


With the Septeto de Joao Cristal...
Fernando Machado Soares "The Fado Of Coimbra" (Auvidis, 1994)

Sara Tavares "Chamar A Musica" (BMG, 1994)






<! Sara Tavares "1996 Sara Tavares & Shout (EP) (1996) >

Sara Tavares "Mi Ma Bo" (BMG, 2003)


Sara Tavares "Balance" (Times Square, 2005)



A pretty-sounding and melodically oriented album, introducing Sara Tavares, one of the new generation of artists emerging from the Cape Verde Islands, off the Portuguese coast. Tavares, who grew up in Lisbon, plays with numerous African artists, but the overall feel of the disc is closest to Portuguese fados and Cape Verdean mornas, -- primarily acoustic and ballad-oriented. Tavares -- who also plays several instruments and backs herself alone on a few tunes -- breaks free from the normally mournful sounds of these two styles, playing with an exuberance and freedom that the nostalgic, downcast mornas often lack. I didn't find myself very moved or transfixed by these songs, but they do sound nice and the more I listened, the sweeter it became. Definitely worth checking out -- folks looking for something easy and elegant will enjoy this disc a lot.
Sara Tavares "Alive In Lisboa!" (Times Square, 2008)

Sara Tavares "Xinti" (Four Quarters, 2009)



(Produced by Sara Tavares & Ani Fonseca)
Very mellow, very pretty, very gentle acoustic world-pop from this Lisbon-based Portuguese singer. This is a little too gooey and sweet for my tastes, a little too airy, but I imagine many world music fans, folks looking for mellow, gentle, pretty music, would be delighted to hear it. Tavares herself is said to have characterized her music as a kind of lullaby, and I think that's a pretty apt description... If that's what you're looking for, you won't be disappointed.

Verdes Anos "Coimbra Fado" (Arc Music, 2008)



The town of Coimbra is the heart of Portugual's romantic, mournful fado style, famed for its wine bars and cafes filled with earnest acoustic guitarists and stunning vocalists who bring tears to the eyes of grown men (after a fair amount of port, of course...) Founded in 1996, the Verdes Anos ensemble is a fine example of this continuing tradition -- this album is marked by the same glowing, dripping guitar style that has been played for decades, and the three vocalists -- Antonio Dinis, Goncalo Mendes and Rui Seoane -- capture the ripe, emotive power of the style. Although modern fado has become dominated by female artists, it's nice to hear the masculine side of this rich, romantic style as well.
---
Links
---
---



More Lusophone Music
World Music Index


---