<! MP3 09/12/08, 01/01/10, 02/25/13 > <! pix 12/06/09 > <! icons 01/22/11 > <! UPDATES: 09/12/08 02/25/13 - Light In The Attic reviews, several new MP3 links >

---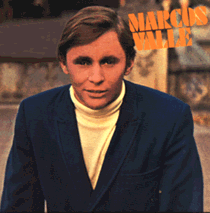 One of the second wave of early bossa nova composers, following in the footsteps of Gilberto and Jobim, Marcos Valle straddles both the "traditional" bossa nova world, and lighter, pop-jazz fusion. His strengths were primarily as a melodist; as with the Gershwins, much of Valle's early music was a family affair -- he wrote the tunes, and his brother Paulo Sergio Valle wrote the Portuguese lyrics. Valle made a splash in the early '60s with a series of perkey melodic hits, notably "Crickets Sing For Anamaria" and "So Nice Samba," which was a huge hit when recorded by organist Walter Wanderley. Apparently, Valle soured on Brazil's overly-politicized musical landscape of the mid-1960s, when the bossa nova scene became a haven for leftists and student activists who wanted the music to represent their opposition to the repressive military regime that took power in a 1964 coup. The international success of "So Nice" enabled Valle to move to the United States, where he worked as a composer for several years before returning to Brazil... then promptly recorded several albums that arguably stand as his greatest work... Here's a quick look at his career...
---
Discography
---

Marcos Valle "Samba Demais" (Odeon, 1963)



(Produced by Milton Miranda)
An excellent debut album, solidly rooted in the bossa nova sound that had been recently coined by Tom Jobim, Vinicius De Moraes and Joao Gilberto, and with only a hint of the quirkier modernizations that Valle would later bring into the style... Includes several Jobim songs and about half the album's compositions being Valle originals. Here, Valle has a light, easygoing pop sensibility, with a suaveness that is similar to Carlos Lyra. This is a very nice record, recently reissued in an affordable Brazilian edition, after many years lingering out of print. Recommended!


<! 144 x 144 loaded >

Marcos Valle "O Compositor E O Cantor Marcos Valle" (Odeon, 1965)



Marcos Valle "Braziliance!" (Odeon/Warner Brothers, 1967)


This is one of Valle's better-known albums north of the Orinoco -- classic easy-listening instrumental music, from the tail-end of the bossa era. This is an all-instrumental set (with a few ooh-aah choruses and scat vocals an a couple of tracks. Some of it has more sonic and textural depth than your standard-issue muzak album, although much of it seems fairly formulaic, as well. You have to be into this kind of stuff to get excited by this disc. I liked the opening track, "O Grillo," but wasn't too hyperventilate-y about the rest of it. Features arrangements by Eumir Deodato.

Marcos Valle "Samba '68" (Verve, 1968)



A cute and catchy album wherein Valle's wife Anamaria cheerfully fills in for Astrud Gilberto as the obligatory blase-voiced Bahian chantuese. His own vocals sound a bit uncomfortable and self-conscious, but maybe that's because he's mostly singing in English, and not his native Portuguese. Regardless of these foibles, the tracks are uniformly bouncy and fairly irresistable. Includes the English version of "Crickets Sing For Anamaria," which was somewhat of a hit, back in the day, as well as his version of "So Nice" (also ably covered by Astrud Gilberto on one of her Verve albums...) A fun, cute record... certainly worth checking out.

Marcos Valle "Viola Enluarada" (Odeon, 1968)



A beautiful, mellow album, with arrangements by Dori Caymmi, Eumir Deodato and Oscar Castro Neves, and guest vocals by a young Milton Nascimento on couple of tracks. The jovem guarda group, Golden Boys, provide understated backing on one track; otherwise this is pretty much all about Valle and his lyricist brother, Paulo Sergio Valle. Overall, a very lovely little album, and an interesting followup to their more perky outing recorded up in the U.S. that same year. Recommended!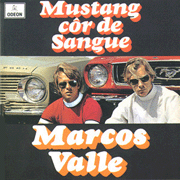 Marcos Valle "Mustang Cor De Sangue" (Odeon, 1969)


Marcos Valle "Marcos Valle" (Odeon, 1970)



(Produced by Milton Miranda & Lyrio Panicali)
The early '70s found Valle pushing further away from his bossa roots separate voice, into a wider musical palette that was distinct from either the rock-oriented tropicalia movement or the lofty formalism of MPB songsmiths such as Chico Buarque and Ivan Lins. There was a youth-culture feel to his work... but also something else. This album found him moving decisively into a more kaleidoscopic, far-ranging sound. I've reviewed this before (unfavorably) but I have to admit, this new reissue has made me more receptive -- the sound quality is much richer than earlier CD editions (which helps) and maybe I've heard more of Odeon "blue Brazil" production since then, and can better appreciate how individual artists were able to thrive inside the sometimes-formulaic orchestrations of the Miranda/Panicalli studio system. Valle revisits his earlier hit, "Os Grilos," and works through several melodic themes while draped inside the half jazz/half orchestral Odeon arrangements... The Golden Boys vocal group backs him on one song; more significantly is the backing of Wagner Tiso's fabled prog group, Som Imaginario (notably on the still-intensely irritating "Suite Imaginaria" medley) as well as early-70s second-stringers Nelson Angelo and bassist Novelli. All in all, a strong example of forward-thinking pop inside the rapidly-changing major label system. Also nice is a bonus track added on the 2012 reissue, "Berenice," which brings us back from the indulgence of the interminable, eight-minute "Suite," which originally closed the album out.


<! 01 - Quarent‹o Simp‡tico (Marcos Valle / Paulo Sergio Valle) 02 - Ele e Ela (Marcos Valle) 03 - Dez Leis (Is That Law) (Marcos Valle / Paulo Sergio Valle) 04 - Pigmali‹o (Marcos Valle / Paulo Sergio Valle / Novelli) 05 - Que Eu Canse e Descanse (Marcos Valle / Paulo Sergio Valle) 06 - Esperando o Messias (Marcos Valle / Paulo Sergio Valle) with Golden Boys 07 - Freio Aerodin‰mico (Marcos Valle) 08 - Os Grilos (Marcos Valle / Paulo Sergio Valle) 09 - Su'te Imagin‡ria (Marcos Valle) Can¨‹o Corrente Toada Dan¨a 10 - Os Grilos (Marcos Valle / Paulo Sergio Valle) (1967 single version) OLD SLIPCUE: See, it's records like this that will forever brand me as a humorless, bitter drudge: this feels unfocussed and glib, more a collection of random songs, in-jokes and soundtrack-y one-offs than a real, proper album worthy of your time and mine. Of course, for listeners who are into the whole Euro-soundtrack vibe, this might be a goldmine, packed with goofy, grandiose arrangements, snippets of dialogue and incidental sound effects, oooohh-ahhhh vocal choruses and an occasional coherent song or two. But for me, it's too spacey, self-indulgent and self-satisfied, with too few solid melodies to anchor it or to keep my attention. Which probably means it's a classic and I'm too dumb to know what I'm talking about. You decide. old ASIN: B00005M6IV >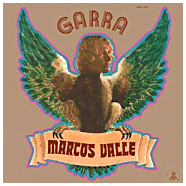 Marcos Valle "Garra" (EMI-Odeon/Light In The Attic, 1971/2013)



(Produced by Milton Miranda, Lindolfo Gaya & Mario Rocha)

Marcos Valle/Azymuth "O Fabuloso Fittipaldi" (Soundtrack) (Phonogram, 1971)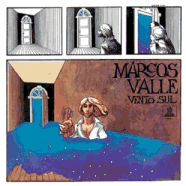 Marcos Valle "Vento Sul" (Odeon, 1972)



(Produced by Milton Miranda, Lindolfo Gaya & Renato Correa)
A super-spacy, folk-psychedelic, soundtrack-alicious minor masterpiece, with Valle at his most cosmic and hippiedelic, perhaps at his peak. His brother Paulo Sergio Valle contributes lyrics and a warm, fraternal vibe, while the pioneering Brazilian prog band O Terco provides the backing as Valle experiments with soaring melodies amid vast, open horizons. The emphasis on instrumental music may be seen in part as a way to avoid the scrutiny of Brazil's military censors, but also a reflection of where Valle's head was at the time, in a period said to be dominated by surfing and hanging out at the beach. It's breezy music with surprising heft, and certainly one of the Marcos Valle records you'll want to try out first if you're new to his work.


<! old ASIN: B00005NDE9 >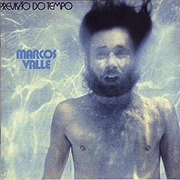 Marcos Valle "Previsao Do Tempo" (Odeon, 1973)



(Produced by Milton Miranda, Lindolfo Gaya & Paulo Cesar Valle)
A real delight! Valle was clearly just out to have a good time with this goofy, funky album, singing super-hummable tunes like "Mentira" and "Previsao Do Tempo," the chirpy title track. Along for the ride are arranger Waltel Branco and Valle's brother, Paulo Sergio Valle, as well as Jose Roberto Bertami and members of his band, Azymuth, lending some sweeping, playful monster-delic Moog riffs. This is certainly one of the catchiest and most memorable of Valle's albums, packed with playful songs and a lighthearted vibe that will keep the tunes echoing in your mind for hours on end... Recommended!


<! old ASIN: B0002AH1Z0 >

Marcos Valle "Marcos Valle" (Odeon, 1974)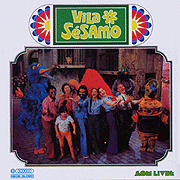 Marcos Valle/Various Artists "Vila Sesamo" (Som Livre, 1974)


(Produced by Marcos Valle & Paulo Cesar Valle)
Here's a rarity from the world of Brazilian pop... The Brazilian edition of Sesame Street featured some top talent in the musical department, with second-generation bossa star Marcos Valle commissioned to provide the Brazilian equivalent of the Moss/Oz magic. The songs are all originals, not remakes of "I Love Trash" and "Rubber Duckie," but rather compositions based on more generic themes, such as "The Alphabet" and "Imagination." To be honest, this is nowhere near as engaging as the musical masterpieces from the original CTV show, but it is an interesting sidenote to Valle's career. Waltel Branco helped with the in-studio arrangements and while the other musicians are listed as "unknown," one of the singers in the Trio Soneca sounds an awful lot like Rita Lee... (It's probably a coincidence, but who knows?) Cute, though not earthshaking.
Marcos Valle "Vontade De Rever Voce" (Som Livre, 1981)


Marcos Valle "Marcos Valle" (Som Livre, 1983)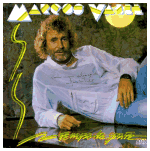 Marcos Valle "Tempo Da Gente" (Som Livre, 1986)
A tacky, disco-tinged pop set, with what may be good songs, although they are buried under an avalanche of glib, glossy, synthy, horrible arrangements. Valle, once known for being ahead of the curve, was definitely behind the times on this one. Might be of interest if you are a Marcos Valle completist, but it's really pretty drekky.


<! This is an out of print and hard to find Marcos Valle LP from 1986, O Tempo da Gente, never released in CD. This LP closes a cycle on Marcos Valle career, when Marcos stopped releasing albums and concentrated on writing music for other artists as well as for movies and television. 01 - O tempo da gente (Ary Carvalho - Paulo Sergio Valle - Marcos Valle) 02 - Sem Voce Nao Da (Erasmo Carlos - Marcos Valle) 03 - Um Tempo Musical (Paulo Sergio Valle - Marcos Valle) 04 - Ah! Voce Mulher (Paulo Sergio Valle - Marcos Valle) 05 - Proton, Eletron, Neutron (Paulo Sergio Valle - Marcos Valle) 06 - Ta Tudo Bem (Vinicius Cantuaria - Marcos Valle) 07 - Voo no Tempo (Paulo Sergio Valle - Marcos Valle) 08 - Pior que e (Eumir Deodato - Marcos Valle) 09 - Na rede (Marcos Valle) 10 - No Inicio (Paulo Sergio Valle - Marcos Valle) >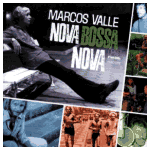 Marcos Valle "Nova Bossa Nova" (Natasha/Far Out, 1998)



A surprisingly strong new effort by this bossa oldtimer. Although it dips lightly into embarassing contemporary dance style, for the most part this is pretty classy stuff -- bossa nova mixed with Tom Scott-style '70s fusion. Definitely worth giving a try. Also, the booklet has some cool old photos of Valle, back in his '60s heyday, which are pretty darn cute.


<! align left >

Marcos Valle & Victor Biglione "Live In Montreal" (Rob Digital, 2000)

Marcos Valle "Escape" (Far Out, 2001)


Marcos Valle/Wanda Sa/Roberto Menescal "Bossa Entre Amigos" (Albatroz, 2003)



A live album, uniting three old-school bossa legends...
Marcos Valle "Jet Samba" (Dubas/Universal, 2005)



Marcos Valle "Jet Samba" (Planet Rhythm, 2006)



A breezy, sleek pop-fusion set by this Brazilian bossa old-timer. I'm sure this is a musically proficient set, and one which will thrill a certain breed of "acid jazz" fans... But it doesn't do much for me: it's just too predictable and facile. If you yearn for the glory days of LA Express, Return To Forever and Sea Train, however, this album might be a lot of fun. (This is a US reissue of a 2005 Brazilian release.)


<! B000WGXYLO ?? >
Marcos Valle & Celso Fonseca "Pagina Central" (Biscoito Fino, 2009)





<! B002MHA63K ASIN not to BFino edition? >

Marcos Valle "Estatica" (Far Out, 2010)


Marcos Valle & Stacey Kent "Ao Vivo" (Sony, 2014)


---
Best-Ofs
---

Marcos Valle "The Essential Marcos Valle, Volume One" (Mr. Bongo, 1996)


"The Essential Marco Valle, Volume Two" (Mr. Bongo, 1996)



Curated by acid jazz-loving Brits, these lovingly assembled retrospectives of late '60s/early '70s material combine second-line sixties bossa nova (which is nice) and easy listening/mild jazz fusion (which doesn't do much for me). Both have their gems as well as their cheesier moments, and you can take this as fair warning that these discs may not entirely live up to the hype. Still, let's give credit where credit is due: it was largely due to european reissues like this that Valle's name has been brought back into the public eye after many years of neglect... Definitely worth checking out!
Marcos Valle "Serie Bis" (EMI, 2001)



On the other hand, this excellent 2-CD set includes a wide swath of Valle's career, spanning 1963-74 , with material from most of his classic EMI-Odeon albums. Valle's hard bossa side gets the lion's share of the disc space, in contrast to the Mr. Bongo collections, which linger on his softer, jazz-lounge leanings. Here are nearly 30 of his best tracks, many taken from impossible-to-find old albums -- if you want a chance to hear Valle at his strongest, this collection is really the way to go.
Marcos Valle "Cafe Apres-Midi: Marcos Valle Best" (EMI-Japan, 2001)


A pricey Japanese import that doubtless has great sound quality...
Marcos Valle "Antologia" (EMI, 2004)


A far-ranging, 2-CD overview of Valle's work in the '60s and '70s...


<! 01/2010: ASIN # B0002TL7UQ de-listed on Amazon 02/2013: it's back >

Marcos Valle "Serie Retratos" (EMI, 2004)

Marcos Valle "The Best Of Marcos Valle - Carioca Soul" (Far Out, 2008)


---
Related Records
---
Eumir Deodato and Os Catedraticos "O Som Dos Catedraticos" (Equipe, 1970)



Mid-'60s Deodato instrumentals, featuring several early Valle compositions. (This has the first recorded versions of "The Crickets Sing For Ana Maria" and "Summer Samba"... just without lyrics.) Although recorded in 1964/65, this album wasn't released until 1970, by which time its soft-bossa easy listening sound was pretty passe.
Various Artists "MARCOS VALLE SONGBOOK v. 1" (Lumiar, 1998)



Includes contributions from Azymuth, Joao Bosco, Nana Caymmi, Gal Costa, Ed Motta, Wanda Sa, Caetano Veloso and others
Various Artists "MARCOS VALLE SONGBOOK v. 2" (Lumiar, 1998)



Includes Johnny Alf, Leny Andrade, Maria Bethania, Chico Buarque, Joyce, Edu Lobo and others.
Eumir Deodato "...Plays Marcos Valle" (Irma, 2002)


(Produced by Eumir Deodato & Arnaldo DeSouteiro)

---
Links
---
All Brazilian Music, possibly the best Brazilian site on the Web, has a nice profile of Valle, complete with a discography and biographical info. (In English and Portuguese.)
The Hirutan Page features an extensive Marcos Valle discography... It's mostly in Japanese, non-Konjii readers may find it of limited interest... Song titles are in Roman characters, though, so if you're looking for a particular song, this could be a big help!
---



---