<! MP3 12/08/09 > <! update 00/00/00 > <! pix 12/01/09 > <! ALLBM 00/00/00 > <! icons 00/00/00 >

---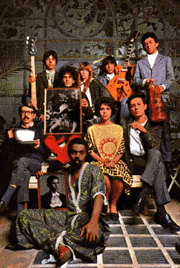 was a late-'60s/early-'70s musical movement that combined North American rock, blues, jazz, folk and psychedelic music with Brazilian and other latin american styles. Closely identified with youth and counterculture, tropicalia was the most visible part of an artistic movement that sought to redefine Brazilian culture, and actively helped subvert the military dictatorship which had taken over the country in 1964. In part, tropicalia was also a reaction to the perceived stodginess of bossa nova music, which had been the dominant pop style since the late 1950s -- it was also seen as an alternative to the industry-sponsored prefab teenybopper rock of the jovem guarda... Both tropicalia and bossa nova have come to be referred to as part of MPB, or "Musica Popular Brasileira," modern Brazilian pop, though the term originally applied only to tropicalia.
---
Recommended Records
---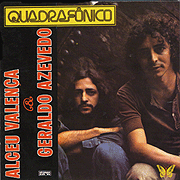 Geraldo Azevedo & Alceu Valenca "Quadrafonico" (Copacabana, 1972)
There are quite a few recent reissues of lost "psychedelic classics" coming out of Brazil and the rest of South America these days... This is one of the stronger releases you'll come across, the debut album by two of Brazil's biggest "regional music" stars of the 1970s and '80s. Hailing from Pernambuco, Azevedo and Valenca worked for a few years together as a duo, performing in the popular song contests that many artists used to launch their careers back then. This disc shows them very much in debt to the avant-rock of the tropicalia crowd, even working with composer-arranger Rogerio Duprat, who adds the same sheen of highbrow avant artsiness (musique concrete, atonality, etc.) that he brought to seminal albums by Caetano Veloso, Os Mutantes and Gilberto Gil. There's also a rich strain of melodic acoustic-folk, with a distinctive regional flair. Both artists went on to record solo "debuts" that were less effective than this disc, but here there's a real magic, a skillful, challenging mix of both wild and understated... Nice balancing act, great record.

Belchior "Alucinacao" (Philips, 1976)


An iffy effort by one of the early pioneers of Northeastern rock music... At heart this is pretty tame stuff, and his nasal vocals are... well... different. The most interesting aspects are some '70s folk rock/country touches (subtle pedal steel, some acoustic guitar), a dash of forro... and baiao... But mostly this is not mind-blowing. It sounds kinda like a Brazilian tribute to "Yellow Submarine" -- the song, not the album. Still, this guy was important to the development of a homegrown rock scene... Or so I'm told...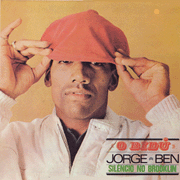 Jorge Ben "O Bidu: Silencio No Brooklyn" (Artistas Unidos, 1967)


Although Jorge Ben was not an "official" member of the tropicalia scene, this late-'60s album, released before Caetano Veloso and Gilberto Gil made their first big splash, had a huge impact on the way the future tropicalistas thought about the mix of Brazilian music and other styles. For starters, it's a gorgeous record! Layered, lavish production, mixing '60s psych, blues and Herb Alpert-style pop with killer African percussion and slinky samba rhythms. One of Ben's best, most creative and catchy albums, and worth looking hard for. Apparently, the backing band on this album is the rock-pop outfit, Os Fevers... at least that's the rumor... (Unfortunately, the mastering on the 1992 Movietone CD is a bit thin on the fidelity, though still worth picking up...) In his autobiography, Tropical Truth, Caetano Veloso talks at great length about this album, how it anticipated many of the genre-crossing feats that the tropicalia crowd wanted to try, and how greatly he and Gilberto Gil admired Ben's amazing musical vision. Even with the crappy sound quality of most CD reissues, this disc is a must-have.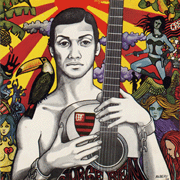 Jorge Ben "Jorge Ben" (Philips, 1969)


(Produced by Manoel Barenbein)
(Arranged by Jose Briamonte & Rogerio Duprat)
An excellent album, with some of his catchiest songs, many of which often make it onto best-of compilations. Wildly inventive, syncretic, experimental pop music, ranging from San Francisco-sound psychedelia to spaghetti western schmaltz, and deep, heavy samba-soul. The album is both soulful and playful, as when he sings the last half of one song in a funny voice, with his nose pinched shut, or when the string section veers into bent-note atonality. The album art shows Ben with the emblem of the Flamengo futbol team on his guitar, and broken manacles on his wrists -- the latter presumably a powerful statement about the military dictatorship which was running the country at the time, and actively trying to repress the tropicalia movement. One of his best records... definitely worth tracking down!


<! Maria Bethania >

Chico Buarque "Construcao" (Philips, 1971)


I'm fairly sure that songsmith Chico Buarque was never considered part of the tropicalia movement, but thus dense, challenging album is certainly worth checking out in connection to that scene... It's a baroquely crafted, dark, somewhat foreboding album which marks an abrupt switch from his earlier, mellower, post-bossa balladry. The opening tracks have an eerie tension to them, embedded within compelling, expressive pop arrangements that fans of complicated film music may want to check out! Gradually the music eases up, and the disc gallops to an all-too-quick finish. Intense and recommended -- an excellent example of the lavishly creative music being created in early-'70s Brazil. Many consider this disc, with its tightly interlocked lyrical and musical elements -- and pointed social critiques -- to be one of Buarque's major works.

Chico Buarque & Caetano Veloso "Caetano E Chico Juntos E Ao Vivo" (Philips, 1972)


And here's Buarque in collaboration with the clown prince of the tropicalia crowd... A very good concert album, recorded after Veloso had just returned to Brazil from his London exile, and the pairing of this upstart tropicalista with the once-reigning king of the late-'60s MPB scene was seen as an important merging of two artistic-social scenes that were once at odds, but were now united by the need to (subtly) stand up to the onerous military regime. Still, Buarque's performances seem a bit too declarative and stiff, while Caetano's soulful acoustic salvos on Side One, and his rendition of "Os Argonautas" at album's end, are all quite delectable. Can't say as I care for their duets much, though: there's sort of a square peg element at work there. Worth checking out, though, as it has several lovely tracks and a nice overall feel.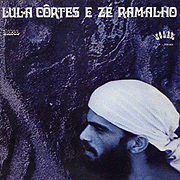 Lula Cortes & Ze Ramalho "Paebiru" (Rozenblit/Mocambo, 1974)



Northeastern rock pioneer Ze Ramalho plays various instruments on this aggressivley experimental pysch/prog/avant rock album, backing Lula Cortes of the Brazilian psych band Satwa... For many, this is a lost treasure of Brazilian acid rock; I just found it to be tremendously irritating and jaggedly textured. If your taste in jazz tilts towards improvisational "free jazz," where constantly pushing against the envelope is an end in and of itself, then this album might be a real treat... Personally, I like a little more melody. (So I'm square; sue me, daddy-o.) This is an interesting historical relic, I suppose, but I far prefer the spacy folk-rock of Ramalho's first few solo albums...
Gal Costa - see artist discography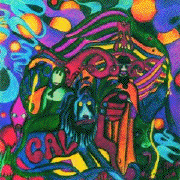 Gal Costa "Gal Costa" (Philips, 1969)


A heavily rock-flavored, psychedelic album, with a hefty dose of Philly soul thrown in on top. Lots of Summer of Love-y San Fran-sound electric guitars and powerful percussion. Most of the songs are by Caetano Veloso, Jorge Ben and Gilberto Gil, and Gil and Veloso pitch in one one track. Sometimes Gal is wailing crazily, other times she's singing sweet as honey -- this is definitely one of her best, most experimental albums. Crazy, but lots of fun. (NOTE: There was a late-1990s bootleg reissue of this album mastered off an LP that has some skips and pops on the audio; look for official Philips releases from Brazil or Japan instead.)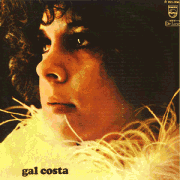 Gal Costa "Gal Costa" (Polygram, 1969)



The cover features Gal in a feather boa and tons of mascara... Again, this is very challenging, aggressively experimental pop. Manic electric guitars and Costa's swooping, yowling, vocals might be a bit off-putting at times, but the album is balanced with several lovely tunes written by the usual suspects. Not for everyone, and not for every mood, but definitely recommended.

Gal Costa "Legal" (Philips, 1970)


Other than the acoustic/electric live album which followed it (A Todo Vapor, below) this is probably Costa's best tropicalia era album, running the gamut from jazzy space rock to sweet ballads and driving acid rock. The title is a slang word which means, roughly, "cool," which is appropriate to the groovy vibe within... Side One kicks off with a glitzy '50s rock rave-up that would have made Elvis' Vegas band proud, and slides right into "Lingua Do P," a canny funk-forro fusion that is one of her all-time best tracks. "Love, Try and Die" is a disturbing patch of folkie darkness worthy of Tom Rapp or Tim Buckley, and throughout Costa keeps the momentum going. This isn't as cacophanous or abrasive as her other, earlier rock albums, but it's still really trippy and psychedelic. Highly recommended!

Gal Costa "Gal A Todo Vapor" (Polygram, 1971)


This is probably my favorite Gal Costa album. A supple, gorgeous live album; one of the finest records of its era that I've heard. The first half features Costa's youthful, sparrowlike voice is at its softest and best, accompanied only by an acoustic guitar and the applause of her entranced audience. Midway through the album, a lively -- though slightly comedic -- Cream-like heavy rock/jazz accompaniment kicks in, while Costa keeps crooning. Features an excellent selection of early tropicalia and plaintive ballads -- altogether, a canny study in the stylistic range of MPB.

Gal Costa "India" (Philips, 1973)


An intriguing, almost math-rocky mix of her crooning and crazy sides. This isn't as manic as the earlier, overtly psychedelic albums, but with arrangements by Gilberto Gil, and an elite crack team of Brazil's best chipping in on the backup, it's well worth checking out. Particularly noteworthy are the accordion riffs by Dominguinhos, which at times are restrained enough to sound almost like French musette. Other guests include tropicalia mastermind Rogerio Duprat, bossa nova architect Roberto Menescal, and jazzmen Tenorio, Jr. and Wagner Tiso. A lot of this album is off-kilter and hypnotic, particularly the loopy, loping beats on "Relance" (a Caetano Veloso song) and the halting rhythm on "Da Maior Importancia." It's a goody. Highly recommended.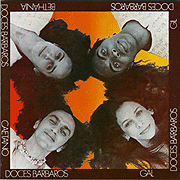 Doces Barbaros (Maria Bethania/Gal Costa/Gilberto Gil/Caetano Veloso) "Os Doces Barbaros (The Sweet Barbarians)" (Philips, 1976)



A live reunion of "the group from Bahia"... the leading lights of the tropicalia movement. This is an upbeat, though manic, performance, deeply influenced by contemporary jazz-funk fusion, but with a distinctive Brazilian flavor.. The vocals are charged with enthusiasm and joyfulness, but are still raggedy and at times a bit grating, particularly Costa and Bethania. Not surprisingly, the calmest, most compelling moments are Veloso and Gil's -- but everyone's so edgy you can't help but wonder if all four were on something that night. (Anything's possible, I suppose...) Underneath it, though, is a powerful musical vigor -- the band is tight, the funky arrangements are sharp and inventive, and in many ways this can be seen as the last blast from the peak years of Tropicalia's immense impact on Brazilian culture. Definitely worth checking out, though a little hard to listen to recreationally.
Rogerio Duprat - see artist discography
Gilberto Gil - see artist discography
Rita Lee - see artist discography
Os Lobos "Miragem" (Top Tape, 1971)
A cool mix of styles - jangly pop-psyche, denser, jazzier proggish art-rock and bouncy, piano-led music-hall shuffles, reminiscent of The Kinks. The alternating male-female vocals invite comparison to Os Mutantes... Personally, I like these guys better: their artistic output is more consistent and they seem a little less full of themselves. A great hippie-era relic!
---
More Tropicalia Records
---



Other Brazilian Styles
Main Brazil Index


---