<! cd= 12/28/03> <! MP3 09/12/08, 12/05/09 - none, really > <! update 09/12/08 > <! pix 12/05/09 > <! icons 01/23/11 >

---
Ze Ramalho was one of the most important Brazilian rock musicians to emerge from the post-tropicalia era of the late 1970s. Hailing from the northeastern sertao region, he blended baiao and forro into his wild, psychedelic musical mix. Gradually Ramalho's music became more mainstream and predictable, but his wild side still surfaces from time to time. Here's a quick look at his work.
---
Discography
---
Ze Ramalho/Various Artists "Nordeste: Cordel, Repente E Cancao" (Soundtrack) (1974)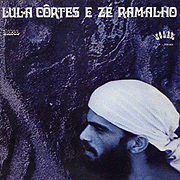 Ze Ramalho & Lula Cortes "Paebiru" (Rozenblit/Mocambo, 1974)



(Produced by Helio Ricardo)
Ramalho plays various instruments on this aggressivley experimental pysch/prog/avant rock album, backing Lula Cortes of the Brazilian psych band Satwa... For many, this is a lost treasure of Brazilian acid rock; I just found it to be tremendously irritating and jaggedly textured. If your taste in jazz tilts towards improvisational "free jazz," where constantly pushing against the envelope is an end in and of itself, then this album might be a real treat... Personally, I like a little more melody. (So I'm square; sue me, daddy-o.) This is an interesting historical relic, I suppose, but I far prefer the spacy folk-rock of Ramalho's first few solo albums...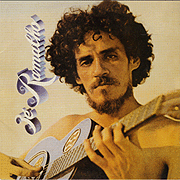 Ze Ramalho "Ze Ramalho" (CBS, 1978)


(Produced by Carlos Alberto Sion)
Cool. A really interesting, mellow, slightly off-kilter folk-rock album, combining northestern forro and sertanejo stylings with spacy folk-pop along the lines of Tim Buckley and Bob Dylan... His rambling, discursive style comes off a bit Dire Straits-y, too... and I mean that in a good way! A couple of tracks are co-written with fellow NE rocker, Alceu Valenca... other guest artists include Vinicius Cantuaria, accordionist Dominguinhos, samba bad boy, Bezerra da Silva, ex-Mutante Sergio Dias and -- of course -- forro-pop superstar Elba Ramalho... An all-star cast for a very intriguing album. Recommended.

Ze Ramalho "A Peleja Do Diabo Com O Dono Do Ceu" (CBS, 1979)


The cover art shows Ramalho being menaced (or maybe tickled) by the long-taloned schlock-horror movie director Jose Mojica Marins, who made the super-creepy, low-budget series of Ze Do Caixo ("Coffin Joe") films in the 1960s and became something of a pop-culture icon as a result. Ramalho's embrace of the Ze Do Caixo imagery gives a hint at the weirdness of this record, which is kind of a throwback to the ultra-diverse avantism of his early work with Lu Cortes (reviewed above). It's still pretty challenging material, worth looking into if youre searching for weird stuff from Brazil.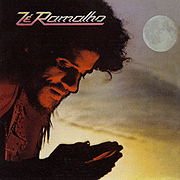 Ze Ramalho "A Terceira Lamina" (1981)


(Produced by Mauro Motta & Ze Ramalho)
Another nice, pleasantly eclectic record. Ramalho passes glides several different genres of music, including folk-rock, acoustic tropicalia reminiscent of the Novos Baianos, acousto-jazz-Braz fusions ala Quinteto Violao, slightly tweaky soft rock, and a hefty dose of forro and other regional styles. His vocals are supple, strong, and heartfelt, and he's still connecting to his audience. In retrospect this was just about his last gasp before the crappy, generic '80s rock production took over... But taken on its own terms, this is a pretty cool record. Worth checking out!

Ze Ramalho "Forca Verde" (Epic, 1982)
(Produced by Mauro Motta & Ze Ramalho)
Pretty much his last gasp of creative respectability for a while... Yeah, a lot of the songs on here are a bit overripe and overproduced, but he still has a soulful core... It's more like he was just trying too hard, as opposed to outright sucking, which is what he did for the rest of the decade. There are some okay songs on here, particularly his updates of the Northeastern forro, frevo and baiao styles. Not great, but worth checking out.

Ze Ramalho "Orquidea Negra" (1983)


(Produced by Mauro Motta & Ze Ramalho)
By sheer weight of its lumbering professionalism, this seemingly leaden album is one of the more listenable records of what could be charitably called Ramalho's crappy period... Which kind of starts here and just keeps going. He intones his way through song after song; the arrangements are clunky and overblown, and yet effective enough to hold your attention, if you don't listen too carefully. But watch out for those awful, tinny rock guitar leads -- they're enough to cause even the most complacent listener to blush, then run over to the stereo and yank this puppy out. An iffy album, at best.

Ze Ramalho "Pra Dizer Que Nao Falei De Rock, Ou Por Aquelas Que Foram Bem Amadas" (Epic, 1984)
(Produced by Mauro Motta & Ze Ramalho)
Total crap. This opens with a cheesy, florid vocal ballad, then moves into super-tacky, latter-day disco that's about five years after the fact. There's also one Raul Seixas-ish, '50s-style rock rave-up (also painful) and several absolutely dreadful guest appearances, notably those of singers Zeze Motta and former jovem guarda star Wanderlea. Oh, and god... there's a synthy cover version of "Fool On The Hill" (here, "O Tolo Na Colina") that is simply heinous and dreadful. This is one of those mid-'80s MPB nightmares that really has no redeeming features. Flee! Run! Hide! Quickly, before it sees you...!!
Ze Ramalho "De Gosto, De Agua E De Amigos" (Epic, 1985)
(Produced by Renato Correa)
Blech. More terrible '80s production, with only a few glimmers of hope on a couple of songs. Very bad, slickly produced glossy pop and rock which hits all the wrong aesthetic notes, at least for a guy like me. I'll pass.

Ze Ramalho "Opus Visionario" (Epic, 1986)
(Produced by Mauro Motta)
Horrible '80s pop production -- prefab and bland, and full of dull, thumping, mechanical drums. There wasn't a single song on here I liked, or was even intrigued by.
Ze Ramalho "Decimas De Um Cantador" (Epic, 1987)


(Produced by Mauro Motta)
An embarassingly overproduced, synthy, pretentious pop album. Leaden in the extreme, and not worth checking out. Unless, of course, you like that kind of thing.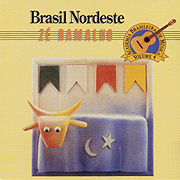 Ze Ramalho "Brasil Nordeste: Academia Brasileira De Musica" (Columbia, 1991)
Kinda so-so. On one hand, here's Ramalho paying homage to the music of the Northeast, covering classics such as "Asa Branca," "Chiclete Com Banana," etc... On the other hand, the musical backing sounds flat and perfunctory, and Ze's not singing that well, either. The nod to the past is cool, but the album's a bit of a snooze. It's probably worth checking out, but I didn't hang onto my copy...

Ze Ramalho "Frevoador" (Columbia, 1992)


Not bad! There's some nice acoustic-based folk rock -- the opening track is a Brazilianifed cover of Bob Dylan's "Hurricane," brilliantly dovetailing the energetic violin riff of the Dylan original into the zippy regional styles of the sertao. From there he moves onto a nigh-unrecognizable version of Fred Neil's "Everybody's Talking," and slips a guitar quote of John Lennon's "Julia" into a song later on the album... This gives a good sense of where this album is headed -- there are a couple of tracks with clumsier pop leanings, but mostly a lighter touch prevails, and for the most part it works pretty well. Certainly worth checking out.
Ze Ramalho "Cidades E Lendas" (BMG, 1996)

Ze Ramalho/Elba Ramalho/Alceu Valenca/Geraldo Azevedo "O Grande Encontro" (BMG, 1996)

Ze Ramalho/Elba Ramalho/Geraldo Azevedo "O Grande Encontro 2" (BMG, 1997)


Ze Ramalho "20 Anos: Antologia Acustica" (BMG-Ariola, 1997)


A relatively classy 2-CD set, looking back over Ramalho's career with a reserved acoustic approach. His singing, and the barebones structure of the songs stand out in stark relief, shorn of most of the glitzy or intrusive pop arrangements that took over his work from the early '80s on. (Well, okay, there's some lamentable soprano sax work... but other than that, this is a pretty decent set...) Didn't drive me wild, but I didn't hate it, either. As with many MTV-influenced "acoustic" projects, this takes liberties with the format, including orchestral string arrangements, etc... Worth checking out, especially for anyone interested in Northeastern Brazilian pop.
Ze Ramalho "Eu Sou Todos Nos" (BMG, 1998)

Ze Ramalho/Various Artists "Nacao Nordeste" (BMG, 2000)


A 2-CD set that includes contributions by Hermeto Pascoal, Nana Vasconcelos, Fagner, Elba Ramalho, Ivete Sangalo, Flavio Jose, Cascabulho, Dominguinhos, Pepeu Gomes, Armandinho e Robertinho do Recife...
Ze Ramalho "Profecias Para O Novo Milenio" (Sony, 2000)

Ze Ramalho/Elba Ramalho/Geraldo Azevedo "O Grande Encontro 3" (BMG, 2000)





<! B00005V88O DVD >

Ze Ramalho "Canta Raul Seixas" (BMG, 2001)


Ze Ramalho "O Gosto Do Criacao" (BMG, 2002)


This is, obviously, pretty late in the game for Ramalho... His gravelly, scary-old-man voice is not very elastic, and his plainspoken, curtailed vocal style is at times buoyed by the glossy production tricks -- Arabic and Spanish-flavored melodies, a bit of Hawaiian/country guitar, etc. -- while at other times the contrast between his limited vocals and the multilayered studio work gives the whole album a trying-too-hard feel, and makes it fall flat. Honestly, it's not a great record, although I was more engaged by it (in parts) than I had expected to be...
Ze Ramalho "Estacao Brasil" (BMG, 2003)


A 2-CD set.
Ze Ramalho "Canta Luiz Gonzaga" (BMG, 2005)


Ramalho's tribute to one of the grand-daddies of Northeastern Brazilian pop, forro legend Luiz Gonzaga
Ze Ramalho "Ao Vivo" (BMG, 2005)

Ze Ramalho "Parceria Dos Viajantes" (BMG, 2007)

Ze Ramalho "Canta Jackson Do Pandeiro" (2010) <! date? >

---
Best-Ofs
---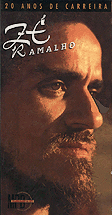 Ze Ramalho "20 Anos De Carreira: Grandes Sucessos, Parecerias e Raridades" (Columbia, 1997)


The promise of his early albums seems to have been obscured later in his career... This 3-CD set has its interesting points, but mostly it plods along at a fairly even keel: nothing particularly heinous, yet only glimmers of the elusive charm of his early work. The discs are divided into three themes - "Grandes Sucessos" (hits), "Parecerias" (collaborations), and "Raridades" (rare tracks)... The "hits" disc is disappointingly bland, as is the rarities disc (although it is notable for several collaborations with Northeastern pop stars Alceu Valenca and Elba Ramalho, who I believe is his cousin, and for its more open exploration of rootsy forro music...) The "Raridades" CD has the most variety and sparkle to it. Overall, though, this box set didn't floor me -- though I'm sure there's plenty of stuff in Ze's career that may be spicier, now I'm in less of a hurry to rush out and find it. Also, the packaging was disappointing -- though lavish, it wasn't very informative, particularly since it didn't reveal when any of these songs were recorded. Oh, well.
Ze Ramalho "Perfil" (Som Livre, 2002)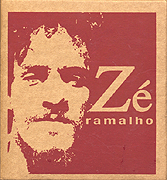 Ze Ramalho "Os Onze Grandes Sucessos De Sua Carreira" (Sony, 2003)
Pretty much the ultimate retrospective of his years on the various Sony-Brasil labels, an 11-CD set including the albums Ze Ramalho (1978), A Peleja Do Diabo (1979), A Terceira Lamina (1981), Forca Verde (1982), Orquidea Negra (1983), Por Aquelas Que Foram Bem Amadas (1984), De Gosto, De Agua E De Amigos (1985), Opus Visionario (1986), Decimas De Um Cantador (1987), Brasil Nordeste (1991) and Frevoador (1992). And all but four of the albums include up to five bonus tracks. The extra materials are especially rewarding on his first four albums... Another fine reissue effort by Brazilian pop scholar Marcelo Froes; the packaging is pretty bare-bones -- just a cubic cardboard box with minimal information printed on the outside, and the eleven discs within... But still, this is a pretty classy package and probably the best way to check out his early work, much of which has been out of print for years (and will probably lapse out of print again soon...)
Ze Ramalho "Duetos" (BMG, 2004)

Ze Ramalho "Em Foco" (Som Livre, 2007)





<! best of? >

---
Links
---
---



---