---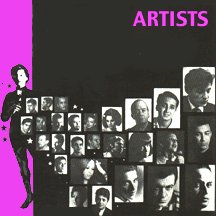 This is a directory to some of the most important (or most interesting) musicians from Brazil. Obviously, this list isn't "complete" -- but it's a pretty good shot, for a dumb yankee. Many artists listed here have their own page -- many others may be included in my Miscellaneous Albums section. Suggestions for artists to include are always welcome.
NOTE: A glossary of Brazilian musical terms is near at hand.
---
Airto & Flora Purim -- Braz-jazz fusion's first couple
Alcione -- a modern samba goddess!
Arnaldo Antunes -- the Calvin Johnson of Sao Paulo
Ary Barroso -- Brazil's greatest pre-WWII songwriter, best known for the international hit, "Aquarela do Brasil."
Fafa de Belem -- Or, if you prefer, just plain Fafa. A pop singer with mild pagode leanings. Most of her stuff is pretty drekky.
Jorge Ben -- Our Man In Rio. - A complete discography.
Maria Bethania -- MPB Diva Numero Uno - A complete discography.
Luiz Bonfa -- A guitarist and composer who had a huge hit in the late '50s with the song "Manha de Carnaval," from the Black Orpheus soundtrack. Bonfa's work became increasingly softer, as he collaborated with a procession of North American jazz and pop artists.
Joao Bosco -- The Michael Franks of Brazil?
Carlinhos Brown -- Bahia's funky drummer... the name's Carlinhos, bay-bahhh....
Chico Buarque de Hollanda -- One of the greatest Brazilian songwriters
Antonio Carlos & Jocafi -- Not to be confused with bossa nova legend Antonio Carlos Jobim. This '70s/'80s songwriting duo provided MPB with some of its most recognizable tunes, though their own renditions of these same songs tend to be a little too saccharine and drippy.
Vinicius Cantuaria -- talking 'bout the boy from New York City...
Roberto Carlos -- the godfather of Brazilian rock'n'roll!
Cartola -- One of samba's best and earliest songwriters
Beth Carvalho -- the godmother of pagode samba
Dorival Caymmi -- another great early samba songwriter
Nana Caymmi -- Daughter of songwriter Dorival Caymmi, Nana has a fine, rich voice though many of her records are a bit on the goopy side. As with much of MPB, the earlier stuff is the best; look for her records from the early 1970s.
Gal Costa -- MPB Diva and Tropicalia's Wild Child - A complete discography.
Maria Creuza -- an MPB also-ran, but nice...
Martinho da Vila -- samba singer extraordinaire
Paulinho da Viola -- torchkeeper of traditional choro and samba
Djavan -- an MPB favorite of Caetano Veloso's, but not of mine...
Luis Eca -- Keyboard player for the early '60s bossa nova band, Tamba Trio, who had a rather breezy sound. Eca backed many of the best-known artists of the time, including Elizeth Cardoso and others. He also worked extensively as a producer and arranger.
Dick Farney -- Brazil's Chairman of the Board.
Gilberto Gil -- Pop Music With a Bang and a Whimper. - A complete discography.
Astrud Gilberto -- Queen of The Lounge
Bebel Gilberto -- The Heir Apparent
Joao Gilberto -- Originator of Bossa Nova, and Coolest Man Ever Alive. - A complete discography.
Luiz Gonzaga -- The granddaddy of "forro"
Jazz Musicians -- Beginning with guitarist Charlie Byrd's "Jazz Samba" album in 1962, Brazilian music has had a profound influence on North American jazz musicians. There are several great jazz albums with Brazilian themes.
Antonio Carlos ("Tom") Jobim -- One Of The Legends, But Not One Of My Faves.
Scoff at my naive opinions, or just browse Jobim's discography.
Joyce -- Bossa-jazz diva and a heckuva cool guitar player...
Nara Leao -- A bygone bossa nova waif. -- A partial discography
Rita Lee -- Brazil's official rocker chick...
Marina Lima -- A pop singer-songwriter who apprenticed her way into the business as a graphic artist and back-up singer for MPB heavyweights such as Maria Bethania and Gal Costa. (She is often listed simply as "Marina" on liner notes throughout the late '70s and '80s.) Her own albums tend towards mainstream AOR production.
Arto Lindsay -- Art rocker or bossa rebel? You decide!
Ivan Lins -- Cheesy pop, with a latin-jazz twist
Edu Lobo -- Another groovy composer
Carlos Lyra -- Bossa nova pioneer and political songwriter
Tim Maia -- was a soul man!
Ney Matogrosso -- In the '70s, he was a fey, feather-boa wearing male pop singer, sort of a Brazilian glam queen. Matogrosso started out as a psychedelic rock'n'roller, but later became more of a synth-pop artist.
Maysa -- An adequate but somewhat slushy '60s bossa pop singer, sort of like a Brazilian Dionne Warwick. Recorded for the Elenco label and others, and has had several records issued on CD.
Sergio Mendes -- Brazil's Emperor of Easy Listening -- "Que Mais?"
Roberto Menescal -- One of the old-time bossa nova set, Menescal composed many songs which became standards. He also recorded several albums, many of which featured easy-listeningy instrumentals. Gradually, he became better known as a musical director, and produced ome of the best records of the 1970s, by artists such as Maria Bethania, Nara Leao and Gal Costa.
Margareth Menezes -- For a brief period of time in the early 'Nineties, it looked as if Menezes would become a global star, filling the "world beat" niche that some record execs were hoping would be the next big thing. It didn't quite happen that way, but she did wow crowds in the U.S., touring with David Byrne's road show. Her albums were a canny mix of pop, samba, reggae and the heavy Afro-Brazilian rhythms pioneered by the Olodum collective -- at times the production was forced or overly Top 40-ish, but on the whole quite enjoyable.
Carmen Miranda -- The original Queen of the Samba!
Marisa Monte -- trip-pop diva & carrier of the MPB torch
Os Mutantes -- From Tropicalia's House Band to Freaky Prog Monsters - An partial discography.
Milton Nascimento -- Had a huge impact on Pat Metheny's crowd... but is that really a recommendation?
Clara Nunes -- Samba Singer To The Gods -- A complete discography
Aloysio Oliveira -- One of the great Brazilian pop and bossa nova producers. Carmen Miranda's bandleader and lover during the 1940s, Oliveira later became head of A&R at Odeon records, and during the 1960s he ran the Elenco label, which was later swallowed up by Philips. Much of Oliveira's early production work has been reissued on CD by both EMI and Polygram's Brazilian wings. Especially worth looking for are many of the CDs originally issued on Elenco.
Olodum -- An African conciousness movement with a beat... a REALLY BIG beat!
Jackson do Pandeiro -- A master of infectious, poppy forro music...
Pixinguinha -- The master of the choro!
Baden Powell -- Bossa Nova pioneer and acoustic guitar god
Flora Purim & Airto Moreira -- Braz-jazz fusion's first couple
Quarteto Em Cy -- An all-female vocal quartet, popular with the more middle-of-the-road bossa nova set. Formed in the mid-'60s, the Quarteto have sung back-up for many of the big name MPB performers, particularly Chico Buarque and Vinicius de Moraes. Their solo work, however, is far too sugary and lightweight for my tastes, and became increasingly formulaic as time went on. Their easy listening harmonies are high and tight, but hopelessly saccharine. In general it seems pointless to hear their elevator music versions of, say, Jorge Ben or Chico Buarque tunes... better to stick with the originals. The MPB-4 are their male equivalents.
Elba Ramalho -- forro's disco queen
Elis Regina -- The Greatest Brazilian Singer? - A complete discography.
Jair Rodrigues
-- A sleek samba singer whose career dates back to the late 1950s. He first came to real popularity in the mid-'60s as the singing partner of Elis Regina. They released three albums together, distillations of concert and television performances which made them both national stars. Several of his solo albums from the early '70s are among my favorite Brazilian records, although I have only seen a few later albums (which I didn't care for) released on CD.

Raul Seixas -- A Punk Rock Pioneer? - A complete discography.
Simone -- post-tropicalia chantuese - A complete discography.
Tamba Trio
A classic bossa nova band, featuring pianist Luis Eca. Their stuff is a bit on the breezy side for my tastes, but lounge fans might like it a lot, especially now that Philips-Japan is putting their early work out on CD. The Trio backed up Edu Lobo on his breakthrough 1967 album; pianist Luis Eca also recorded and arranged for the Elenco label.
Toquinho -- An outstanding acoustic guitarist, playing bossa nova with a classical/flamenco twist. During the 1970s, he was the musical partner of Vinicius (see below). Later, he got a bit cheesy.
Marcos Valle -- A second wave bossa nova composer who swung with the best...
Caetano Veloso -- The King of Tropicalia - A complete discography.
Vinicius de Moraes -- Legendary Bossa Nova Beatnik Poet
Walter Wanderley -- Listening was never so easy!
Tom Ze -- Dadaism can be fun!
---

Special sites for Caetano Veloso, Gal Costa, Os Mutantes and other legends of Tropicalia
Recommended and Random Brazilian Albums
But wait! There's more -- some recommended COMPILATIONS!
Recommendations for reference works, including Books on Brazilian Music
Had enough of Brazil? Check out these reviews of Other International Music
Slipcue Main Page


---