<! MP3 09/12/08, 12/03/09 (no individual albums) > <! update 09/12/08 > <! pix 12/03/09 > <! icons 01/23/11 >

---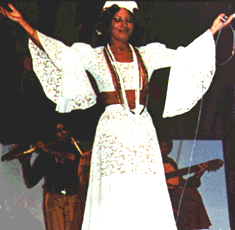 Clara Nunes (1943-1983) is considered one of Brazil's greatest samba singers... Personally, I think she's one of the country's greatest singers, in any genre. Her silken voice made her one of the most graceful, effortless vocalists of her generation and most of her music was wonderfully earthy and powerful. Her recording career began in the late 1960s, and along with other artists such as Alcione, Elba Ramalho and Joao Nogueira, she set the bar for the pagode acoustic samba revival of the early '70s; Nunes is particularly well known as a pioneering female artist (selling huge numbers of albums in the 1970s, and opening the way for other samba singers such as Alcione and Beth Carvalho to also find large audiences), and for her use of Afro-Brazilian rhythms such as those used in the Bahian samba circles and the candomble religious rituals. Other than a few scattered best-of collections, her individual albums languished out of print forover a decade, and are especially hard to find in the USA, where pagode isn't as hip and sought-out as tropicalia and Brazilian jazz... Pretty much any record you find by Clara Nunes is bound to be ace bunny killer... here's a quick look at her career...
---
Discography
---

Lyrio Panicali "Brazil, New Dimensions In Sound" (United Artists, 1968) (LP)


Lyrio Panicali was one of the go-to producer/arrangers of the Brazilian pop scene in the 1960s and early '70s, working on countless albums by the biggest stars of the day, including the early albums of Clara Nunes. Panicali also recorded a string of orchestral-pop albums under his own name: this mostly-instrumental album marks Clara's recording debut, with perfunctory renditions of two bossa nova standards, "A Felicidade" and "Insensatez." The performances are rather stuffy -- she still had to be given a chance to cut loose with that gorgeous voice of hers. Cornball crooner Silvio Cesar also performs on a couple of tracks... Most of the orchestrations are too busy and intrusive for my tastes, but the historical value of the album is undeniable.

Clara Nunes "A Voz Adorivel De Clara Nunes" (EMI-Odeon, 1966)
On her mid-'60s debut, Nunes traveled a distinctly old-fashioned path, singing the Brazilian version of the Latin American romantic style known as the bolero, a genre which entered into Brazilian pop in the 1950s, when good, old-fashioned samba cancao fell out of favor. This album, filled with syrupy, modal string arrangements and occasionally blatting brass, hearkens to the work of crooners such as Ivon Curi and Tito Madi (and, indeed, Clara covers one of Madi's songs on here); it's stately, but hopelessly old-fashioned, pretending with all its little heart that the bossa nova revolution had never happened. The stately, statuesque quality of Clara's later work is only hinted at amid the restained, somewhat straight-laced arrangements of producer/director Lyrio Panicali, who, at his best has a touch of Miles Davis and Gil Evans in him, and in his lesser moments (such as the shockingly sluggish "Adeus Rio") simply shackles Nunes's budding talent. Still, all in all, this is a fine debut -- although fans of her stellar samba work of the 1970s will find little here to cheer them, she still clearly holds her own... And, hey, whatever it took to get Clara Nunes's foot in the door is alright by me.

Clara Nunes "Voce Passa E Eu Acho Graca" (EMI-Odeon, 1968)
A pleasant transitional album. Lyrio Panicali is still at the helm as musical director, but the repertoire is greatly enhanced to include both classic sambistas and regional artists such as Luiz Gonzaga, Atualpho Alves and Noel Rosa, as well as more modern composers such as Antonio Carlos Jobim, Chico Buarque ("Desencontro"), and, more significantly, Martinho Da Vila, a samba revivalist whose career as a Carnaval songsmith would parallel Nunes's work in the 'Sixties and 'Seventies. Although her version of Da Vila's "Grande Amor" was a bit lachrymose and slushy, it's interesting that she was circling in his orbit. But if anyone had any doubts, the title track, a romping version of Alves' "Voce Passa E Eu Acho Graca," complete with surging samba rhythms and a bright vocal chorus, brings Nunes -- finally -- to the music that best suits her powers: the sweet, sweet samba. She still sings most of the album in a gooey romantic style, but the shift has been made -- upbeat samba material was her metier, and Clara Nunes had finally arrived. Hallelujah!

Clara Nunes "A Beleza Que Canta" (EMI-Odeon, 1969)
Her last album with Panicali. On this disc, Nunes lapses back into a poppier style, shying away from the samba sound she'd lightly explored on her previous album. This time, however, the old-fashioned romantic vocals have been updated with a more modern approach, suggestive of something more like the work of soft-rock crooner Roberto Carlos, and those who had neither thrown in their allegiance to the bossa nova, nor risen to meet the cross-genre experimentalism of the tropicalia crowd. It's somewhat redundant, and again, the ballad oriented production seems to restrain her as a vocalist. It's okay, but you have to work at it to get into this album.

Clara Nunes "Clara Nunes" (EMI-Odeon, 1971)
The introduction of the renowned musical director, Maestro Lindolfo Gaya, is a strong step in the right direction. He's still trying to steer her towards romantic pop vocals, but has a richer dynamic range than Panicali, and is also more willing to explore the earthier, samba side of things. Now things are starting to cook.

Clara Nunes "Clara Clarice Clara" (EMI-Odeon, 1972)
Heavenly! This is the first album where the full, unfettered, classic Clara Nunes samba sound really falls into place. Maestro Gaya helms again, but gives fuller rein to a more traditional Afro-Brazilian sound, unleashing thunderous, urgent drums, a playful cavaquinho, and impish, improvisatory cuica, and, of course, Clara's magnificent vocals, which have finally come into their own. Here, she is bright-sounding, confident, masterful and able to ride atop the music as only the greatest musicians can. The interplay between her and the musician, particularly the guitar and cavaquinho, has a tremendous fullness to it... All around, this is gloriously rich material, the first of her truly classic albums, in which the Clara Nunes of legend emerges, a superstar. Her allegiance to the samba schools emerges as paramount, beginning with the opening track, Nelson Cavaquinho's "Sempre Mangueira," and embraces the cream of the crop of modern samba composers: more Joao Nogueira, Candeia, Dorival Caymmi, Cartola, and a slight, passing nod towards the modern MPB scene, with a jovem guarda-ish cover of Caetano Veloso's "Clarice."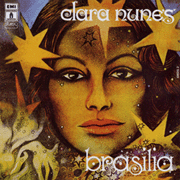 Clara Nunes "Clara Nunes" (EMI-Odeon, 1973)
As with the Clarice album, this has some glorious examples of pagode samba, but also an abundance of slower songs and more ornate, poppish MPB ballads. It's nice to hear her stretch out, but better when she's soaring above some sweet Afro-Brazilian percussion. A classic album, though you might want to skip a few songs.

Clara Nunes & Paulo Gracindo "Brasileiro Profissao Esperanca" (EMI-Odeon, 1974)
Kind of a blecchy concert album. For one thing, it seems to be a pale imitation of the fabled La Fusa album, with Paulo Gracindo playing Vinicius to her Bethania, as he intones and offers running commentaries that interrupt many of the songs -- it might be fun if you get the jokes, but it's not that great from a musical standpoint. Too showbizzy and stilted for my tastes... In going for a Bethania-like cabaret style, Nunes sacrifices too much of her natural sensuality and swaying rhythmic bounciness. This is just way to static and stagey a performance to be much fun.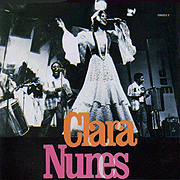 Clara Nunes "Alvorecer" (EMI-Odeon, 1974)
This is a great, great, great record. Indeed, for me this is a foundational album... It's one of the first Brazilian records I ever owned and is key to my infatuation with the country's music, with several songs that have long since been burned directly into my genetic code. This is Clara Nunes at her absolute best -- sexy, evocative, compelling, a powerful vocalist sliding into some of the sleekest samba riffs ever recorded. Drenched in the Afro-Brazilian rhythms and the samba de roda (samba-circle) call-and-answer choral style, it includes magnificent numbers such as Candeia's "Sindorere," the lively Elton Medeiros tune, "Meu Sapato Ja Furou," and an unusually modulated version of the old Dorival Caymmi standard, "O Que A Que A Baiana Tem," which is taken at a more leisurely pace than the hit version by Carmen Miranda. From start to finish, this is a lovely, upbeat, life-affirming album, one of the finest Brazilian records ever made. Highly recommended!

Clara Nunes "Claridade" (EMI-Odeon, 1975)
A lovely, solid '70s style samba album, with lovely, clear melodies and -- oh! -- that heavenly voice! A swirly string section kicks in on the end of Side One, but it hardly gets in the way... Basically this is yet another fine album, with songs by all the usual crowd -- Nelson Cavaquinho, Monarco, Candeia and Cartola. She slows down on a couple of tunes, and these ballads add a little variety to the mix. Recommended!

Clara Nunes "Canto Das Tres Racas" (EMI-Odeon, 1976)
This starts out with a few standard-issue fabulous, rousing pagode tunes, then slips into softer, more strained MPB material. This is vintage Clara, but not, overall, one of her stronger albums. Methinks she was trying too hard to show her musical sophistication, when the slower tempos and ornate arrangements didn't really play to her strengths. Still, it's mostly great stuff. Highlights include the forro-based "Alvoroco No Sertao" and the fado-like "Tenha Paciencia," as well as the title track, which kicks the album off. Worth checking out.

Clara Nunes "As Forcas Da Natureza" (EMI-Odeon, 1977)
On this album, Nunes made a conscious effort at a change of pace -- the arrangements are more deliberate, and more diverse, though still as sublime as ever. A slinky, tango-flavored accordeon is featured on several tracks, as are string arrangements by Maestro Gaya, and contributions by Radames Gnattali and Sivuca. Many songs are lovely, including compositions by Joao Nogueira and Chico Buarque along with the usual '70s samba suspects; highlights include Chico Buarque's "Fado Tropical," a sly update of the old Portuguese ballad style, and "P.C.J. (Partido Clementina De Jesus)," in which Nunes' crystalline vocals counterpoint with the then-croaklike voice of the ancient samba chanteuse. All around, a wonderful album, although admittedly with a few tunes that drift into questionable pop territory...

Clara Nunes "Guerreira" (EMI-Odeon, 1978)
Another first-rate effort, a collection of songs from throughout her career, with a wide stylistic range, though mostly sticking to the traditional end of the spectrum. One song, "Ijexa," is a bit sugary, but otherwise, this is a rock-solid samba album. Includes "E Baiana" and "Ilu Aye," two of her better known songs. Great set, with beautiful vocal choruses, flawless percussion and sweet cavaquinho picking. Several songs also have hints of northeastern forro and baiao. This one's a goodie!

Clara Nunes "Esperanca" (EMI-Odeon, 1979)
Once she really hit her stride, it was just one great record after another. This album is upbeat and lively... Maybe, admittedly, there's a hint of perfunctory delivery, but Nunes was operating at such a high level by this point that even a by-the-numbers album was nothing short of stellar. Drummer Wilson Das Neves leads the ensemble on percussion, with a bouncing beat that never lets you down. Again, there's a hint of forro creeping in, as Nunes embraces all of Brazil's native culture. Sweet stuff.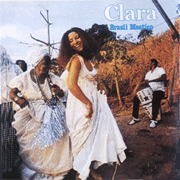 Clara Nunes "Brasil Mestico" (EMI-Odeon, 1980)
Another great record... In fact, I think this one is one of her best albums, with a great stylistic depth and emotional power. Wilson Das Neves again anchors the percussion on this buoyant, adventurous outing, while Nunes delves even deeper into forro and other Northeastern rhythms, bringing her sensuous swing to the style.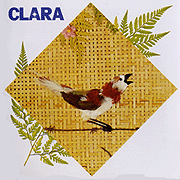 Clara Nunes "Clara" (EMI-Odeon, 1981)
Another record that starts out on a strong note and slowly settles into sugary sweet nothings... The opening track, "Portela Na Avenida," is a delirious, percussion-heavy pagode lovefest, while the slightly mellower "Deixa Clarear" takes the album into softer terrain. Clara shifts gears into new styles with the Cuban-flavored samba, "Coracao Valente," and her usual dips into forro and softer MPB ballads. Just when you think the album has become too goopy, Nunes turns it back around with a couple of upbeat tunes towards the end... Great musicianship throughout, with her voice in fine, fine form and her usual cast of characters (Sivuca, et al., pitching in to give this disc a sleek, diverse sound.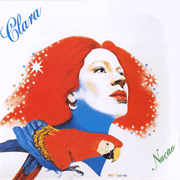 Clara Nunes "Nacao" (EMI-Odeon, 1982)
Her final studio album is kind of a mixed bag -- mostly pretty solid, but with modernized (and occasionally rather dreary) MPB production and jazz-ish touches that pull her away from her strengths as a rhythmic performer. Arranger Dori Caymmi is added to her usual pool of producers, and his softening, soporific touch can be felt on many tracks. This album is a bit of a letdown, compared to the fire and glory of her early years, but it still has it's moments. Nothing "bad" on here, but it's definitely not the same vibe as before; her voice is a bit rough on spots as well... I suppose in retrospect you can hear her personal dissolution affecting her musicmaking on here... she sounds pretty tired here, and no one else really seems to have their hearts in it, either.
---
Best-Ofs
---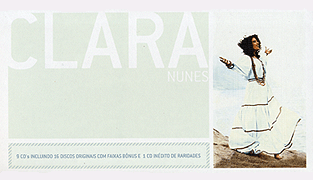 Clara Nunes "Clara (Box Set)" (EMI, 2004)


Oooh, baby!! FINALLY. It's a pity Clara's individual albums remain out of print, but this 9-CD box set sure helps out, if you're willing to shell out the big dough. This set reissues all sixteen Clara Nunes albums (reviewed above) on a series of eight twofers, along with an additional ninth disc that gathers together various rarity performances. Several of the indvidual discs also include non-album tracks from the same period -- 31 extra tracks in all; 23 on the Raridades disc, and eight others spread out over the various albums. The albums that are collected include her 1966 debut, A Voz Adorivel De Clara Nunes, 1968's Voce Passa E Eu Acho Graca, A Beleza Que Canta (1969), Clara Nunes (1971), Clara Clarice Clara (1972), Clara Nunes (1973), Alvorecer (1974), Brasileiro Profissao Esperanca (1974), Claridade (1975), Canto Das Tres Racas (1976), As Forcas Da Natureza (1977), Guerreira (1978), Esperanca (1979), Brasil Mestico (1980), Clara (1981), and her last record, Nacao, from 1982. The additional Raridades disc is mostly comprised of unreleased or previously unassembled material, much of which is negligible. It's a little disappointing that the box set doesn't also include a booklet of some kind, or any other extra materials, beyond the (wonderful) music and reproductions of the original album art and liner notes. Still, I was overjoyed when this finally came out, happier still to see it wasn't copy controlled, and positively giddy when I got it home and on the stereo. The complete legacy of one of Brazil's most alluring singers -- well worth every penny!
Clara Nunes "Sucessos De Ouro" (EMI-Odeon, 1981)

Clara Nunes "Best Of Clara Nunes" (World Pacific, 1992)

Clara Nunes "10 Anos" (Somlivre , 1993)

Clara Nunes "O Talento De Clara Nunes" (EMI-Odeon, 1995)

Clara Nunes "Meus Momentos v. 1" (EMI-Odeon, 1994)

Clara Nunes "Meus Momentos v. 2" (EMI-Odeon, 1994)

Clara Nunes "Comvida" (EMI-Blue Note, 1995)

Clara Nunes "Raizes Do Samba" (EMI-Odeon, 1999)



Clara Nunes "Meus Momentos" (EMI-Odeon, 1999)



EMI consolidated this single-disc series into 2-CD sets with bare-bones packaging, but killer content. As with the other collections in this excellent budget-line series, Disc Two veers towards slightly goopier, more orchestrated material... But both discs are great. Hey, it's Clara -- how could it be anything but fabulous?? 30 tracks, covering the breadth of her career, from 1968-1982. Highly recommended to anyone looking for an introduction to this samba diva.

Clara Nunes "Serie Bis" (EMI, 2000)



This 2-CD set is fairly interchangable with the Meus Momentos collection -- there are a handful of tracks that are different, but basically this also is all-hits, all the time. A beautiful collection, with minimal artwork, but plenty of great music. If anything, this edition is a little stronger than the Momentos series - the pacing is better and it includes fewer goopy pop crossovers than the original twofer. Highly recommended.
Clara Nunes "O Talento" (EMI, 2004)


Clara Nunes "Retratos" (EMI, 2004)


---
Links
---
The Clique Music/All Brazilian Music website has a nice biographical entry and discography as part of its larger Brazilian music guide. The Nunes info is available in both Portuguese and English.
Check out Keisuke Oguro's excellent site which includes complete track listings and groovy graphics of each album cover... Funny that we both used the same picture as a portrait!
Samba-Choro.com and MPB.net also have nice biographical entries (Em Portuguese.)
---



---