<! MP3 09/12/08, 02/18/10, 01/29/11 > <! update 09/12/08, 02/18/10, 01/29/11 > <! pix 11/16/09, 02/18/10 > <! icons 01/29/11 >

---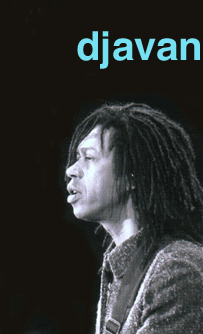 Many, many years ago, I saw a dynamic, charismatic young Brazilian performer named Djavan open a segment of the American TV show, Night Flight... He was graceful, passionate, intense and sang beautifully to a sparse, insistent acoustic backing. Captivated, I rushed out the next day and bought his then-current album, Lilas, and scampered home to check it out. It was awful -- everything the singer's performance was not: overblown, florid and cursed by the worst of early-'80s synthpop production. It was my first real experience with the "burn" factor of Brazilian MPB: you find out about some super-cool artist, and then discover that a bunch of their albums really suck. A popular singer who came up during the transition from tropicalia into the jazzier MPB sound, Djavan came to specialize in blechhy light pop ballads with a mild samba flavor. His later work has momentary flourishes of simplicity and grace, but for the most part tends to sound irritatingly cloying, and can be skipped. I've tried several of Djavan's albums, and have frequently been left cold, although I have heard high praise for his work, particularly by revered Brazilian icons such as Caetano Veloso. Other than some of the early stuff, I remain unconvinced, although I can see the appeal... For now, I suppose Djavan's fans and I will just have to agree to disagree...
---
Discography
---

Djavan "A Voz E O Violao" (Globo, 1976)



(Produced by Guta Graca Mello & Aloysio De Oliveira)
On this fine debut album, Djavan picks up where his tropicalista predecessors left off, interweaving complex guitar lines and insistent, gentle vocals with jazzy 70s-fusion keyboard riffs and loping, casual percussion. More than anything else, he sounds like Gilberto Gil, but with strong wisps of Jorge Ben and (of course) Caetano Veloso as well. It's a remarkably confident performance; Djavan glides from passage to passage, seemingly with no hesitation or awkwardness, he is clearly an artist who has found his muse. If you want to check out Djavan in his good years, this is the place to start.

Djavan "Djavan" (EMI-Odeon, 1977)



There's a particular sonic quality to the Odeon studio's production during the 1970s... You can hear it on records by Milton Nascimento and Joao Bosco... and on this disc. Compared to other Djavan albums, this album sounds a little stiff, less sensuous and richly layered, and even a bit jittery. Which isn't to say that this is a bad record, just that I'm not sure if at this point Djavan was completely comfortable or in control of the studio experience. The album opens with several florid, string-laden ballads, then livens up for some brisk, fusion-tinged pop tunes, on which his stylistic likeness to Joao Bosco is pretty overwhelming. Fans point to this album as an early high point, and while I would say that his sound hasn't quite gelled into a distinctive style, it's a pretty decent album. Still not my cup of tea, but certainly worth checking out.


<! produced by Mariozinho Rocha - or is that twofer reissue? >

Djavan "Alumbramento" (EMI-Odeon, 1980)



Despite the scary disco-y opening track, this is a much richer album than its predecessor, with Djavan staking out the rich harmonic terrain that would become his trademark style, yet (thankfully) not as goopy and florid as his work would get later on. Chico Buarque duets on one tunes ("A Rosa") and the two sound great together... Djavan's vocals on this uptempo song are particularly interesting because, singing at a brisk pace, he doesn't have a chance to glide up into the ethereal, Milton Nascimento-ish upper-register croon that he favors on most of his ballads. His natural voice sounds quite nice. Again, an early work that's worth checking out, and certainly more appealing than his more ornate later work.


<! produced by Mariozinho Rocha - or is that twofer reissue? >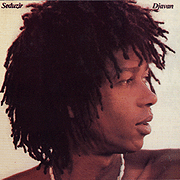 Djavan "Seduzir" (EMI-Odeon, 1981)



This is often touted as one of Djavan's best albums, and I suppose it is... at least it's one of his most straightforwardly "pop" and hook-laden outings. Still not my cup of tea, though. Djavan builds his sound off of sleek '70s jazz-fusion motifs that I simply find anathema: the ringing, echo-y electric bass, the watery guitars, the overly insistent keyboards, and --worst of all -- the hated soprano saxophone, one of the most misused and irritating instruments in the world. If you like that style of music -- Pat Metheny, Kenny G, et al -- then more power to you; you'll probably love this album. It may be true that Djavan is taking fusion music into new and innovative terrain, but if you're like me and find the sounds of these instruments played in this particular style akin to fingernails on a blackboard, then you'll want to avoid this record.

Djavan "Lilas" (CBS, 1984)


Very '80s, and very icky. The thudding, mechanistic drums of '80s style synth-soul and perky, perfunctory horn charts run throughout this album, moderated only by wispy string arrangements which hint at Djavan's much-vaunted harmonic brilliance. Recorded in LA, this album takes full advantage of the awfulness that predominated in U.S. pop at the time. Just sounds like Sting singing in Portuguese to me.
Djavan "Nao E Azul Mas E Mar" (CBS, 1987)


Djavan "Bird Of Paradise" (Columbia, 1987)


A simply horrific North American release, made in Los Angeles with the assistance of soft-pop jazzsters such as Ronnie Foster, George Duke, Bill Summers and the like. Michael Franks helped translate one song. Sure, if you're really into goopy, yuppified, sub-Top 40 easy listening, I suppose this would be a wonderful addition to your library... There's nothing on here that I would recommend to anyone, though. Not my cup of tea.
Djavan "Puzzle Of Hearts" (CBS, 1989)


Djavan "Djavan" (CBS, 1989)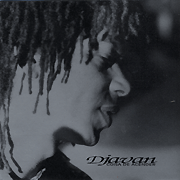 Djavan "Coisa De Acender" (Sony, 1991)


(Produced by Ronnie Foster & Djavan)
Ah, humble pie. It tastes pretty good, actually. Yes, yes, I'm the stupid guy who has said all those mean things about Djavan, and yet, here I am with a genuine "guilty pleasure" -- two of them actually -- gooey, drifting pop melodies that are completely seductive that I can't get out of my head. This album starts out innocuously, with a gentle, bossa-y acoustic ballad, "Ferrugem," pretty-sounding, but insubstantial. Then it's straight into tackyville with "Boa Noite," with its drum machine brashness, etc., etc. Just as your eyes start to roll to the back of your head, "Se..." creeps onto your speakers and... it's a simply lovely song. Yeah, the instruments and arrangements and tones are all questionable -- airy saxophone solos, crystalline keyboards, dush-dush-dassssshhhhh-ing drums -- and yet, it's a lovely song. It's unquestionably cheesy, but cheesy in a way that works. And that goes double for the next track, "Linha Do Equador," a lazy, relaxed pop gem with a melody that just won't quit. These are both perfect summer/beach music tunes, songs that I'd mix in with the best by Jorge Ben and hope that no one noticed... That's why they call 'em guilty pleasures, right? The rest of the album gets progressively more unlistenable, but those two tracks alone are enough to give me pause in the midst of my rabid, unmitigated Djavan-baiting... Hmmm. Maybe Caetano Veloso was right about his being a harmonic genius, after all. Dang.

Djavan "Malasia" (Sony-Epic, 1996)


(Produced by Djavan)
Egad. It's Djavan, playing with an all-Brazilian ensemble, with another horrible, overripe album, drenched deeply in slick, flashy, glossy modern "smooth jazz" stylings. Blechh. But I suppose if you do enjoy that style of music, this may be a thrilling album for you. I can't stand it, though: it makes me grind my teeth and sets my nerves on edge. I think that in certain parts of the world they use this kind of music to torture people. Just wait until the U.N. Human Rights Commission hears about it!
Djavan "Meu Bem Querer" (EMI, 1997)






<! best of? >

Djavan "Bicho Solto O XIII" (Sony, 1998) <! * >


(Produced by Djavan & Ronaldo Viana)


Djavan "Ao Vivo" (Epic, 1999)


I suppose that this 2-CD live set captures Djavan at his best, or rather, at the most likely he'll ever be to win over those of us who dislike his music... But honestly, I gotta say, it still doesn't work for me. Even as he swings between a stripped-down acoustic vibe and larger pop arrangements, the allure of his brand of music remains miles and miles away from my taste. Sure, he's got a marvelously nuanced sense of harmony, etc., but it's still basically just awful pop music -- think Sting and Lionel Richie with a slight hint of Caetano Veloso (or something along those lines...) There are some nice moments, but the soft-jazz treacle and clumsily blaring electic guitar work are both really repellant. When all is said and done, it's still just icky MOR.
Djavan "Milagreiro" (Sony-Epic, 2001)

Djavan "Vaidade" (Luanda, 2004)


Djavan "Na Pista, etc." (Luanda, 2006)


Djavan "Matizes" (Luanda, 2007)


Djavan "Rua Dos Amores" (Universal Latino, 2012)


---
Best-Ofs
---
Djavan "Faltando Um Pedaco" (EMI)
An early best-of covering 1978-1980.
Djavan "Preferencia Nacional" (EMI, 1998)


Djavan "Meus Momentos" (EMI, 1999)



A 2-CD set combining two previous best-ofs from the early 1990s.
Djavan "Serie Bis" (EMI, 2000)



2-CD set.
---
Tributes
---
Luiz Avelar "Homenagem A Djavan, v.1" (CID, 1994)


Luiz Avelar "Homenagem A Djavan, v.2" (CID, 1996)


Various Artists "DJAVAN SONGBOOK, v.1" (Lumiar, 1997)



Djavan's music, and particularly his songwriting, is held in high esteem by his MPB contemporaries, as seen in this all-star tribute album. Musicians Include Gal Costa, Ed Motta, Chico Cesar, Lenine, Dori Caymmi, and others.
Various Artists "DJAVAN SONGBOOK, v.2" (Lumiar)


Various Artists "DJAVAN SONGBOOK, v.3" (Lumiar)


---
Links
---
Disco Track features a discography page with scans of album art and track listings, though apparently no other info about the artist... Other artists featured on the site also seems to be from the slick side of the pop music industry.
All Brazilian Music, as usual, has a good biographical sketch and discography... Recommended website!
---



---