<! MP3 09/12/08, 02/01/11 > <! update 09/12/08, 02/01/11 - missed some? > <! pix 11/15/09 > <! icons 02/01/11 >

---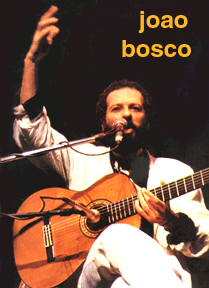 A pop-samba singer with a light, poppy touch, Joao Bosco has long been one of the most popular performers around, and is one of the most important MPB artists of the last 30 years. For the most part, though, he's a little too lightweight for me -- sort of like a Brazilian equivalent of Michael Franks. Bosco's star rose in the early 1970s, after being briefly tapped as a songwriting partner by the great Vinicius De Moraes, a move which gained him his first record deal, and a future as one of Brazil's best-known stars. Much of his earliest (and best) material was written in partnership with lyricist Aldir Blanc, who he worked with from the early '70s through the mid-'80s.
---
Discography
---

Joao Bosco "Joao Bosco" (RCA, 1973)


An innovative album that doesn't hold up well over the decades. In the early '70s Bosco was a hot new talent, having been tapped by Vinicius De Moraes as an up-and-comer in the bossa/MPB scene. For this disc he gets production assist by braz-jazz arranger Luiz Eca and legendary tropicalia Svengali, Rogerio Duprat. Not only are their production styles at odds with each other, neither really seems to match Bosco's talents that well, particularly as they both tend to obscure his strengths as a balladeer. The overall effect is cluttered and gimmicky-- one is constantly aware of the technique, technique, technique being employed to steer Bosco into alternately jazzy or avant-garde directions, Eca's dynamic string arrangements or Duprat's bouncy, kitschily chaotic pop twists. To be sure, there are several good tunes, classics even, but few tunes are as graceful or elegant as his later work. I think this album is interesting mainly as a curio and an introductory footnote to Bosco's long and prosperous career; here his footing still seems a bit unsure.

Joao Bosco "Caca A Raposa" (RCA, 1975)


A nice early album, this ranges from smooth acoustic sambas to lightly popped-out ballads. The later, greater excesses of his brand of MPB are only lightly hinted at here, and all-in-all, this is a quite restrained, listenable album. Gilberto Gil and Martinho Da Vila are easy influences to spot: Bosco's jazz side has thankfully not yet come to the fore. Also features guitar work by Toninho Horta, and arrangements by Cesar Camargo Mariano.

Joao Bosco "Galos De Briga" (RCA, 1976)


Although this has a few mildly over-the-top production touches, this is a pretty solid album, largely lacking in the cheesy pop-jazz blandness of his later work. Bosco's songwriting partnership with Aldir Blanc is at its height here... Musically, they go out on a limb a couple of times, but in an admirable way. Well worth checking out.

Joao Bosco "Tiro De Misericordia" (RCA, 1977)
Jeez, talk about taking yourself too seriously. This album starts out with several dreadfully pretentious MPB clunkers -- lofty pop-samba arias that are the Brazilian equivalent of bad prog rock, with Bosco lingering on his own every word, while the band plods grandly behind him... The worst of it is "Tempos Do Onca E Da Fera (Quarador)," a leaden epic that's as ungainly as it's title, constantly calling attention to its own artfulness and importance. Bosco regroups and scores a few authenticity points with several lovely pagode-style acoustic sambas that fill out the middle of the album, but heads right back into the turgid, jazz-flavored MPB for the album's end (including the uptempo title track, with vocals that a bit rap-like, amid manic, Santana-esque congas-and-guitars..). Folks who like experimentation for its own sake will appreciate Bosco's efforts to push the boundaries of his music, but in all honesty, it is a bit much. The pretty acoustic songs are lovely; the more ornate pop crossovers may tax your patience.

Joao Bosco "Linha De Passe" (RCA, 1979)



A bright, brisk, beautiful album, with Bosco trying on various styles and excelling at them all. The opening song is a bouncy, guitar-led acoustic folk-jazz scat, lifted straight out of the early-'70s Gilberto Gil stylebook... Jazz comes to the fore more explicitly on other numbers, with saxophone riffs and Manhattan Transfer-ish vocal harmonies; there's also a healthy dose of straight-up samba, borrowing from the joyous pagode scene of the time... There are parts of this album, here and there, that aren't to my liking -- mainly the more commercial-sounding jazz elements -- but they are overshadowed by the playful tone and masterful performances... This is certainly one of his best albums... Definitely worth checking out!

Joao Bosco "Bandalhismo" (RCA, 1980)
A fairly solid album with good pop arrangements and strong vocals. Not dazzling, but also not goopy or embarrassing in any way. Worth checking out.

Joao Bosco "Essa E A Sua Vida" (RCA, 1981)
Super goopy and slo-o-o-o-o-o-o-o-o-o-o-o-o-ow paced, played almost at a crawl and rather dreadful on many tunes. Disappointing, pretentious, and also a sad precursor of things to come.
Joao Bosco "Coracao"

Joao Bosco/Various Artists "Guitar Workshop In Rio" (RCA Victor)


Joao Bosco "Comissao De Frenta" (Barclay, 1982)



Although there's plenty of glitz in the production mix, this is an overall solid, sprightly album, featuring Bosco at his most bouyant. Cesar Camargo Mariano and Mazola collaborate to craft the sound, but the music is all classic material by Bosco and Aldir Blanc. This is just a little too glossy for my tastes, but still quite good.

Joao Bosco "Ao Vivo 100th Apresentacao" (Polygram, 1983)



A solid solo acoustic show. Bright, energetic performances which are very similar to Gilberto Gil's acoustic work, and very engaging. As an album, though, it all starts to sound the same, so it may be best taken in small doses. Nevertheless, this is one of my favorite of Bosco's albums... Recommended!

Joao Bosco/Various Artists "Brazil Night Montreaux '83" (1983)


Actually, a live compilation on which Bosco sings several songs. The other artists include Ney Matogrosso, Joao Bosco. Arnaldo Batista of Os Mutantes backs Caetano Veloso up on a few tracks; Caetano sings a duet with Matogrosso which rounds the album off.
Joao Bosco "Gagabiro" (Barclay, 1985)

Joao Bosco "Cabeca De Nego" (Barclay, 1986)

Joao Bosco "AiAiAi De Mim" (CBS, 1986)


A pretty drekky, glossily-produced album, with lots of pop/fusion production techniques. It's hard to pry out whatever musical or lyrical subtlety may be going on behind this slick pop veneer. Not my cup of tea.
Joao Bosco "Na Onda Que Balanca" (Epic, 1987)


Mainly smooth, EZ ballads (which have an air of gravity to them, but are still too cloying...), some Cuban-tinged latin pop, and several awkward, dated, '80s-ed out synth pop tunes. Most of the songs sound too much alike to hold your attention through the whole album, even if you can hang with the glossy production.

Joao Bosco "Joao Bosco" (RGE, 1989)
All over the map, musically speaking. Although this has some magnificent sambas on it, some of the best work he's ever done, it also has a lot of over-the-top pop as well, stuff that made me go racing for the fast-forward button. I suppose it's a pretty strong album, overall, but for me, personally, the kind of record you'd have to pick very carefully from.
Joao Bosco "Bosco" (Sony-Epic, 1989)





<! 1 Funk De Guerra (Jočo Bosco) 2 Sinceridade (Sinceridad) (Perez - Jočo Bosco) 3 Tenho Dito (Jočo Bosco) 4 Jade (Jočo Bosco) 5 Vendendo Amendoim Com El Manisero (Simons) 6 Varadero (Jočo Bosco) 7 Terra Dourada (Jočo Bosco) 8 Sassaô (Jočo Bosco) 9 Vila De Amor e Lobos (Jočo Bosco) 10 O Mar, Religioso Mar (Jočo Bosco) 11 Maiakovski (E Entčo, Que Quereis...?) 12 Corsário (Aldir Blanc - Jočo Bosco) >

Joao Bosco "Zona De Fronteira" (Epic, 1991)


Although the production is still quite glossy, Bosco's melodic and rhythmic strengths come to the fore more powerfully than on his preceding efforts from the late '80s. At times the tricky meter changes and interlocking rhythms are a bit too showy, but many songs have a nice groove running through them. A little too slick for my tastes, but certainly one of the better and more enjoyable Bosco albums of this era. Worth checking out.

Joao Bosco "Acustico MTV" (Columbia, 1992)


A lively acoustic concert, with Bosco regaling an eager, enthusiastic audience. While the connection between artist and fans is palpable and electrifying, I gotta say, I found Bosco's performance to be pretty irritating. In particular, his vocalizing -- wild, ecstatic, scat-like yelps -- is simply a bit unpleasant. He's putting a lot into his show, but many of his efforts to pump up the energy level seem to come at the expense of the melodic grace that marks his best work. A good example of Bosco's popular appeal, but it still might get on your nerves after a while.
Joao Bosco "Afrocanto" (Tropical Music, 1992)

Joao Bosco "Na Onda Que Balanca" (Sony/Columbia, 1994)

Joao Bosco "Da Licensa Meu Senhor" (Sony, 1996)


Bosco covers the work of several classic Brazilian songwriters such as Milton Nascimento, Dorival Caymmi, Gilberto Gil, Tom Jobim, and Ary Barroso...
Joao Bosco "As Mil E Uma Aldeias" (Sony, 1997)


Bosco writes and performs with his son, Francisco Bosco.
Joao Bosco "Benguele" (Soundtrack) (Grupo Corpo, 1998)


Apparently, an independently-released album, teaming Bosco up with the Grupo Corpo, also of the label's name.
Joao Bosco "Joao Bosco Na Esquina" (Sony/Epic, 2000)


This soundtrack album features arrangements and production by cellist Jacques Morelenbaum.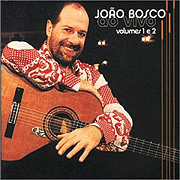 Joao Bosco "Na Esquina - Ao Vivo" (Sony/Epic, 2001)


Bosco live in concert with a large band, and an overly-large sound. The crowd sounds happy as can be, so I'm sure plenty of people will love this album, although I found it pretty tedious. It's a strong performance, technically, but the aesthetics, with the out-of-date, Pat Metheny-ish guitars, and boomingly-mixed drums, just don't do it for me. The music is dense, but a bit too mathematically clever, and there are precious few moments of grace amid all the careful execution. It could have been a lot cheesier, though, and I'm sure that Bosco fans will not be disappointed.
Joao Bosco "Malabaristas Do Sinal Vermelho" (Sony, 2003)

Joao Bosco "Obrigado Gente - Ao Vivo" (Universal, 2006)

Joao Bosco "Nao Vou Pro Ceu..." (Universal, 2009)





<! Nao Vou Pro Ceu Mas Ja Nao Vivo No Chao >

Joao Bosco "Senhoras Do Amazonas" (Universal, 2010)






<! & NDR BIGBAND >

---
Best-ofs
---

Joao Bosco "Brasil's Best - Joao Bosco" (BMG Ariola, 1993)


Despite the lame album art, this is an excellent set of Bosco's early work. It draws heavily on two mid-'70s albums, Galos De Briga (1976) and Linha De Passe (1979) and hardly even hints at the jazz-pop drek to come... Out of print, but well worth looking for!
Joao Bosco "Joao Bosco" (1989)
This is a collection of hits from the '70s and '80s.

Joao Bosco "O Bebado E A Equilibrista" (BMG, 1989)


A nice collection that spans his early work in the mid-'70s well into the 1980s... There's a lot of cheesy stuff that could have made it on here, but didn't. Mostly this is pretty sweet and straightforward.
Joao Bosco "Odile Odila" (Verve, 1991)


A very good sampler that covers some of Bosco's better material from the early '80s (1982 to 1986). Samba-pop which operates in the lite-jazz spectrum. OK, I know that sounds like it could be icky, but really, mostly it's nice -- Bosco's cheesier tendencies are held in check, and many arrangements are very creative. Fans of Gilberto Gil's 1994 Acoustic album might enjoy this disc.
Joao Bosco "Acervo Especial" (BMG, 1994)
Mellow, poppy, samba. This best-of covers is a good representation of his early years, despite the garish cover. A little too lightweight for me, though not overtly icky; sort of like samba's equivalent of Michael Franks.
Joao Bosco "Focus: O Essential" (BMG, 1994)

Joao Bosco "Millennium" (Polygram, 1998)


Collection from '80s Polygram years.
Joao Bosco "Coracao Tropical: The Years '86-'92" (Tropical Music, 1998)

Joao Bosco "Serie Sem Limite" (Polygram, 2001)

---
Related Records
---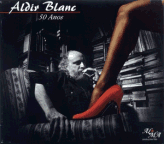 Aldir Blanc/Various Artists "50 Anos" (Alma Producoes, 1996)


A glitzy collection of material written by Aldir Blanc, who is best known as Bosco's main creative partner in the 1970s, and one of Elis Regina's favorite songwriters. It's an all-star cast on this one: Blanc himself plays on about a third of the album, and is also feted by Edu Lobo, Ivan Lins, Paulinho Da Viola, Leila Pinheiro and the Caymmi kids, as well as a slew of lesser-known samba and MPB performers. The straight samba material is pretty nice; the swankier jazz-tinged material can be a bit much. It's a mixed bag, but a very nice introduction to his work.
Various Artists "JOAO BOSCO SONGBOOK, v.1" (Lumiar)


Various Artists "JOAO BOSCO SONGBOOK, v.2" (Lumiar)


Various Artists "JOAO BOSCO SONGBOOK, v.3" (Lumiar)


---
Links
---
Joao Bosco's website has plenty of good info...
MPB Net has a nice article about Bosco and Aldir Blanc. Includes lyrics and chords to several songs.
All Music Guide has a nice thumbnail sketch of Bosco's career...
---



---