<! MP3 9/12/08, 12/08/09 > <! update 9/12/08 > <! pix - 11/01/09 > <! icons 01/22/11 >

---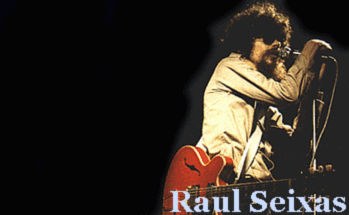 ---
One of Brazilian rock's most striking and troublesome figures, Raul Seixas (1945-1989) exemplified old-style rock-and-roll rebellion, combined with a host of his own metaphysical and political obsessions. Seixas started his career as a mid-'60s Eddie Cochran-style rocker, and was pretty hardcore for the Jovem Guarda teenybopper crowd that surrounded him. His recording career was slow to take off, in part due to his unruly and reckless behavior, as well as the public's unfamiliarity with and distaste for the hard rock sound he pioneered. In the early 1970s, Seixas co-wrote much of his material with lyricist Paulo Coelho, who later went on to become one of Brazil's most prominent modern novelists. Seixas's legacy is difficult to track, in no small part because he careened through a series of record companies, and his work is thus chopped up between several dozen disconnected (and often uneven) albums, issued on over a half dozen labels. Still, he is a key figure in Brazilian rock -- his edgy, unsettling early work has an aggressive intensity to it that can be seen as a forerunner to the hard rock and punk styles that became popular later in the 1980s and '90s.
---
Discography
---

Raulzito E Os Panteras "Raulzito E Os Panteras" (EMI-Odeon, 1967)


(Produced by Milton Miranda & Lyrio Panicali)
By the time they released their first LP, Os Panteras had already spent the better part of the decade performing on TV and acting as back-up band to the hordes of wannabee teenie-bopper stars and starlets of the ie-ie-ie crowd... Despite their reputation as "real" rockers, this album is mostly pretty tame stuff, full of languid mainstream pop arrangements, and Association-ish soft rock motifs. It's a cut or two above most jovem guarda material, but only hints at the weirdness to come -- highlights include a cover of "Lucy In The Sky With Diamonds" and a mildly off-kilter original, "O Dorminhoco," which closes the album. This is worth looking for, but it won't blow your mind.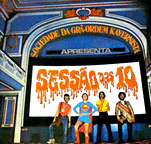 Raul Seixas "Sociedade Da Gra-Ordem Kavernista Apresenta Sessao Das Dez" (CBS, 1971) (LP)


(Produced by Raul Seixas)
This was the album that apparently got Seixas fired from his day job as an arranger and studio musician at CBS. Legend has it that Seixas waited until a time when the company president was out of town, then "OK-ed" the production of his own solo album, which was predictably a nutty, psychedelic mess, made with fellow kook-rocker Sergio Sampaio, along with glamster Edy Star and others. The CBS exec got back later, but too late to stop the album from coming out, and dutifully booted Seixas out on his butt. I actually haven't heard the album yet, but I sure like the story.


<! 1 - śta vida (Raul Seixas - Sergio Sampaio) Interpretaćčo: Raul Seixas / Sergio Sampaio 2 - Sessčo das 10 (Raul Seixas) Interpretaćčo: Edy Star 3 - Eu vou botar pra ferver (Raul Seixas) Interpretaćčo: Raul Seixas / Sergio Sampaio 4 - Eu acho graća (Sergio Sampaio) Interpretaćčo: Sergio Sampaio 5 - Chorinho inconseqüente (Erivaldo Santos - Sergio Sampaio) Interpretaćčo: Míriam Batucada 6 - Quero ir (Raul Seixas - Sergio Sampaio) Interpretaćčo: Raul Seixas / Sergio Sampaio 7 - Soul tabarôa (Jocafi - Antônio Carlos) Interpretaćčo: Míriam Batucada 8 - Todo mundo está feliz (Sergio Sampaio) Interpretaćčo: Sergio Sampaio 9 - Aos trancos e barrancos (Raul Seixas) Interpretaćčo: Raul Seixas 10 - Eu nčo quero dizer nada (Sergio Sampaio) Interpretaćčo: Edy Star 11 - Dr. Paxeco (Raul Seixas) Interpretaćčo: Raul Seixas 12 - Finale (Vinheta) >

Raul Seixas "Krig-Ha, Bandolo!" (Philips, 1973)



(Produced by Mazola, Raul Seixas & Roberto Menescal)
That's Tarzan talk in the title, for all the uninitiated... This is really cool, kooky album, much mellower in tone and more acoustically based than his later hard-rock approach. The first sideof this is album is filled with searching, folky space-rock, psychedelic adaptations of samba and Northeastern forro, and even a send-up of a Mitch Miller-style squaredance hoedown, and some country-rock in the second half of the album. It's possible that the production assistance by bossa nova elder Roberto Menescal helped soften things a bit, but regardless of the circumstances, this is a wildly diverse, creative and rather unusual Brazilian rock album... well worth tracking down and checking out! Novelist Paulo Coelho co-wrote about half the songs on here; the start of their long and productive partnership.


<! B000ZBE36Q 1973? >

Raul Seixas "Gita" (Philips, 1974)



(Produced by Mazola)
As Caetano Veloso and the tropicalia crowd became increasingly serious about their art, and MPB entered the Brazilian mainstream, Seixas held onto the playful, anarchic side of rock'n'roll, framing his oddball lyrics in quaintly retro '50s rock stylings, as well as the anthemic '70s stadium rock of "Sociedade Alternativo," the best-known song off this album. This is one of the high points of his collaboration with lyricist Paulo Coelho, who since has gone on to become one of the world's most widely read popular novelists. Worth checking out, especially if you're curious to hear how hard rock managed to keep a foothold in Brazilian popular culture, amid the jazzy sophistication of the MPB crowd.
Raul Seixas & Paulo Coelho "O Rebu" (Soundtrack)


Raul Seixas "Novo Aeon" (Philips, 1975)



(Produced by Mazola)
The spirits of David Bowie and British glam hover closely over this dense, theatrical, occasionally spasmodic rock record. This is one of Seixas's most measured and accomplished albums, a rock odyssey that flirts with excess, yet holds together well enough to stand alongside contemporary mainstream material from the UK and USA. If you want to check Seixas out and avoid the potential irritation of his wilder and more chaotic recordings, this is a very strong album to start with. Coherent, without being wimpy at all. Again, Paulo Coelho is his main collaborator, along with Marcelo Motta and someone called Spacey Glow. Recommended.
Raul Seixas "Ha Dez Mil Anos Atras" (Philips, 1975)


(Produced by Sergio De Carvalho)

Raul Seixas "30 Anos De Rock" (Philips, 1975)



(Produced by Mazola & Raul Seixas)


Raul Seixas "Raul Rock Seixas" (Polygram, 1977)



(Produced by Sergio De Carvalho & Gay Vaquer)
An odd and rather remarkable album, which starts off with a bit of creaky-at-the-edges, English language, early-'60 teenpop that sounds for all the world like the real thing. (True story: I had this disc in rotation on a multi-disc CD player and when it came up, was mystified about which weird one-hit wonders compliation album is was... I had no idea, and was quite amused when I stopped the player to find out which album it was!) Seixas starts off quite earnestly, but as the album moves along, the sounds get harder and more modern, with electric keyboards and '70s-style boogie-rock riffs creeping into the "Be Bop A Lula" and "Ready Teddy" covers tunes. It ultimately becomes a bit unlistenable -- his thin, whiny voice is better suited to wailing away on indeciperable Portuguese-language heavy rock/glam, but still, it's a clever and noteworthy album.
Raul Seixas "O Dia Em Que A Terra Parou" (Warner, 1977)

Raul Seixas "Mata Virgem" (Warner, 1978)

Raul Seixas "Por Quem Os Sinos Dobram" (Warner, 1979)


Raul Seixas "Abre-Te Sesamo" (CBS, 1980)


Nothing up my sleeve...
Raul Seixas "Raul Seixas" (Eldorado, 1983)

Raul Seixas "Raul Vivo" (Eldorado, 1983)

Raul Seixas "Raul Seixas Ao Vivo - Unico E Exclusivo" (1983)

Raul Seixas "Metro Linha 743" (Som Livre, 1984)

Raul Seixas "Let Me Sing My Rock'n'Roll" (Fan Club album, 1985)
Well, okay... if you insist.
Raul Seixas "UAH-BAP-LU-BAP-LAH-BEIN-BUM!" (Copacabana, 1987)

Raul Seixas "A Pedra Do Genesis" (Sony/Copacabana, 1988)


At this point, Seixas's reedy voice is a hindrance, at least combined with the underwhelming big-beat pop/R&B production (though it does fit in with the country-tinged production on a couple of tunes). Rocker Paulo Coelho, notably, is absent on the credits. Pretty wimpy, overall -- the highpoint is a cover of Hoyt Axton's "No No Song," which isn't really much to write home about. A negligible album.
Raul Seixas "A Panela Do Diablo" (Warner, 1989)


Reissued in a 2-for-1 CD, along with Marcelo Nova.
Raul Seixas "Eu Raul Seixas - Show Ao Vivo Praia Do Gonzaga: 1982"


Raul Seixas "O Bau Do Raul" (Philips, 1993)


(Various producers)
A fascinating odds-and-ends collection which focuses on his love of North American rocknroll. The disc opens with an early medley of oldies hits performed in English with his band the Panthers on a Brazilian TV show in 1963. The theme continues through the early and late '70s, with various whistful takes on old-time rock music... "Be Bop A Lula," "Kansas City," "I'll Cry Instead," etc. are interspersed with his weirder original material... Normally this sort of foreign-folks-doing-roots-rock thing doesn't do much for me... but for some reason this disc is extremely compelling. The disjointed frailness that weaves through his performances -- and his palpable, painful dedication to the genre -- gradually create a through line between the seemingly disparate material and suggest an Alex Chilton-esque character, complete with the John Lennon envy. Insightful archival work, and definitely recommended.

Raul Seixas "Se O Radio No Toca" (Eldorado, 1994)


(Produced by Sylvio Passos)
The perfect companion disc to the O Bau Do Raul album listed above, this is a scrappy, somewhat poorly recorded concert album, made in 1974. It's a remarkable document, though, of Raul's dissolution, defiance and good old fiery rock'n'roll rebelliousness. This was the year that Seixas and songwriting partner Paulo Coelho briefly fled the country to avoid political persection... and listening to this album, it's not hard to figure out why. One can only imagine the impact that his surly outlandishness had at the time -- in the early '70s the still-repressive military government had major artists such as Chico Buarque being practically chased underground, and although Gilberto Gil and Caetano Veloso had just come back from European exile, things were still pretty tense. Then here's this weirdo with a scraggly beard and a band that has trouble keeping a beat, banging away at hard rock riffs and shouting on stage about his "Sociedade Alternativa" and all his bizarre metaphysical concerns, all in a tense, taut performance that would've done Lou Reed proud. It's pretty cool, pretty punk, and well worth tracking down. If you can find this one, check it out.
---
Best-Ofs
---
Raul Seixas "Minha Historia" (Philips, 1993)


Good best-of. Not many of Brazil's would-be rockers were up to the challenge laid down by Os Mutantes in the late '60s. Seixas was at the head of the pack, though, and while this isn't as challenging as Mutantes best stuff, it's pretty solid mid-70s rock, with echoes of artists as diverse as Wishbone Ash, Dylan, and Bread. His songwriting partner, (future) novelist Paulo Coelho, tended to contribute driving, retro-'50s/Eddie Cochran licks -- and bizarre metaphysical lyrics. Combined with the modern production, it all results in a decade-bending sort of Rocky Horror Picture Show sound. Let's do the timewarp!

Raul Seixas "Millennium - 20 Musicas Do Seculo XX" (PolyGram, 1999)
An even better best-of, with only about half the tracks overlapping with the earlier Minha Historia collection. This is one of the best discs in this series, and probably the best representation of Seixas' work you're likely to come across. Ranges from the absurdly anthemic hit, "Sociedade Alternativa" and various winks and nods at '50s-style rock, to the sweet acousto-pop of his English-language "Morning Train" (which sounds eerily like the Waterboys!) A lot of this is completely overblown, and while not completely progged-out, there are a few wayward minor chords and wayward synth riffs here and there. This might not be thing to put on for a relaxing afternoon at home, but it is a fascinating look at one of the more challenging, experimental rockers on the Brazilian scene.
Raul Seixas "Serie Grandes Nomes, 1" (Polygram, 1994)


I have not actually heard this 4-CD retrospective, but based on the others collections in this series, I imagine it is quite nice. Pretty amazing that the label even thought to put out such a lavish tribute to an oddball like Seixas -- if you can find this one, it's probably pretty amazing.
Raul Seixas "Serie Grandes Nomes, 2" (Polygram, 1994)

Raul Seixas "Grandes Sucesos: O Melhor De Raul Seixas" (Polygram, 1999)

Raul Seixas "Metamorfose Ambulante" (Polygram, 1999)


Raul Seixas "Serie Bis" (EMI, 1999)



This 2-CD set includes the better part of his 1967 Raulzito E Os Panteros jovem guarda album, inopportunely paired up with some of his later work, recorded for EMI-affiliated labels in 1987-88. The styles don't really match up, but it's a good chance to hear his early stuff, which is otherwise pretty hard to find.
Raul Seixas "Enciclopedia Musical Brasileira" (WEA, 2000)

Raul Seixas "Maluco Beleza" (WEA, 2000)


This draws on his late-'70s Warner albums, O Dia Em Que A Terra Parou, Mata Virgem, and Por Quem Os Sinos Dobram.
Raul Seixas "Serie XXI" (Sony, 2000)
Raul Seixas "Maluco Beleza" (Box Set) (WEA, 2000)


This sleek, well-packaged CD box set includes six of Seixas's albums recorded for the Philips and Fontana labels, along with several bonus tracks on each disc. The albums reissued include: Krig-Ha, Bandolo! (1973), Gita (1974), Novo Aeon (Philips, 1975), Ha Dez Mil Anos Atras (1975), Raul Rock Seixas (1976) and 20 Anos Do Rock'n'Roll (renamed "30 Anos..." for the CD reissue). There's a wild variety of styles, from the dreamy, experimental space-folk of his early albums to the wilder, harder guitar rock of later albums, and his frequent dips into the classic canon of 1950s and early '60s American rock. The set comes with a nice booklet, adorned with plenty of cool photos, Seixas cartoons and other archival material. If you want to delve into Seixas's best work, this is really the place to start.
Raul Seixas "A Arte De Raul Seixas" (Polygram, 2004)

---
Tributes
---
O Terco "Tributo A Raul Seixas" (Movieplay, 1999)



In the 1970s, O Terco was a popular prog-rock band... I haven't heard this later album from the '90s, but I imagine it's fairly scary...
Ze Ramalho "Canta Raul Seixas" (BMG, 2001)

---
Related Records
---

Sergio Sampaio "Eu Quero E Botar Meu Bloco Na Rua" (Philips, 1973)


(Produced by Raul Seixas)
Supercool. If you originally got on the Brazil bandwagon through psychedelic rock bands such as Os Mutantes, and have been looking for something that lived up to that kind of promise, then you have got to check this album out!! A weird but alluring, trippy, semi-orchestral, semi-acoustic space rock delicacy, laced with idiosyncratic acoustic guitar noodlings... This combines the searching, impassioned drama of Gilberto Gil's best stuff with the expansive, assured eclecticism of Caetano Veloso. Yeah, I know, that's pretty big talk, but really, this is an album that will live up to your expectations. The connection to Seixas? Sampaio was the first artist that Seixas "discovered" as a record company A&R man, and Raul's first solo album, the one that got him fired from CBS, featured a bunch of Sampaio compositions. It's good stuff.

Trio Ternura "Trio Ternura" (CBS) (1971?)
(Produced by Raul Seixas)
Cool psychedelic soul-pop album, created under the auspices of Raul Seixas, during his tenure as a pop album producer. This album has some great '60s pop twists, LA-style orchestral stuff, cannily blended with driving funk, similar to early Sly & The Family Stone... it's kind of like early Three Dog Night, but weirder. The band later released a more lackluster, Jackson Five-y album under the name of Quinteto Ternura. Retro fans pay heed: this is an album worth tracking down!


<! WxH = 144x144 >

---
Links
---
O Bau Do Raul, the official Seixas website, is apparently maintained by his ex-wife Kika Seixas and has a great discography (which I plundered liberally... thanks!) as well as a lot of cool photos, scrapbook items, lyric translations, etc. and links to other sites. A few sections are translated into English, including a brief biography that outlines his turbulent career. A very good website.
All Brazilian Music, as usual, has a good biographical sketch and discography... Recommended website!
---



---