<! MP3 09/12/08, 11/22/09 > <! update 09/12/08, 11/22/09 > <! pix 11/22/09 - reorg only; need larger than 108 > <! icons 01/22/11 >

---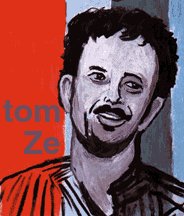 A playful pioneer of Brazilian tropicalia, Tom Ze creates artsy, quirky, Da-Da-ist pop that has an immediate appeal and obviously influenced David Byrne's explorations into afro-brazilian music. (Just listen to the two volumes of Byrne's BRAZIL CLASSICS series which are devoted to Ze's work, and then check out the arrangements on Byrne's Rei Momo records... Mmmm??) Apparently Ze was not widely popular until just recently -- the Luaka Bop collections made him a cult figure in North America and now, paradoxically, he is gained popularity in Brazil as well. Catchy oddball material, with a distinctly northeastern feel to it. Well worth checking out.
---
Discography
---

Tom Ze/Various Artists "EU VIM DE BAHIA" (RCA/BMG, 2002)


Each of the artists in the "group from Bahia" that Caetano Veloso and Gilberto Gil formed made their first recordings for the Brazilian wing of RCA (and each subsequently moved on to record for Philips). This CD collection, long overdue, gathers many of the early singles by Veloso, Gil, Gal Costa (then called Maria Gracia), Tom Ze and Veloso's sister, Maria Bethania. Of the group, Bethania and Gil were clearly the most confident -- he had several years of performing experience under his belt by the time of his 1965 recordings of "Roda" and "Procissao," and she was a rising star in the Brazilian theatre. Even so, Bethania's husky vocals, though powerful and distinctive, were slightly overwhelmed by the clattersome arrangements, particularly on her hit, "Cacara," and most of these tracks -- Gil's being the exception -- suffer from relatively poor engineering and musical accompaniment that was a hangover from the early '60s bossa-jazz scene. This 12-song collection is lamentably short, only covering their recordings from 1965, but it's an invaluable (and quite charming) glimpse at the earliest work from one of Brazil's most influential groups of musicians. Although Ze wasn't really part of the Bahian clique at this point, it's nice that BMG included his early work as well -- it's very much in keeping with his later work. If you see this anywhere, snap it up.


<! 130 x 130 (?) >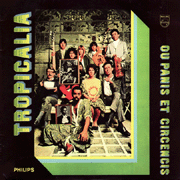 Tom Ze/Various Artists "TROPICALIA: OU PANIS ET CIRCENSIS" (Polygram, 1968)


(Produced by Rogerio Duprat)
A collaborative statement of purpose for the hippie-ish tropicalia movement, with contributions from Gilberto Gil, Os Mutantes, Nara Leao, Gal Costa and Caetano Veloso. Gil shines on this disc, coming off as a focussed, potent artist, particularly on his solo numbers. Gil co-wrote about almost half the songs on here, and takes part in several excellent cover tunes -- Ze is more in the background, but his dada-ist impulses are clearly felt in the mix. Overall, this disc radiates youthfulness and a playful, experimental artistic zeal. Definitely recommended.

Tom Ze "Tom Ze: Grande Liquidacao" (Rozemblit/Sony, 1968)


A remarkably cluttered, hyperactive pop album, which takes a little time out from the clanging bells and swelling choruses for Ze to go off on a few typically nutty digressions. The psychedelic rock backup was apparently provided by the bands Os Brazoes and Os Versateis, much after the style of the better-known Os Mutantes. Even for folks who are fans already, this one may take a little settling into, but it does grow on you. Also, the liner notes to the recent CD reissue has a nice (Portuguese language) essay about Ze and his avantnik philosophies of tropicalia, poetry, and art.
Tom Ze "Tom Ze" (RGE, 1970)


Tom Ze "Tom Ze" (Continental, 1972)


A surrealistic serenade, with backing by Jose Odair and the band known as Capote. Some of these songs were anthologized on David Byrne's excellent Brazil Classics series, but a lot of the stuff from this album in particular didn't get reissued. That may be because it's in a mellower, more folk-ish, pop vein... It's all nice, though. Definitely shows Ze at odds with tropicalia contemporaries such as Gal Costa, who were cranking up the guitars as loud as they would go around this time... In contrast, Ze pays more attention to the text. (Reissued later as "Se O Caso, Chorar".)

Tom Ze "Todos Os Olhos" (Continental, 1973)


(Produced by Milton Jose)
The joke with this one (pictured at left) is that the album art -- which looks like an eyeball -- is actually a photo of a marble shoved up someone's anus... a little jab at the Brazilian dictatorship's office of censorship, which apparently didn't recognize a mirror when they saw one. Ze's nutty side comes dancing to the fore here, with some of his more playful, deliberately challenging arrangements. Lots of clinky, clattering percussion, dangling guitar notes and a spiritedly goofy vocal chorus. You may recognize several of these songs from the Luaka Bop collections (listed below), but if you like Ze's stuff, the album itself is a "must have," since a lot of this is not collected on the Byrne comps. And once again, Ze is backed by Grupo Capote.

Tom Ze "Estudando O Samba" (Continental, 1975)



(Produced by Heraldo Do Monte)
(Arranged by Jose Briamonte)
A great album which provided many of the tunes with single-syllable titles ("Hein", "Toc", etc...) that North American fans may be familiar with from the Luaka Bop collections. This includes many of his best collaborations with guitarist Vincente Barreto -- quirky, clockwork-y arrangements and endless plays on words and sound. The album has recently been re-released on a 2-in-1 CD, along with Correio Da Estacao Do Bras. It's worth picking up the whole record, because now you can hear how it was meant to sound as a whole, and also because the material which was omitted from the Luaka collections is pretty good (including Ze's version of the lovely Jobim/De Moraes bossa nova standard, "A Felicidade").

Tom Ze "Correio Da Estacao Do Bras" (Continental, 1978)



(Produced by Cesare Benvenuti)
(Arranged by Otavio Basso)
A more fluid, low-key effort, with less of the challenging, music box melodies of his earlier efforts. This is a record which eases its way past your ears (and I mean that in a good way!) It's not sappy or unchallenging, but it is a lot smoother and less overtly avant than the stuff Byrne loves so much. Recently reissued on a 2-in-1 CD along with Estudando O Samba, this may surprise folks who see Ze as a one-trick pony.
Tom Ze "Se O Caso, Chorar/Todos Os Olhos" (Warner/Continental, 2000)


An excellent reissue on Warner's Dois Momentos two-for-one series. Ze's albums have long been out of print and hard to find, so these CDs are to be heartily welcomed; they also have great liner notes, with lyrics and archival art. (See album reviews above.)
Tom Ze "Estudando O Samba/Correio Da Estacao Do Bras" (Warner/Continental, 2000)



An excellent reissue on Warner's Dois Momentos two-for-one CD series. (See album reviews above.)
Tom Ze "Nave Maria" (Continental, 1984)

Tom Ze "No Jardim Da Politica" (On Request, 1988)


A live album.

Tom Ze "Brazil Classics 5: The Hips of Tradition" (Luaka Bop, 1992)



(Produced by Roberto Lazzarine & Arto Lindsay)
A studio album that's somewhat less edgy than his '70s stuff, but has a smooth allure. Several of his catchiest compositions are on here, including the cute (and refreshingly earnest) salespitch tune, "Jingle Do Disco", which features David Byrne on the English translation. Speaking of translations, the ones in the liner notes are cool -- a good glimpse at the wacky inner workings of Ze's playful little noggin. Well worth checking out.
Tom Ze & Ze Miguel Wisnik "Parabelo" (CGC, 1997)



A modern ballet score, co-written by Ze. Many of the same melodies and riffs from his other records are present here, in slightly altered form, mostly as instrumentals.

Tom Ze "Fabrication Defect: Com Defecto De Fabricacao" (Luaka Bop, 1998)



(Produced by Bryan Martin, Andre Abujamra & Gilberto Assis)
(Arranged by Tom Ze & Gilberto Assis)
Great album -- very listenable, and very clever. He's using his same old bag of tricks -- surrealistic lyrics, found sounds and triggered tape loops, etc. Various songs parody different styles of MPB, such as the baroque avant-pop of Edu Lobo, or the loungey cabaret affectations of old-time bossa nova. The lyrics to one song, "Defect 6" Esteticar," are a plagiarist's manifesto that even Negativland could be proud of. More than anything else what comes through is Ze's irrepressible sense of humor and playfulness -- it's great he found a kindred spirit in Luaka Bop head, David Byrne.

Tom Ze "Postmodern Platos" (EP) (Luaka Bop, 1999)


Nice Fabrication Defect remixes by the likes of the High Llamas, Amon Tobin, Sean Lennon and John McIntire (of Tortoise, Ze's backing band on his 1999 North American tour...) Ze's intricate, clockworky compositions lend themselves quite well to manipulation by the electronica crowd -- with the exception of a couple of overly drum-and-bassy and mildly proggish moments, this is lovely. Well worth checking out!

Tom Ze "Jogos De Armar" (Trama, 2000)



(Produced by Ale Siqueira & Gilberto Assis)
Nice. Just as my attention was starting to wander, and I began to wonder how much of a one-trick pony Tom Ze might be, out comes this pleasant little album, which heads off in a slightly different track. I think that at least some of the songs on here are of older vintage, but touched up with modern, trip-hoppish ambient production (courtesy of the folks at Trama...) This is much mellower than the Postmodern Platos remixes, but follows in the same vein; it also escapes from some of Ze's more overused ideas, avoiding the sense of cliche that has been building up for a while -- it's nice, new material which is pretty f**king cool at its best. The opening track, "Pasagem De Som," which shifts from Afro-Brazilian percussion to easy listening whistle-along, and back again, with brilliantly shifting layers of pife pipes and oddball, Meredith Monk-style avant vocals is particularly cool. The additional second CD, though, turns out to be kind of bogus. It's mostly just the source tracks -- disembodied laughs, sighs, twangs and jangles -- that were woven into the actual album itself. The idea is that now you - yes, you! - can do all the mixing and remixing yourself... but as far as listening to it... yawn. Still, since it was included at no extra charge, so there's no harm done.
Tom Ze & Gilberto Assis "Grupo Corpo: Sanaugustin" (Milan, 2002)

Tom Ze "No Jardim Da Politica" (On Request, 2003)


A reissue(?) of a 1988 concert performance...
Tom Ze & Gilberto Assis "Santagustin" (Milan, 2006)


Tom Ze "Estudante O Pagode" (Trama, 2005)






<! Apparently this is *not* a reissue of the 1975 album reviewed above... (?) >

Tom Ze "Danc-Eh-Sa: Danca Dos Herderieros Do Sacrificio" (Tratore, 2006)


Tom Ze "Imprensa Cantada 2003" (Trama, 2007)


---
Best Ofs
---

Tom Ze "Brazil Classics 4: Tom Ze" (Luaka Bop, 1990)



This is the album that started the Tom Ze "craze" among North American fans, and also helped stir up renewed interest in tropicalia as well... A fabulous collection of songs culled from several '70s LPs (listed above)... quirky, wacky, meticulous and infectious pop, with precisely layered effects and a deeply palpable weirdo vibe. You can see why Ze's a pop music cult figure... and why he still has such a strong following. Recommended!

Tom Ze "20 Preferidas" (RGE, 1998)


Unfortunately, there's no discographical info on this middle-period best-of disc, but one imagines it ranges from the early/mid-'70s through the early-80s (it doesn't include overlap with the tracks on the "Brazil Classics" collection, though it draws in some of the same mid-'70s albums...) Musically, these tracks feature little of the tweaky found noise/sound loop experimentalism of his better known mid-70s material on the Byrne compilation. Here, Ze is framed in straight latin pop arrangements -- a lot of smooth horn and slushy string arrangements -- that are so close to vest, it's hard to tell how much parody is involved. Several tracks sound as if at least a few members of Os Mutantes were involved (though don't quote me on that!) and there is a similar tightwire walk between pop parody and diminishing returns, though on balance this is much more pleasant to listen to than Mutantes' later, lesser efforts. Curious, worth checking out, though a bit too straight, perhaps.
Tom Ze "Enciclopedia Musical Brasileira" (WEA, 2000)

Tom Ze "Warner 30 Anos" (Warner-Brasil, 2007)


---
Related Records
---
Vicente Barreto "Ano Bom" (Dabliu, 1993)



Vicente Barreto "Mao Direita" (Dabliu, 1996)



A lovely acoustic album, reminiscent of early Chico Buarque and Joao Bosco, but with a sprightliness that also reminds me of Cuba's Silvio Rodriguez. Nice stuff -- not a bum note or an irritating track on here. Guitarist Barreto has been a longtime collaborator of Ze's, ever since the early '70s, and can be considered co-architect of their distictive sound. Tom pitches in on a few tracks, and many of the songs were co-written with Paulo Cesar Pinheiro. Recommended!
Vicente Barreto "E A Turma Chegando Pra Dancar" (Dabliu, 1999)



Wonderful! Silky, sensual, multi-layered gentle pop, along the lines of Arnaldo Antunes and Vinicius Cantuaria, with more than a slight hint of Jorge Ben's best stuff of the early '70s, and certainly with a nod towards Barreto's work with Ze. A relaxed, dreamy album with only a few misfires (such as the reggae-based "O Crague.") On the whole, I'd say this is record well worth checking out, and obviously one which the artist spent a fair chunk of time planning out and composing. Recommended!
---
Links
---
---



---