<! MP3 09/12/08, 12/20/09 > <! pix 11/15/09 > <! icons 02/01/11 > <! UPDATES: 09/12/08, 12/20/09 - perhaps add Titas albums? 03/04/12 >


---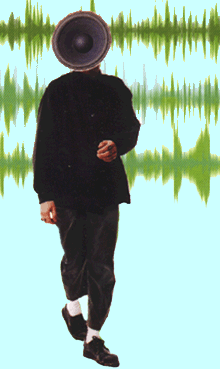 Performance artist, rocker and poet Arnaldo Antunes has emerged as one of the most dynamic and distinctive rock musicians in Brazil. His work with the rock group Titas in the 1980s and early '90s led to chart success and widespread recognition as a songwriter. Several MPB stars have covered his material, including Marisa Monte, Caetano Veloso and Maria Bethania; recently he has co-written material with Jorge Benjor. It's his solo records which have really grabbed my attention, though -- with increasingly suave, original soundscapes and vocals which range from a Calvin Johnson-like croak, to a La's-y lilt -- this is one of the folks to keep an eye on.
---
Discography
---

Arnaldo Antunes "Ninguem" (BMG-Brasil, 1995)


Arnaldo Antunes "Nome" (BMG, 1997)


(Produced by Arnaldo Antunes, Paulo Tatit & Rodolfo Stroeter)
This is his artsiest album, with playful echoes of art rocking no-wavers ranging from Devo, Brian Eno, Talking Heads, Beat Happening -- even They Might Be Giants. Sure, in some sense a lot of this has been done already, but Antunes puts his own distinctive stamp on the style -- indie snobs and lo-fi fans owe it to themselves to check this one out. This is bewildering, entertaining and fresh... full of episodic, short Laurie Anderson-ish spoken-word tracks and oddball lo-fi tunes. Bassist Rodolfo Stroeter pitches in, as do Arto Lindsay and Marisa Monte. Fans of Tom Ze should absolutely love this album. Highly recommended.
Arnaldo Antunes "Nome" (DVD) (Sony-BMG, 1997/2006)


Arnaldo Antunes "O Silencio" (BMG, 1997)


(Produced by Mutar Subotic & Sergio de Carvalho)
His straight rock roots are still too prevalent here -- the album is cluttered with wanky electric guitar work, and the production is pretty one-dimensional. But several tracks hint at his future direction -- the froggy voiced Beat Happening-y numbers and a couple of mild reggae-flavored songs. The most distinctive track on here is "Eva E Eu," an off-kilter acoustic track with a Fahey-esque guitar base, and the acoustic version of the title track (where the silly lyrics stand out better). Co-produced by (aka Suba) who went on to record his own electronica-tinged albums a couple of years later.


<! additional producer credits for Antunes & Dudu Marote >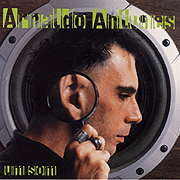 Arnaldo Antunes "Um Som" (BMG, 1998)


(Produced by Chico Neves)
Certainly his best and most cohesive album to date -- a smooth but inventive rock/trip-hop album, co-produced with Chico Neves. The icky electric guitars from O Silencio have been reigned in, and now are part of an alluringly rich musical mix which sounds like a mix of Arto Lindsay and the La's. Remarkably skillful and quite beautiful. Includes a cover of a Junior Murvin reggae tune, and a couple of songs co-written with Jorge Ben. Highly recommended.


<! artistic direction by Jorge Davidson >

Arnaldo Antunes "Paradeiro" (BMG, 2001)


(Produced by Arnaldo Antunes & Carlinhos Brown)
A clever, but perhaps gimmicky alt.rock album, co-produced by Carlinhos Brown. The production is slick and densely layered, underplaying his "oddball" image in favor of a more straightforward rock sound. It's pretty good, overall, at least from a Brazilian standpoint -- for fans of other modern indie rock, this may seems a bit too mainstream. Marisa Monte guests on the title track, and Carlinhos Brown is all over the place as producer, musician and vocalist.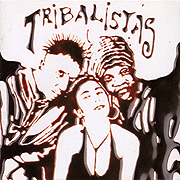 Arnaldo Antunes/Carlinhos Brown/Marisa Monte "Tribalistas" (Phonomotor/EMI, 2002) [Import]



Arnaldo Antunes/Carlinhos Brown/Marisa Monte "Tribalistas" (Capitol/Metro Blue, 2002)



A lovely, subtle and profoundly life-affirming album... one of my favorites of the year! The band's name and all-star cast are an apparent tribute to the Veloso-Gil-Bethania-Costa mid-1970s supergroup, Doce Barbaros (The Sweet Barbarians), but in this case the musicians, neo-tropicalistas Arnaldo Antunes, Carlinhos Brown and Marisa Monte, go for tender restraint, rather than wild excess. It's a remarkably gentle, dreamy set, with an alluring blend of voices and styles. Each of these musicians has been instrumental in deepening the stylistic vocabulary of modern Brazilian pop, and the three have worked together on various projects and albums over the years. This album, however, is a marvel of collaborative creativity, with label owner Monte the album's guiding force and charismatic center, poet Antunes offering cerebral and ironic counterpoint, and soul-samba percussionist Brown mediating between the two, bringing his pure musicality in to balance them both. The songs feature all three artists flowing effortlessly in overlapping parts, with an intuitive connection that is quite marvelous to hear. (You can see it, too: if you can track down the DVD that accompanies this album, their creative process will astound you...) Old-school axe star Margareth Menezes also guests on one song, the catchy and irresistible "Passe Em Casa," one of many beautiful tunes that will echo in your mind for days on end. All in all, this is a very beautiful, inventive and multi-textured record... HIGHLY recommended.

Arnaldo Antunes "Saiba" (BMG-Brasil, 2004)


(Produced by Arnaldo Antunes & Chico Neves)
This sleek album sort of picks up where the Tribalistas record left off -- there are songs co-written by Brown and Monte, Brown plays percussion on several tracks, Monte duets with Antunes on "Grao De Amor," and the cohesive production style is reminiscent of the Tribalistas set. An album standout is the second song, "Pedido De Casamento," with a sharp, spanking, overly articulated guitar line reminiscent of early Talking Heads -- that song really made my ears perk up and take notice... Sadly, though, I have to report that this album, coproduced by Antunes and B-rocker Chico Neves, falls flat after that... It's not that any of the songs are bad, but rather that the tone of the album never seems to vary, and my attention started to wander each time I listened to it. I'd say this is certainly one of his best albums, and it's certainly worth checking out, but maybe it's best taken in small doses, to help keep things fresh.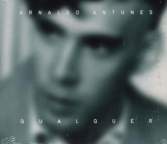 Arnaldo Antunes "Qualquer" (Biscoito Fino, 2005)



(Produced by Arnaldo Antunes & Ale Siqueira)
Antunes settles into his own low-key, oddball groove, with another set of thick, slow-ish songs, with moody arrangements draped around his froggish voice... His main collaborator here is Dadi Carvalho, who plays a ton of instruments, and co-writes several songs. Daniel Jobim also plays piano and contributes some vocals as well... And of course there's some input from Carlinos Brown and Marisa Monte, although this record seems like a conscious effort to shy away from the more over pop/rock of the Tribalistas album. Still pretty cool, though.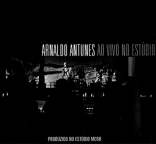 Arnaldo Antunes "Ao Vivo No Estudio" (Biscoito Fino, 2007)


Arnaldo Antunes "Ao Vivo No Estudio" (DVD) (Biscoito Fino, 2007)

Arnaldo Antunes "Ao Vivo La Em Casa" (Microservice, 2010)





<! guest appearances from Jorge Ben, Erasmo Carlos, and Fernando Catatau >
Arnaldo Antunes "Ao Vivo La Em Casa" (DVD) (Microservice, 2010)





<! 02/11: B004EQBKAK CD ASIN defunct already! B004E8HLDS is DVD > <! Arnaldo Antunes "Pequeno Cidadao" (Microservice, 2010) B0032BWLKQ >
Arnaldo Antunes "Ie Ie Ie" (Random Music, 2010)

Arnaldo Antunes "Pequeno Cidadao" (2011)

---
Best-Ofs
---

Arnaldo Antunes "Focus: O Essential De Arnaldo Antunes" (BMG, 1999)

---
Other Media
---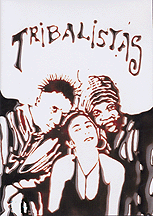 Arnaldo Antunes/Carlinhos Brown/Marisa Monte "Tribalistas" (DVD) (Phonomotor/EMI, 2002)


Wow... what a great video! An amazing portrait of these three super-hip, modern Brazilians working together on a truly beautiful project. This gorgeously shot, skillfully edited film documents the year-long process that led to the completion of the densely-layered, gently melodic, supremely life-affirming Tribalistas album, featuring in-studio performances of the taping of all the songs, each prefaced by a brief glimpse of the collaborative process that went into its conception and perfection. The friendly creative interplay and cheerfulness of the musicians comes through brilliantly -- I already was a fan all three artists before seeing this video, but now I feel immense affection for them, and a much greater appreciation for them and their muse. The delicate attention to detail and to the texture of their performances is impressive, as is the playful, positive message of their music. Optional English subtitles are a boon for all us dumb Yankees, and additional behind-the-scenes features amplify the insights into their creative bond. The album itself is great, but the DVD is indispensible for fans who want to get delve deeper into the mystique of these fab neo-tropicalistas. HIGHLY recommended!
---
Links
---
I think I may have found his official website... I'm not completely sure about that, but it's still pretty cool. Loads slowly, but it's worth checking out... Complete discography includes all the Titas albums, as well as compilation appearances. (Bilingual).
Disco Track features an complete discography of Titas, Antunes' first band... The site includes track listings and pictures, but no other text.
High praise indeed! - Gilberto Gil, on his own home page, reviews the Ninguem album... and says that Antunes has a cool look!
---



---