<! MP3 09/12/08, looked 12/05/09, hard to track single-name artists > <! update 09/12/08 > <! pix 12/05/09 > <! icons 01/22/11 >

---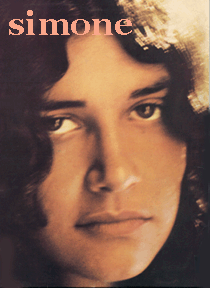 A poppy post-tropicalia torch singer in the mould of Maria Bethania, Simone was a somewhat softer and less dynamic vocalist, and tended to stick with easier, more relaxed arrangements that wouldn't compete with her voice. It's the sort of smooth, jazz-tinged MPB that many associate with Brazil in the early '80s. I'm not a huge fan, but I've listened to enough albums (I guess...) to set aside some space for her work.
---
Discography
---
Simone "Simone" (EMI-Odeon, 1972)

Simone/Various Artists "DISCOS ODEON - AO VIVO" (Odeon, 1973)


A live showcase for some of the lesser-known artists on the Odeon label, including singers Ari Vilela, Marcia, and jazz vocalist Leny Andrade...
Simone/Roberto Ribeiro/Joao De Aquino "A Bruxelles" (EMI-Odeon, 1973)


A live album, split between Simone and old-school sambista Roberto Ribeiro.

Simone "Quatro Paredes" (EMI-Odeon, 1974)


The stylistic debt to Maria Bethania is still very apparent here, but pleasantly so... Simone is much less brusque and expansive, and much more understated; anyone wishing for less bombast in Bethania's work might find themselves drawn to these early albums of Simone's... Musically, this combines torchsong MPB with light, imagininative touches of jazz fusion instrumentation (mainly the keyboards), along with mild hints of forro and Argentine tango... The Brazilian samba is almost nowhere to be heard here, at least not overtly. The material is interesting too: several songs by the up-and-coming Joao Bosco, one by Caetano Veloso, and a curiously slowed-down version of the Luiz Gonzaga forro standard, "Que Nem Jilo." This is such a relaxed, almost lethargic, album that you can understand why this material is seldom anthologized in favor of her later, more dynamic recordings. It's a pity, though, because this early stuff is much more engaging and soulful.

Simone "Gotas D'Agua" (EMI-Odeon, 1975)


(Produced by Herminio De Carvalho & Milton Nascimento)
Classic, standard-issue 1970s MPB, with a sleek, sometimes challenging mix of pop, rock, jazz and samba... Milton Nascimento figures prominently here: he duets with her on the title track, and she sings two of his songs, along with material from other up-and-coming MPB composers, folks such as Danilo Caymmi, Luiz Gonzaga Jr., Joyce and Joao Bosco... Even more noteworthy is the band that's backing her: pianist/arrangers Luiz Eca and Wagner Tiso, Abel Ferreira, Beto Guedes, Toninho Horta, Paulo Moura, Dino 7 Cordas, and a host of other top-flight players are on here, with cameos by Bosco and Nascimento thrown in for good measure. It's all very A-list and well-produced -- Simone's jazzy, declarative style might not be for everyone, but if you're into the classic MPB style, this is a very strong album.

Simone "Face A Face" (EMI-Odeon, 1977)


Simone "Cigarra" (EMI-Odeon, 1978)


A challenging, often difficult MPB set, with experimental touches such as keening, unresolved string arrangements that pierce through the songs and refuse to fade away... Simone's vocals are also very adventurous and

Simone "Pedacos" (EMI-Odeon, 1979)


She makes a pretty good foil for the elaborately orchestrated pop of Ivan Lins and Vitor Martins, covering a couple of their songs along with those of Chico Buarque and Milton Nascimento. Pretty standard material; the album starts off with some punchy arrangements, then settles into a bit of a rut. Compared to later work, she's still kind of on a creative upswing, but this is right about where it starts to go downhill.

Simone "Ao Vivo" (EMI-Odeon, 1980)


A live show, recorded at the end of 1979. Her voice is marvellous -- strong, confident, earthy -- but the material is not my cup of tea; fairly cluttered jazz-pop MPB, including several songs by Ivan Lins, and a swift quote of Ary Barroso's "Brasil"... This is a good showcase for her style -- the question is whether you like it or not. I tilt slightly against this one. (Although I still kept my copy!)
Simone "Simone" (EMI-Odeon, 1980)
This album opens disasterously, with Abel Silva's overwrought "Musica, Musica," and continues to build up its overly-layered, bombastic sound -- it's almost as if Simone were declaring her independence from subtlety and restraint, in order to embrace the more excessive end of the MPB spectrum. A couple of tracks are okay -- "Rainha Morena", the relatively understated Gonzaguinha ballad, "Mulher E Dai" -- but this album is a hard sell for the uninitiated. Old-school torch singer Angela Maria duets with Simone on "Estrela Da Cancao," but it's nothing to write home about. Ex-Mutante Sergio Dias is also somewhere in the mix, playing electric guitar.
Simone "Amar" (CBS/Columbia, 1982)


Released in the States, this is one of her more readily available albums. All things considered, it's not so bad. Well, okay -- there are heavy doses of Kenny G- and Lionel Ritchie-style easy pop, and an unceasing string section (courtesy of pop producer Mazola... who is not my favorite...) But given the turf, this album is OK. Highlights include a shimmery version of Milton Nascimento's "Amar", and "Pao e Poesia" by Moraes Moreira. Low points include about everything else on the album. (Opinions differ, however. See the "links" section below.)
Simone "Corpo E Alma" (CBS, 1982)

Simone "Delirios, Delicias" (CBS, 1983)


Eww. A horrendously overproduced, slushy, synthy, echos-on-all-the-drums early '80s pop drek mish-mosh, with some lamentably disco arrangements. One percussion-heavy samba tunes, "O Amanha" is a welcome diversion, but it's definitely the exception to the rule.
Simone "Desejos" (Sony-Epic, 1984)

Simone "Amor E Paixao" (CBS, 1986)


Fairly dreadful synth-pop balladry. Nothing on this album stood out as passable or interesting to me. Produced by Mazola, this is about as drekky as you can get.
Simone "Vicio" (Columbia, 1987)

Simone "Simone" (Philips, 1989)

Simone "Libertade" (Columbia, 1990)

Simone "Raio De Luz" (Columbia, 1991)

Simone "Simone En Espanol" (Sony, 1991)


Her first all-Spanish language release, aiming at the broader Latin American market, ala Roberto Carlos...
Simone "La Distancia" (Sony Latino, 1993)


Another all-espanol outing...
Simone "Sou Eu" (Columbia, 1993)

Simone "Simone Bittencourt De Oliveira" (Columbia, 1995)

Simone "25 De Decembro" (Mercury-PolyGram, 1995)


Her Christmas album!
Simone "Dos Enamoradas" (Sony, 1996)

Simone "Cafe Com Leite" (Mercury, 1996)


A tribute to sambista Martinho Da Vila.
Simone "Brasil - O Show" (Mercury, 1997)


A live show which draws heavily on the Cafe Com Leite album, and other samba-oriented material. Reissued in the U.S. as part of Mercury's Brazilian Collection series.
Simone "Loca" (PolyGram, 1998)


Simone "Fica Comigo Esta A Noite" (Universal, 2000)

Simone "Seda Pura" (Universal, 2001)

---
Best-Ofs
---
Simone "Sob Medida" (EMI-Odeon, 1981)


An early best-of LP which covers her work from 1977-80, glossing over earlier albums which might not have fit into the increasingly sleek Bethania-esque pop crooning style she specialized in by the start of the '80s. An unsurprising selection of stuff by Gonzaguinha, Milton Nascimento and Chico Buarque, and one song by Gilberto Gil. It's okay, but goopy... a good glimpse at how her style solidified, although a couple of tracks (such as Abel Silva's "Musica Musica," with it's noodly electric guitar, are pretty awful).
Simone "The EMI Years" (EMI/World Pacific, 1997)


The standard North American best-of CD, which covers her early EMI years. This is the same selection as on the later CD collection on the Hemisphere imprint.
Simone "30 Mejores Canciones En Espanol Y Portugues" (Sony, 1997)

Simone "Meus Momentos" (EMI, 1999)

Simone "Serie Bis" (EMI, 2000)


Simone "The Best Of Simone" (Disky, 2000)

Simone "Serie XXI" (Sony, 2000)

---
Links
---
Egidio Leitao, a Foratlezan living in Texas, has a cool Simone website, with informative comments on all her albums, as well as other album reviews. (In English and Portuguese.)
Simone's Official home page does not currently seem to be up and running. I'll check back with you later about this one...
---



---