<! BA - BAO > <! MP3 12/15/08, 11/07/09, 03/08/12 > <! pix 11/07/09, 03/08/12 > <! ALLBM 00/00/00 > <! icons 01/20/11 > <! UPDATES: 03/08/12 - added Banda Eva, Banda Black Rio, Zeca Baleiro pages 07/13/14 - > <! Bokinha Da Garafa "Sempre" (Ouver) B00006LW1T - axe band? > <! Darcy Barbosa "Bossa Nova For You" (Master Sound) date????????? "...e Seus Bossa Nova Boys" saxophonist? > <! Kenny Burrell Octet "Lotsa Bossa Nova!" (Kapp) > <! AMELITA BALTAR "Nostalgias" (RGE, 1978) BLACK BOYS "Brazao" (Paladium, xxxxx) - pop/rock covers and some Brazilian stuff like "O Bom Rapaz" - from Belo Horizonte - 1960s? > <! ROBERTO BARREIROS "Vou Cantando" (CBS, 1971) Balanco Trio "Casa De Bamba" (Imperial, 196--?) MIRIAM BATUCADA "Amanha Ninguem Sabe" (Chantecler, 1974) B00007M02M - cd http://pt.wikipedia.org/wiki/Miriam_Batucada 1968 – Rozenblit (Selo Artistas Unidos) – Compacto Simples - Batucando na mčo 1971 – Sociedade da Grč-Ordem Kavernista Apresenta Sessčo das 10 - CBS – LP – Com Raul Seixas, Sérgio Sampaio e Edy Star 1973 – CBS – Compacto Simples - Diabo no corpo 1974 – Acertei no milhar - Chantecler - Compacto Duplo 1974 – Amanhč Ninguém Sabe - Chantecler – LP 1979 – RGE - Compacto Simples – Marcha do Jočo 1991 – Ric – LP - Alma de Festa lp -Produzido por Marcix (Marcia Carvalho) e arranjado pelo Maestro Otavio Basso (seu último disco) CBS – Compacto Simples - Sinal De Vida > <! BSB.H "Extreme Convictions" (Devil Discos, 1992) LP BRAZIL 1stPRE 1992 Sepultura Ratos de porao Colera > <! Celio Balona "Um Homem e Uma Mulher" (Paladium) 1960s > <! Gregorio Barrios "Gregorio Barrios" (Continental, 1972) - tango argentine BAFO DA ONCA "O GRANDE SAMBA 3" #40179 (Mocambo) > <! Claudia Barroso "Claudia Barroso" (Continental, 1974) (LP) B00410I962 > <! Claudia Barroso "Cara E Coragem" (Continental) (LP) B0042JDAS4 > <! Claudia Barroso "Conselho" (Continental) (LP) B0042JDAPM > <! Claudia Barroso & Lindomar Castilho "Juntos" (Continental) (LP) B004RL1KQ6 > <! Claudia Barroso "Ao Vivo: A Vida E Mesmo Assim" (CID, 2000) B00006LVU8 B000YP719Y > <! Claudia Barroso "Super 3: 3 Coleteanas De Sucessos" (Continental) B002Y4Z4S8 > <! Harold Bradley "Bossa Nova Goes To Nashville" (CBS) > <! Bafo De Onca "O Grande Samba Do..." (Mocambo, xxxxxxxxx) >
---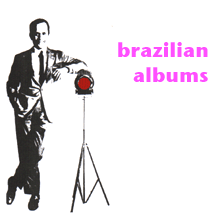 This is the first page of miscellaneous albums and artists under the letter "B"
If an artist or album you like is not reviewed here, please feel free
to contact me and make a suggestion.
---
A | B-1/ 2/ 3/ 4/ 5 | C | D | E | F | G | H | I | J | K | L | M | N | O | P | Q | R | S | T | U | V | W | X | Y | Z | Compilations
Brazilian Styles | 30 Recommended Records | Portuguese-language pop | Brazilian Links | Slipcue.Com
---



Lamartine Babo "Carnaval De Lamartine Babo" (Sinter, 1955)



<! with arrangements by Lyrio Panicali >

Lamartine Babo/Various Artists "O Carnaval De Lamartine Babo" (Revivendo)

Baby Do Brasil/Baby Consuelo - see artist discography

Bacamarte "Depois Do Fim" (Som-Arte, 1983)


A legendary Brazilian prog album, mainly a showcase for guitarist Mario Neto, who wrote or co-wrote all but two of the songs, and also an intriguing change of pace for vocalist Jane Duboc, better known for her work in the world of jazz ballads. There are lyrical, pastoral passages (particularly those featuring flautist Marcus Moura) but also a lot of searching, note-heavy guitar work, reminiscent of guitar heroes such as Jeff Beck and Yngwie Malmsteen. This is really not my kind of music, but I will take the word of the many prog fans who've flocked to this record: good for the genre.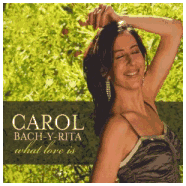 Carol Bach-y-Rita "What Love Is" (Aruglua Records, 2009)



(Produced by Robert Kyle)
Californian vocalist Carol Bach-y-Rita sails through a swank set of jazz'n'bossa, delving into an intriguing repertoire that largely strays away from the big bossa classics... There's only one Tom Jobim standard, for one thing ("Corcovado," as fine a choice as any...) alongside material by Moacyr Santos, Gilberto Gil and Kleber Jorge, as well as an oldie by King Pleasure, a translated version of "You Don't Know What Love Is," and a delightful voice/flute duet on "Cidade Lagoa," which for me is an album highlight. She sings in both English and Portuguese; I prefer the Portuguese-language tracks, but it's all nice. Producer and tenor saxophonist Robert Kyle leads a small ensemble that provides concise, sympathetic backing...if you like artists such as Elaine Elias, Diana Krall, et. al., you'll probably enjoy this as well. Nice, classy stuff for the "smooth jazz" crowd.
Tutti Bae "Mosaico" (Trama, 2003)

Tutti Bae "Sensatez" (Dabliu, 2007)

Tutti Bae "Ginga" (2010) <! 2006? > <! label? Edicoes Musicais? >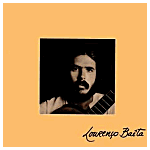 Lourenco Baeta "Lourenco Baeta" (Continental, 1979) (LP)


(Produced by Cesare Benvenuti; Musical director: Dori Caymmi)
An admirably diverse album, with all-original material and a host of top-level MPB studio musicians playing on various tracks... The first couple of tracks are fairly unadorned acoustic folk-ish material, with a vocal chorus coming up behind Baeta and his guitar... Then, a few tracks in, a subtle forro accordion sneaks in, and by the end of Side One, a full-on, swank, jazz-tinged MPB arrangements kick in, reminiscent of Chico Buarque or Ivan Lins. You figure, oh this is where he's been headed all along, flip the album and get ready for more. The squeaky, Appalachian-style bluegrass breakdown that opens "A Ultima Diligencia" comes as a surprise, although the song soon settles into a mellow MPB vibe -- Side Two ends sedately, returning partly to the folkie beginning with "Feito Misterio," but now he's sounding all far-flung and cosmic, like the older Milton Nascimento albums. If you like classic 1970s MPB, you'll definitely want to check this record out!


<! Lourenćo Baeta - acousric guitar (1,2,3,5,6,7,9), acoustic piano (8,10), rabeca (9), flute (9) David Tygel - viola (1), banjo (6), acostic guitar (9) Antonio Sant'Anna - bass (1) Chacal - percussion (1,3,8) Ariovaldo - percussion (1) José Botelho - clarinete (2) Danilo Caymmi - flutae (2) Antonio Adolfo - piano (3,7) Fernando Leporace - bass (3,6,7,8,10) Rubinho - drums (3,6,7,8,10) Chiquinho - accordion (3) Victor Assis Brasil - alto sax (4), soprano sax (4) Hélio Delmiro - guitar (4), acoustic guitar solo (5) Gilson Peranzzetta - piano (4), electric piano (6,8,10) Bebeto - bass (4) Jočo Daltro - violin (6) Marcio Montarroyos - trumpet (6,8), fluegelhorn (8) Edson Maciel - trombone (6,8) Jočo L. Maciel - trombone (6,8) Waldemar Falcčo - ocarinas (9), dulcimer (9) >

Paulo Bagunca "...E A Tropa Maldita" (Continental, 1974)


(Produced by Ramalho Neto & Julio Nagib)
This spacy, kooky hippie-era relic features a lot of strident, frantic acoustic guitar strumming, a bit of loopy Moog and earnest, half-shouted vocals. Yeah, it's kind of cool in a crate-digging, folk-freak, obscuro way, but other than the archeological value, I didn't get much out of this one. The liner notes claim that the band, A Tropa Maldita, had a big influence on 1970's Brazilian rock, and I guess that might be true, but a lot of this sounds similar to what Jorge Ben and Gilberto Gil were doing -- with much more panache -- around the same time. This is just too loosely structured and meandering for my tastes, although it is a fairly groovy artifact from the fringes of Brazilian rock. Worth checking out, but it might not stick to your ribs.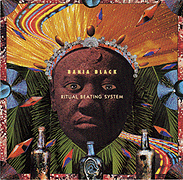 Bahia Black "Ritual Beating System" (Island/Axiom, 1992)


An ambitious and stunningly realized album, bringing together the percussive talents of the Olodum collective, Carlinhos Brown and several North American jazz and funk artists such as Herbie Hancock, Bernie Worrell, Wayne Shorter, and Henry Threadgill. This marks one of the high points of Bill Laswell's career as a multi-directional producer, creating a blend of funk, jazz, avant-jazz, art-rock and Afro-Brazilian pop that is actually more successful than most Brazilian fusion projects. Challenging, but also highly listenable.
Baiano & Os Novos Caetanos "Baiano & Os Novos Caetanos, v.1" (CID, 1974)


This "band" -- really a front for comedic actor and part-time pop singer Arnaud Rodrigues -- was a satirical send-up of the psychedelic strivings of the Brazilian "tropicalia" scene, specifically of artists such as Os Mutantes, Os Novos Baianos and Caetano Veloso. In some ways it's funny, but it's hardly very subtle. It might be hard to get the joke, decades later and outside of hippie-era Brazil, but it still holds some historical and kitsch value. Personally, I prefer Rodrigues' more serious pop efforts recorded under his own name.


<! CD link has pic "Inclui O Sucesso 'Vo Bate Pa Tu' " >

Baiano & Os Novos Caetanos "Baiano & Os Novos Caetanos, v.2" (1975)





Baiano & Os Novos Caetanos "A Volta" (1982)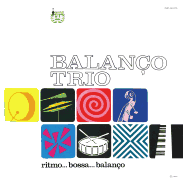 Balanco Trio "Ritmo... Bossa... Balanco" (Imperial, 1965)
(Produced by Milton Miranda & Zoltan Merky)
A nice, light, piano-led bossa-jazz trio going through some bossa and samba standards, including songs by Edu Lobo, Carlos Lyra and Roberto Menescal, and others. There's thankfully little of the clattersome, frenetic pace of the "bossa trios" of the era, but also not a lot of spark or vitality to the performances. In some parts, there's an almost Vince Guaraldi-style cool jazz vibe, but these guys never swing that smoothly or soulfully. This isn't bad, it just isn't very distinctive or fresh. None of the artists are identified on the jacket: anyone know who they were?


<! really 186 x 186 >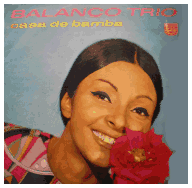 Balanco Trio "Casa De Bamba" (Imperial, 1969) <! date? 1968? >
Not much change in the approach here, although the repertoire has been updated to include a bunch of Jorge Ben songs, and one by Osvaldo Nunes... But despite the nods towards the ultra-hip, late-'60s samba-soul sound, this is pretty much the same light, mellow piano-bass-drums stuff as before. A little more elegance and panache, but basically more of the same, and considering the changes in Brazilian pop around this time, a little old-fashioned. Still no info on the artists, though... sorry!!


<! 192 x 188 >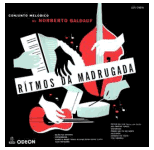 Norberto Baldauf "Ritmos Da Madrugada" (Odeon, 1955)


Another whiff of what the nightclub scene must have been like back in the '50s, this time with a slight regional flair. Baldauf leads a compact ensemble with a repertoire that's mostly old-school samba-cancao, but with a baiao-flavored accordion often taking the lead. More in the background is a lively percussionist playing some solid samba rhythms with great vigor, matched by some flashy, galloping piano... The first half of this short LP is a 12-minute "potpourri" medley; the other four tracks are of more standard length, and tend towards a more manic, uptempo feel. A little too hyper at times, but nice anyway.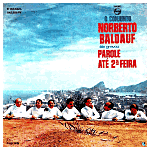 Norberto Baldauf "Parole Ate 2nd Feira" (Philips, 1968)
A pseudo-groovy set of vintage Brazilian lounge music... Poppy, swinging, super-kitschy samba-nova-ish dance music, with a then-modern feel. This is easy listening, but with the prefab hipness of the Mancini era, with covers of various MPB hits, a Roberto Carlos song, and a toot-tootling, super-loungey rendition of the Beatles' "A Little Help From My Friends." It ain't great art, but it's an interesting contrast to Baldauf's early work. Includes some vocals as well... worth a spin!


<! no producer info on LP art > <! 01 - Ate Segunda Feira 02 - Viver Pour Vivre 03 - Marcha para um Novo Amor 04 - Onda (wave) 05 - Imagem 06 - Malaysha 07 - Parole 08 - Januaria 09 - Never Ever Leave me 10 - Eu e a Brisa 11 - Como e Grande o meu Amor por Voce 12 - With a Little Help from my Friends This is Conjunto Melodico Norberto Baldauf - Parole (1968), for Philips, the second LP of this band, active for more than 50 years. huge Baldauf Discography at Sombras, but I never heard a tone of the music until now. Norberto Baldauf made LPs since 1955. The LP "Week-end no Rio" (1957) has also a great cover. >

Norberto Baldauf "Noite Do Lembra" (Continental, 1983) (LP)








Zeca Baleiro - see artist profile


<! Os Bambas "O Melhor Em Samba Samba Samba, v.1" (Okeh, xxxxxxxxx) Os Bambas "O Melhor Em Samba Samba Samba, v.2" (Okeh, xxxxxxxx) Os Bambas "O Melhor Em Samba Samba Samba, v.3" (Okeh, 1970) Os Bambas "O Melhor Em Samba Samba Samba, v.4" (Okeh, xxxxxxxx) Os Bambas "O Melhor Em Samba Samba Samba, v.5" (Okeh, xxxxxxxx) Os Bambas "O Melhor Em Samba Samba Samba, v.6" (Okeh, xxxxxxxx) Os Bambas "O Melhor Em Samba Samba Samba, v.7" (Okeh, 1972) Os Bambas "O Melhor Em Samba Samba Samba, v.8" (Okeh, 1972) Os Bambas "O Melhor Em Samba Samba Samba, v.9" (Okeh, 1973) >


Milton Banana - see artist profile





Banda Beijo - see artist profile




Banda Bel "O Rei Do Rio" (Tinitus, 1992)
Early work by the artist called Leleo... The first of two albums by this short-lived band. Leleo also has recorded some solo albums.



<! Banda Bel - w/ singer Laleo. They released two albums, the first "O rei do Rio", in 1992 through a label called Titanus and the second called "Sambadrome" B0000561OJ topped the Brazilian charts with a song about the football player Romario. >


Banda Black Rio - see artist profile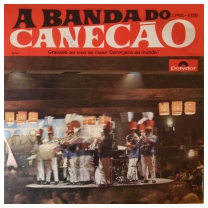 A Banda Do Canecao "A Banda Do Canecao" (CID, 1967) (LP)


The clompy sounds of an authentic Brazilian beer blast... Recorded live at a nightclub/beer garden, this captures a performance by the brass band A Banda Do Canecao plowing through a series of medleys, mixing Brazilian tunes with North American and other Latin American standards. The audience cheerfully choruses along in an early version of the "barzinho" karaoke singalongs, while the band, sounding like a German oompah group with a samba drummer, barrels along. Honestly, though? The performance is poorly recorded and also pretty monotonous... although the Banda made several records and has a place in '60s samba history, I really can't recommended this album.


<! Banda Cheiro De Amor >


Banda Eva - see artist profile




Banda Mantiqueira "Aldeia" (Pau Brasil/Blue Jackel, 1996)



A smooth Braz-jazz album, heavy on the brass section. This all-instrumental album takes a few nods at choro legend, Pixinguinha, as well as towards the smooth bossa nova sounds of the early '60s... This all by way of a peppy Doc Severinsen style latter-day big band style. This was a little too smooth for me, but it's not overly glitzy by any means, and may be something you'd like, if you're looking for something in a mellow jazz mode.

Banda Mantiqueira "Bixiga" (Blue Jackel/Pau Brasil, 2002)


Pretty cool! Anyone intrigued by the mix of Brazilian and big band motifs on Banda Mantiqueira's 1996 album, Aldeia, will be delighted by this latter-day gafieira outing, in which the swanky jazz elements are punched up and perfected. This is the kind of dynamic crosscultural mix that Stan Kenton and his peers were searching for in their mid-'50s explorations of Cuban and Latin-American melodies... pretty engaging and seldom overplayed, and less mellow than earlier Mantiqueira recordings. Nice lingering hints of the Dixieland-ish choro style of dimly-remembered Brazilian artists such as Sinho and Pixinguinga. Includes radically reimagined arrangements of songs by Joao Bosco and old-school sambista, Cartola. Definitely worth checking out!
Banda Mantiqueira "Terra Amantiquira" (Maritaca, 2006)






<! B000MNNRNM - with Orq. Sinfonico Do Estado De Sao Paulo, Luciana Souza 2005? > <! B000MMN7FG - with Orq. Sinfonico Do Estado De Sao Paulo 2005? >


Banda Mel - see artist profile




Banda Turmalina "Apelo A Igualidade" (Continental, 1988)
A fairly unremarkable pop-axe album, heavy on the New Wave-ish synthesizers, light on the percussion. The title track, which opens this album, is the most vigorous thing on here, sort of in the same general range as Olodum's softer, poppier recordings... The Afro-Brazilian drumming is almost enough to pull you in, but not quite. Guitarist Marcello Chamuska wrote about half the songs on here, while second guitar Joao Neto and lead singer Bino wrote several others. Trust me: this is pretty dorky, and you're not missing much.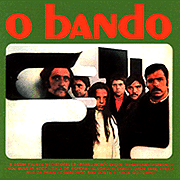 O Bando "O Bando" (Discos Mariposa/Polydor, 1969/2007)


(Produced by Rogerio Duprat)
A welcome reissue of a lively "lost-classic" psychedelic rock album from Brazil's "tropicalia" era of the late-1960s/early-'70s... O Bando were a Sao Paulo band that nakedly emulated the better-known Os Mutantes, mixing clattersome pop-psychedelic rock with jazz, folk and indigenous Brazilian styles, then pushing their performances to furious crescendos. The likeness to Os Mutantes was hardly coincidental: tropicalia's avant-pop producer Rogerio Duprat helmed this project, and brought to it the same basic formula as he had used on the Mutantes records, and some Gal Costa albums of the same vintage. It's a bit shrill and driving, but if you are fascinated with that era and with the whole tropicalia scene, you'll definitely want to check this out. This was O Bando's only album; apparently they also released a single or two, and then went on to work elsewhere are backup musicians in the 1970s and beyond.


<! BANGO >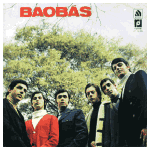 Baobas "Baobas" (Mocambo/Rozenblit, 1968) (LP)



A '60s mod/garage band with an album's worth of cover songs by US/UK acts such as the Kinks, Moody Blues, Doors, et al. The repertoire is kind of standard, but the band itself has a significant place in Brazilian rock history -- one sometimes-member was bassist Arnolpho Lima Filho, aka Liminha, who was a member of 1970's Os Mutantes lineup, and became a prolific rock-pop producer in the '80s. I wish they'd sung in Portuguese rather than English, but I guess it's too late to do anything about it now...


<! 01. Night in White Satin 02. Hello I Love You 03. Undecided Man 04. Sunny Afternoon 05. Tonite 06. I Love You 07. Orange Skies 08. Baby Come Back 09. Hey Joe 10. Well Respected Man 11. Got to Say Goodbye 12. The Dock of The Bay Um disco basicamente de covers, que devido ao mistério em torno da história da banda levou muita gente aos sebos do país atrás de uma cópia do lp. Aquela capa colorida, apenas com o nome da banda em vermelho (sem o "Os"), no entanto, fez a alegria de poucos. Gravado por um selo pequeno - Mocambo/Rozenblit - em 1968, o álbum é uma das maiores raridades da discografia nacional. A história recontada dos Baobás tem seu ponto alto na presenća entre seus integrantes do atual produtor e ex-baixista dos Mutantes, Arnolpho Lima Filho, o Liminha. Aliás, com uma passagem meteórica pela banda, pois participa do único álbum por tabela: ele gravou apenas o compacto com "Light My Fire (Doors) e Tonite (Guga, cantor da banda), esta última presente no lp. Liminha, que aparece na capa do compacto, é geralmente confundido fisicamente com o também baixista Nescau, presente na foto do lp. A história inteira da banda, que desembocou na gravaćčo desse álbum, comeća com a beatlemania, quando adotaram o nome de Rubber Souls, e participavam de programas de televisčo na capital paulista. Em 1966, estrearam com o compacto Pintada de Preto (Painted It Black, dos Rolling Stones)/Bye Bye My Darling (deles), ao qual seguiram-se mais quatro disquinhos, entre eles Happy Together (Turtles) e Down Down, um punk na linha "nuggets", de autoria do ex-O'Seis (o pré-Mutantes), Rafael Vilardi, entčo membro da banda. A primeira e original formaćčo do grupo contava com Ricardo Contins (guitarra), Jorge Pagura (bateria), Carlos (baixo), Renato (guitarra solo) e Arquimedes (pandeiro). Mas pela banda ainda passaram, além dos já citados, Tito, Tuca (ex-Lunáticos, depois Beatniks, Galaxies e Sunday), Guga, Calia e Tico Terpins (depois Joelho de Porco). Do disco, participam (da esquerda para a direita na foto da capa): Tuca, Nescau, Guga, Calia, Tico Terpins e Pagura. O repertório do álbum é um mergulho na clássica e importada psicodelia da época, incluindo covers para Doors ("Hello, I Love You"), Love ("Orange Skies") e Kinks ("Well, Respected Man"). Em suas doze faixas, ainda rolam hits do momento ("The Dock Of The Bay" - Otis Redding), standars como "Hey Joe" (Jimi Hendrix) e duas interessantes composićões próprias - "Tonite" e "Got To Say Goodbye" (do guitarrista Tuca), ambas cantadas em inglźs. Com boa qualidade instrumental, o disco sofre um problema de prensagem, responsável por uma espécie de chiado de fundo, que nčo chega a atrapalhar a audićčo. O nome Baobás - árvore gigante e frondosa da África - retirado do livro "O Pequeno Princípe", foi sugestčo de Ronnie Von, que também batizou os Mutantes. Além do padrinho, com quem gravou um compacto ("Menina Azul", em 67), o grupo também acompanhou Caetano Veloso pós-Alegria Alegria em programas de televisčo e shows, substituindo os Beat Boys. Clássica banda de garagem, com as conhecidas excećões, a maioria dos integrantes virou os anos setenta nas universidades, de onde saíram médicos, dentistas e empresários. >

---
Brazilian Music - More Letter "B"
---



Main Brazil Index
World Music Index

---