<! MP3 10/04/08, 02/09/10, 06/22/12 > <! pix 11/29/09 > <! ALLBM 00/00/00 > <! icons 02/16/11 > <! UPDATES: 10/04/08 05/01/12 - added Novelli, Claudio Nucci pages, need Nouvelle Cuisine? 06/22/12 - added Nacao Zumbi, Dudu Nobre, Emmerson Nogueira, Paulinho Nogueira, Nora Ney pages > <! Cristianne(a?) Neves - pianist Wilson Ney - gaucho rock artist > <! Casal(?) Nunes (2006) > <! Ness "Fim Da Infancia" (Devil Discos, 1988) - prog rock - same as "Loch Ness" band listed elsewhere? > <! Eliete Negreiros http://pt.wikipedia.org/wiki/Eliete_Negreiros Eliete Negreiros "Outros Sons" (Voo Livre, 1982) (LP) B004X9B756 Eliete Negreiros "MPB" (Pasquim, 1983) Eliete Negreiros "Angulos: Tudo Esta Dito" (Copacabana, 1986) Eliete Negreiros "Eliete Negreiros" (Continental, 1989) (LP) B004X9B70G Eliete Negreiros "Cancao Brasileira, A Nossa Bela Alma" (Camerati, 1992) B0048813H4 Eliete Negreiros "Dezesseis Cancoes De Tamanha Ingenuidade" (Eldorado, 1996) B00000G8YL > <! PHILIPS BRAZIL LP MARLOS NOBRE concerto breve MORELEMBAUM avant garde piano orch > <! Nosso Samba "De Onda Samba, v.1" (Beverly, xxxxxxx) Nosso Samba "De Onda Samba, v.2" (Beverly, 1970) Nosso Samba "Andancas Pelo" (Continental, 1985) > <! Joao Almeida Neto "Joao Almeida Neto" (xxxxxxxxx) >
---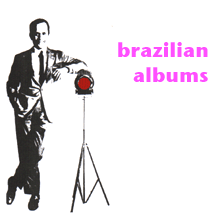 This is a listing of miscellaneous albums and artists under the letter "N"
If an artist or album you like is not reviewed here, please feel free
to contact me and make a suggestion.
---
A | B | C | D | E | F | G | H | I | J | K | L | M | N | O | P | Q | R | S | T | U | V | W | X | Y | Z | Compilations
Brazilian Styles | 30 Recommended Records | Portuguese-language pop | Brazilian Links | Slipcue.Com
---
Nacao Zumbi - see artist discography

Naire "Naire" (RGE/Fermata, 1974) (LP)


(Produced by J. Shapiro & Toninho Paladino, arrangements by Luiz Claudio Ramos)
Flowery soft-pop from one of the later entrants in the fabled Brazilian song competitions of yesteryear... Antonio Adolfo contributes sugary piano accompaniment, along with an all-star studio crew. Paulinho Tapajos co-wrote most of the music and sings two duets that bookend the album. In addition, florid vocal choruses and tweetling flutes a woven in as well. This is too gooey and occasionally bombastic for me, but on the positive side, it did sound different than a lot of what was going on at the time. If you want to mine deep into the reservoir of vintage Brazilian folk-rock, it seems like this disc might be of interest. My guilty pleasure on this one would have to be the song "Donzela," one of many written with Tapajos.
Dinho Nascimento "Berimbau Blues" (Tratore, 2004)

Joel Nascimento - see artist discography
Milton Nascimento - see artist discography
Ernesto Nazareth - see artist discography
Neco "Velvet Bossa Nova" (London, 1967)

Neco "Samba E Violao" (London, 1967)

Neco "Samba E Violao, v.2" (London, 1968)

Eliete Negreiros "Outros Sons" (Voo Livre, 1982) (LP)

Eliete Negreiros "MPB" (Pasquim, 1983)

Eliete Negreiros "Angulos: Tudo Esta Dito" (Copacabana, 1986)

Eliete Negreiros "Eliete Negreiros" (Continental, 1989) (LP)

Eliete Negreiros "Cancao Brasileira, A Nossa Bela Alma" (Camerati, 1992)

Eliete Negreiros "Dezesseis Cancoes De Tamanha Ingenuidade" (Eldorado, 1996)





<! Eliete Negreiros http://pt.wikipedia.org/wiki/Eliete_Negreiros Eliete Negreiros "Outros Sons" (Voo Livre, 1982) (LP) B004X9B756 Eliete Negreiros "MPB" (Pasquim, 1983) Eliete Negreiros "Angulos: Tudo Esta Dito" (Copacabana, 1986) Eliete Negreiros "Eliete Negreiros" (Continental, 1989) (LP) B004X9B70G Eliete Negreiros "Cancao Brasileira, A Nossa Bela Alma" (Camerati, 1992) B0048813H4 Eliete Negreiros "Dezesseis Cancoes De Tamanha Ingenuidade" (Eldorado, 1996) B00000G8YL >


Neguinho Da Beija-Flor - see artist discography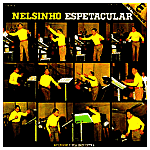 Nelsinho E Sua Orquestra "Nelsinho Espetacular" (Odeon, 1968)
Trombonist Nelsinho, a popular sideman in the 1960s and '70s, leads his own orchestra in a fascinating blend of easy-listening kitsch and much more robust big band samba/gafieira jazz, with nods towards contemporary composers such as Chico Buarque, Gilberto Gil and Marcos Valle. Punchy brass, tweety flutes and a heavy rhythm section (punctuated by tubas and snare drums) cohabitate with street samba percussion and a playful, rock-tinged electric guitar. The silly elements and the traditional both sound good; I'm not normally much of a "lounge" fan, but this record strikes an interesting balance, revealing yet another shade of Brazilian popular music. Definitely worth a spin. (By the way, anyone know who was playing guitar? Maybe Waltel Branco? I'd be curious to find out...)


<! 01 - Vocź Passa Eu Acho Graća (Carlos Imperial / Ataulfo Alves) 02 - Bom Tempo (Chico Buarque) 03 - Até Segunda-feira (Chico Buarque) 04 - Pressentimento (Élton Medeiros / Hermínio Bello de Carvalho) 05 - Nčo Ponha a Mčo (Mutt / Arnô Canegal / Bucy Moreira) 06 - Cheguei (Avise a Maria) (José Orlando) 07 - Canto Chorando (Billy Blanco) 08 - Jura (J. B. da Silva "Sinhô") 09 - Deixa (Vinicius de Moraes / Baden Powell) 10 - Viola Enluarada (Marcos Valle / Paulo Sergio Valle) 11 - Devagar Com a Louća (Haroldo Barbosa / Luis Reis) 12 - Mancada (Gilberto Gil) "released just after Nelsinho e os Seus Trombones..." >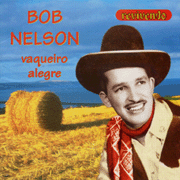 Bob Nelson "Vaqueiro Alegre" (Revivendo)
Great stuff! I'd heard that Brazil has a homegrown country scene, and here's an early forerunner from the 1940s... Singer-composer Nelson Roberto Perez (aka "Bob Nelson") was a radio star of the 1930s and '40s who worked with Carmen Miranda and in his own band, Grupo Cacique. He took up yodeling in the 1940s and had his first hit with a Brazilian-ized version of "Oh, Suzana," which is included in this compilation. Naturally, crazy traces of samba creep in around the edges, but sure enough this ten-gallon hatted "happy cowboy" has genuine hillbilly fiddle, accordion, and banjo pickin' to spare, and he yodels like there's no tomorrow. This is decidedly nutty, goofy, frivolous material... but the musicianship is also quite good! It's kind of like when Gene Autry or Roy Rogers did some Latin-American-tinged, polka-flavored number, except that this is coming at it from the opposite direction. Anyway, if this sounds interesting, but you're not quite sure, take my word for it: this is fun stuff! (PS - the only place I've ever seen this available is through the label. It's worth getting in touch with them to track this down.) One quick footnote: At least two Bob Nelson songs were recorded by bandleader Ze Maria in the 1960s, and '60s pop star Roberto Carlos was apparently a Bob Nelson fan as a child, and decades later recorded a tribute EP in 1974.


<! BOB NELSON Nelson Roberto Perez http://pt.wikipedia.org/wiki/Bob_Nelson worked with Carmen Miranda, was in a 1930s group called Grupo Cacique >


Nenhum De Nois - see artist discography





Netinho - see artist discography




Accioly Neto "Trancelim" (RGE, 1986)
Astonishingly bland, monotonous pop from a guy with an Abraham Lincoln-style beard and a really thin voice. It took me a while to realize that this was some sort of modernized, poppified forro... It's not very interesting, though.




Accioly Neto "Meu Forro" (Sony, 2002)


Bernardo Neto "Sumare" (1988)
An odd, wispy album, rather attenuated, wimpy MPB, along the same lines as Lo Borges or Beto Guedes, sort of a folkie-gone-synth-rocker kinda thing. I don't know much about this guy, other than this one record. It's mildly irritating in places, but mostly inoffensive and a bit windswept and wistful.

Jovino Santos Neto "Caboclo" (Liquid City, 1997)


The first solo album by multi-instrumentalist Jovino Santos Neto, a longtime veteran of Hermeto Pascoal's band. Light, breezy jazz, mainly built around tight piano-flute duets, with sympathetic accompaniment from a small jazz combo, and in large part a tribute to his mentor. Not really my cup of tea, but pretty solid for the style. I could certainly see how folks into the whole "dinner jazz" sound might like this. (For more information about Neto and his career, check out his website.)

Jovino Santos Neto & Richard Boukas "Balaio" (Malandro, 2001)


Mellow and accomplished acoustic jazz featuring original compositions by New-York based guitarist Richard Boukas and Brazilian pianist, Jovino Santos Neto. There are also a trio of tunes by Braz-jazz legend Hermeto Pascoal, whose band Jovino Santos Neto performed in for much of the 1990s... The vibe is kind of a cross between John McLaughlin and Milton Nascimento -- Boukas scats in a very Milton-like fashion, although with more restraint and precision. These tunes are generally very sprightly; overall this isn't my cup of tea, but it's very nice for the style, and if you like acoustic jazz, you might enjoy this disc...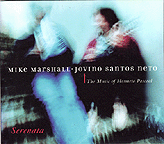 Jovino Santos Neto & Mike Marshall "Serenata: The Music Of Hermeto Pascoal" (Adventure Music, 2003)



Delving deeper into his love of choro, and of Brazilian jazz, Marshall explores the work of avantnik multi-instrumentalist Hermeto Pascoal, one of the most original and more challenging modern Brazilian jazz players. On the whole, I would say this set is far less "out there" than most of Pascoal's own albums, but the interplay between mandolinist Marshall and pianist Jovino Santos Neto reveals a strong intuitive link, both between the performers and the music they're tackling. Interesting album with some remarkable moments. Pascoal himself adds a flute solo to one track, giving the album that extra bit of authenticity...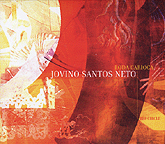 Jovino Santos Neto "Roda Carioca" (Adventure Music, 2006)



A straightforward, all-instrumental smooth jazz set, with a solid Brazilian bossamba foundation... Pianist Jovino Santos Neto leads this lively set, with a top-flight cast of Brazilian jazz players behind him. A lot of this is too jazzy for me, but there are flourishes that stand out, such as Hamilton Da Holanda's swinging, choro mandolin riffs on "Gente Boa," and Joyce's guest vocals on the song, "Nana." Brazil's leading avant jazz artist, Hermeto Pascoal, also plays on one track (playing a chewing gum wrapper and a glass of water, among other things!) Mainly this is a showcase for Santos Neto's brisk piano work, which at some times if quite lyrical and at others is a little too rat-a-tat-tat for me. Most soft jazz fans will probably like this, though... Worth checking out, if modern Braz-jazz is your bag.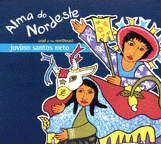 Jovino Santos Neto "Alma Do Nordeste: Soul Of The Northwest" (Adventure Music, 2008)



Jazz pianist Jovino Santos Neto delves into the music of Brazil's Northeastern region, home to frenetic styles such as forro music and the baiao. If you've ever wanted to hear the accordion as a lead instrument in a jazz context, then this disc will give you goosepimples of delight: in the album's first half, accordionist Toninho Ferragutti cuts loose with some fine improvisational flights, supported by the rest of Santos Neto's elastic, energetic band. The second half of the album gets into too much of a mainstream jazz mode for me, but the more "Brazilian" material is pretty exciting. Fans of either style -- forro or modern jazz -- will find a lot to appreciate here.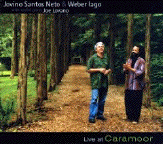 Jovino Santos Neto & Weber Iago "Live At Caramoor" (Adventure Music, 2008)


(Produced by Jim Luce & Richard Zirinsky, Jr)
Brazilian pianists Jovino Santos Neto and Weber Iago combine their talents for these crisp live recordings, both as solo performers and together, with accompaniment by saxophonist Joe Lovano. They cover the work of Braz-jazz touchstones such as Antonio Carlos Jobim, Hermeto Pascoal and Pixinguinha, as well as some of their own compositions.. What marks this disc, though, is its departure from the bedrock conventions of Brazilian bossa nova-ism; this is much more of a classical-meets-avant jazz recording, arch and erudite, with less appeal to the smooth-jazz set, and more to fans of Pascoal and the more challenging brand of Brazilian jazz. Worth checking out if you're into "serious" jazz.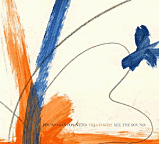 Jovino Santos Neto/Various Artists "Veja O Som/See The Sound" (Adventure Music, 2010)



(Produced by Jovino Santos Neto & Richard Zirinsky, Jr.)
A 2-CD set, with one disc recorded in the United States and the other in Brazil. Jazz pianist Jovino Santos Neto jams with Brazilian greats such as Joao Donato, Monica Salmaso, Joyce Moreno and Paula Morelenbaum, as well as American players and Brazilian expats such as Paquito D'Rivera, Bill Frisell, Mike Marshall and Airto Moreira. These duets show Santos Neto's musicianship and affinity for his fellow musicians at its most stripped-down and basic; as someone who's not so keen on modern smooth jazz, per se, this less-conservative, back-to-basics approach is very much appreciated, bringing things back to composition and virtuosity rather than tonality and style. Worth checking out!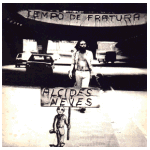 Torquato Neto/Various Artists "Um Poeta Desafolha A Bandeira E A Manha Tropical Se Inicia" (RIOARTE, 1985)





<! apparently a private pressing w/ Gal Costa, others: This album is a posthumous homage to the great poet, who wrote many lyrics of the Tropicalista (or Tropicália) movement's songs. It is a small independent project created by the Rio de Janeiro Culture Center (RIOARTE) and distributed only to some lucky fellows. This rare pearl was not put on sale! It was only distributed as a gift. 1. LOUVAāŐO (Elis Regina e Jair Rodrigues) 1966 2. PRA DIZER ADEUS (Elis Regina) 1966 3. A RUA (Gilberto Gil) 1967 4. VENTO DE MAIO (Nara Lečo) 1967 5. ZABELś (Gal Costa e Caetano Veloso) 1967 6. MARGINÁLIA II (Gilberto Gil) 1968 Side B 1. GELÉIA GERAL (Gilberto Gil) 1968 2. AI DE MIM, COPACABANA (Caetano Veloso) 1968 3. MAMŐE CORAGEM (Gal Costa) 1968 4. DEUS VOS SALVE A SANTA CASA (Nara Lečo) 1968 5. LET'S PLAY THAT (Jards Macalé) 1972 6. TRśS DA MADRUGADA (Gal Costa)1973 >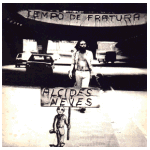 Alcides Neves "Tempo De Fratura" (AMUSP, 1979) (LP) <! AMUSP (?) label >


Profoundly irritating, pointedly experimental folk-prog MPB from this hippie-ish Cearan warbler. I hate his voice, and the meandering, erratic background music doesn't help, sort of a free-jazz-meets-regional-folk style with disorganized sub-Nana Vasconcelos percussion punctuating (or puncturing) some spacy flute-and-accordion noodling. It's all very intentionally irksome and challenging, which is all very well and fine if you're into that kind of thing, and have time in your life for it... Otherwise, you might not find this worthwhile. A curio that fits into the wider history of Brazilian experimental music, but ultimately with pretty limited appeal.


<! Logo fica claro que trata-se de um artista disposto a trabalhar com sonoridades diferentes e experimentais, como na faixa-título. Porém esse primeiro impacto, que bem pode espantar alguns, é quebrado em seguida pela bela Desencontro das Águas, que vai ser ouvida com especial carinho pelos paulistas. Lampičo sem dúvida é uma das formas mais belas e poéticas de tratar o famoso guerrilheiro do sertčo. Destrinchando sistematicante a construćčo do mito, que comeća com "mais de 700 cavaleiros" que invadiram o mundo inteiro até chegar a "100 ou 50 nas quebradas do sertčo"... Afinal, como é cantado, "Nčo é mentira nčo", é cultura! Já com Hibernante in Tempore voltamos com sonoridades (e, no caso, letras) mais difíceis, mas nem por isso menos prazerosas de se ouvir, desde que com a cabeća aberta, claro. Destaca-se o irônico "Deus nasceu na Ámerica"... Tango, belíssima composićčo, bem poderia ser o possível hino de uma América Latina (ou Batida?) unida - e derrotada. Banquete na casa de pedra é uma canćčo que soa muito diferente do resto do álbum, mas mesmo assim é muito boa. A letra se destaca. O Trem, mais uma música de um tema tčo forte para nossa cultura, sobre o qual já cantaram Raul Seixas, Gonzaguinha, Mercado de Peixe, entre outros. Desnecessário ressaltar a originalidade da música, captando tanto a forća quanto a melancolia de um "trem velho" que chega na estaćčo vazia, aliás "nčo tinha nem estaćčo nčo senhor"... Urubuzalź é sem dúvida a mais experimental do álbum, e pelo menos eu demorei um pouco a gostar dela. Parece uma mistura de poesia concreta com Arrigo Barnabé. Aventuras de um Luso-Tropical tem uma grande pompa e imponźncia. Devo confessar particular aprećo pelos metais meio desencotrados dessa música, além da encantadora letra, na verdade uma carta de D. Pedro II a seu pai. "Napolečo das Antas" é simplesmente genial. Los Invasores tem um arranjo vigoroso e inventivo, com uso intenso de flautas doces - muito bem utilizadas. Finalmente, Desen(fado) tem um peso, uma agressividade que contrasta com sua letra singela. Sem dúvida uma das melhores músicas do álbum, para fechar com chave de ouro. Em suma, vale a pena ouvir e tirar suas próprias conclusões sobre um grande artista, que infelizmente nčo vem recebendo a devida atenćčo. >

Alcides Neves "Destrambelhar Ou Nao" (AMUSP, 1983) (LP) <! AMUSP? verify? >



<! 01. Recuerdos Tempo de Fratura 02. Tetéu 03. Abutre-Abate-Amorfo 04. Alegre Stravinsky 05. De Tempo de Fratura a Destrambelhar ou Nčo 06. Cidade-País-Cidade 07. Estrutura Jazz (morta) 08. Descampado 09. Re(ligare) 10. Maracatu Martelado >


Wilson Das Neves - see letter "D"





Nora Ney - see artist discography




Wilson Ney "...Canta Wilson Ney" (Prefeitura Do Porto Alegre) <! year? >
Composer Wilson Ney was part of the "gaucho samba" sound, and had songs recorded by a variety of artists in the 1980s and '90s, ranging from hard-samba diva Dona Ivone Lara and sambista Roberto Ribeiro to MPB pop balladeer Ney Matogrosso. His best-known song, "Fogo De Palha," was covered by forro star Dominguinhos as well as samba-rocker Bedeu, with several other tunes being recorded by various artists. This album features all original material, written or co-written by Ney, including his own version of "Fogo De Palha." I'm not sure, but this may have been the only album he released... Not sure what year it came out, but I think it's late '80s, early '90s.


<! http://armazemdoseubrasil.blogspot.com/2013_04_07_archive.html >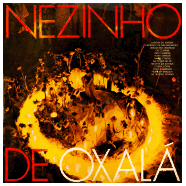 Nezinho De Oxala "Nezinho De Oxala" (Phonogram, 1977) (LP)


A great album. Although inspired by the Afro-Brazilian spiritualism of the Umbanda religion, Nezinho's sound is a smooth, sweet, soft mix of folky MPB and gentle '70s samba-rock... His vocals are freindly and soothing, perfectly matched by the catchy but subtle musical backing. A nice gem from the 'Seventies -- I'm not sure if he was affiliated with a particular terreiro, or if he recorded other albums besides this one, but this is a very sweet, listenable record. Recommended!


<! sweet!! Nezinho de Oxalá (Phonogram/1977) LP/CD – 1. Jurema de Juremá; 2.Presente de Balangandčs; 3. Jardim das crianćas; 4.Jardim das Crianćas; 5. Os Clarins; 6. Sete Homens; 7. Hora Grande; 8. Maria Conga; 9. Na ponta do pé; 10. Mestre da Justića; 11. Cobra Coral; 12. Vovó Cambinda; 13. Festa na Senzala; 14. As quatro Deusas; Nos anos 70 a Umbanda estava muito presente em todas as manifestaćões culturais, graćas a artistas como Clara Nunes e Clementina de Jesus. Alguns outros, mais explicitamente umbandistas, oriundos de terreiros famosos da época, como Cubanito, Nezinho de Oxalá, Dudu de Ogun, Edi Brandčo e outros tentavam seu espaćo no mercado. Nezinho de Oxalá tentou via Ruy Maurity, aproximando-se muito do seu estilo samba/rock rural, com temas umbandistas. Trata-se de um disco muito bem gravado e produzido, com uma mixagem excelente, como a maior parte dos trabalhos da época. O Nezinho canta bem, a banda conta com músicos maravilhosos e arranjos excelentes. >


Dudu Nobre - see artist discography




Marlos Nobre "Concerto Breve" (Philips, 1975) (LP) <! 76? >



<! with Henrique MORELEMBAUM avant garde piano orch > <! Nobre has a bunch of other albums >
No Em Pingo D'Agua "Domingo Na Geral" (Lumiar, 2002)



Soft jazz with choro and samba undercurrents... Pianist Cristovao Bastos adds color and elegance to this already-mellow set. Smooth-jazz fans in search of new frontiers might really enjoy this one!
No Em Pingo D'Agua "Receita De Samba" (Visom)

No Em Pingo D'Agua "No Na Garganta" (Rob Digital, 1998)


(Produced by Mario Seve & Celsinho Silva)
Another sleek, gentle set, tailormade for the "smooth jazz" crowd... A little too soft for my tastes, but excellent for the genre, and replete with Brazilian musical motifs to keep it fresh for fans in other countries, particularly the acoustic guitar work, which seems more rooted in Brazilian choro, at least when they go for a faster, more assertive style. One album highlight is the vocal tune, "Tristorosa," which features lovely, restrained vocals by pop star Leila Pinheiro -- other guest performers include composer Guinga and samba virtuoso Jorginhno do Pandeiro.


<! fourth album? > <! date per CD art >

No Em Pingo D'Agua "...Interpreta Paulinho Da Viola"

No Em Pingo D'Agua "Joao Pernambuco" (Atracao, 2002)


With Antonio Adolfo...


<! Nó em Pingo D'Água é conjunto musical instrumental brasileiro de choro e samba, criado em 1979 e formado pelos músicos Celsinho Silva na [[percussčo, Mário Séve sax e flauta, Papito baixo, Rodrigo Lessa bandolim e bandarra, Rogério Souza no violčo e violčo. > <!~ "Salvador" (?) B007OYEGLE (LP) > <! http://www.cantaloupeproductions.com/musicians-and-bands/brazilian-ensembles/no-em-pingo-dagua >


Emmerson Nogueira - see artist discography





Joao Nogueira - see artist discography





Paulinho Nogueira - see artist discography





Noite Ilustrada - see artist discography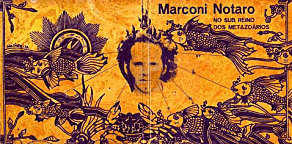 Marconi Notaro "No Sub Reino Dos Metazoarios" (1973)


Super-freakulent, electrified psychedelia spaceouts, weird stream-of-consciousness improv raga-rock, with plenty of fuzz, echo and distortion... Fans of early Tom Ze, Ze Ramalho, Os Mutantes, Lula Cortes, et. al. will probably dig this... Indeed, Cortes and Ramalho are on this album as well, originally issued as a private pressing from the trio's own label in Recife. The last track on the album is called "Ode A Satwa," in homage to their previous record, under the band name Satwa. Freaky and weird in a very good way. (Available through Time-Lag Records.)


<! first ever reissue of this totally brilliant post-satwa 1973 brazilian private press featuring the core trio lula cortes, marconi notaro & ramalho. recorded just months after lula & lailson had released satwa, lula was back in the same recife studio with poet and friend marconi notaro to lay down another equally magical album. ramalho, who would go on to record the paberu 2lp with lula two years later, makes his recording debut here as well… somehow amidst the harsh government restrictions of 70s brazil, lula côrtes and his group of artist friends had managed to bypass the authorities and create a hugely creative micro-world of their own, recording, producing, and releasing this album with complete independence. no small feat in and of itself, no doubt, but the music is what makes this slab a true lost masterpiece… the whole album gushes forth with a sun baked spirit of the highest level, mixing tropicalia tinged folk-beat groovers, satwa style bliss trance ragas, pabiru favored lysergic jungle psych, and even a raging fuzz/wah soaked garage psych rocker. extremely mind melting from start to finish, with huge washes of rippling tape delay, electric & acoustic guitars, 12 string, tranced folk percussion, passionate yet mellow vocals, liquid electric bass, acid effects everywhere, and of course lula's mercurial & heart melting tricrdio (an instrument he made himself, something like a sitar/dulcimer hybrid). beautiful, melancholy and joyous all at the same moment, this is an album that after 33 years still sounds completely fresh & unique… sadly marconi passed away in 2000 having lived a life of obscurity even in his own town, yet leaving behind 7 published books of poetry and this stunning, lone album. >

Nouvelle Cuisine "e-Collection: Sucessos E Raridades" (WEA, 2001)



A rather odd, fish-out-of-water band... These guys are jazz-standards revivalists, sort of like a down-tempo, Brazilian Manhattan Transfer, playing material by Harold Arlen, Duke Ellington, Johnny Mercer, George & Ira Gershwin, et. al., alongside homegrown Brazilian composers such as Dorival Caymmi, Carlos Lyra, Gilberto Gil, Caetano Veloso, Djavan, etc., placing them all into a compact, though rather goofy , small-ensemble acoustic setting. Personally, I find it all far too precious and overly clever -- while not as acrobatic as the Brazilian vocal group Quarteto Em Cy, there's a similar willingness to draw attention to the group's technique and to their coy re-arrangements of well-known songs. I'm not fond of the mix, either: Guga Stroeter's vibraphone is far too dominant; the clarinet seems tacked on at times, and the band's lone vocalist, Carlos Fernando, seems singularly underwhelming, particularly when he sings in English, which is most of the time. Nonetheless, they were apparently quite popular in Brazil during the late 1980s, and there also seems to have been some connection with Marisa Monte... Personally, I don't get the attraction, but I wasn't there at the time, either... Maybe their shows were a lot of fun, or something.


<! Nouvelle Cuisine "Nouvelle Cuisine" (WEA, 1988) Nouvelle Cuisine "Slow Food" (WEA, 1991) Nouvelle Cuisine "Novelhonovo" (Eldorado, 1995) B00018QDHA(???) Nouvelle Cuisine "Free Bossa" (YBrazil, 2000) B00015U2E8 B000QQY7PW Nouvelle Cuisine "Live At Porgy & Bess" (MSI/Super D, 2008) also: Carlos Fernando solo album >

Nouvelle Cuisine "Nouvelle Cuisine" (WEA, 1988)





Nouvelle Cuisine "Slow Food" (WEA, 1991)





Nouvelle Cuisine "Novelhonovo" (Eldorado, 1995) <! (right ASIN???) >

Nouvelle Cuisine "Free Bossa" (YBrazil, 2000)


Novelli - see artist discography
Novos Baianos - see artist discography
Claudio Nucci - see artist discography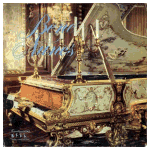 Bene Nunes "...E Seu Piano" (Continental, 1958)


A pianist and composer whose career spanned back to the 1930s, Bene Nunes composed several classics and was also known as an actor and as a close friend of Brazil's then-President, Juscelino Kubitschek. He was also the husband of singer Dulce Nunes, whose own work is reviewed below. Included here is his version of "Ho-Ba-La-La" (also recorded by Joao Gilberto) but, sadly, not a version of his best-known song, "Gostosinho." Alas.


<! REISSUE OF 1958 album 1. Se Todos Fossem Iguais a Vocź 3:11 $0.99 Buy Track - Se Todos Fossem Iguais a Vocź Play 2. If I Had You 2:49 $0.99 Buy Track - If I Had You Play 3. Carinhoso 3:06 $0.99 Buy Track - Carinhoso Play 4. Só a Ti 2:29 $0.99 Buy Track - Só a Ti Play 5. Lamento no Morro 3:00 $0.99 Buy Track - Lamento no Morro Play 6. There Will Never Be Another You 3:03 $0.99 Buy Track - There Will Never Be Another You Play 7. Por Causa de Vocź 2:33 $0.99 Buy Track - Por Causa de Vocź Play 8. Amendoim Torradinho 2:21 $0.99 Buy Track - Amendoim Torradinho Play 9. Choro Triste 2:21 $0.99 Buy Track - Choro Triste Play 10. Hô-bá-lá-lá 2:45 $0.99 Buy Track - Hô-bá-lá-lá Play 11. Stella By Starlight 2:29 $0.99 Buy Track - Stella By Starlight Play 12. Ouća This album came to us a couple of months ago via MailbigFile. I got really amazed with this nice cover with the piano, but I did not move further hearing or researching about it. I knew that Bene Nunes is a gifted pianist with participation on Bossa Nova, friend of the president of Brazil Juscelino Kubistcheck and husband of singer Dulce Nunes. I was speaking with a friend today and he said something about a Bene Nunes album with participation of Antonio Carlos Jobim, Radames Gnattali and Severino Filho and I instantly remembered this one. Perhaps I'm wrong, this is a widely unknown participation of these three great musicians and this is really worth checking. Let's see. This is Bene Nunes - Bene Nunes e Seu Piano (1958), for Continental, featuring Bene Nunes piano with orchestral arrangements by Antonio Carlos Jobim, Radames Gnattali and Severino Filho from Os Cariocas. I think I will only rest quiet when I get this vinyl, to take a look at the back cover and make another digital transfer. If the anonymous contributor reads us, please drop me a line, so we can get along to know more about this album. Tracks include: >

Bene Nunes "Telefone Para 27-9696" (Odeon, 1968) <! MOFB 3135 >




Bene Nunes "Teclado Fantastico" (Fantasia, 1968)
Singer Dulce Nunes is credited with co-composing one of these songs...


<! Canto livre ((Bené Nunes - Dulce Nunes) > <! 1920-1997 Aos quatro anos de idade comećou a aprender piano, tendo tido aulas durante apenas seis meses. Aperfeićoou-se por conta própria, explorando sua grande musicalidade. Foi casado com Dulce Nunes, cantora que participou do surgimento da Bossa Nova grande amigo e protegido do Presidente JK, foi delegado fiscal do governo, tendo se aposentado na década de 1980. Viveu seus últimos anos, com a família, no Rio de Janeiro. Considerado um virtuose do piano, orgulhava-se de ser autodidata e um intuitivo do instrumento. ---------------- Benź Nunes (Benedito Francisco José de Sousa da Penha Nunes da Silva), instrumentista e compositor nasceu no Rio de Janeiro RJ em 16/11/1920 e faleceu em 07/06/1997. Comećou a tocar piano aos quatro anos de idade, mas estudou música apenas seis meses, continuando a aperfeićoar-se de ouvido. Aos sete anos apresentou-se no programa Hora Infantil, da Rádio Cajuti, executando Pé de anjo(Sinhô) e foi contratado pela emissora, onde permaneceu durante seis meses. Voltou a atuar profissionalmente aos 14 anos, tocando em gafieiras. Em 1945 integrou o conjunto Milionários do Ritmo, de Djalma Ferreira, e estreou no cinema no ano seguinte, aparecendo na produćčo da AtlČntida Mče, de Teófilo de Barros. Participou de vários filmes, tendo ficado conhecido como o pianista-galč do cinema e do rádio brasileiros. Sob a direćčo de Watson Macedo, apareceu em Carnaval no fogo, em 1949, e em Aí vem o barčo, em 1951, ambos da AtlČntida. Em 1952 participou de Barnabé, tu és meu, de José Carlos Burle, e foi o ator principal do filme O rei do samba, de Luís Santos, interpretando o papel do compositor Sinhô. Ainda em 1952, atuou ao lado de Adelaide Chiozzo no filme É fogo na roupa, de Watson Macedo. Formou uma orquestra, considerada a maior da América do Sul, com 32 figuras. Um de seus grandes sucessos foi o choro-maxixe Gostosinho, gravado na Continental. No início do movimento da bossa nova, promoveu em sua casa várias reuniões musicais. Em 1984 apresentou-se profissionalmente pela última vez, na Sala Cecília Meireles, no Rio de Janeiro, num recital em companhia da pianista Laís de Sousa Brasil. Depois tocou somente em espetáculos beneficientes. Aposentado como delegado fiscal do governo, viveu seus últimos anos, com a família, em seu apartamento no bairro carioca de Botafogo. Fonte: Enciclopédia da Música Brasileira - Art Editora e PubliFolha. Read more: http://cifrantiga2.blogspot.com/2008/01/ben-nunes.html#ixzz1xWxTWSTU >


Clara Nunes - see artist discography





Dulce Nunes - see artist discography




Osvaldo Nunes "Oba" (1962)





Osvaldo Nunes & The Pops "Ta Tudo Ai" (Equipe, 1969)
A groovy set, wherein the rock chops of the punctuation-challenged jovem guarda band The Pop's are harnessed to the swinging multi-stylistic tornado of singer Osvaldo Nunes, an energetic, expressive performer who apparently died young, but recorded some neat material, including this intriguing album. Like Jair Rodrigues or Wilson Simonal before him, Nunes could be alternately explosive and schmaltzy; I enjoyed him in both modes. There are plenty of regional touches, including an undercurrent of forro and baiao, as well as old-school samba; hearing the crunchy, fuzzy electric guitars in the mix is a gas, and although the Pop's sound a little less committed to their chores as backup vocalists, this is a great record, one that'll get you up and dancing before you know what hit you. Definitely worth tracking down!




Osvaldo Nunes "Bota Samba Nisso" (CBS, 1970)



<! produced by RAUL SEIXAS >

Osvaldo Nunes "Voce Me Chamou" (CBS, 1971)





Osvaldo Nunes "Ai, Que Vontade" (1978)





---
Brazilian Music - Letter "O"
---



Main Brazil Index
World Music Index

---