<! GA - GI > <! TO DO: Paulinho Garcia ASINs below - check dates, etc w/ artist? > <! Marina Gasolina Tiberio Gaspar - worked with Guilherme Lamournier(SP?) in the 1970s > <! Gilliard "Gilliard" (RGE, 1979) > <! Gimmicks "Brasilian Samba" (Universal-Omega) ZILDO GABOTO E SUS GABOTINHOS "...Descubre Brasil" (Music Hall, 1960) spanish-language, from Arg? > <! Gereba MARILIA GABRIELA "st" (Columbia, xxxxxx) - looks like bland '90s MPB - Joana-esque Marinho Gallera E Paulo Vitola "Curitiba - Cidade Da Gente" (Fundacao Cultural, xxxxxxx) (LP) B004G8ZRNM Marinho Gallera E Paulo Vitola "Paixao Segundo Cristino" (Fundacao Cultural, xxxxxxx) (LP) B00410AI70 Marinho Gallera E Paulo Vitola "Os Onze Cantos" (SIR, 1979) (LP) B004NMJJ26 - Jazz - on SIR label (?) > <! Nico Gomez "Bossa Nova" (Omega, 197??) Born in Amsterdam, Gomez had his mark in Belgium where he lead a series of different bands (and recorded under his own name). His best known outfit were the Chakachas who scored a cult hit in the '70s with "Jungle Fever" (on Polydor no less) but he also headed up the El Chicles. There are few Belgium composers from that era with a more consistent track record for straight up funky and Latin-flavored tracks. > <! MP3 11/15/09, 03/25/12 > <! pix 11/15/09 > <! ALLBM 00/00/00 > <! icons 01/22/11 > <! UPDATES: 03/25/12 - added Garganta Profunda, posted Gabriel O Pensador page (still needs bio) and Ze Geraldo page (needs later records) >
---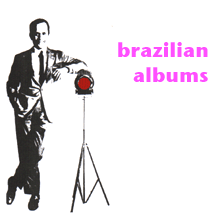 This is the first page of a listing of miscellaneous albums and artists under the letter "G"
If an artist or album you like is not reviewed here, please feel free
to contact me and make a suggestion.
---
A | B | C | D | E | F | G-1 / 2 / 3 | H | I | J | K | L | M | N | O | P | Q | R | S | T | U | V | W | X | Y | Z | Compilations
Brazilian Styles | 30 Recommended Records | Portuguese-language pop | Brazilian Links | Slipcue.Com
---
Andre Gabeh "Andre Gabeh" (Som Livre, 2002) <! 2007? >







Zildo Gaboto "Zildo Gaboto Descubre Brasil" (Music Hall)



<! Argentine pressing of Brazilian LP >


Gabriel O Pensador - see artist discography




Gade & Waldrido Silva "Gafieira" (Musidisc, 1956)
Drummer Walfrido Silva and the pianist known as Gade composed all the songs on this album, with a sprightly vocal chorus singing cheerful, anthemic samba songs such as "Na Cadencia Do Tambor" (which sounds like it may have been intended as a Carnaval song.) There are also a number of instrumentals, some with familiar melodic themes... No indication of who the singers were (particularly the female lead) but regardless of the gaps in information, this is a lovely little record, a nice nostalgic disc from an era long gone.


<! Gade & Waldrido Silva – Gafieira (1956), for Musidisc, featuring the Gade (piano) and Walfrido Silva (drums), performing Gade and Walfrido Silva compositions. I can't remember such unusual formation on recording, only piano and drums. Together with Luciano Perrone, Walfrido Silva is considered one of the pioneers of modern drumming in Brazilian music. Oscar Bolao gave an interview to Brasileirinho saying that Walfrido Silva plays with hands only, which is something you can easily realize with Gafieira. This cover artwork is truly amazing, but the artist was not credited by Musidisc. 01 - Na Cadencia do Tambor (Gade / Walfrido Silva) 02 - Vou Casar no Uruguai (Gade / Walfrido Silva) 03 - 100 Anos de Perdao (Gade / Walfrido Silva) 04 - Tudo Agora e Sonho (Gade / Walfrido Silva) 05 - Vai Cavar a Nota (Gade / Walfrido Silva) 06 - O Feitico Virou (Gade / Walfrido Silva) 07 - Perdi a Aposta (Gade / Walfrido Silva) 08 - Meu Consolo (Gade / Walfrido Silva) >
Mona Gadelha "Mona Gadelha" (Movieplay, 1996)



Mona Gadelha "Cenas & Dramas" (Eldorado, 1999)


The second album by Mona Gadelha... Funky rock with a danceable groove on many tracks... A Slipcue reader had written me to recommend Gadelha's work, comparing her to similar artists such as Fernanda Abreu and Ana Carolina, and although Gadelha's production values aren't as slick as those major label gals, I think the reader hit the nail on the head. The modern rock guitars may be a little over-obvious at times, but this is certainly a different sound for Brazilian pop, and several songs are pretty good. Worth checking out.
Mona Gadelha "Tudo Se Move" (Brazilbizz, 2004)

Mona Gadelha "Salve A Beleza" (Brazilbizz, 2010) <! 2006? >


Mona Gadelha "Praia Lirica" (Brazilbizz, 2011)

Maria Gadu "Maria Gadu" (Som Livre, 2009)


Maria Gadu "Multishow Ao Vivo" (Som Livre, 2010)


Maria Gadu "Multishow Ao Vivo" (Som Livre, 2010) (DVD)

Maria Gadu & Caetano Veloso "Multishow Ao Vivo" (Universal, 2011)

Maria Gadu & Caetano Veloso "Multishow Ao Vivo" (Universal, 2011) (DVD)

Maria Gadu "Mais Uma Pagina" (Sony/Som Livre, 2011)


(Produced by Rodrigo Vidal)



<! tribute: Club 14 (feat. Roberta Menezes) "Shimbalaie" [A Tribute to Maria GadĚ] B005ZJWOCS - MP3 >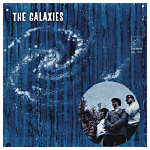 The Galaxies "The Galaxies" (Som Maior, 1969) <! Som Maior? Really?? >
This one is a super-duper weird one... Just listening to this English-language folk-rock set, I was skeptical that this was really a Brazilian record, but according to Senhor F -- the world expert on weird, rare Brazilian rock -- this album was a collaboration between English expatriate David Charles Odams and American-born Jocelyn Ann Odams (presumably his wife?) who made the scene in '60s Sao Paulo and cut an album with the backing of a garage band with some connection to Os Baobas. The band is okay -- crude drumming, fun, fuzzy electric guitars -- though the Odamses are laughably bad. Not quite Foot-Foot-Shaggs bad, but certainly bad enough to become a Dr. Demento-ish college radio kitsch fave, sort of a mediocre '60s folk duo doing Merseybeat covers with some unsuspecting Brazilians backing them up, thinking they were the real deal. There are goofy versions of songs by Lee Hazelwood, Donovan, Love, Unit 4+2 and the like. But, yes, it is a Brazilian album, or at least it's a part of Brazilian rock history. Ah, Sao Paulo... always something new and surprising!
Carlos Galhardo "O Homem Da Valsa" (Revivendo, 2003)

Carlos Galhardo "Um Sorriso... Uma Frase... Um Flor..." (Revivendo, 2003)





<! Carlos Galhardo >

Gallotti "O Samba Das Rodas" (Rob Digital, 2003)

Galo Preto - see artist discography
Lula Galvao & Rosa Passos "Letra E Musica: Ary Barroso" (Lumiar, 2002)


An homage to samba-cancao composer Ary Barroso, with duets by singer-guitarist Rosa Passos and guitarist Lula Galvao, one of the preeminent MPB sidemen of the 1970s and '80s.
Lula Galvao "Bossa Da Minha Terra/Bossa Of My Land" (2010)



A very swank, slick, all-instrumental bossa nova set, with guest performers that include Raul de Souza, Mauricio Einhorn, Rosa Passos and Claudio Roditi... A little too smooth for my tastes, but very good for the genre.
Isaura Garcia - see artist discography

Mario Garcia "Sr. Cisne" (Itaipu, 1982)
Torturously dull electric guitar instrumentals, with obvious debts to noodly rock-fusion pickers such as Stevie Vai, Jeff Beck, and Carlos Santana, although there's little on here that's as fluid or imaginative as anything those dino-dudes ever did... Apparently Garcia was into exploring the African musical traditions in Uruguay and other Latin American locales, as well as the "trio eletrico" style of the Recife Carnaval parades... The Brazilian connection you can hear, but the other stuff seems pretty well buried under the dreadful rock influences. Really not a record I need to hear again... ever.
Paulinho Garcia "Solo/Sozinho" (Southport, 1998)





<! Paulinho Garcia "Jazzmineiro" (Southport, 1995) B000002Y0A Paulinho Garcia "Solo / Sozinho" (Southport, 1998) Two For Brazil "Two For Brazil" (xxxxxxxxxx) B00004TGRW with saxophonist Greg Fishman Paulinho Garcia & Grazyna Auguscik "Fragile" (GMA, 2000) B0000646SO Dois No Choro "Carinhoso" (Jazzman, 2001) Two For Brazil "...Plays Two For Noel" (2000) B000059XL4 Two For Brazil "...Plays The Standards" (xxxxxxxxxx) B00005RHEO Dois No Choro "Juntos" (xxxxxxxxxx) B000JQN0SO with flautist Julie Koidin Two For Brazil "Take Five" (2003) B00008DP0H Two For Brazil "...Goes To The Movies" (xxxxxxxxxx) Paulinho Garcia "Tempo Feliz" (xxxxxxxxxx) Paulinho Garcia & Grazyna Auguscik "Andanca" (2008) B001QT0XSS Dois No Choro "Asa Branca" (Laughing Buddha, 2008) B001KT32KA Paulinho Garcia "My Very Life" (Chicago Sessions, 2009) B002PQ7MK8 B0031GBMJI Paulinho Garcia "Portrait In Black And White" (xxxxxxxxxx) (best of? ) The Brazilian Experience "Veronique" (2010) B003W5Y024 - MP3 Paulinho Garcia & Grazyna Auguscik "Beatles Nova" (2012) B0073MGT1W Three for Brazil "Homage" (xxxxxxxxxx) >


Garganta Profunda - see artist discography





Garoto - see artist discography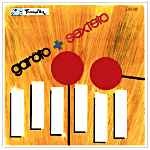 Garoto "Garoto + Sexteto" (Farroupilha, 1966)
Not to be confused with legendary guitarist Anibal Augusto Sardinha (the "Garoto" listed above) this is vibrophonist named Altivo Penteado, who also took the Garoto nickname. He's backed by a small combo whose members are unfamiliar to me... The repertoire includes one original tune by Penteado, a few from Durval Ferreira and a bunch more from Marcos Valle. Apparently they had some connection to the group Os Farroupilhas


<! Altivo Penteado, Brazilian vibraphone and piano player, also known as Garoto. Altivo Penteado "Garoto" (vibrafone, piano) Fernando Tancredi (sax, clarone) Paulo Santos (piston) Augusto R. Rodrigues (guitar) Hamilton A. Lima (bateria) Gabriel Bahlis (bass) 01 – Estamos Aí (Durval Ferreira / Maurício Einhorn) 02 – Samba de Verčo (Marcos Valle / Paulo Sergio Valle) 03 – Gente (Marcos Valle / Paulo Sergio Valle) 04 – Batida Diferente (Durval Ferreira / Maurício Einhorn) 05 – Vivo Sonhando (Tom Jobim) 06 – Garota Moderna (Evaldo Gouveia / Jair Amorim) 07 – Poblema de Maria (Altivo Penteado "Garoto") 08 – Amor de Nada (Marcos Valle / Paulo Sergio Valle) 09 – Tristeza de Nós Dois (Durval Ferreira / Maurício Einhorn / Bebeto) 10 – Deus Brasileiro (Marcos Valle / Paulo Sergio Valle) 11 – Tem Dó (Baden Powell / Vinicius de Moraes) 12 – Quintessencia (J. T. Meirelles) >

Garotos Da Rua "Garotos Da Rua" (RCA Victor, 1986)



<! Álbuns de estúdio Sabe o Que Acontece Comigo? (1983) Programa (1985) Garotos da Rua (1986) Dr. em Rock 'n' Roll (1987) Nčo Basta Dizer Nčo (1988) Caminho da Estrada (2004) Álbuns ao vivo Garotos da Rua ao Vivo (1992) ColetČneas Rock Garagem (Vários artistas) (1985) Rock Grande do Sul (Vários artistas) (1986) Hot 20 (1999) >

Garotos Da Rua "Hot 20" (BMG, 1999)






<! http://pt.wikipedia.org/wiki/Garotos_da_rua They start playing in Porto Alegre/Rio Grande do Sul/Brazil in the eighties inspired by The Faces & Stones but in a very short time they had their own material and the boys sounded good playing live concerts all around the south of Brazil. The first line up was: Bebeco Garcia on guitar, Sergio Mello on bass, Ricardo Cordeiro on tenor saxophone and Edinho Galhardi on drums. Soon Sergio Mello left the band pursuing a solo career which start it out with the now cult LP called "SERGIO MELLO DEIXA BARATO" launched by the defunct Polygram Records. Right after that the boys recorded their first LP and after that nobody could stop them. HOT 20 is a must have cd if you dig GAROTOS DA RUA. The best of their work on RCA. >

Os Gatos "Os Gatos" (Philips, 1964)


Os Gatos "Aquele Som Dos Gatos" (PolyGram, 1966)


(Produced by Dori Caymmi)
An all-star schlockfest... String-laden easy listening, arranged by Eumir Deodato and produced by Dorival Caymmi's son, Dori. Mostly slow, tacky instrumental versions of bossa nova standards, featuring the tragically squandered talent of Paulo Moura, as well as EZ-fusion flautist, J. T. Meirelles. One point of interest, though: could the "Betty" Carvalho listed as a backup singer actually be future samba star, Beth Carvalho? Anyone know for sure?


<! 130 x 130 >
Juliano Gauche & Duo Zebedeu "Hoje Nao" (2009)
A tribute to avant-rocker Sergio Sampaio...


<! 12 canćões do Sérgio Sampaio (sendo uma delas inédita) interpretadas por Juliano Gauche & Duo Zebedeu. >
Gaucho E Seu Conjunto Melodico "Ritmos A La Carte" (RGE, 1958)

Gaucho E Seu Conjunto "Rio... Madrugada E Amor" (RGE, 1958)
Pretty kitschy, soft-edged dance music/easy listening from the old days... Apparently there were several artists calling themselves "Gaucho" at the time, but this album was made by an accordionist who recorded several other records in the pre-bossa era. He's working here with a small piano-bass-drums-electric guitar combo -- no idea who the other musicians were, but their backing is pretty by-the-numbers. Nothing too special, but for connoisseurs of lounge music and easy pop, this might be a treat.


<! really 188 x 188 > <! Gaucho E Seu Conjunto "Rio... Madrugada E Amor" (RGE, 1958) I could not track who is Gaucho among several artists with the same name. As far as I know, Gaucho was an active accordion player that recorded more than ten albums from the 50s to the early 60s. This is his second LP and the first recorded for RGE. Rio... Madrugada e Amor has Gaucho his conjunto, with no identified members playing bass, piano, drums and percussion. >
Os Gaudeiros "Boa Viagem" (Premier, 1974)



<! 05/14/14 - no ASIN > <! year? blurry picture > <! Ederaldo Gentil - choro musician? >
Lindolfo Gaya "Boa Viagem" (Odeon, 1960)



<! MOFB 3104 > <! A couple of Cole Porter tunes, a version of "The Banana Boat Song" and a nice mix of classic and contemporary Brazilian compositions >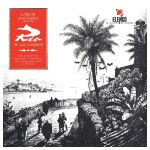 Lindolfo Gaya "Rio De 400 Janeiros" (Elenco, 1965)
(Produced and arranged by Lindolfo Gaya)
An interesting outing from Lindolfo Gaya, one of the most prominent and prolific Brazilian pop arrangers of the 1960s and '70s. Frequently credited as "Maestro Gaya," he produced or arranged bazillions of albums for EMI-Odeon, but is featured here as a recording artist in his own right. This record was sort of a concept album based on Gaya's musical revue at the Copacabana Palace Hotel, a celebration of the 400th anniversary of the city of Rio de Janeiro, showcasing various style of music associated with both Rio and Brazil, with examples of samba, bossa nova, seresta ballads, etc. But it's all done in over-the-top orchestral renditions, with a big, blaring, emphatic brass section and an equally bombastic vocal chorus that tackles the samba-cancao numbers with particular gusto. Sometimes it's a bit much, but overall, an album worth delving into. Some tracks are actually good listening, while others are a bit much. I'm going to have to poke around a little and see if I can find out who some of the singers and soloists, such as the Coro de Delphino Filho and "Marion" were...


<! 01 – "Bossa Nova" — Garota de Ipanema (Tom Jobim / Vinicius de Moraes) — Blues Walk (C. Brown) 02 – Maxixe (Lindolfo Gaya) 03 – Samba do Avičo (Tom Jobim) 04 – "Medley Carmen Miranda" — O Que É Que a Baiana Tem (Dorival Caymmi) — Taí (Joubert de Carvalho) — Diz Que Tem (Vicente Paiva / Haníbal Cruz) — Good Bye Boy (Assis Valente) 05 – Valsa Debret (Lindolfo Gaya) 06 – Rio (Ary Barroso) 07 – Praća do Século XVII (Lindolfo Gaya / Chianca de Garcia) 08 – "Escola de Samba" — Tiradentes (Estanislau Silva / Décio Carlos / Penteado) — Chica da Silva (Anescar do Salgueiro / Noel Rosa de Oliveira) — Lá Vem Portela (Billy Blanco) — Exaltaćčo ą Mangueira (Enéas Brites da Silva / Aloísio Augusto da Costa) 09 – Polka (Lindolfo Gaya) 10 – Calendário (Vicente Paiva / Chianca de Garcia) 11 – Seresta Imperial (Lindolfo Gaya / Chianca de Garcia) 12 – Cidade Maravilhosa (André Filho) Vocal on "Seresta Imperial" by Fernando Lebeis Vocal on "Medley Carmen Miranda" by Marion >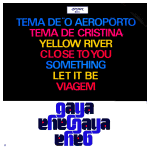 Lindolfo Gaya "Gaya" (London-Odeon, 1970)
A mega-schmaltzadelic, multilayered easy-listening cheesefest, with fuzzed-out electric guitar, ooh-wahh vocal choruses, a persistent harpsichord, meandering electric bass, outlandish orchestral arrangements and lots of questionable choices in repertoire. For those so inclined, this one's a doozy! Some tracks, like the Beatles and Bacharach covers are too much for me, but some of this is fun in a totally over-the-top kind of way.


<! 01 – Viagem (Taiguara) 02 – Airport Love Theme (A. Newmann) 03 – Let It Be (John Lennon / Paul McCartney) 04 – Tema de Cristina (José Briamonte) 05 – Reflections Of My Life (Campbell / McAleese) 06 – Yellow River (J. Christi) 07 – Close To You (H. David / Burt Bacharach) 08 – Marilyn's Theme (V. Gambella / G. Brown) 09 – Something (George Harrison) 10 – Serenade In Blue (H. Waeen / M. Gordon) >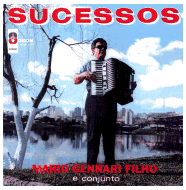 Mario Gennari Filho "Sucessos" (Odeon, 1965)
(Produced by Milton Miranda & Lyrio Panicali)
The contemporary mid-1960's bossa canon, as interpreted on accordion, along with light rhythmic accompaniment and a modest vocal chorus. This is a lot richer and more textured than I had anticipated -- Gennari was a very supple and inventive musician, teasing tones and drones out of the squeezebox that are as surprising as they are rewarding. Ultimately, yes, this is yet another kitschy "easy listening" instrumental set, but fans of the accordion will want to check it out, maybe even a few bossa buffs as well. Unfortunately, the other musicians aren't identified -- I'm kind of curious about the guitar player, who were pretty lively and provide good counterpoints to the chromatics of the main instrument. Anyone know who they were, or if these guys made any other albums?


<! MOFB 3425 >

The Gentlemen "The Gentlemen" (1972)
A late-edition album by these veterans of the jovem guarda... The Gentlemen originally formed in 1966, with Ze Ramalho as a founding member, though he was long gone by the time this disc came out... This disc starts out with a blistering acid-rock fuzz-guitar instrumental song, clearly influenced by Carlos Santana; what follows is a parade of softer rock-pop songs, including several cover tunes, which varies in tone from (early) Bee Gees-style wimpy to Animals-esque bluesiness. A taste of heavy rock reasserts itself on songs such as "Vazio," "O Embarque" and "Eu Juro," but mostly this is softer stuff, mainly in line with the JG scene of the late '60s. Keep in mind the scene they came out of: compared to top bands such as The Fevers and Renato & Seus Blue Caps, though, these guys sound relatively rugged. Definitely worth checking out if you're into the JG sound.


<! O The Gentlemen surgiu em 1966 inspirados na Jovem Guarda e no rock inglźs... Hugo Lečo, além de baixista, também foi tecladista, guitarrista solo e vocalista da banda "The Gentlemen", com Célio(guitarra ritmica), Valmir(crooner), Saulo(baterista), Enilton(guitarra solo) e Carlito(teclados), foram os membros que tocaram na banda durante a época. A banda foi eleita por cinco vezes consecutivas como o melhor conjunto do Norte e Nordeste. Teve em sua formaćčo alguém que entraria para a história da Música Popular Brasileira: Zé Ramalho. Nesse disco Zé nčo participa, ele esta nas gravaćões do único compacto feito pela banda, com a música CRISTINA muito executada nas rádios locais na época. Hoje é uma raridade encontrar este compacto. > <! bogus LK review: English-language jovem guarda rock songs, which aren't as much fun as Portuguese-language jovem guarda, but still these guys are worth knowing about, particularly since they were one of the best-known bands from the Northeastern rock scene. Ze Ramalho was in the band when they formed in 1966; he was long gone by the time this disc came out, though... >

Georgette "A Moca Vestido De Branco" (Tapecar, 1975)
(Produced by Sadi)
Includes several songs by Raquel da Bahia...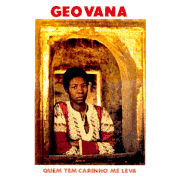 Geovana "Quem Tem Carinho Me Leva" (RCA, 1975) (LP)


(Produced by Rildo Hora)
Delicious roots samba from a songwriter who provided early '70s hits for Clara Nunes, Jair Rodrigues and other stars of the acoustic pagode movement. Geovana herself had a husky, earthy voice and wasn't as supple a stylist or as evocative and transcendant as Nunes, Alcione or the other divas of the day, but she uses her limitations well: each track exudes a sense of quiet reserve, and a summoning of strength... Plus, the musicianship is stellar, with a band packed with usual-suspects 'Seventies talent, including a few surprises, such as jazz pianist Luiz Eca credited with arranging a few tunes. This is the stuff I love: groovy, swaying rhythms, seductive cavaquinho riffs, keening vocal choruses -- classic revival samba from the peak years of the style. Highly recommended! (Note: this was reissued on CD in 2003.)
Andre Geraissati - see artist discography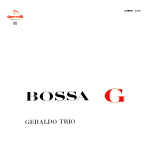 The Geraldo Trio "Bossa G" (Chantecler, 1963)
Bandleader Jose Geraldo (a pseudonym?) was the bandleader on this sprightly session, which often tilts towards the cutesy and the novel, but has some nice moments despite being pretty lightweight overall. The title track, which includes a vocal refrain was written by Geraldo; the rest of the (all instrumental) repertoire includes some then-current bossa hits, a fair sampling of old samba-cancao ballads and even a couple of choro tunes: one of these is a Pixinguinha tune, "Carinhoso," which gets a little too coy for me, although the version of Ernesto Nazareth's "Brejeiro" at the end is a nice surprise. "Lounge" fans will want to check this out, possibly jazz fans as well: there's speculation that Kenny Burrell is the guitarist on at least a few tunes; my ear isn't fine tuned enough to offer an opinion on that particular rumor... Anyone have any theories about who the gals in the "Bossa G" chorus might be?
Ze Geraldo - see artist discography
Alcides Gerardi "Selecao De Ouro - 20 Sucessos" (EMI-Brasil, 1998)


Alcides Gerardi "Serie Bis - Cantores Do Radio" (EMI-Brasil, 2000)


Another gem in this series. Gerardi specialized in swooping romantic ballads, with more than a hint of Argentine tangos and French musette... Schmaltzy but delightful, this 2-CD set kick off with a few galloping, lounge-y swing tunes and settles into calmer, cornier material. It's all really good... recommended!




Gera Samba "Gera Samba" (1994)
This is the group that later evolved into the highly-successful samba-pop "axe" band, E O Tchan.


<! 1 Cirandinha 2 Eu amo amar vocź 3 Piolho 4 Xodó de mče 5 Apague a luz aí 6 Gera samba (Danća do tchu tchu) 7 Mentirosa 8 Despertar pro tempo 9 Temperou 10 Lero lero 11 Rala coxa 12 Hino da Copa 94 11/12: B00006LVQS ASIN now links to a Ze Geraldo album >

Gera Samba "E O Tchan" (Polygram, 1996)


The band changes its name... So... Is this an album by Gera Samba called "E O Tchan," or an album by E O Tchan called "Gera Samba"? Oh, my head is spinning!
Gera Samba "Balanco Envolvente" (Sony, 2002)

Gereba - see artist discography
Stan Getz - see Joao Gilberto and my Brazilian Jazz section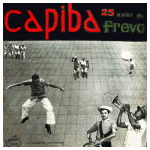 Claudionor Germano "Capiba: 25 Anos De Frevo" (Mocambo, 1959)
A big-bandy tribute to composer Capiba, with earnest but fairly unengaging vocals by Claudionor Germano... Not a lot of variety from song to song... Also, even though the rhythms are right, the energy level seems kind of low for a frevo record: maybe the style sounded a lot different in the 'Fifties?


<! A tribute to Capiba, which is certainly the most important composer of Brazil Northeast and a real legendary artist. >

Claudionor Germano & Capiba "25 Anos De Frevo" (2007)

Claudionor Germano "20 Supersucessos" (Sony, 1998)

Claudionor Germano "20 Supersucessos, v.2" (Sony, 1999)

Claudionor Germano "Carnaval De Capiba" (InterCD, 1986)

Claudionor Germano "Carnaval Cantado De Nelson Ferreira" (2007)

Geronimo - see artist discography
Giane "Esta E Giane - A Voz Docura" (Chantcler, 1964)





<! 01.Dominique 02.longe de ti 03.recorde(ricorda) 04.quero 05.minha alegria,minha tristeza 06.quem sou eu 07.saudade,tristeza e ninguém 08.nčo sou ninguém(uno dei tanti) 09.saudade que nčo foi sequer saudade 10.mente-me(mienteme) 11.sem querer 12.dois pecadores 13.por acaso 14.quem me dera(a lonesome heart) >

Giane "Giane" (Chantcler, 1965)





<! Preste Atencao > <! 01.preste atenćčo(fais attention) 02.lembra-te de mim(remember me) 03.Johnny Guitar 04.eu nčo posso namorar 05.longe do mundo(the end of the world) 06.se vocź quer saber(mets ton joli jupon) 07.Angelita(Angelita di Anzion) 08.um sonho de noite 09.ť melhor esta noite(meglio stasera) 10.todos os caminhos(tous les chemins) 11.tchin(cheat cheat) >

Giane "Suavemente" (Chantcler, 1965)





<! 01.nčo saberás(nęavoue jamis) 02.se eu pudesse encontrar vocź(se non avessi incontrato te) 03.quinze primeiras 04.brincando de viver no mundo(gioochiamo a stare al mondo) 05.lago da felicidade 06. floresceram as colinas(le colline sono in fiore) 07.o princípio eo fim(ma vie) 08.simples desejo primeiro 09.perdendo vocź(perdendote) 10.o que quero é estar contingo(solo quiero estar contingo) 11.bom dia, tristeza 12.quando o a,or acontece(les vendanges delęamour) > <! 11/09" sound samples on Amazon >

Giane "Vitrola Digital" (Warner, 2007)


A best-of set for this jovem guarda minor-leaguer...

Gil "Me Beija" (Universal, 2001)



The first solo album from axe star (and future television host) Gilmelandia Palmeira dos Santos (or just plain old "Gil," to her fans...) She was the lead singer for Banda Beijo from 1998-2001 and went on to host a series of TV shows, using her given name, Gilmelandia...
Gil "O Canto Da Sereia" (EMI, 2005)


Gilberto Gil - see artist discography
Preta Gil "Pret-A-Porter" (Warner, 2003)


The first solo album from Gilberto Gil's daughter, Preta Gil...


<! with several Ana Carolina compositions >

Preta Gil "Preta" (Universal, 2005)

Preta Gil "Noite Preta Ao Vivo" (Universal, 2010)

Preta Gil "Noite Preta Ao Vivo" (Universal, 2010) (DVD)

Astrud Gilberto - see artist discography
Bebel Gilberto - see artist discography
Joao Gilberto - see artist discography

The Gilbertos "Os Eurosambas: 1992-1998" (Midsummer Madness, 1999)


Indierock doesn't have a particularly large following in Brazil, but this was one of the most widely available albums of its kind to come out of the tiny indie scene. Released by the folks at the Rio-based Midsummer Madness 'zine, this is unfortunately a less-than stellar album, rehashing musical themes from the US and European twee and lo-fi scenes, though with little drive or focus, as far as I can tell. Songwriter Thomas Pappon previously fronted a band called the Fellinis and ran the independent Stiletto label (none of which I've heard or have first-hand experience with...) but here he seems self-indulgent and diffuse, trying all sorts of techniques but without generating much spark. Dunno; maybe it's just me. Still, there's plenty of international lo-fi rock and twee stuff that I have heard and liked (or disliked), so I think I have enough of a background in rock to know a disappointment when I hear one. Still, for thise who are curious, this may be a disc worth checking out, if just to know what's out there...

Gino & Geno "Gino & Geno" (Warner-Continental, 1989)
Regional music from the sertaneja... Sounds like a mellow version of Mexican ranchera to me, but what do I know? I'm just a dumb gringo. Apparently this duo is one of the more influential acts in the Northeastern caipira scene... This disc includes "Procurando Treta" and "Chuva Grossa."
Gino & Geno "Gino E Geno" (Warner-Brasil, 1991)


Brazilian sertanejo from the Northeast is considered hick music... The artists dress up like cowboys, and the songs sound quite a bit like Mexican rancheras. Gino e Geno are stars of the genre, and this early album is okay for what it is... But it's also a bit dull, at least to outsiders. Still, if you want to check the style out, this disc is a pretty good example.
"The Girls From Brazil" - see Quarteto Em Cy
Egberto Gismonti - see artist discography
---
Brazilian Music - More Letter "G"
---



Main Brazil Index
World Music Index

---