<! Viento Del Sur "Viento Del Sur" (Crazy, 1980) - prog band - but what's with the "del" article? Stelio Valle "Brilho" (xxxxxxx, xxxxx) (LP) B006U6DASM - no label, date visible - selo "Independente" Jose Vasconcellos "Conta Historias De Bichos" (Odeon, xxxxx) MOFB 3254 (Produced by Ismael Correa) - apparently a children's story album, with performances by Norma Benguell, Celly Campello, Stellinha Egg, Trio Irakitan, Moreira da Silva, Anisio Silva, Elza Soares, Trio Esperanca, Noriel Vilela and even the legendary Joao Gilberto, appearing on a track called "A Roupa Do Leao." With text by Pascoal Longo, music by Lindolfo Gaya... Jinkies! - Jose V later involved in Luiz Eca's Sagrada Familia-??? - a comedian - ?? > <! MP3 09/26/08, 01/20/11, 10/25/12 > <! pix 11/25/09, 10/25/12 > <! ALLBM 09/26/08 > <! icons 01/20/11 > <! UPDATES: 09/26/08 10/06/10 - broke off V-1 & V-2 10/25/12 - >
---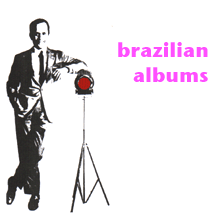 This is the first page of miscellaneous albums and artists under the letter "V"
If an artist or album you like is not reviewed here, please feel free
to contact me and make a suggestion.
---
A | B | C | D | E | F | G | H | I | J | K | L | M | N | O | P | Q | R | S | T | U | V-1 | V-2 | W | X | Y | Z | Compilations
Brazilian Styles | 30 Recommended Records | Portuguese-language pop | Brazilian Links | Slipcue.Com
---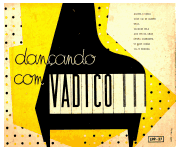 Vadico "Dancando Com Vadico" (Continental, 1956)
As far as I can tell, this 8-song set (an album of four 78s) was one of very few full-length albums released by samba-cancao composer/pianist Oswaldo Gogliano, aka "Vadico," who had gone abroad in the 1940s and who was most closely linked to samba-cancao great Noel Rosa. Also, as far as I can tell, this album was never re-released as either an LP or CD, so it's still pretty obscure. Sure am curious to hear it! Around the same time this came out, Vadico was working with singer Jorge Delphino Filho, who went by the stage name Zezinho, though I'm not sure if Zezinho is on here as well. Anyone know for sure?
Vadico "Dentro Da Noite" (Festa, 1959)



<! all instrumental album? Mostly a set of samba-cancao classics, a little bit of choro (Pixingguinha's "Naquele Tempo") and one tune composed by Vadico, "Vai Astor." >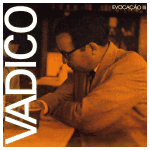 Vadico/Various Artists "Evocacao III" (Eldorado, 1979)


An all-star homage album, with gooey, overly "classy" MPB instrumentals highlighting the work of samba-cancao pianist Vadico, who worked steadily though the 1930s, '40s and '50s, before dying from a heart attack in 1962. I don't have enough familiarity with his work to know how representative these versions might be, but personally I find the sleek contemporary ('70s) production waaaay too syrupy for me. A couple of songs sound nice, like the piano solo "Choro Em Fa Menor" and the mellower "Chopp" (both performed by Amilton Godoy) but the more orchestrated numbers, with their drippy string arrangements, etc., too much for me. I'll pass.


<! 1910-1962 posthumous release? or tribute? features: Marcio Montarroyos Dominguinhos Raul de Barros Amilton Godoy Roberto Sion Edu da Gaita Heraldo do Monte > <! used to be in Zezinho's band? "Nem todo mundo sabe que a extraordinária voga alcanćada pelo imortal Noel Rosa, na última década, voga que atingiu tôdas as classes, em todo o País, deve-se em parte ą música de seu maior parceiro, o nosso grande Vadico. Oswaldo Gogliano, como é seu nome, achava-se entčo nos Estados Unidos, inteiramente alheio ao fato de que sambas seus com letra de Noel como 'Feitićo da Vila', 'Conversa de Botequim', 'Cem Mil Réis', 'Provei', 'Pra que mentir', 'mais um Samba Popular', 'Quantos Beijos' e 'Tarzan, Filho do Alfaiate" (sobretudo os pimeiros e ainda 'Feitio de Oraćčo', cuja música é de parceria), o juntavam enormemente ao prestígio social justamente conquistado pelo poeta da Vila Isabel. Nem todo mundo sabe tčo pouco, que enquanto se precessava casualmente essa injustića, debrućado anos a fio sobre o piano de sua casa em Hollywood, tal como o conheci nas boas noites em que ia visitá-lo, estudava, sem parar, harmonia, contraponto, fuga, composićčo, orquestraćčo sob a orientaćčo de seu mestre Castelnuovo-Tedesco, grande da música contemporČnea. Esta vocaćčo vem de longe. Desde menino, em Sčo Paulo onde nasceu, o único horizonte de Vadico foi a pauta musical. Mas como é fatal para todo sambista que se preza, a experiencia carioca seria um fator determinante na formaćčo do seu talento popular. Em 1932, numa gravaćčo para a Odeon, Vadico e Noel encontraram-se pela primeira vez. E é curioso lembrar que o último Samba da dupla, 'Pra que mentir', surgiu sem que Noel, já falecido, conhecesse a música que Vadico fez para a sua letra. Foi em 1939 que Vadico partiu para Nova York, integrando a Orquestra de Romeu Silva, para exibićões na Feira Mundial daquela cidade. De lá, em 1940, o compositor seguiu para Hollywood por conta própria como faz sempre na vida. Nove anos depois a bailarina negra Katherine Dunham devia conhecź-lo e convidá-lo para reger seus espetáculos de ballet expressionista pelo mundo inteiro. Em sua companhia fez as duas Américas e depois a Europa. Andou por muitos países e viu muitos povos. Escreveu muita coisa inédita. No Chile regeu os 'Chôros' e outras composićões de sua autoria coma Orquestra Sinfônica de Santiago. Em Sčo Paulo tomou a batuta da Orquestra de Concertos para dirigir seu ' Prelúdio e Fuga'. A partir de 1954 fixou-se no Brasil, onde fica tranćando entre as capitais paulista e carioca. Foi sem dúvida uma ótima idéia da Continental gravar źste disco de grandes Sambas para danćar, com Vadico ao piano. O piano de vadico é danća pura. A experiźncia estrangeira- que muito serviu para enriquecer os meios de expressčo harmônica do sambista de 'Feitićo da Vila' e atualmente dos esplźndisos 'Prece', 'Coraćčo, Atenćčo!' e 'Revolta' (com Marino Pinto); 'Antigamente' (com Jarbas Mello) e 'Guanabara' (com Aloísio de Oliveira), – nčo lhe deformou, em absoluto a sensibilidade brasileira, de que ele é um dos maiores defensores e intérpretes, dentro de nossa música popular. Usando, além de piano, pistčo, clarinete, saxe-tenor, trombone, contrabaixo, violčo elétrico, bateria e quatro ritmistas na execućčo do eterno 'Agora é Cinzas', de Bide e Marćal e 'Minha Cabrocha', de Lamartine babo ('acrescidos nos demais sambas de um saxe-alto e de um saxe-barítono') Vadico conseguiu efeitos de grande originalidade como o solo a trźs vozes (clarinete, violčo elétrico e piano) dos Sambas 'Aos pés da Santa Cruz' de Marino Pinto e Zé da Zilda e 'Vai-te Embora', de Nonô e Francisco Mattoso, sendo que neste último é interessante notar o desenho melódico do saxe-barítono duas oitavas abaixo. Zezinho (Jorge Delphino Filho), responsável pela parte cantada, é figura que já dispensa apresentaćčo. Carioca do Estácio iniciou-se em música em 1942, aqui no Rio, gravando na Continental, com Vadico, e 'Nčo Sobra Um Pedaćo' de Bororó. Todos os frequentadores do extinto 'Vogue' lembram-se certamente da simpática figura de Zézinho, pois o talentoso cantor ali atuou de 1951 a 1955." Vinícius de Moraes /1956 > <! 1955 - Conversa de botequim/Duvidoso 1955 - Tarzan o filho do alfaiate/Nčo sobra um pedaćo 1956 - Danćando com Vadico 1980 - Vadico. Evocaćčo III (póstumo) >


Luis Vagner - see artist discography





Alceu Valenca - see artist discography





Marcos Valle - see artist discography




Assis Valente/Various Artists "Tributo A Assis Valente" (Atracao, 1998)







Assis Valente "100 Anos" (Revivendo, 2011)



<! old ASIN: B005IE79Z2 >

Assis Valente & Noel Rosa "Dois Genios" (WEA Brasil, 2005)





<! a tribute?? > <! Assis Valente "Com Dende Diet" (real title?) B00006LW9D >

Assis Valente/Various Artists "Nao Fez Bobagem - 100 Anos Se Alegria" (EMI, 2011)


A 2-CD set...
Geraldo Vandre - see artist discography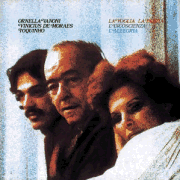 Ornella Vanoni/Vinicius De Moraes/Toquinho "La Voglia La Pazzia L'Incoscienza L'Allegria" (Warner Europe, 1976)


Cool Italian bossa nova... a surprisingly strong album! Italian pop singer Vanoni explores the Astrud Gilberto blase-bossa role, with sweet, symapthetic backing by the duo of bossa poet Vinicius De Moraes and guitarist Toquinho. She "gets it" better than you'd imagine, and this is a fascinating album, with Italian lyrics in place of the standard Portuguese. As usual, Vinicius and Toquinho turn in a solid performance -- it'd be difficult to imagine this sounding as groovy as it does had she gotten anyone else to back her up. Unusual and worth tracking down.
Ornella Vanoni "Argilla" (WEA, 1999)


Vanoni revists Brazilian themes on this more-modern disc... Not sure who's backing her here, but when I get a chance to check this out, I'll give you a full report.
Vanusa - see artist discography
Paulo Vanzolini - see artist discography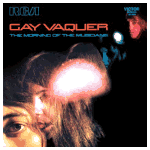 Gay Vaquer "Morning Of The The Musicians" (RCA Victor, 1972)
(Produced by Gay Vaquer)
A fairly taxing, frequently underwhelming free jazz/psychedelic art-rock album, featuring American-born Jay Anthony Vaquer (at the time married to Jane Duboc, who sings on here in English) along with several Braz-jazz luminaries, including pianist Luiz Eca, horn player Paulo Moura and bassist Novelli... It's authentic hippie-era musical excess, of historical interest but not something I'd put on just for fun. Prior to this album, Duboc was more in the background, singing in the bands of Erlon Chaves and rocker Raul Seixas... Vaquer and Duboc also had a son, rock'n'roller Jay Vaquer, who has several albums of his own.


<! date? recorded Nov. 72 - released in '73? >

Jay Vaquer "Nem Tao Sao" (2000)





Jay Vaquer "Raulzito" (Green Island, 2003)


Jay Vaquer "Vendo A Mim Mesmo" (EMI Brasil, 2004)


Jay Vaquer "Voce Nao Me Conhece" (EMI Brasil, 2005)


Jay Vaquer "Formidavel Mundo Cao" (EMI Brasil, 2007)


Jay Vaquer "Alive In Brazil" (Som Livre, 2009)

Jay Vaquer "Umbingobunker!?" (Lab 344, 2011)






<! Jay Vaquer "Nem Tao Sao" (2000) Jay Vaquer "Raulzito" (Green Island, 2003) B000CAA9J0 B001BRE42Q Jay Vaquer "Vendo A Mim Mesmo" (EMI Brasil, 2004) B00029CU2K B000T1EMWC Jay Vaquer "Voce Nao Me Conhece" (EMI Brasil, 2005) B000BYRB2A B000SYYUV8 Jay Vaquer "Formidavel Mundo Cao" (EMI Brasil, 2007) B000WFFAGC B008PJ29NO Jay Vaquer "Alive In Brazil" (2009) B003PVXVJS Jay Vaquer "Umbingobunker!?" (Lab 344, 2011) B005NWWS46 B005L0KZ0O >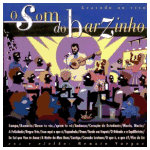 Renato Vargas "O Som Do Barzinho" (Philips, 1998)



I'm sure Vargas is a bit of a lesser light in the novo bossa nova scene, but this live acoustic album, where he leads a singalong chorus through some of the best-beloved tunes in the Brazilian canon, is pretty darn nice. Not innovative, but beautiful. Here's his website.
Renato Vargas "O Som Do Barzinho, v.2" (Universal/Deck Disc, 1998)


Renato Vargas "O Som Do Barzinho, v.3" (Universal/Deck Disc, 1998)



Renato Vargas "O Som Do Barzinho, v.4" (Universal/Deck Disc, 2000)



(Produced by Joao Augusto & Pepe)
Another nice, thoroughly enjoyable volume in this curious series of singalong MPB albums. Vargas sings classics by Joao Bosco, Chico Buarque, Paulinho Da Viola, Tom Jobim and others, and the audience cheerfully sings along. Brazilian karaoke is, apparently, a participatory live event... Be kinda fun to go to one of these shows!

Renato Vargas "O Som Do Barzinho, v.5" (Universal/Deck Disc, 2000)



(Produced by Joao Augusto & Pepe)
I'm starting to really like these records... they're kinda silly, but they're fun!
Andre Vasconcellos "Observatorio" (Visom, 2004)



The solo debut of jazz bassist Andre Vasconcellos, who has backed top-tier MPB-ers such as Djavan, Rosa Passos and Simone...


<! 2003. Debut Album. Mix of Groove Bass and Electronic Beats. >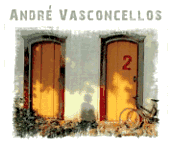 Andre Vasconcellos "2" (Adventure Music, 2011)



(Produced by Andre Vasconcellos)
Sort of standard-issue jazz stuff, played by a mostly-Brazilian ensemble... Not sure that I hear much here that's particularly "Brazilian," but that could just be a result of my personal limitations.


<! 04/11: no ASIN yet ~ filled in 07/12 >

Andre Vasconcellos "Ao Vivo" (AV Music, 2012)

Erasto Vasconcelos "Jornal Da Palmeira De..." (Tratore, 2005)

Nana Vasconcelos - see artist discography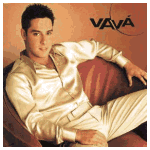 Vava "Vava" (Sony, 2001)



The first solo album by singer Wagner Duarte, aka "Vava," of the Sao Paulo-based pagode-pop band, Karametade. Guess he also did some TV acting: he's movie-star pretty... haven't heard his records, though.



<! second album: 1. O Grande Amor Da Minha Vida 2. Sim Ou Nao 3. Olhando A Imensidao Do Mar 4. Vamos Tentar 5. Parado Na Esquina 6. Nao Te Deixo Me Deixar 7. Faz Mais 8. Mentira De Amor 9. Ego 10. Quero 11. Ponto Fraco 12. Pelo Nosso Amor 13. Terceira Vez 14. Rumos Da Felicidade >

Vava "To Chegando" (Sony, 2001)





<! third album >

Vava "Vava Ao Vivo" (Sony, 2004)

---
Brazilian Music - More Letter "V"
---



Main Brazil Index
World Music Index

---