<! MP3 09/26/08 > <! update 09/26/08 > <! pix 11/25/09 > <! ALLBM 09/26/08 > <! icons 02/15/11 > <! Klaus Wunderlich "Brazil" (Telfunken) (LP) Latin Bossa Samba Easy Lounge Hammond >
---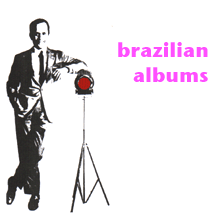 This is a listing of miscellaneous albums and artists under the letter "W"
If an artist or album you like is not reviewed here, please feel free
to contact me and make a suggestion.
---
A | B | C | D | E | F | G | H | I | J | K | L | M | N | O | P | Q | R | S | T | U | V | W | X | Y | Z | Compilations
Brazilian Styles | 30 Recommended Records | Portuguese-language pop | Brazilian Links | Slipcue.Com
---
Wado "Cinema Auditivo" (Outros Discos, 2002)





<! manguebeat? >

Wado "A Farsa Do Samba Nublado" (Tratore/Outros Discos, 2004)


Harvey Wainapel & Paulo Bellinati "New Choros Of Brazil" (Proteus Entertainment, 2005)


Harvey Wainapel "Amigos Brasileiros, v.1" (Jazzmission, 2007)

Harvey Wainapel "Amigos Brasileiros, v.2" (Jazzmission, 2014)
(Produced by Harvey Wainapel)
San Francisco Bay Area jazzman Harvey Wainapel has devoted a hefty chunk of his career to exploring Brazilian music, and proves his command of multiple styles on this complex, far-ranging, completely joyful album, which was recorded in several Brazilian cities, including Belo Horizonte, Recife, Rio and Sao Paulo. Although he touches briefly on familiar-sounding bossa-flavored "smooth jazz", Wainapel moves past well-known Braz-jazz tropes into the kaleidscopic welter of regional styles such as the frevo, maracatu, xote and baiao, as well as a hefty dose of the ornate jazz-like choro. These addictive rhythms have their own logic and momentum, and what's most remarkable is how Wainapel unifies the divergent styles into a cohesive whole. A masterful saxophonist and clarinetist, he visited nine different bands (with some overlap, using musicians he's worked with on earlier albums) and deftly weaves their music together, guiding each ensemble with dynamic leads, while never overwhelming or homogenizing their music. Jazz fans who want to delve deeper into the headwaters of Brazilian music will find an able guide in the enthusiastic, evangelical Wainapel, who brings some much-welcom bite and vigor into the Braz-jazz genre.
Waleska - see artist discography
Carlos Walker "A Frauta De Pa" (RCA Victor, 1975) (LP)





<! 01 - A Frauta de Pč (Walker) 02 - Serenata do meio-dia (Jočo Bosco-Aldir Blanc) 03 - Estrada da intemperanća (Walker) 04 - Pote de mel (Walker) 05 - Via Láctea (Walker) 06 - Cidade americana (Piry Reis-Walker) 07 - O cavaleiro e os moinhos (Jočo Bosco / Aldir Blanc) 08 - Modinha (música:Walker-poesia:Cecília Meireles) 09 - Debaixo do sol (Eduardo Souto Neto-Geraldo Carneiro) 10 - Um dia (Caetano Veloso) 11 - Alfazema (Walker) Arranged and conducted by: Alberto Arantes (1,3,8,11) Radamés Gnattalli (6,7,9,10) Laércio de Freitas (2,4,5) Special participations: Jočo Bosco - acoustic guitar (7) Piry Reis - acoustic guitar arrager Vocals: Raymundo Bittencourt, VČnia Ferreira, Roberto Quartin, Sonia Burnier, Otávio Burnier (Tavinho Bonfá), Angela Viana. >

Walverdes "Anticontrole" (Monstro Discos/Tratore, 2002)



Grunge-ish rock...
Walverdes "Playback" (Tratore, 2005)


Wanderlea - see artist discography
Walter Wanderley - see artist discography
Wando - see artist discography
Watt's 69 "Make Pop Music" (Continental, 1971)


Mark Weinstein "Tudo De Bom" (String Band Records, 2003)



New York-based jazz flautist Mark Weinstein in a jazzy tribute to Hermeto Pascoal, along with guitarist Richard Boukas and expatriate Brazilian players such as drummer Paulo Braga, bassist Nilson Matta and Vanderei Pereira on percussion.




Fred Williams "Ritmo Alegre" (RCA Victor) (LP)



<! Fred Williams, gaitista, compositor, seu nome verdadeiro: Manoel Xisto, nascido em 28/12/1926, na cidade do Rio de Janeiro >

Fred Williams "Ritmo Alegre, v.2" (RCA Victor) (LP)





Fred Williams "O Magico Da Gaita Em Hi-Fi" (RCA Victor) (LP)



<! BBL-10XX(?) >

Fred Williams "Ritmo Quente" (RCA Victor, 1960) (LP)



<! BBL-1059 Colaboraćčo do Jorge Paulo, o Bandeirante do Norte >

Paul Winter Sextet "Jazz Meets The Bossa Nova" (Columbia, 1962)


Saxophonist Paul Winter has devoted a sizeable chunk of his career to promoting and exploring Brazilian (and later, African) music. Although he gets points for flying his band down to Rio and getting in on the Brazil action early in the game, this is much more of a standard-issue jazz album than it is a bossa nova crossover. In fact, it's mainly latin-jazz, and commonplace stuff at that, although on a couple of tracks, the drummer musters up a pretty good samba beat.

Paul Winter & Carlos Lyra "The Sound Of Ipanema" (Columbia, 1964)


Now, this is more like it! His accompaniment here is understated, though a bit staid. What makes this record so sweet is Carlos Lyra's gorgeous guitar and intimate vocals, as well as all the great songs he wrote. Sergio Mendes and Milton Banana sit in on piano and drums, respectively, and though Winter is slightly less swinging than the "authentic" bossa musicians, this is quite a nice little record. Recommended!

Paul Winter "Rio" (Columbia, 1965)


Here, Winter's explorations into bossa nova continue. But even with the contributions of Luiz Eca, Roberto Menescal and Luis Bonfa, this album is merely soporific, having settled into soft jazz. It lacks the spark and sparkle of his earlier album, though it's still worth checking out.
Waguinho "Receita Da Felicidade" (Indie-Universal, 2001)

Waguinho "Meu Coracao E Teu - Ao Vivo" (EMI, 2006)

Walker "A Frauta De Pau" (RCA Victor, 1976)

Walker "Onda" (3M, 1987)

Wander Wildner "Buenos Dias" (Trama, 2002)

Wander Wildner "Eu Sou Feio... Mas Sou Bonito!" (Tratore/Barulhinho, 2004)

Wander Wildner "No Ritmo Da Vida: Hits" (Tratore, 2004)

Wander Wildner "Baladas Sangrentas" (2005)

---
Brazilian Music - Letter "X"
---



Main Brazil Index
World Music Index

---