<! MP3 02/08/10 > <! update 00/00/00 > <! pix 02/08/10 > <! icons 01/20/11 > <! Various Artists "MEC '71" (Radio MEC, 1971) Various Artists "AS CLASSIFICADAS E VENCEDORAS DA 1a BIENAL DO SAMBA" (RCA Camden, 1968) A souvenir of a 1967 song contest, the Festival Musical Popular Brasileira, sponsored by TV Record. The finalists featured performances by Wilson Miranda, Os Originais Do Samba, Cyro Monteiro, Os Caculas and the Samba 4, singing two songs by Herminio Belo da Carvalho. The more obscure participants included singers such as Aizita, Rosely and Zenaide, as well as a group called AZ3, with Os Acdemicos Da Pauliceia > <! Various Artists "ISSO SIM E CARNAVAL" (Top Tape) 3-CD set 09/12: no ASIN http://www.livrariascuritiba.com.br/cd-isso-sim-e-carnaval-3-cds,product,AV079365,3058.aspx > <! Various Artists "RODA DE SAMBA" (Fontana) LP series - at least eight volumes! v.8 in 1979 > <! Various Artists "MALICIA BRASILEIRA: EU GOSTO DO COZIDO DELA" (CID, 1980) with featured singers Luiz Carlos Ismael, Omar Santos and Renato Valle > <! "ESCRETE DO SAMBA, v.5" (CID, 1979) perhaps only songwrters?: Zé Carlos, Mariuza, Barboza,Conjunto Explosčo do Samba, Jorge Alexandre, Bezerra da Silva, Genaro, Stenio, Shirley, Edwaldo GIF > <! Various Artists "II Festival Internacional da Canćčo Popular / Rio" (Ritmos Codil, 1967) 1. Travessia (Milton Nascimento / Fernando Brant) Intérprete: Milton Nascimento 2. Sčo os do Norte Que Vźm (Capiba / Ariano Suassuna) Intérprete: Claudionor Germano 3. Morro Velho (Milton Nascimento) Intérprete: Milton Nascimento 4. Fala Baixinho (Pixinguinha / Hermínio Bello de Carvalho) Intérprete: Ademilde Fonseca 5. Se Vocź Voltar (Wilson Falcčo / Portinho) Intérprete: Zezé Gonzaga 6. Maria, Minha Fé (Milton Nascimento) Intérprete: Agostinho dos Santos 7. Margarida (Guarabyra) Intérprete: Maricene Costa 8. Carolina (Chico Buarque) Intérprete: Maricene Costa 9. Segue Cantando (Marcos Valle / Paulo Sergio Valle) Intérprete: Quarteto 004 10. Chora, Minha Nega (Reginaldo Bessa) Intérprete: Reginaldo Bessa 11. Foi no Carnaval (Tita) Intérprete: Tita 12. O Sim Pelo Nčo (Alcyvando Luz / Carlos Coquejo) Intérprete: Alcyvando Luz 13. Quem Diz Que Sabe (Dora Beatriz / Wilson Valle* / Jočo Donato) Intérprete: Quarteto 004 (*) probably, the lyricist Paulo Sergio Valle under a fake name. > <! IV Festival Internacional da Canćčo Popular / Fase Nacional (Philips, 1969) 2-LP set Disco 1: 1. Charles, Anjo 45 (Jorge Ben) Intérprete: Jorge Ben 2. Juliana (Antônio Adolfo / Tibério Gaspar) Intérprete: Claudette Soares 3. Anunciaćčo (Francis Hime / Paulo César Pinheiro) Intérprete: MPB-4 4. Quem Mandou? (Sergio Bittencourt / Eduardo Souto Neto) Intérprete: Marcos Samm 5. O Tempo e o Vento (Jorge Omar / Billy Blanco) Intérprete: Malu 6. Ando Meio Desligado (Os Mutantes) Intérprete: Os Mutantes 7. Beira-Vida (Dori Caymmi / Nelson Motta) Intérprete: Eduardo Conde 8. Beijo Sideral (Marcos Valle / Paulo Sergio Valle) Intérprete: Marcos Samm 9. O Mercador de Serpentes (Egberto Gismonti) Intérprete: Egberto Gismonti Disco 2: 1. Madrugada, Carnaval e Chuva (Martinho da Vila) Intérprete: Darci da Mangueira 2. Minha Marisa (Fred Falcčo / Paulinho Tapajós) Intérprete: Os Diagonais 3. Bem-te-vi (Arthur Verocai / Arnoldo Medeiros) Intérpretes: Dorinha Tapajós / The Youngsters / Grupo Mineiro 4. Levanća (Sergio Ferreira da Cruz) Intérprete: Milton Santana 5. Na Roda do Vento (Candinho / Luis Fernando "Lula" Freire) Intérprete: Ruy Felipe 6. Visčo Geral (César Costa Filho / Ruy Maurity / Ronaldo Monteiro de Souza) Intérprete: Quarteto 004 7. Cantiga Por Luciana (Edmundo Souto / Paulinho Tapajós) Intérprete: Regininha 8. Copacabana Velha de Guerra (Joyce / Sergio Flaksman) Intérprete: Joyce 9. Longe do Tempo (Danilo Caymmi / Jočo Carlos Pádua) Intérprete: O Bando • Gravado ao vivo no Maracančzinho • Promoćčo da Rede Globo de TV e Secretaria de Turismo da Guanabara • Direćčo de Produćčo: Armando Pittigliani >
---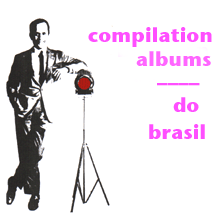 This is the first page of reviews of various Brazilian Music collections. This selection is limited by my budget and by the availability of records which make it here to the good old US of A... But if you have any favorite compilations which you think should be included here, please feel free to write me and make a suggestion.
---
Compilations: Page 1 / 2 / 3 / 4 / 5 / 6 / 7 | Artists: A-Z | Main Brazil Index | Glossary

---

Various Artists "1st COMPASSO: SAMBA & CHORO" (Biscoito Fino, 2000)


Various Artists "2nd COMPASSO: SAMBA & CHORO" (Biscoito Fino, 2000)


Various Artists "3rd COMPASSO: SAMBA & CHORO" (Biscoito Fino, 2001)


Various Artists "4th COMPASSO: SAMBA & CHORO" (Biscoito Fino, 2001)


Various Artists "5th COMPASSO: SAMBA & CHORO" (Biscoito Fino, 2001)


Various Artists "6th COMPASSO: SAMBA & CHORO" (Biscoito Fino, 2001)



Various Artists "7th COMPASSO: SAMBA & CHORO" (Biscoito Fino, 2001)


An excellent series of live peformances of old-fashioned samba and choro, with a slew of talented traditionalists and jazz-oriented MPB artists. As the series picks up steam, the musicians become higher-profile, better known artists. The stars include Elton Medeiros, Guinga, Muicha, Francis and Olivia Hime, and Joyce. Far more numerous are the more obscure artists, such as Trio Madeira Brasil, Quarteto Maogani, Luciana Rabello, and others whose fortes lie with the older acoustic styles. A lilt of samba, a whiff of jazz, and a classical touch all combine in these fine performances staged in the Paco Imperial do Rio De Janeiro. Recommended!
Various Artists "AFRO-BRAZILIAN RELIGIOUS SONGS: CANTIGAS DE CANDOMBLE" (Lyricord, 1977)


(Produced by Gerard Behague)
Real-deal Bahian Orixa music recorded in 1967-75 by University of Texas scholar Gerard Henri Behague, one of the leading scholars of Afro-Brazilian religious music. This features plenty of heavy-duty African-based drumming, with keening choruses backing a lead vocal, all in praise of various deities such as Ogun, Oxala and Exu... If you want to look into candomble music, this is an excellent place to start.


<! LP ASIN - B001GUZVJI > <! "...by Leaders and Members of the Ketu Cult " > <! The music on this recording was selected from a large collection gathered in and around Salvador, Bahia, during the period 1967-1975. All selections were recorded in the context of the actual ceremonies studied, all in Ketu or Geg-Nago cult houses. The songs have Yoruba texts, with occasional Portuguese words used as exclamations. The present songs, functioning in public ceremonies, known as Oro, which follow well-set sequence of songs. The oro is divided into two parts, the first one being a "Call to the Gods," the second the "Presence of the Gods." The main liturgical function of the first part is to bring about spirit possession which signifies the response of the gods (orishas or vodouns). This is done through ritual dancing and music exclusively. For the second part, the possessed initiates are paraphernalia for the various gods that they personify. They are expected to act and react to each other according to specific myths involving the major deities of the Yoruba pantheon. Includes fourteen performances, recorded and edited by Gerard Behague. >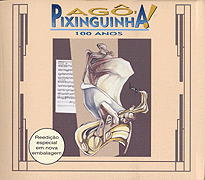 Various Artists "AGO PIXINGUINHA: 100 ANOS" (Som Livre, 1997)


This is a very nice, very classy, very well-programmed and listenable tribute to choro pioneer Pixinguinha. This impressive 2-CD that gathers together classic performances of MPB stars such as Maria Bethania, Joao Bosco, Chico Buarque, Nana Caymmi, Paulinho Da Viola, Tom Jobim, Simone, Caetano Veloso and others, assembled by producer Herminio Bello De Carvalho, who worked with Pixinguinha in his twilight years, and who remembers him fondly in an essay included in a thick set of liner notes. There's also a long interview with Pixinguinha, and nice archival photos, as well as vintage choro recordings by Jacob Do Bandolim and Pixinguinha himself. A great introduction to his work, with plenty of information and memorabilia to back up the sweet-sounding music. Recommended!

Various Artists "A ONDA QUE SE ERGUEU NO MAR" (Universal, 2002)


An insider's view of bossa nova. Ruy Castro, who compiled this 2-CD collection wrote the book on bossa nova -- literally -- and assembled this set as a companion piece to his fine history of the style, Bossa Nova: The Story Of The Brazilian Music That Seduced The World, and to the as-yet untranslated sequel, A Onda Que Se Ergueu No Mar. Some of these selections seem a bit staid and don't do much for me, but then again, who am I to argue with an expert? Mostly this is a great sampler, and includes many songs and artists who are well off the radar, many of which are real gems and rare finds. Highly recommended.


<! REVIEWED UNDER "R" As Revelacoes da Grande Chance 2 (1968), for Codil Ritmos, the second edition of new artists contest, presented by Flavio Cavalcanti and produced by TV Tupi. I will be straightforward on my writing, Refer will pop-up in a matter of hours with all details, but this second edition had Leci Brandao as the winner, performing the song Riqueza, Pobreza. The cast brings artists that could make further recordings and others that are really obscure, such as Inema Trio, Os Solfas, Gessy Willians, among others. This should make the happiness of those who kept memories of A Grande Chance, broadcasted on TV to a great audience in Brazil. 01 - Onde Esta Voce - MARILIA BARBOSA 02 - Deixa - PAULO ROBERTO 03 - Serenata em Teleco-Teco - ARLETE MARIA 04 - Manha de Carnaval - LUIZ SERGIO 05 - Peter Gun - OS SOLFAS 06 - Deus com a Familia - DULCE CARDOSO 07 - Sem Compromisso - CESAR COSTA FILHO & RONALDO MONTEIRO 08 - Januaria - FABIOLA 09 - Upa Neguinho - INEMA TRIO 10 - Gira Mundo - JAYME DA CONCEICAO 11 - Riqueza, Pobreza - LECY BRANDAO 12 - Tempo Feliz - GESSY WILLIANS >


---



Various Artists "AXE BAHIA '96" (PolyGram, 1996)


Various Artists "AXE BAHIA '97" (PolyGram, 1997)


Various Artists "AXE BAHIA '98" (PolyGram, 1998)


Various Artists "AXE BAHIA '99" (PolyGram, 1999)


Various Artists "AXE BAHIA 2000" (PolyGram, 2000)


Various Artists "AXE BAHIA 2001" (PolyGram, 2001)


Various Artists "AXE BAHIA 2002" (PolyGram, 2002)


Various Artists "AXE BAHIA 2003" (PolyGram, 2003)


Various Artists "AXE BAHIA 2004" (PolyGram, 2004)


Various Artists "AXE BAHIA 2005" (PolyGram, 2005)


Various Artists "AXE BAHIA 2006" (PolyGram, 2006)


Various Artists "AXE BAHIA 2007" (PolyGram, 2007)


Various Artists "AXE BAHIA 2008" (PolyGram, 2008)


Various Artists "AXE BAHIA 2009" (PolyGram, 2009)


Various Artists "AXE BAHIA 2010" (PolyGram, 2010)


This series features the big pop hits in contemporary axe music, mainly lightweight, booty-shakin' party tunes, which mix a heavy Caribbean soca influence with the sexy Afro-Brazilian rhythmic style. A good way to sample newer bands such as E O Tchan, Banda Eva, Timbalada and Netinho -- and to catch up on the current dance tunes. I'm not wild about most of this stuff, but chances are if you visit Brazil, this is the music you'll hear surging out of the radios and dance clubs. Many Brazilian readers have written to tell me they loathe this music and are embarassed by it... Hey, tell me about it: North America came up with Taylor Hicks, Celine Dion and Britney Spears, so I know what you're talking about. Anyway, one glimpse at the artwork will tell you pretty much all you need to know about this series...
Various Artists "AXE MUSIC" (PolyGram, 1996)
More Bahian pop -- in one sense this is a sort of nondescript collection, although in a way that's kind of nice, since some of the artists are lesser-known one-hit wonder types...Highlights include a cover of Caetano Veloso's "Baby," by someone called Sarajane, and a samba-reggae medley by Margareth Menezes.
---
>> More Compilation Albums | Artists: A-Z | Main Brazil Index
---



---