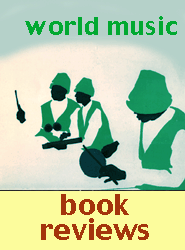 ---
This is a guide to some great books about Brazilian popular and traditional music. Books about other styles of "world music" music are reviewed on separate pages.
Not a lot has been written in English about Brazilian music, outside of several websites and entries in more generalized world music guidebooks. The few books listed below, however, are all very good, and if you are passionate about the style, I strongly recommend them all. You may also wish to check out some of the other print sources listed below, as well as my own Brazilian Music Guide.

---
---
Books On Brazilian Music
---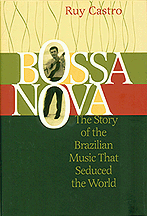 "Bossa Nova: The Story Of The Brazilian Music That Seduced The World"
By Ruy Castro
(A Capella Books, 2000)


A charming and completely authoritative history of Brazilian popular music, this book documents the rise of bossa nova, tracking the careers of Joao Gilberto, Antonio Carlos Jobim, Vinicius De Moraes, Nara Leao and others in a gossipy, informal narrative that's a delight to read. Castro brings the mythic figures of Brazil back down to human scale, poking fun at their humanity, their foibles and years of obscurity, while also pointing out their sheer brilliance, and the adoration that Brazilians feel for their music. The chatty, informal tone adds a nice hometown touch that lets you feel as if you were standing on the corner yourself when that gal from Ipanema walked by, cracking jokes with the rest of the fellas. This book is also notable for its emphasis on the now-neglected figures of the great "radio singers" who ruled the public heart in the decades before bossa hit - legendary figures such as Lucio Alves, Aloysio Oliveira, Orlando Silva, Dick Farney and Sylvia Telles whose stars have faded, but are compelling nonetheless. Castro has complete command of his subject, but doesn't feel stuffy or preachy at all. An outstanding book, and required reading for anyone looking for a deeper knowledge of Brazilian culture.
"Chega De Saudade: A Historia E As Historias Da Bossa Nova"
by Ruy Castro
(Companhia Das Letras, 1990)


The original Brazilian edition of this fine, fine resource. The copy I have is the third edition, from 2002, and it features dozens of archival photographs and reproductions not included in the American edition, glorious glimpses at the various personalities described in Castro's rich prose, along with an extended discography and full-color, fold-out maps showing the Copacabana and Ipanema beach neighborhoods, and the sections of Sao Paulo that played midwife to the bossa/jazz scene of the 1950s and '60s. It's completely worth tracking down this version of the book, even if Portuguese isn't your native language. (In Portuguese.)
"A Onda Que Se Ergueu Do Mar: Novos Mergulhos Na Bossa Nova"
by Ruy Castro
(Companhia Das Letras, 2001)


Castro continues his reverential explorations of the bossa nova scene in a series of essays that detail the later careers of several key players (Vinicius De Moraes, et al.) in the 1970s and '80s. In Portuguese only, and with no graphics to speak of. Still, if you liked the first Bossa Nova book, then this one's a must as well.
"Brazilian Music: Northeastern Traditions And The Heartbeat Of A Modern Nation"
by Larry Crook
(ABC-CLIO, 2005)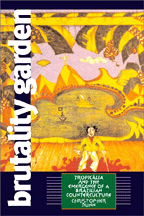 "Brutality Garden: Tropicalia And The Emergence Of A Brazilian Counterculture"
by Christopher Dunn
(Chapel Hill, 2001)


An outstanding history of the late -1960s surrealist-hippie rock scene known as tropicalia. Although tons has been written about Caetano Veloso, Gilberto Gil and the other heroes of tropicalia in the Brazilian press and academia, it's been pretty slim pickings in the English-speaking world... up until now, that is! Christopher Dunn, who co-edited Brazilian Popular Music & Globalization (reviewed above), skillfully combines hard academic research with a relatively light, conversational prose. This is dense yet captivating material, as Dunn deftly explores the historical and philosophical connections to tropicalia -- an art movement that was originally conceived as cross-genre and multi-media -- and previous Brazilian movements such as modernismo, which was a homegrown 1920s variant of the "futurist" philosophy that swept through Europe in the early 20th Century. Dunn also deftly tells the story of tropicalia's explosive growth as a subversive, psychedelic musical genre, and the harsh political repression it was met with by the dictatorship which held power from 1964 to 1985. This is another stunning work, of interest to the many newfound fans of this wild musical style, or to art historians tracking the worldwide path of dada-ism and surrealist art. Highly recommended.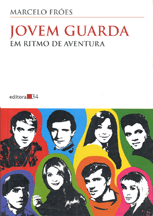 "Jovem Guarda: Em Ritmo De Aventura"
by Marcelo Froes
(Editora 34, 2000)


An affectionate, authoritative look at the Brazilian jovem guarda teenybopper rock scene of the early 1960s. Profiles of many of the style's best proponents -- such as Roberto and Erasmo Carlos, Celly Campello, Wanderlea, Jerry Adriani, Renato e Seus Blue-Caps, Os Fevers and Ronnie Von -- are amplified by copious photographs and an extensive, annotated discography section. Marcelo Froes, a music historian and 'zine writer who has specialized in the jovem guarda movement, has also recently done some astounding reissue work for several of Brazil's major labels. Cool resource! (In Portuguese.)
"Rhythms Of Resistance: African Musical Heritage In Brazil"
by Peter Fryer
(Wesleyan Press, 2000)

"Why Is This Country Dancing? A One-Man Samba To The Beat Of Brazil"
by John Krich
(Cooper Square Press, 2003)

"Hello, Hello Brazil: Popular Music in the Making of Modern Brazil"
by Bryan McCann
(Duke University Press, 2004)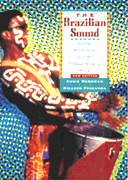 "The Brazilian Sound"
by Chris McGowan and Ricardo Pessanha
(Temple Press, 1996)


You could fill a book with all the information I don't know about Brazilian music... In fact, these guys already have! Concise, conversational, informative and very well laid out, this is an exceptionally readable book. Chapters on samba, bossa nova, tropicalia, forro and jazz include focused biographical sketches of dozens of key artists, as well as succinct historical information about the progress of Brazilian music from its European and African folk roots into its bewildering and often beautiful modern offshoots. The book's focus is nonpartisan: although there is plenty of room for aesthetic criticism within the various styles, the authors generally hold their preferences and dislikes to themselves. They do, however, give readers a good sense of which recordings might be best to check out -- an invaluable service considering how little of Brazil's vast musical output makes it to the United States. Highly recommended! Certainly the best English-language guide to Brazilian pop that you will find, great for casual listeners and hardcore fans alike. (NOTE: For an interview with Chris McGowan, check out the online version of "Brazil Now")
"Music in Brazil: Experiencing Music, Expressing Culture"
by John P. Murphy
(Oxford University Press, 2006)


"Masters Of Contemporary Brazilian Song -- MPB: 1965-1985"
ed. by Charles A. Perrone
(University of Texas Press, 1989)


This book has everything that my Brazilian music website lacks: subtlety, authority, actual scholarship, a serious, reverential tone and -- above all -- an intimate knowledge and understanding of Brazilian literary and political culture, and of how the Portuguese language itself and its poetic traditions fed into the growth of Brazilian popular song. It's a dense, intensive academic investigation of the work of several top musicians, with translations and analyses of songs by Chico Buarque, Gilberto Gil, Milton Nascimento, Caetano Veloso and other key MPB songwriters. I haven't quite finished it yet, but the book offers some great insights into both the creative process and the sociopolitical backdrop in which MPB and tropicalia came to life. Currently out of print, but definitely worth searching for.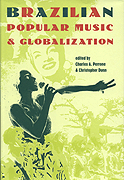 "Brazilian Popular Music And Globalization"
ed. by Charles A. Perrone and Christopher Dunn
(University Press of Florida, 2001)


A must-read for anyone looking for a deeper understanding of the cultural forces shaping Brazilian music. Various contributors tackle the complexities of selling hybridized "world" music in a voracious, globalized world economy, and examine the ongoing stylistic, philosophical and generational tensions between different groups in Brazilian popular music. Particular emphasis is given to the tropicalia scene, including several chapters on Os Mutantes and an excellent essay by Caetano Veloso regarding the mixed meaning of Carmen Miranda's legacy to the '60s generation. Working upwards from a standard-issue Marscusian, colonial/postcolonial cultural critique, this book takes its cues from the Brazilian philosopher Osvaldo de Andrade, whose theories on "cultural cannibalism" were a key influence on the tropicalistas, and explains how the inclusive guerilla surrealism of the tropicalistas bypassed the stormy ideological divide between the left-wing cultural nationalism of the early MPB crowd and the vacant, prefab commercialism of the jovem guarda rock scene. Not content to lionize the tropicalistas, the book also demonstrates how the '60s radicals later entered the status quo, and how their lofty superstardom has been rejected (or resented) by younger Brazilians, who came to see them as a fusty cultural aristocracy. A bit dense and mildly over-academic at times, but deeply fascinating and insightful, this is an invaluable resource for understanding the history of Brazilian pop, and for examining the metamorphoses of "local" music in a global market. Highly recommended.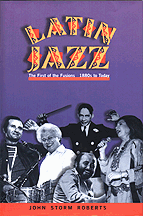 "Latin Jazz - The First of Fusions: 1880 to Today"
By John Storm Roberts
(Schirmer Books, 1999)


A masterful work by John Storm Roberts, whose early-'70s books on Latin American music were "world music" landmarks, and whose Original Music record label has reissued some of the most precious African and Latin American popular and traditional music one is ever likely to hear. The introductory chapters are a little slow-going, as Roberts twists and gyrates to avoid anticipated critical jabs. His qualifications and defensiveness may make sense to enthnomusicological insiders, but to the average reader, they seem fairly unnecessary, or at least a bit hard to follow. After that, though, the book picks up steam and is quite captivating. The main point of contention is the fascinating (and convincing) idea that Latin American influences were every bit as present at the inception of American jazz music as were African ones. In Roberts' world, the term "latin jazz" isn't exactly redundant, but it is misleading: Latin Jazz didn't spring forth in the 'Forties and 'Fifties out of whole cloth. Rather, Latin American influences on North American musicians can be found as far back as the Antebellum period, and are present at all the major junctures of jazz history. In addition to combing through historical records (such as newspapers, journals, and the records sheet music publishers), Roberts offers a clear critical narrative of the cross-pollination of Latin American dance music and Afro-European jazz. He touches on the major trends and significant collaborations of the last 120 years: ragtime, the tango, the rumba, the thunderous New York "CuBop" scene of the 1940s, and of course the bossa nova craze of the 1960s, and the gradual formalization of "Latin Jazz" as a genre. Along the way he sheds some light on famous artists such as Machito, Dizzy Gillespie and Tito Puente, as well as dimly-remembered pioneers like Antonio Machin, Don Azpiazu and gives favorable nods towards big banders who "got" the drift of the oncoming tide of Latin American crossover. Along with Sue Steward's Musica!, this book can go a long way to fill in the gaps for folks who are new to the sound, as well as those who want to dig deep down. Recommended!!
"Musica Brasileira: A History of Popular Music and the People of Brazil"
by Claus Schreiner
(Marion Boyars, 1994)

"Tropical Truth: A Story of Music and Revolution in Brazil"
By Caetano Veloso (Knopf Books, 2002)


Caetano Veloso's autobiography, originally released in Brazil in 1997, has recently been translated into English, and is an invaluable resource for anyone trying to learn about Brazilian music, and particularly about the tropicalia movement. This book is densely written, super-intellectual, and even a bit arid, but also a charming and down-to-earth account of the "heroic years" of the tropicalia movement. Veloso gives an intimate, immensely informative account of Brazilian music, from the pre-bossa "radio singers" he grew up with to the intense ideological rivalries between the hippie-ish tropicalia artists and the left-wing party-liners of the bossa nova crowd. The book is also a memoir of life under the Brazilian military dictatorship which took power in 1964, eventually sending Veloso and Gil (and countless other artists) into political exile, while attempting to censor their work and silence their voices. The role of the artist in all aspects of life -- social, spiritual and aesthetic -- resonates throughout this book, as Caetano gives an invaluable insider's view of an artistic movement that changed the course of Brazilian culture. This book basically ends in the early 1970s... it would be great if he could follow up with a second volume exploring the growth (although some might call it decline) of Brazilian music in the decades that followed. (PS - this is the perfect companion to Ruy Guerra's similarly wonderful book, Bossa Nova, The Sound That Seduced The World, which provides the historical background which will help make sense of Caetano's reflections on pre-bossa popular culture.)
"The Mystery Of Samba : Popular Music And National Identity In Brazil"
by Hermano Vianna
(University Of North Carolina Press, 1999)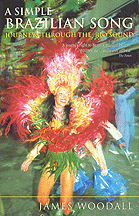 "A Simple Brazilian Song -- Journeys Through The Rio Sound"
By James Woodall
(Abacus/Trafalgar Square, 1997)


A truly remarkable book, or, more accurately, a truly remarkable story: In 1992, British freelance writer James Woodall brazened his way into an interview with Brazilian songwriting legend Chico Buarque, who had written a novel that had just been translated into English, and was being released in Europe. Woodall, who was entirely ignorant of Brazilian popular music, had never heard of Buarque or the MPB scene he helped pioneer. To the author, writing about this Brazilian guy just represented a chance to bluff his way through to another paycheck. The two of them hit it off, however, and while researching the story, Woodall fell under the spell of Buarque's muse. Seeing Buarque and, later, Caetano Veloso, performing in London -- amid adoring audiences packed with fervent Brazilian fans -- clinched it for Woodall, and he soon became a diehard fan. The article led to an invitation to visit Buarque in Rio de Janeiro, which Woodall accepted, and timed to coincide with the 1994 Rio Carnaval. what started off as a journalistic lark led to an extraordinary series of events: over the next couple of years Woodall was able to meet not only Buarque, but Veloso as well, and other superstars such as Gilberto Gil, Gal Costa and even the legendary Antonio Carlos Jobim, not long before the great bossa nova composer passed away. It's something of an innocents abroad adventure: Woodall steps over a few of the gaps in Brazilian musical history (when explaining the role Roberto Carlos played in the early '60s, for example, he doesn't seem to be aware that Carlos was in fact playing teenybopper rock music, and not the syrupy romantic stuff he later became known for...) and seems almost to blunder into the presence of greatness. That being said, however, this book includes fine, cogent narratives, particularly of the lives of Chico Buarque and Caetano Veloso, and is a fine introduction to the history of mdern Brazilian pop, as well as a charmingly unglamorized travelogue of modern Brazil, and an exploration of how the yearly Carnaval celebrations have become a routinized tourist-dominated event. Some of passages may evoke resentment or ire: Woodall's frank ogling of scantily clad, robust Brazilian natives and his blunt appraisals of the state of their society may seem patronizing, although as an outsider, I have to say they have the ring of honesty and accuracy. Most of all, Woodall ably conveys the sense of discovery, mystery and fervor that Brazilian music can inspire: he isn't slavish in his adulation, and is willing to dismiss beloved artists such as Djavan or Milton Nascimento, simply because their music doesn't appeal to him, but he is a fan. And, as someone who seems to share a lot in common with Woodall, aesthetically speaking, I find his unglamorized approach pretty refreshing. This book seems to slip in and out of print, but it's worth looking for: if you can't find it elsewhere, try the Trafalgar Square book site.
---
Other Resources
---
Brazzil Magazine is one of the best North American resources for information about Brazilian culture and current events. There is usually at least one long feature about Brazilian music in every issue. Many of these articles are posted online, and back issues are also available through the magazine's website.
Bossa Magazine is more strictly devoted to music, although their focus is wider than the title might imply... Bossa mixes articles about older, less-well remembered artists with the latest news. Their website is a little frustrating though-- I found it through an artist profile I found online; from there I got to the home page, and from there... I couldn't find any navigational links to any articles! Just subscription and back issue information!
Slipcue.Com's Brazilian Music Guide is another one of my labors of love. Dozens of artist profiles and thousands of record reviews are included in the site, as well as links to recommended websites and sections on other styles of Portuguese-language pop.
---


Other Book Reviews
International Music
Slipcue Main Index




---
Copyright 1998-2006 Slipcue.Com. All Rights Reserved.
Unauthorized use, reproduction or translation is prohibited.
---