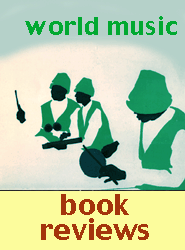 ---
This is a guide to some great books about world music. This page reviews general reference works, while music from various specific regions now have their own separate pages.
---
---
Recommended Reading
---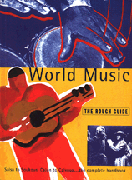 "Rough Guide To World Music"
ed. Simon Broughton, Mark Ellingham, et al (Rough Guides)
An outstanding resource, very informative and thought provoking -- this is definitely the single best "world music" reference work out there. Includes chapters on Arabic, Asian, African, Celtic, European, Caribbean, Polynesian and Latin American music, each with historical and critical essays, artist profiles, and lists of recommended records. For the casual listener, this book is a goldmine. Because of its global scope, though, most of the chapters can only give a cursory overview of their subjects, and several regions need to be expanded and possibly broken off into their own books. Personally, I don't need a Rough Guide to Bulgarian Pop, but a Latin American and African edition both seem in order, and more detailed information on Islamic music would be wonderful. On the whole, though, an astounding work. Highly recommended.
"The Virgin Guide To World Music"
By Philip Sweeney (Henry Holt, 1991)
Another older work which has been superceded by glitzier books in the '90s. Written by a Brit, this has the advantage of being literate and succinct; although it's thin and various countries or styles only get about 2-5 pages each, these entries are uniformly well-written and engaging. The lack of graphics is this book's main drawback, and it would be nice to see a new edition done with a more substantive budget. There are, it should be noted, factual errors and misspellings which should have been easily spotted (for example, in the Brazil section, we read about Gaetano Veloso, Caetano's Italian cousin... ) But considering this was a one-man effort, it's great... Sweeney encapsulates complicated ethno-musical histories into compact, informative prose.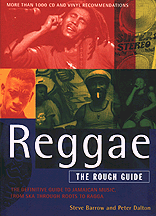 "Rough Guide To Reggae"
By Steve Barrow and Peter Dalton
(Rough Guides, 1997)


Without exception, this is the best reference work on reggae available. At first, the absence of a table of contents is a little disconcerting, but it forces you to enter into the internal logic of the book. Barrow and Dalton present the evolution of reggae chronologically, beginning with the pre-ska "mento" dance style, working their way into the Sixties with ska, rocksteady and finally early reggae. Dub and roots reggae take up the 1970s, and dancehall and ragga round out the '80s. Each style gets its own chapter, in which artists, albums, labels and dance trends are all given their due. The book is wonderfully laid out, readable either as a narrative or in the bite-sized chunks we love in these days of attention deficeit disorder. Above all, this book is well written and informative. The authors definitley know their material -- Barrow, for example, runs the outstanding Blood and Fire reissue label -- and they skillfully present it to their readers. Best of all, they recommend LOTS of albums,and have a very coherent system for letting you know which ones they think are most crucial. If they recommend it, it is good. Glossaries, profiles of label owners and producers, and resource lists round the package out -- if you love reggae, or are just curious, this book could greatly enrich your life.
"The World Music CD Listener's Guide"
By Howard J. Blumenthal (Billboard Books, 1998)
With fat, sexy books like the Rough Guide and Music Hound's Guide out there, this slim little text seems doomed to second-shelf status. Certainly it sticks to the big name artists, but also pulls a few oddball entries out of the aether. Blumenthal is a clear, cogent writer, and though personally I don't always agree with his recommendations, he does have a unique, if somewhat mainstream/jazz lover take on the whole world music thing.
---


Other Book Reviews
World Music Record Reviews
Slipcue Main Index




---
Copyright 1998-2006 Slipcue.Com. All Rights Reserved.
Unauthorized use, reproduction or translation is prohibited.
---