<! MP3 12/13/09, 10/21/12 > <! pix 12/13/09 > <! icons 12/18/10 > <! UPDATES: 10/21/12 - posted Henrique Cazes page, link >

---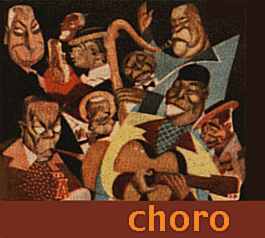 Choro music developed towards the end of the 19th Century, at roughly the same time as samba. Similar in tone and spirit to North American dixieland music, choro is also primarily instrumental, and features extensive improvisation, typically on piano, flute, saxophone and stringed instruments such as the guitar and bandolim. Like samba music, choro went through a post-bossa nova period of revival and neo-traditionalism, and the two styles - choro and acoustic samba - have become closely intertwined.
---
Recommended Records
---
Agua De Moringa "Agua De Moringa" (Lagoo, 1995)

Agua De Moringa "Saracoteando" (Rob Digital, 1995)

Agua De Moringa "As Ineditas De Pixinguinha" (Sony, 2002)





<! Contemporary choro instrumental group formed by musicians of the State University of Rio de Janeiro (Uni-Rio) in 1989, the Água de Moringa was quickly recognized as a creative and solidly prepared choro group occupying a definite position in the modernization of the idiom. Experienced accompanists of rootsy sambistas, each member of the group conjugates mastery over the popular elements and classical information, coining a style that helps renovate the choro in a Brazilian way, via the infusing of the spirit of Brazilian composers and arrangers such as Radamés Gnattali and Guerra Peixe into classical samba and choro compositions (by the likes of Pixinguinha) and the contemporary production of Caetano Veloso, Guinga, and Hermeto Pascoal, among others. Having released in Europe, Asia, and North America the first CD in 1994 (Água de Moringa), the group was nominated for the Sharp prize as Best Instrumental Group. In 1996, they performed in Paris, France, and in the next year, Lisbon, Portugal. The second CD came in 1998, winning two Sharp prizes for Best Instrumental Group and Best Arranger (Josimar Carneiro). The Saracoteando show at Cecília Meirelles Hall (Rio de Janeiro) had as guest musicians Cristovčo Bastos and Carlos Malta. In Sčo Paulo, the Água de Moringa performed with Laércio de Freitas, Quinteto Villa-Lobos, and Cristovčo Bastos. Throughout their career, the group has been conjugating solo work with performances with artists like Délcio Carvalho, Walter Alfaiate, Wilson Moreira, Beth Carvalho, Ivone Lara, Paulo Moura, Joel Nascimento, Altamiro Carrilho, and others. ~ Alvaro Neder, All Music Guide >


Severino Araujo - see artist discography




Marcos Ariel "... And Tigres Da Lapa" (Rob Digital, 2005)






<! choro > <! Armandinho is a talented virtuoso of the mandolin and the "guitarra baiana", an instrument designed by him. Internationally renowned, since the '70s he has developed his solo career, becoming one of the most important instrumentalists devoted to the music from Bahia. Son of Osmar, who, together with Dodô, invented the sound truck (Trio Elétrico) made famous in the Carnival of Bahia and later generalized throughout the country, he was taught to play by his father at age nine. He was already performing one year later with his own Trio Elétrico Mirim (Junior). After a stint amidst the Beatlemania craze adapted in Brazil as Jovem Guarda, he was hired by TV Tupi (Rio) and recorded his first album after winning an important novice show (Flávio Cavalcanti). His second single and first LP soon followed. In 1973, he recorded O Trio Elétrico de Dodô e Osmar with Caetano Veloso. In 1974, he was included in his father's Trio Elétrico, which was renamed Trio Elétrico de Armandinho, Dodô e Osmar. With Moraes Moreira as producer and singer, he recorded a series of LPs with the Trio Elétrico after 1975. In that year, he formed a group that accompanied Moreira, later being named A Cor Do Som, which performed internationally (in 1978 at the Montreux Festival, Switzerland, and in 1981 in New York, U.S.) and recorded several LPs with an innovative blend of choro, music from Bahia, and pop/rock. Based in early (around the '40s) prototypes designed by Dodô prior to the invention of the electric guitar, called the "pau elétrico," Armandinho designed the guitarra baiana, which is similar to an electrified cavaquinho. The guitarra baiana then became commercially produced by Dodô. In 1984, the Trio Elétrico performed in Rome, Italy, and, in the next year, in Toulouse, France. In 1986, they performed in France and Mexico and, in 1990, in Paris, France. In 1987, Armandinho shared a show with Raphael Rabello in Rio and, in the next year, played with Moraes Moreira in the U.S. In 1994, a live recorded show with A Cor do Som was awarded with the Prźmio Sharp (1996). In 1996, he also performed in the Jerusalem Music Festival, Israel, and, with the Trio Elétrico in the Montreux Festival and Tübingen Festival (Germany). In 1997, he recorded an album with Raphael Rabello, Rafael Rabelo e Armandinho Em Concerto, and participated in the Free Jazz Festival (Brazil). In 2001, Armandinho performed in the Rock in Rio Festival with Pepeu Gomes. ~ Alvaro Neder, All Music Guide >


Armandinho - see artist discography





Waldir Azevedo - see artist discography


<! Waldir Azevedo was the most successful composer and musician of the genre choro, and maybe of all Brazilian music, in relative terms. A pioneer in the exploration of the instrument cavaquinho, his themes, simple and communicative, always succeeded in capturing the attention of listeners. Azevedo recorded 132 compositions in diverse genres, 50 78s, and 20 LP's (including one shared with his rival Jacob do Bandolim). His songs were also recorded in Japan, Germany, and the U.S.A., where the Percy Faith Orchestra's recording of "Delicado" sold over a million copies. Azevedo's first instrument was the flute, at age seven. Soon he also learned mandolin and then cavaquinho. Learning the six- and seven-string violões (acoustic guitars), he performed in public for the first time on the flute, in 1933. His wish was to become an aviator, but his cardiac condition impeded it. Singing and playing the tenor violčo he joined the group Águias de Prata, which performed at the Copacabana Palace and recorded an album for Victor. Meanwhile, he was employed at Light Company. As Dilermando Reis needed a cavaquinho player for his regional, Azevedo was auditioned at Rádio Clube right in the middle of his honeymoon and got the job, holding the position for two years. In 1947, Reis departed for his solo career and Azevedo took the leadership of the regional. He accompanied hundreds of artists, from novice to star, and began to draw the attention of the listeners towards his own compositions. As the recording company Continental was in the same building, he was invited to record his piece "Brasileirinho," after several radio performances. The invitation coincided with the departure of Jacob do Bandolim, his biggest rival, from Continental to RCA Victor. "Brasileirinho," released in December, was a huge success from the start. The '50s also were productive for Azevedo, who recorded other big hits like the baičo "Delicado," the choro "Pedacinhos do Céu," "Chiquita," and "Vź se Gostas," among others. Azevedo toured South America and Europe for 11 years, including two tours sponsored by the Brazilian diplomatic service Itamarati, the Caravanas da Música Brasileira. In London, England, he appeared in a BBC show broadcast to 52 countries. In 1964, a car accident killed his daughter, which pushed him into a dark period of depression. In 1967 he learned to read and write music. In 1971, living in Brasília DF, he suffered an accident in which he almost lost his third finger and had to abandon music for one and a half years. After several surgeries, he returned to live performance in 1974, at the Clube do Choro of Brasília. Enjoying the choro revival of the '70s, Azevedo soon began to record again and to perform in TV shows, such as Sabor bem Brasil, Seis e Meia, Pixinguinha, Choro na Praća, and others. In November 1989, 30 years of success of "Brasileirinho" was remembered in a tribute show at Sčo Paulo's Teatro Municipal. Along with Azevedo played Paulinho da Viola, Ademilde Fonseca, Paulo Moura, and others. ~ Alvaro Neder, All Music Guide >

Banda Mantiqueira "Aldeia" (Blue Jackel, 1996)


A smooth Braz-jazz album, heavy on the brass section. This all-instrumental album takes a few nods at choro legend, Pixinguinha, as well as towards the smooth bossa nova sounds of the early '60s... This all by way of a peppy Doc Severinsen style latter-day big band style. This was a little too smooth for me, but it's not overly glitzy by any means, and may be something you'd like, if you're looking for something in a mellow jazz mode.

Banda Mantiqueira "Bixiga" (Blue Jackel/Pau Brasil, 2002)


Pretty cool! Anyone intrigued by the mix of Brazilian and big band motifs on Banda Mantiqueira's 1996 album, Aldeia, will be delighted by this latter-day gafieira outing, in which the swanky jazz elements are punched up and perfected. This is the kind of dynamic crosscultural mix that Stan Kenton and his peers were searching for in their mid-'50s explorations of Cuban and Latin-American melodies... pretty engaging and seldom overplayed, and less mellow than earlier Mantiqueira recordings. Nice lingering hints of the Dixieland-ish choro style of dimly-remembered Brazilian artists such as Sinho and Pixinguinga. Includes radically reimagined arrangements of songs by Joao Bosco and old-school sambista, Cartola. Definitely worth checking out!

Leal Brito "The Piano Of Leal Brito -- Recordings: 1953-1957" (Black Round Records, 2009)


Vintage kitsch. A mix of nightclubby piano plinking and light-pop choro revival tunes, featuring the pianist nicknamed Britinho, both solo and with minimal accompaniment by some top-flight musicians such as guitarist Ze Menezes and clarinetist Abel Ferreira. These are hardly electrifying performances, but its still an interesting curio from the pre-bossa nova era. The first eight tracks are solo pieces, while the rest of the collection reissues a 1957 album called Noel Rosa Sem Parceiros.

Ricardo Camargos "Piano Pixinguinha" (Velas, 1995)
Delightful solo piano performances, not just of antique compositions by the great choro composer Pixinguinha, but of a dozen or so long-lost, never before recorded Pixinguinha pieces that Camargos discovered while conducting research in the national archives in Rio de Janeiro. Choro music lends itself well to the piano -- it brings out the connections to ragtime and early jazz -- plus it just sounds great. Lovely stuff, clearly from a different time and place, and fully evocative of its era. Recommended.


<! In the years of 1993 to 1995, Ricardo Camargos made a research on files of Biblioteca Nacional do Rio de Janeiro, gathering never released compositions by Pixinguinha. 01 - Vou Vivendo (Pixinguinha / Benedicto Lacerda) 02 - Ele e Eu (Pixinguinha / Benedicto Lacerda) 03 - Sedutor (Pixinguinha / Benedicto Lacerda) 04 - Cheguei (Pixinguinha / Benedicto Lacerda) 05 - Chorando Sempre (Pixinguinha) 06 - As Proezas de Solon (Pixinguinha / Benedicto Lacerda) 07 - Carinhoso (Pixinguinha / Joao de Barro) 08 - Vagando (Pixinguinha / Benedicto Lacerda) 09 - Ainda me Recordo (Pixinguinha / Benedicto Lacerda) 10 - Ingenuo (Pixinguinha / Benedicto Lacerda) 11 - Descendo a Serra (Pixinguinha / Benedicto Lacerda) 12 - Modinha Brasileira (Pixinguinha) 13 - Naquele Tempo (Pixinguinha / Benedicto Lacerda) 14 - Segura Ele (Pixinguinha / Benedicto Lacerda) 15 - Sonhos (Pixinguinha) 16 - Lamento (Pixinguinha / Vinicius de Moraes) 17 - O Gato e o Canario (Pixinguinha / Benedicto Lacerda) >

Camerata Brasil "Bach In Brazil" (EMI-Varig Brasil, 2000)



Brazilian choro music, bent in the service of baroque and classical music. It's a pretty nice fit, though at times the repetitive choro instrumentation threatens to descend into mere perkiness (a hazard of the genre...) Still, the mix of music is nice, with compositions by Heitor Villa-Lobos, Radames Gnattali and J.S. Bach alongside tunes by Abel Ferreira, Pixinguinha and other choristas. This didn't totally floor me, but it's pretty nice.
Altamiro Carrilho - see artist discography
Henrique Cazes - see artist discography
Chapeu De Palha "Choro, Samba E Gafieira" (Radio MEC/Rob Digital, 2003)


Os Choroes "Chorinhos Da Pesada" (Serie Choro -- Grandes Solistas) (Odeon, 1971)


A disappointing set of modernized choro music, churned out and given a glitzy, slightly Vegas-y, big-bandish sheen. This jazz/gafieira supergroup included flautist Altamiro Carrilho, trombonist Raul De Barros, clarinetist Abel Ferreira, pianist (and grise eminence) Radames Gnattali and others... Lots of instrumental talent, but the tone of the album is a too brisk and prefab, a bit too controlled. Didn't work for me, at least.
Choronas "Atraente" (Paulus, 2005)

Choronas "Convida" (Paulus, 2005)

Choronas "O Brasil Toca Choro" (Tratore, 2008)


Conjunto Sarau "Cordas Novas" (Rob Digital, 2003)

Os Coroas No Choro "Os Coroas No Choro" (RGE, 1985)
The bouncy instrumental style of choro legend, Pixinguinha, brought into the modern age. Nary a synthesizer or string section to be heard here; just the lilt of the cavaquinho and guitar. Okay, so after about five songs in a row, this may start to sound repetitive, but it's such a great sound, it's really hard to complain... Sweet stuff.

Canhoto Da Paraiba "Pisando Em Brasa (Walking On Coals)" (Caju/Fantasy, 1993)


A dazzling all-instrumental album by a lightning-fast old-time guitar player from the northeastern state of Paraiba. This disc opens with several tour de force performances, full of astonishing dexterity and playful improvisation. Canhoto was 65 when he recorded this album, yet his playing had a facility and speed that few youngsters could hope to match. Fans of acoustic guitar work should find themselves wowed by this little gem. Recommended!
Ze Da Velha & Silverio Pontes "So Gafieira" (Kuarup/Biscoito Fino, 1996)

Ze Da Velha & Silverio Pontes "Tudo Danco: Choros, Maxixes E Sambas" (Rob Digital, 2001)


Ze Da Velha & Silverio Pontes "Ele E Eu" (Kuarup, 2001)


Ze Da Velha & Diplomata "Coracao Machucado" (Atracao, 2002)

Ze Da Velha & Silverio Pontes "Si Pixinguinha" (Biscoito Fino, 2006)


Paulinho Da Viola - see artist discography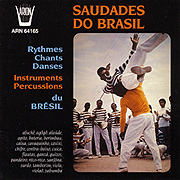 Amaro Da Souza/Haraldo De Oliveira "Saudades Do Brasil" (Arion, 1975)



A fabulous album! Half scholarly, ethno-musicological exposition, half butt-shakin' block party, this is a fab collection of instrumental tracks that run the gamut Brazilian dance styles, from thumping bass-heavy batucadas and slinky capoeira to sambas and proto-sambas like the maxixe, baiao and choro. Although true to the rhythms, Da Sousa's ensemble leans heavily towards the melody, which is just fine by me... The CD reissue features a half dozen or so extra tracks, separate from the original recordings with Da Souza's ensemble... they're a little less engaging, but certainly don't detract from the charm and vitality of the album. I love this disc!
Jacob Do Bandolim - see artist discography

Mane Do Cavaco "Martinho Da Vila Apresenta Mane Do Cavaco" (RCA, 1973)



Cavaquinho whiz Mane Do Cavaco whirls through a lively set of choro and samba instrumentals, evoking the spirit of Jacob Do Bandolim, though with modernized dips into the pagode samba sound that was emerging at the time, and even shows off a little taking a spin at a Johann Sebastian Bach melody (which he includes in a medley of classic tunes by Pixinguinha and Jacob Do Bandolim...) Do Cavaco's technique is rather emphatic and forceful -- although he's clearly a virtuoso, he doesn't throw in as many of the super-sweet licks that make the best choro music sound so subtle and refined. Regardless, this is a very nice record, packed with dazzling performances and fun melodies... Recommended!

Donga/Various Artists "A Musica De Donga" (Philips, 1974)


Legendary samba composer Donga (1890-1974) was a Rio native who worked for decades with choro pioneer Pixinguinha, and whose song "Pelo Telefone" is considered to have been the first samba song ever recorded, back in 1917. This album, which was released the year he died, is a tribute featuring artists such as Almirante, Elizete Cardoso, drummer Mestre Marcal, and an up-and-coming Leci Brandao. The disc also features a lengthy interview from 1969 wherein Donga discusses his career and music... Donga can be heard performing with Pixinguinha in the Oitos Batutas group, as well as in their Depression-era band, the Orquestra Tipica Donga-Pixinguinha. But for a more modern, nostalgic look at his work, this disc is pretty nice.
Epoca De Ouro/Various Artists "Cafe Brasil" (Teldec, 2001)

Epoca De Ouro/Various Artists "Cafe Brasil, v.2" (Warner, 2003)

---
Choro Music >> Page Two
---



Other Brazilian Styles
Main Brazil Index


---