<! MP3 12/13/09, 10/21/12 > <! pix 12/13/09 > <! icons 12/18/10 > <! UPDATES: 10/21/12 - some links updated >

---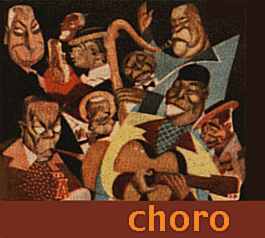 This is the second page in a brief guide to Brazilian choro music, including reviews of old artists and new... It is part of a larger Brazilian Music Guide on the Slipcue.Com website... Please feel free to write if you have any suggestions or recommendations.
This page covers artists under the letters F-M
---
Recommended Records
---

Abel Ferreira "Brasil, Sax E Clarineta" (Discos Marcus Pereira/EMI-Brasil, 1976/2003)
Beautiful, soulful, gently textured readings of old choro tunes written for the saxophone and clarinet, including several songs written by Ferreira himself. An early master of the style, reedman Ferreira brings a richness and sensitivity to these songs that really makes this album stand out... The guitarist called Dino 7 Cordas accompanies him, with contributions by Raul de Barros and Orlando Silveira. Recommended! (Part of EMI's "Serie Choro - Grandes Solistas.")
Abel Ferreira "20 Selecionadas" (2007)

Abel Ferreira "Chorando Baixinho" (2007)


Ademilde Fonseca "Choros Famosos" (Philips, 1960) (LP)


An unusual album, in that choro music is primarily an all-instrumental form (when it includes vocals, it's called "chorinho") and Ms. Fonseca was apparently one of the stars of the style, performing with choro bandleader Benedito Lacerda and releasing several hit singles in the early 1940s, during the tail end of the samba-cancao era. This album, released well afer her professional heyday, opens with an uptempo remake of her first big single from 1942 (a zingy cover of Carmen Miranda's old hit, "Tico Tico Na Fuba") and then Fonseca dips into more sedate material, alternating romantic ballads with the perkier chorinhos... The faster songs keep the traditional choro instruments -- flute, guitar, bandolim, some brass -- but the ballads include bigger, goopier orchestrations. So, it's sort of hit or miss. But the nice stuff is really nice -- a groovy blast from the past from a long-forgotten and quite endearing performer.
Ademilde Fonseca "20 Selecionadas" (Eldorado, 2000)





<! The most important singer of the choro genre, which is instrumental by nature due to its fast tempo and full melodies, Ademilde Fonseca acquired a rare proficiency and had an important career, being celebrated by many composers like Pixinguinha, Waldir Azevedo, and Garoto. Moving at age four to Natal RN, with her family, Fonseca frequented the local serestas at a very early age, later marrying one of the participating musicians, Naldimar Gedečo Delfim. After the marriage, she moved to Rio in 1941, opening in Renato Murce's novice show Papel Carbono at the Rádio Clube do Brasil the next year. Also in 1942, she had success singing "Tico-tico no Fubá" (Zequinha de Abreu) with the regional of Benedito Lacerda. In July, she had her first record released, Tico-tico no Fubá. The album was received with success. In 1943, she recorded "Apanhei-te, Cavaquinho" (Ernesto Nazareth/Jočo de Barro) and "Urubu Malandro" (adaptation by Lourival de Carvalho). Acknowledged as a successful singer, she became a requested professional by several composers. In 1944, she was hired by Rádio Tupi (Rio), performing with the regionais of Rogério Guimarčes and Claudionor Cruz. In the next year, her recording of the polka "Rato, Rato" consecrated her as the best singer of the choro genre. Accompanied by Garoto and the Conjunto Bossa Clube in the last recording, Fonseca would also record new choros by Garoto ("Sonhador," "Celestial," "Meu Cavaquinho") with the same sidemen, an all-star team, in fact (Valzinho, Luís Bittencourt, Luís Bonfá, Garoto, Zimbres, Sebastičo Gomes, and Hanestaldo). With the decline of choro in the '40s, her prestige also decayed, but she had hits again in the '50s with "Brasileirinho" (by Waldir Azevedo, lyrics added later by Pereira da Costa) and "Teco-teco" (Pereira da Costa/Milton Vilela), accompanied in both by the regional of Waldir Azevedo. In 1952, she performed in Paris, France, accompanied by Severino Araújo's Orquestra Tabajara. She recorded several albums that became hits until 1955. She also had noted participation at Rádio Nacional, having been accompanied by the regionais of Canhoto, Jacob do Bandolim, and Pixinguinha, and the orchestras of Radamés Gnattali and Chiquinho. In 1964, she toured through Portugal and Spain with singer Jamelčo, performing six months in Lisbon. In 1967, the decline of choro was felt under the weight of a gross injustice when she was booed, together with Pixinguinha, who was accompanying her in "Fala Baixinho" (Pixinguinha/Hermínio Bello de Carvalho) at the II FIC. In 1970, she had success in shows at the Teatro Opiničo, with her hits being reissued on the Top Tape LP of 1975. Also recorded in that decade was "Títulos de Nobreza -- Ademilde no Choro" (Jočo Bosco/Aldir Blanc). In 1997, she recorded the CD Ademilde Fonseca -- Rainha do Choro with RGE. ~ Alvaro Neder, All Music Guide >


Galo Preto - see artist discography





Garoto - see artist discography





Radames Gnattali - see artist profile




Chiquinha Gonzaga "A Maestrina" (Revivendo)


An impressive 2-CD set of EARLY recordings by one of the towering figures of Brazilian popular music, Rio's legendary Francisca Edwiges Neves Gonzaga, familiarly known as Chiquinha. Born in 1847, Gonzaga was one of the pivotal composers of samba cancao, as well as a pioneer of the jazz-ish choro style. She was also an integral part of the lowbrow salon scene that spawned the choro genre and the first samba escolas... This collection features some of the earliest popular recordings made in Brazil, the oldest dating back to 1902 (!), and the latest being from 1932, a few years before Gonzaga passed away. A fair chunk of these recordings feature Chiquinha herself, although most are interpretations of her work made by radio stars such as Francisco Alves and Gastao Formenti. There's a wide variety of styles -- she seems to have tried her hand at just about every thing, from homegrown toadas and samba cancao, to various foreign styles such as tangos, waltzes, polkas, Cuban-flavored habaneras, Portuguese fados, and even comedic sketches. The sound quality is pretty good, considering the antiquity of these recordings, and the fact that modern electric recording processes were not introduced in Brazil until 1927. A remarkable and indespensible musical document -- and a must-have for anyone intent on delving deep into Brazil's musical past.

Francis Hime "Choro Rasgado" (Biscoito Fino, 2002)



A delightful update of the classic choro style, which emerged at the turn of the 19th and 20th Centuries as a Brazilian parallel to New Orleans Dixieland and jazz. Here, classic choro themes are smoothed out and given a sleek, modern, MPB gloss, but still quite pleasant. Hime seldom overplays his hand, and this is a lovely record from start to finish, glitzy at times, but not overly so. The songs are all Hime originals, but have a perky bounce that will be appreciated by fans of classic choro tunes by Jacob do Bandolim or Pixinguinha. Recommended!

Olivia Hime "Serenate De Uma Mulher: Olivia Hime Canta Chiquinha Gonzaga" (Biscoito Fino, 2002)



An elegant MPB update of the classic compositions of one of Brazilian music's most important female artists, choro pioneer Chiquinha Gonzaga, who was one of the most prolific songwriters of the first third of the 20th Century. This disc only has a dozen of Gonzaga's compositions -- a scant sampling of the hundreds of possible candidates -- but the performances are uniformly pleasant, and folks unfamiliar with Gonzaga's legacy will appreciate the window into her work. Nice album, with tasteful arrangements and lovely vocals.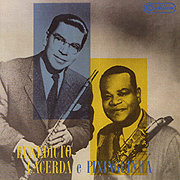 Benedicto Lacerda & Pixinguinha "Benedicto Lacerda E Pixinguinha" (RCA Camden, 1966)



Some of the finest and most dazzlingly pure choro instrumentals by two masters of the genre, flautist Benedicto Lacerda and multi-instrumentalist Alfredo Da Rocha Viana Filho, better known as Pixinguinha. This album of vintage recordings was first compiled in 1966, reviving classic melodies such as "1 x 0," "Naquele Tempo" and "Andre De Zapato Novo" for a generation that had since moved on to the charms of bossa nova and the pop-jazz hybrids of MPB. The original allure of these zippy tunes comes through loud and clear, though -- these tracks were recorded between 1946-50 (though many of the compositions are much older) and feature both performers at the peak of their powers. There's plenty of overlap between this disc and other Pixinguinha retrospectives, but there's something nice about hearing the music as it was first revisited by the Brazilians of the bossa nova era. Also, this is a very strong presentation, with a lean, compact selection of songs that wastes no time bringing out the best music the style has to offer. Highly recommended!
Benedito Lacerda "Minha Flauta De Prata" (Revivendo, 2005)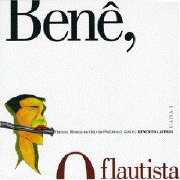 Benedito Lacerda/Various Artists "Bene, O Flautista" (Maritaca, 2008)



A stunning 4-CD set covering the career of fabled Brazilian flautist Benedito Lacerda (1900-1958), who is best known for his work with saxophonist and choro pioneer Pixinguinha, but who also recorded profilically with many of the greatest samba stars of the 1930s and '40s. This collection includes many of his most famous recordings, including a flurry of dazzling duets recordings from the 1940s that included lively, definitive versions of instrumental duets with Pixinguinha, as well as classic samba-cancao tracks from Francisco Alves, Silvio Caldas, Carlos Galhardo, Carmen Miranda, Mario Reis and other stars of the 1930s, as well as numerous recordings of Lacerda's own bands, Grupo Gente Do Morro and Velha Guarda de Almirante. Some of the greatest treasures come from the Grupo Gente recordings (an entire disc's worth!) that often feature Lacerda singing, as well as taking the lead on his flute. The sound of his pixielike piping laces through all these recordings, and is remarkably familiar to anyone who has delved into the music of this era -- nice to finally put a name to the face, as it were! There is significant overlap between this set and other recent reissues -- notably the CD reissue of RCA's old Lacerda-Pixinguinha LP -- but you'd be hard pressed to find any music fans who will complain about the duplication. Personally, I could listen to this stuff for days on end. Just start off with the jaw-dropping "1 x 0," perhaps the best-known Pixinguinha tune, and you will be in awe of Lacerda's technical skill and soulfulness. This beautiful, compact box set includes a capacious, chatty, authoritative booklet that gives background on all the songs, steers you towards more modern versions, and provides much-welcome biographical sketches of dozens of Lacerda's collaborators -- bandleaders, composers, guitarists, percussionists, singers -- that will help fill in a lot of gaps in ones general knowledge of the early 20th Century Brazilian music scene. A great, great box set -- highly recommended!

Dirceu Leitte "Leitte De Coco" (Caju/Milestone, 1993)


A delicious and inventive modernization of the classic choro sound, inflected with a sleek jazz bounce, as well as a taste of the music of the Brazilian Northeast. Saxophonist Dirceu Leitte, of the group Choro So, leads this fine ensemble, which includes, among others, guitarists Dino 7 Cordas and Raphael Rabello, drummer Wilson Das Neves, and veteran choro mandolinist Deo Rian. The set presents the music as neither a museum piece nor as a slick, smooth jazz appropriation of this old Brazilian instrumental style -- rather, it's a lively, vital, fun update... And a nice record to tap your toes to!

Francisco Mario "Retratos" (Fantasy/Caju, 1994)



This reissue pairs up two albums by Minas Gerais guitarist Francisco Mario, Conversas De Cordas, Courous, Palhetas E Metais, from 1984, and 1986's Retrato, which found him working with many of Brazil's best modern jazz/choro performers, such as Zeca Assumpcao, Paulinho Baga and Raphael Rabello (who played on the Conversas album...) Nice stuff, with a wide variety of regional influences; his use of amplification makes him sound a bit like a Brazilian Chet Atkins... Apparently Mario died in 1988, from HIV disease... Alas! Another voice sadly silenced.

Mike Marshall "Brasil (Duets)" (Earthbeat, 1996)


Following a trip to Brazil in 1995, newgrass mandolin whiz Mike Marshall decided to tackle an entire album of Brazilian choro music, the zippy, propulsive instrumental style pioneered in the late 1800s, alongside it's better-known musical cousin, the samba. On this album Marshall performs some of the best known songs in the genre, as well as several that are further off the beaten track, playing in tandem with the likes of jazzgrass picker Bela Fleck and Edgar Mayer, West Coast jazz maven Andy Narell, and expatriate Brazilian pianist Jovino Santos Neto. Marshall has a real feel for this material: it enlivens his own playing, while he brings a lightness and playful air to this sometimes-rigid genre. This is a disc definitely worth looking for, particularly if you are already a choro fan, or a newgrasser interested in hearing someone stretching into new, dynamic territory.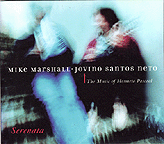 Mike Marshall & Jovino Santos Neto "Serenata: The Music Of Hermeto Pascoal" (Adventure Music, 2003)



Delving deeper into his love of choro, and of Brazilian jazz, Marshall explores the work of avantnik multi-instrumentalist Hermeto Pascoal, one of the most original and more challenging modern Brazilian jazz players. On the whole, I would say this set is far less "out there" than most of Pascoal's own albums, but the interplay between mandolinist Marshall and pianist Jovino Santos Neto reveals a strong intuitive link, both between the performers and the music they're tackling. Interesting album with some remarkable moments. Pascoal himself adds a flute solo to one track, giving the album that extra bit of authenticity...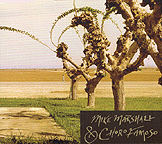 Mike Marshall "Mike Marshall & Choro Famoso" (Adventure Music, 2004)


This is the latest in a series of choro albums by Marshall, and is perhaps the mellowest set to date... Nice, relaxing stuff, but still with a little kick and enough virtuoso picking to keep even the grumpiest of us from thinking it's just another EZ listening set... Nice stuff, very true to the style with warm versions of classic choro themes by Paulinho Da Viola, Jacob Do Bandolim, and others. Recommended.

Yo-Yo Ma "Obrigado Brazil" (Sony Classics, 2003)



Cellist Yo-Yo Ma, possibly the most celebrated classical musician alive, has understandably fallen for the allure of Brazilian bossa nova, having previously explored Appalachian mountain music and the Argentine tango. Yet, like the countless American and European jazz players that precede him, it's difficult to tell in Ma's luso-classical crossover where the subtlety of samba ends and the glass-clinking simplicity of dinner jazz begins. In the baroque world, emotionally resonant, romantic passages are Ma's forte, but the precision and exactitude of Ma's classical background work against him when approaching the odd, interstitial nuances of Brazilian popular music. Backed by Brazilian virtuosi such as percussionists Paulo Braga and Cyro Baptista, Ma excels when playing the fast-paced, Dixieland-ish instrumentals written by choro pioneer Pixinguinha, though on slower, harmonically indefinite material such as the Antonio Carlos Jobim songbook, Ma sounds stiff and stilted, perhaps a little too perfect. Classical fans will doubtless find this album to be an enriching musical journey, while Brazilians may raise a wary eyebrow of amusement. Lovely performances, but they don't completely hit the mark.
Tom McDermott "Choro Do Norte" (STR)





<! New Orleans jazz pianist >

---
Choro Music >> Page Three
---



Other Brazilian Styles
Main Brazil Index


---