<! MP3 03/07/12 > <! pix 00/00/00 > <! ALLBM 00/00/00 > <! icons 02/01/11 > <! UPDATES: 03/07/12 >

---
Guitarist Armandinho (nee Armando da Costa Macedo) is one of the best-known performers from 1970's Salvador, the son of fabled carnaval performer Osmar Macedo, co-founder of the Trio Eletrico de Dodo e Osmar. Like his father, Armandinho is a virtuoso of the electrified frevo style, as well as choro and various rock-pop/regional music fusions. In 1977 he formed the band A Cor Do Som, along with ex-Novos Baianos member Dadi and other friends, then went solo in the following decade. In addition to his own solo albums, he has recorded prolifically as a session player for other Brazilian musicians... Here's a quick look at his work.


<! Armandinho (born Armando da Costa Macedo in Salvador) is a Brazilian composer and singer. he is son of Osmar Macedo, from the Trio Elétrico de Dodô e Osmar. In his early career, he played at his bands Trio Elétrico Mirim in 1962 and Hell's Angels in 1967. In 1970, he formed A Cor do Som with bassist/vocalist Dadi, keyboardist/vocalist Mú Carvalho, percussionist/vocalist Ary Dias and drummer Gustavo Schroeter. They performed in Montreux Jazz Festival had some hits with "Beleza pura" (Caetano Veloso), "Abri a porta" (Gilberto Gil/Dominguinhos), "Zanzibar" (Armandinho/Fausto Nilo), etc. Lately, Armandinho has been recording and performing with musicians such as Raphael Rabello, Paulo Moura, Época de Ouro, Moraes Moreira, Pepeu Gomes, Caetano Veloso, Trio Elétrico de Armandinho, Dodô e Osmar, etc. He is said to be the designer of Guitarra Baiana, a type of electric cavaquinho.[1] >

---
Discography
---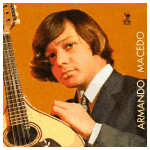 Armando Macedo "Armando Macedo" (Ritmos Codil, 1970) <! date?? >
Armandinho's solo debut, released in 1970, an instrumental set of sambas and choros, with accompaniment by veteran guitarist Dino 7 Cordas, and by Canhoto... And what a great photo!


<! "...gravou dois compactos pela Codil que lhe valeram a oportunidade de gravar este que seria o seu primeiro álbum. Nele encontramos o instrumentista e seu bandolim, acompanhado pelo Regional de Canhoto e também por Dino 7 Cordas, num repertório clássico e variado, dedicado essencialmente ao samba, seresta e choro. > <! Also: Trio E album from '77 - I have GIF >

A Cor Do Som "A Cor Do Som" (Warner/Atlantic, 1977)


(Produced by Guti)
Formed with a union of cavaquinho whiz Armandinho, and his pal Dadi, at the time a refugee from the Novos Baianos band, A Cor Do Som was one of the wilder Brazilian bands of the late 1970s. While their albums may now seem a bit cluttered and inaccessible, they were certainly challenging and adventurous, as heard on this high-energy debut.


<! 1 Arpoador (Mu - Dadi - Gustavo - Armandinho) 2 Na onda do Rio (Armandinho) 3 Tigreza (Caetano Veloso) 4 De tarde na Liberdade (Haroldo - Moraes Moreira) 5 A Cor do Som (Marcelo - Dadi) 6 Sambavishnu (Pepeu Gomes) 7 Espírito infantil (Mu) 8 Bodoque (Tulio Mourčo) 9 Conversando é que a gente se entende (Armandinho) 10 Odeon (Ernesto Nazareth) 11 Pique esconde (Mu - Dadi - Gustavo - Armandinho) >

A Cor Do Som "Ao Vivo Em Montreux" (Warner/Atlantic, 1978)


(Produced by Guti)



<! Ary Dias, who had been a "guest" on the first album, is now listed as a full member of the band. >

A Cor Do Som "Fruitificar" (Warner/Atlantic, 1979)


(Produced by Guti)

A Cor Do Som "Transe Total" (Warner/Elektra, 1980) (LP)


(Produced by Guti)

A Cor Do Som "Mudanca De Estacao" (Warner/Elektra, 1981)


(Produced by Guti)


Trio Eletrico Armandinho, Dodo E Osmar "Chame Gente" (RCA, 1985)


Trio Eletrico Dodo E Osmar "Ai Eu Liguri O Radio" (RCA, 1987)


On these two albums (rereleased together on a single CD) the manic pace of Dodo & Osmar's "trio eletrico" sound is slightly tempered by a greater melodic and stylistic range, though it's still a pretty weird, challenging sound. Kind of like Rush backing up Luiz Gonzaga, with a bit of a disco undertow. The Chame Gente album features guest appearances by Luiz Gonzaga, as well as Elba Ramalho, Moraes Moreira and Caetano Veloso -- it's manic, much musically solid, something to check out of you like stuff that sounds just plain weird and unlike most other music you've heard. The 1987 followup album is a bit tackier, but it branches out into reggae and funk, and is a little closer in spirit to the axe scene of the time.
Armandinho "Brasileiro" (Movieplay, 1989)


Armandinho & Epoca De Ouro "Instrumental No CCBB" (Tom Brasil, 1993)

Armandinho & Raphael Rabello "Brasil Musical" (Tom Brasil, 1996)

Armandinho & Raphael Rabello "Em Concerto" (Spotlight, 1997)

Armandinho & Epoca De Ouro "O Melhor De Chorinho - Ao Vivo" (CID, 1999)

A Cor Do Som "Ao Vivo No Circo" (Movieplay, 1996)



(Produced by Vinicius Sa, Flavio Sena & Renato Luz)
Armandinho returns to the group for this live reunion album... Includes a bunch of their old songs, including a few sizzling instrumentals...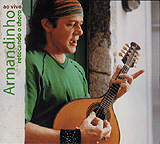 Armandinho "Retocando E Choro - Ao Vivo" (Tom Brasil/Biscoito Fino, 1999/2004)


(Produced by Angela Nou)
Dense, dynamic live choro music centered on soloist Armandinho, formerly of the band A Cor Do Som, and of trio eletrico fame... This is all about the flashy fretwork; he doesn't give his listeners or the songs a chance to breathe -- it's all one dazzling virtuoso riff after another. From a strictly technical standpoint, this one's a jaw-dropper, although I'm sure some choro aficianados will lament the headlong rush past the melodic core of many of these tunes. Then again, the choro genre does seem overreliant on a classicist's point of view, so it's probably good to have someone shake things uponce in a while. Originally released in 1999.
Armandinho "A Voz Do Bandolim" (Visom, 2003)

Armandinho & Paulo Moura "Afro Bossa Nova" (Biscoito Fino, 2005)


---
Best-Ofs
---
---
Links
---
---



---

<! cd=10/20/08 >