---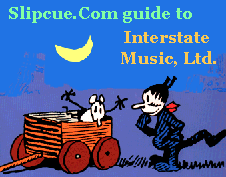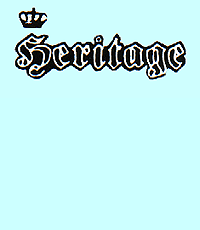 Heritage Records: This series is devoted to early, early examples of "world music," as well as repackaged, deluxe versions of Interstate's great gospel releases. The material comes mainly off 78s from various uber-collector's private record collections. Generally of jaw-dropping archival and musical value. You can hear similar material on Shanachie Record's SECRET MUSEUM OF MANKIND series, though these Heritage discs have the advantage of better liner notes, and a clearer disc-by-disc focus.
---
[Heritage HT CD-01]
Various Artists "GET RIGHT WITH GOD" (1988)


Absolutely stunning African-American gospel music, mostly recorded in the early 1950s. This CD condenses two LPs by the same name which were put out in the 1980s... Killer material from the days when black gospel and R&B were stylistically only as far away as a Saturday night. Highly recommended!
[Heritage HT CD-05]
Various Artists "PORTUGUESE STRING MUSIC" (1989)
Some of the earliest, rarest recordings of Portuguese-language music ever collected in one place. Similar territory to the fado collections listed below, but with other styles such as polkas, tangos and boleros-- not just the fado. Also, the musicians include Cape Verdean expatriates and Brazilians as well as proper Portuguese artists -- a few of the Brazilian recordings even date back as far as 1908! Really nice, and definitely recommended!
[Heritage HT CD-08]
Various Artists "GLAD I FOUND THE LORD -- CHICAGO GOSPEL 1937-1957" (1992)

[Heritage HT-CD 09]
Various Artists "GOD'S MIGHTY HAND - GOSPEL EVANGELISTS" (1992)


Similar to HT-CD 01 ("GET RIGHT WITH GOD"), but a bit more raucous... Raucous as in "rockin.'" Some serious howlin' and testifying, and gnarly guitar work on several tracks. Raw, compelling gospel music from the late 1940s and early '50s. In a word: WOW.
[Heritage HT CD-10]
Various Artists "JESUS PUT A SONG IN MY SOUL" (1992)

[Heritage HT CD-12]
Various Artists "NEW ORLEANS GOSPEL QUARTETS: 1947-56" (1993)


Hardcore Southern gospel, with a somewhat mournful tone, overall. Might not be for everyone, but it's still got some fascinating material. This collection of rare postwar oldies was compiled by Lynn Abbott.
[Heritage HT CD-14]
Various Artists "FADOS DE LISBOA - FADOS FROM PORTUGAL v. 1: 1928-1936"


[Heritage HT CD-15]
Various Artists "FADOS DE LISBOA - FADOS FROM PORTUGAL v. 2: 1926-1930" (Heritage, 1992)


These are some of the best archival compilations in the Heritage series-- two very solid volumes featuring rare 78s of Portugal's national music-- the soulful, mournful acoustic ballads known as the fado. These Depression-era recordings are striking for their directness and stark simplicity, which contrast sharply with the increasingly stylized and lacrymose production of modern fados recorded since the 1950s. These ancient tracks captured an otherworldly, plaintive style which would be lost to us without reissues such as these. A swell starting place for anyone who is curious about Portugese music, and completely essential for devotees of the fado.
[Heritage HT CD-16]
West African Instrumental Quintet "West African Instrumental Quintet: 1929" (1992)


Banjo-led tunes with instrumentation that is disarmingly similar to American old-timey music, though very different stylistically. Not much is known about these musicians -- not even which West African tribe they may have came from. The recordings were made in England, and released in 1929-1930 as 78s on the Zonophone label. Although it all begins to sound the same after a while, there are some interesting aural effects on tracks #18-20, where the banjo and guitars are completely out of tune with each other, yet the song goes on, creating its own, off-kilter musical logic. The effect is disconcerting -- even a bit creepy, in a music-box kind of way.
[Heritage HT CD-18]
Domingo Justus "Roots Of Juju: 1928" (Heritage, 1993)


Rather stark, early historical recordings made for the Royal Zonophone company by a Nigerian singer, abroad in England in the late 1920s. Not much is known about this fella, although the use of guitar accompaniment on some of these tracks (most are sung a capella...) places him in the forefront of the development of guitar-based African pop, and Nigerian juju music, in particular. For the average listener, these old recordings are probably a bit too inaccessible, but folks who are trying to seriously dig under the surface and discover some of the historical roots of the style may find these recordings quite interesting.
[Heritage HT CD-19]
Caluza's Double Quartet "Caluza's Double Quartet - 1930" (1992)


A Rosetta stone of South African music, the Caluza group recorded several dozen songs in the early 1930s, and their style is unmistakably the precursor of the South African choral style of groups such as Ladysmith Black Mambazo and Black Umfolozi, which Paul Simon helped popularize in the 1980s. Stylistically, these recordings are similar to American jubilee gospel styles, although the harmonies and cross-melodies are distinctively South African. Led by a sometimes-plinky piano, the vocalists bring to life the compositions of Reuben Tholakele Caluza, a teacher at the ANC-related Ohlange Institute. Despite the churchy delivery, the lyrics deal with social hardships such as unemployment and police harassment which Africans suffered under the apartheid system. Fans of South African music should find this disc stunning; for the rest of us, it may be a bit dry.
[Heritage HT CD-27]
Roza Eskenazi

[Heritage HT CD-28]
Jacob Sam and Kumasi Trio "Volume 2"


Primeval 1928 African pop recordings from West Africa's Gold Coast (aka The Congo). Highlights expressive, talkative vocals set in front of two acoustic guitars and a rather lively, almost chaotic, drummer. After a while the tracks start sounding a lot alike, but for true devotees of African pop music, this is a historical goldmine. Compelling and a bit eerie. (Wish I had Volume One!)
[Heritage HT CD-35]
"Roza Eskanazi: Rembetissa 1933-1936" (1996)

[Heritage HT CD-36]
Rita Abadzi "Rita Abadzi: 1933-1938" (1996)


CD Abadzi was one of the most popular female singers of Greek "rembetica", an acoustic style often called "the Greek blues". The musicians on this disc include Greeks, Turks and Armenians, playing a rich mix of regional styles, with languid ouds or wild gypsy-ish violins, all capped off by Abadzi's husky, confident vocals. You might also check out the compilations of material by Abadzi's rival, Roza Eskanazi, which have come out on Heritage (HT-CD 27) and on Rounder Record's Rembetissa CD.
[Heritage HTCD-37]
Various Artists "SLOVAK CSARDAS - DANCE TUNES FROM THE PENNSYLVANIA COAL MINES 1928-1930" (1996)


Would I make something like this up? Could I make something like this up? A rather esoteric target audience, perhaps, but the folkloric, historical value can't be denied.
[Heritage HTCD-48]
The Jubalaires "The Singing Waiters: 1947-1948" (Heritage, 2004)


The Florida-born Jubalaires, led by Caleb Nathaniel Ginyard, Jr., were an a capella group that followed very closely in the footsteps of the Golden Gate Quartet, mimicking the GGQ's sleek, buoyant jubilee style down to a "T..." Indeed, most of the group's professional recordings were covers of material already recorded by the Golden Gaters, with arrangements that were pretty durn close to the originals. Still, this isn't to say that the Jubalaires were sub-par or even mediocre -- they were aiming for a glorious style and sound pretty sweet to me! This disc is a pretty nice collection of gospel material, drawn from a series of postwar radio transcription discs they did for the World and Standard Transcription services, along with some secular R&B material at the end that's also quite nice. The sound quality is excellent, too. An interesting postscript to the group's story is that Ginyard -- who had quit the group by the time these sessions were recorded -- wound up singing in a later edition of the Golden Gate Quartet, performing with them for the duration of the 1960s, after having spent years leading one of their rival bands. If you like the Gates, you oughtta like this as well.
---
Links
---
Interstate Music is finally online! At last! Hoo-rah! Now you can find out which of these gems is actually in print (as opposed to "out there somewhere...") and also get up-to-date ordering info.
---
OTHER INTERSTATE IMPRINTS:

Country Routes
Flyright
Harlequin
Krazy Kat
---


---

---