<! MP3 10/25/08, 03/17/12, 11/15/12 > <! pix 11/12/09 > <! ALLBM 00/00/00 > <! icons 01/21/11 > <! UPDATES: 03/17/12 - only a few adds; could do pages for Moreira Da Silva, Carlos Da Fe(?) > <! Euclides Dos Santos "E Fogo Do Forro" (Master Sound, ????1970???) - accordionist > <! Tony Damito - brega pop? > <! OSVALDINHO DA CUICA & GRUPO VAI-VAI "Vamos Sambar" (Discos Marcus Pereira, 1975) > <! IRIO DE PAULA MARACANA" (Horo, 1977) LP ITALIAN ONLY > <! Chico da Silva "Samba: Quem Sabe Diz..." (Polydor) > <! DIVA MARIA: A Espera Da Felicidade" (America, 1979) > <! Dallans "Dallans" (Avanco, ????) "beat" album - no other info, have gif Dalvan "Dalvan" (Chantecler, 1990) (LP) B004KK69F6 - seems to have worked in various duos - northeasterner? pop? >
---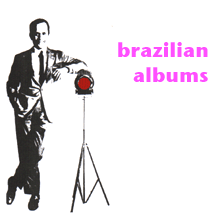 This is the first page of Brazilian artists under the letter "D"
If an artist or album you like is not reviewed here, please feel free
to contact me and make a suggestion.
---
A | B | C | D-1 / 2 / 3 / 4 / 5 / 6 | E | F | G | H | I | J | K | L | M | N | O | P | Q | R | S | T | U | V | W | X | Y | Z | Compilations
Brazilian Styles | 30 Recommended Records | Portuguese-language pop | Brazilian Links | Slipcue.Com
---
Ze Pretinho Da Bahia "Na Escada Do Successo" (Som, 1973)
Really sweet, funky early '70s samba, with a feel close to what Gilberto Gil was doing around the same time... Lovely, poppy, melodic stuff!
Joao Da Baiana & Sussu "Batuques E Pontos De Macumba" (Odeon, 1957)

Joao Da Baiana & Seu Terreiro "Sarava Yemanja" (Philips, 1961)


Joao Da Bahiana/Clementina De Jesus/Pixinguinha "Gente Da Antiga" (EMI, 1968)


Wonderful! Old-fashioned choros and sambas performed by two elderly master musicians, saxophonist Pixinguinha and sambista Joao Da Bahiana, backing Clementina De Jesus, an unknown singer who, out-of-the-blue, became a national star in the 1960s. Her style of samba antigua is just gorgeous, especially when blended in with modernized touches, such as the large melodic choruses, as well as Pixinguinha's outstanding, virtuoso playing. (Note: Da Baiana's name is spelled with an "h" on this album, but it's the same guy. Ah, Brazil.)




Manoel Da Conceicao "Eu Toco E Voce Danca" (Copacabana, 1956)



<! Manoel Da Conceicao "...E Seu Violao" (1959) recorded in Portugal? >

Manoel Da Conceicao "...Seu Violao ...E Muito Samba!" (Polydor, 1963)
(Arrangements by Severino Filho)
A charming, though slightly goofy pop-samba album from guitarist Manoel Da Conceicao (also known as "Mao De Vaca," or "Cow Hand," in honor of his chunky but nimble paws...) This is a charming set of brisk, semi-instrumental samba and bossa tunes, spotlighting Mao De Vaca's guitar work, but also featuring a perky, uncredited female vocal chorus (sort of a mellower version of the Quarteto Em Cy sound), along with a tootling, brassy orchestral accompaniment. The guitar playing is a lot like Luiz Bonfa's work of the same period -- bright, bouncy, playful -- and while this is kind of a fluffy album, it's pretty fun. Da Conceicao also sings on one track, his own composition, "Quero Ficar So," which closes the album on a satisfying note.


<! Manoel da Conceicao - This is his third album and as far I could search, Manuel da Conceicao went on an eleven years recoding hiatus after this one, releasing in 1974 the acclaimed Batucada do Mane. This is Manoel da Conceicao - Manoel da Conceicao, Seu Violao e Muito Samba (1963), for Polydor, with instrumental and voice arrangements by Severino Filho, from Os Cariocas. I said voice arrangements, by definition; this is not an instrumental album since all tracks have lyrics sung by a not credited female choir. >

Manoel Da Conceicao "Batucada Do Mane" (RCA, 1975)



(Produced by Rildo Hora)
A wonderful album by acoustic guitarist Manoel Da Conceicao, whose career as a samba player spans back to the early 1950s. His nickname, Mao De Vaca, or "Cow Hands" comes from his large, meaty hands, and from his strong, assured method of playing the guitar. This record (which was apparently his fourth solo album) radiates confidence and solidity, as well as a softness and subtle touch that makes it a delight from start to finish. There's some excellent guitar playing, with a warmth and individuality to it that makes it stand out, and also some gentle percussion and vocal backup that adds to its depth and appeal. Recommended!


<! * Eu toco e vocź danća - longplay- gravadora Copacabana - 1956 * Dizem por aí - gravadora Polydor - 78rpm * É luxo só - gravadora Polydor - 78rpm * La vita e um paradiso di buguie - gravadora Copacabana - 78rpm * Baičo diferente - gravadora Copacabana - 78rpm * Batucada do Mané - gravadora RCA Victor - longplay - 1975 >

Dadi "Dadi" (Som Livre, 2007)


(Produced by Daniel Carvalho)

Dadi "Ao Vivo Em Tokio" (Dadi Records, 2009)

Dadi "Bem Aqui" (Sunny Side, 2010)


Dado "Atras La Luz" (1984)
An independently released prog album...
Carlos Dafe - see artist profile
Duduka Da Fonseca "Samba Jazz In Black And White" (Zoho, 2011)


Duduka Da Fonseca "Plays Toninho Horta" (Zoho, 2011)


Nadinho Da Ilha "Meu Amigo Geraldo Pereira" (Rob Digital, 2005)



Lennie Dale & Bossa Tres "Um Show De Bossa Nova" (Elenco, 1964)


A capable -- though underwhelming -- cabaret crooner, American expatriate Lennie Dale was certainly in the right place at the right time, recording several albums with some of the top talent in the bossa-era nightclub scene. Dale sang in a Mel Torme style, mixing newly-minted bossa hits with a variety of American pop-jazz vocal tunes. Here, he's backed by the Bossa Tres jazz trio, who provide pretty swinging accompaniment in a warm live setting... The nightclub crowd seems very receptive to his performance, and you can sense mutual goodwill emanating both ways between artist and audience. A nice document of the times, and a good chance to hear the Bossa Tres band in full swing.


<! Luiz Carlos Vinhas (piano), Tiao Neto (bass) and Edison Machado (drums) >

Lennie Dale & The Sambalanco Trio "...E O Sambalanco Trio" (Elenco, 1965) <! date? >
Here Dale is backed by the Sambalanco Trio, which featured pianist Cesar Camargo Mariano, percussionist Airto Moreira and bassist Humberto Claiber... It's a very vigorous production, and his vocals are a little too over-the-top for me -- too emotive and robust, and a bit too kitschy. But it's real-deal nightclub bossa, a good portrait of the era, though I don't think I honestly could have sat through one of his shows... He's just too irritating. (But then again, I don't care much for '50s-era crooners like Sinatra, Torme or Tony Bennett, either, and I think that's what Dale was shooting for... So take what I say with a grain of salt.)


<! Lennie Dale "Lennie Dale" (Elenco, 1965) ?? real album? > <! 3D album - more Sinatra-esque? >

Lennie Dale & Trio 3D "A 3a Dimensao De Lennie Dale" (Elenco, 1967)
Still very much in the Mel Torme/Tony Bennett mode, but with a way more swinging band! Trio 3D, led by pianist Antonio Adolfo, with bassist Sergio Netto and Chico Batera on drums, provides some powerful, perky backing... Pretty fun stuff.


<! * Um show de bossa... Lennie Dale com os Bossa Trźs (1964) Elenco LP * Lennie Dale e o Sambalanćo Trio-Gravado no Zum Zum (1965) Elenco LP * Berimbau/O pato Lennie Dale e o Sambalanćo Trio (1965) Elenco Compacto simples * Lennie Dale (1965 ) Elenco LP * A 3a Dimensčo de Lennie Dale Lennie Dale e Trio 3D (1967) Elenco LP * O máximo da Bossa Vários artistas (1967) Rare Elenco LP >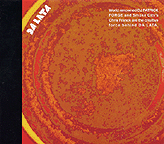 Da Lata "Songs From The Tin" (Ryko/Palm, 2000)



London trip-hop meets Brazilian-style easy listening in this sometimes seductive, sometimes soporific world beat mix. I gotta say, this disc grew on me. The electronic input of two UK DJs (Chris Franck of Smoke City, and DJ Patrick Forge) is pretty subtle and pleasantly muted -- several tunes, such as the dreamy "Pra Manha" have a retro-fusion feel to them that recalls Milton Nascimento's best work during his Clube Do Esquina years, with a delicate keyboard straight out of the Beth Orton songbook. As Brazilian vocalists go, Liliana Chachian didn't strike me as very distinctive, but her voice fits the vibe pretty well. Also, the Brazilian elements and the ambient touches are given equal footing, so that neither style seems dominant or gratuitous, a balance that can be difficult to strike. The mix is pretty seamless and accomplished, and in general I think Braz-ambient crossovers are definitely the wave of the future. I wouldn't mind hearing more of this stuff, though a lot of it still strikes me as too goopy.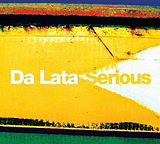 Da Lata "Serious" (Palm Pictures, 2003)



The follow-up to their first album is pretty disappointing, or at least less elusive and alluring. The delicate balancing act of the Songs From The Tin set here gives way to a simpler, more clear-cut world-beat dance sound, it's okay, but fairly mundane by comparison. More geared towards the electronica club music crowd, and almost entirely skewed towards African influences, with the languid Brazilian touches set aside, this album seems more workmanlike than innovative or inspired. It's okay, I guess, but I found it to be a bit dull.
Rubens da Mangueira "Eu Sou Assim" (Copacabana, 1978) (LP)


(Produced by Talmo Scaranari & Paulo Rocco)



<! eight originals by Rubens, other songs seem to be original to this album as well, by other obscure sambistas BTW: was Xango da Mangueira the same as Rubens?? > <! Pesquisa de Faixas por Autor : "Rubens da Mangueira": Doutores do meu Brasil - em SE NŐO FOSSE O SAMBA... Ô Isaura - em DE PÉ NO CHŐO No reino da mče de ouro - em A VOZ DO SAMBA No reino da Mče do ouro [Samba-enredo da Mangueira 1976] - em ALEGRIA DE SAMBAR Mineiro, mineiro - em CHŐO DA MANGUEIRA Dos carroceiros do imperador ao palácio do samba - em MANGUEIRA, A SUPER CAMPEŐ No reino da Mče de Ouro - em MANGUEIRA, A SUPER CAMPEŐ Xô gafanhoto - em BETH CARVALHO NO PAGODE No reino da mče do ouro - em A INCRÍVEL BATERIA DO MESTRE MARāAL >

Josias Damasceno "Sabor Maca" (Dabliu, 1997)








Walter Damasceno "Bossa Ai E Mato" (Odeon, 1959)



<! 01 Coco com C (Buco do Pandeiro / O. Freitas) 02 Fum fum (Zé Violčo / Gumercindo Santos) 03 Eu também sou irmčo (J. Ferreira / Mário Luis) 04 Tem jeito nčo (Mário Teresópolis) 05 Tres e trezentos (Miguel Lima / Gerson Filho) 06 Cabra froxo (J. Cavalcanti / J. Baptista / J. Silveira) 07 Saudade do Ceará (Jočo da Silva / Bucy Moreira / Jočo Sales) 08 Reminicźncia (Inhozinho / Tito Mendes) 09 Pó de mico (J. Roselvite / J. Ferreira) 10 Nčo se meta nčo (J. Ferreira / Arlindo Sampaio / Hélio Nascimento) 11 Eu sou pernambucano (Manoel Moreira / Antônio da Silva) 12 Burro manco (Bucy Moreira / Jočo da Silva / Manoel Francisco) >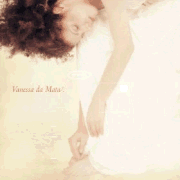 Vanessa Da Mata "Vanessa Da Mata" (Sony Epic, 2004)



(Produced by Vanessa Da Mata, Luiz Brazil, Kassin, Liminha & Jacques Morelenbaum)
This debut album marks the emergence of a major new Brazilian talent... Da Mata's voice is simply gorgeous -- clear, crystalline, and well matched by her talent as a composer and song stylist. All but two of the songs on here were either written or co-written my Da Mata; most are credited to her alone, and she also works with several heavyweight players, including producer Liminha and BRock star Chico Cesar. Co-producer Jacques Morelenbaum happily saws away on his cello on the jaunty "Alegria," while Da Mata's supple vocals glides along, at ease in various styles.of music. There's a solid samba core to all these songs, with layers of pop, jazz, forro and a trace of electronica... Occasionally she slips into slightly cloying production, but mostly this is a magnificent, delicious album. Highly recommended!

Vanessa Da Mata "Essa Boneca Tem Manual" (Sony Epic, 2004)



(Produced by Liminha)
If you like Marisa Monte, this gal might appeal to you as well. The approach is basically the same -- an easygoing mix of melodic rock, funk and electronica, fronted by pretty-sounding female vocals. Still, I'd have to say, Monte is still the master: Da Mata's voice is a little too blase for me, and the music production is a little flat and too-perfect. The poppiness is welcome, and the record is pleasant enough, but it seems more calculated and meticulously crafted than inspired or personal. A cut above, to be sure, and fun to listen to (other than a passage or two that goes overboard...) Worth checking out.
Vanessa Da Mata "Sim" (Sony Epic, 2007)


Vanessa Da Mata "Bicicletas, Bolos e Outras Alegrias" (Sony-Brasil, 2010)


Damiao Experienca "Planeta Lamma" (1974)
If you like weirdness for the sake of weird, the experimental/inchoate folk ramblings of Damiao Ferreira da Cruz (aka Damiao) might be for you. He twangs randomly on a dull-stringed guitar (perhaps a berimbau?), toots talentlessly on a harmonica and yowls away on various half-songs, on this, the first of several dozen albums. It seems unique, but it's not: other artless auteurs have made similar records -- Jandek, Wesley Willis, Daniel Johnston -- and in some cases have prompted debates about whether it's cool or whether it's voyeuristic to listen to music made by mentally ill people, or more importantly whether it's worth your time. The answer is, I suppose, that beauty is in the ear of the listener, and for some folks this will be an undeniable, uber-authentic folk-freak gem, and for others it'll just be unlistenable chaotic ramblings. Each to their own, I say, but I really don't need to revisit this one... ever.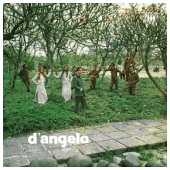 D'Angelo "D'Angelo" (Equipe, 1970) <! year? >



Sort of a samba-rock touchstone, this was the lone album released by organist D'Angelo, who certainly had a funkier feel than, say, Walter Wanderley or many other Brazilian keyboardists. Nonetheless, this is still a pretty easy-oriented, lounge-y set, with a few uptempo, soul-oriented tracks and a lot of softer stuff as well. I'm curious about how tapped into the "Black Rio" soul scene this guy was: he covers several Tim Maia songs and a couple by Cassiano -- was he in somebody's band or something? I'm also curious about who was backing him here: the drumming in particular seems pretty sharp. This record was re-released by WhatMusic in the 2000's, and apparently a down-and-out, totally broke D'Angelo was happily surprised when the label got in touch to give him his royalties. But, decades later, here is his legacy!



<! 01 - Coroné Antônio Bento (Luis Wanderley / Jočo do Vale) 02 - Padre Cícero (Tim Maia / Cassiano) 03 - Curto de Véu e Grinalda (Moraes Moreira / Galvčo) 04 - BR 3 (Antônio Adolfo / Tibério Gaspar) 05 - Agora (Ivan Lins / Ronaldo Monteiro de Souza) 06 - Eu Também Quero Mocotó (Jorge Ben "Jorge Benjor") 07 - Cristina (Carlos Imperial / Tim Maia) 08 - Primavera (Cassiano / Silvio Rochael) 09 - Procurando Tú (Antônio Barros / J. Luna) 10 - Azul da Cor do Mar (Tim Maia) >

Canhoto Da Paraiba "O Violao Brasileiro Tocado Pelo Avesso" (Marcus Pereira, 1977)





Canhoto Da Paraiba "Pisando Em Brasa (Walking On Coals)" (Caju/Fantasy, 1993)



A dazzling all-instrumental album by a lightning-fast old-time guitar player from the northeastern state of Paraiba. This disc opens with several tour de force performances, full of astonishing dexterity and playful improvisation. Canhoto was 65 when he recorded this album, yet his playing had a facility and speed that few youngsters could hope to match. Fans of acoustic guitar work should find themselves wowed by this little gem. Recommended!
Canhoto Da Paraiba & The Zimbo Trio "Instrumental No CCCB" (Tom Brasil, 1993)

Canhoto Da Paraiba "Pedacinhos Do Ceu" (EMI, 2000)

Casquinha (Da Portela) "Casquinha Da Portela" (Luanda, 2001)


Noca Da Portela "Maos Dadas" (RCA, 1980)


A fine set of pagode samba, from songwriter Noca Da Portela, of the Portela samba school, whose songs have been recorded by Elza Soares, Chico Da Silva and others. The album features Dino 7 Cordas and Manoel Da Coneicao on guitars, filling out a bright, joyful sound, as well as special participation from two bands, Som 7 and an edition of the Velha Guarda da Portela that features escola old-timers Argemiro Patrocino and Monarco... It's a fine, fun album, with lively performances of a dozen-plus of Da Portela's compositions. Recommended!
Noca Da Portela "Samba Verdadero" (RDS, 1999)

Bezerra Da Silva - see artist discography
Monica Da Silva "Brasilissima" (Socialite Fiasco, 2010)






<! didn't wow me - two earlier albums are English-language top-pop type stuff "Miles From Nowhere" (2007) B000WMG69K >
Moreira Da Silva "Moreira Da Silva" (BMG-RCA, 2001)


An outstanding collection of classic material from one of the legends of the golden era of samba cancao. A Rio native, Antonio Moreira Da Silva pioneered the style known as samba de breque, filled with humorous asides and allusions to the zoot-suit-ish characters known as "malandros," or bad boys. This is a reissue of an album that originally came out in 1974, gathering together a dozen prime tracks from Da Silva's RCA years, 1933-34 and '40-41. If you're looking for the real-deal old stuff, as well as music that holds up well over the years, then check this out. Plus, you even get a song about Brazil's national obsession --soccer -- called "Doutor Em Futebol," from 1941. Just whip that one out when it's World Cup time!

Moreira Da Silva "O Ultimo Dos Mohicanos" (EMI Odeon, 1963)


I'm sure at the time, to those who still paid attention to the old samba cancao style, this album may have been a big disappointment. I've seen where other writers pan it as pop schmaltz, but other than the dopey title track (a novelty number that includes bang! pow! sound effects straight out of an old Western movie), this was a pretty decent disc. Sure, the arrangements were a little too perky and simplistic, but Da Silva was still a great singer, wrapping himself around those rapid-fire tounge-twisters, and belting them out like he was really having fun. It's worth a spin!


<! O Ultimo Malandro?? >

Moreira Da Silva "Morengueira" (EMI Odeon, 1968)


At this point officially a relic, Da Silva cranked through a series of novelty songs such as "O Rei Do Gatilho" and "Malandro Em Sinuca," malandro (gangster) songs complete with comedic recitations and gunshot sound effects, or "O Ultimo Dos Mohicanos," a song he had recorded years before. Most of the songs on Side One were written by Miguel Gustavo, who seemed to specialize in this sort of stuff; on Side Two, though, he settles down into a more relaxed mode, and sings in a style closer to the old-fashioned radio days samba cancao. I wouldn't hold this up as his best work -- the comedy material in particular is a little grating -- but he still has a way of winning you over, so by album's end you're back on board. Overall, though, this album is kind of negligible.

Moreira Da Silva "Conversa De Botequim" (EMI Odeon, 1970)


Another late period album from this samba old-timer... This time he's laying off on the novelty songs and playing it fairly straight, singing songs by Billy Blanco, Noel rosa and other classic samba composers, as well as a few of his own original tunes. His vocals are laid-back and the arrangements are fairly perfunctory, but the music is charming in a low-impact way, and easy on the ears. It's like listening to a Bing Crosby album of the same era: there's nothing wrong with it and he's still got some swing in him, it just isn't as great as the music he made when he was younger.
Moreira Da Silva "50 Anos De Samba De Breque" (CID, 1999)



Moreira Da Silva "A Arte De Moreira Da Silva" (Philips, 2004)


Da Silva was pretty long in the tooth when these 1979-81 recordings came out... His voice isn't as subtle or as limber as it was decades earlier, and he sounds a bit desperate to make a strong impression. The musical backup ranges from overly muscular and "modern" to somewhat perfunctory and indifferent. It's kind of interesting, I suppose, as a footnote to the classic samba-cancao era, but his older recordings are clearly more sensuous and rewarding.


<! 10/08: did not check ALLBM >

Wilson Das Neves "Juventude 2000" (Parlophone, 1968)


Jazz drummer Das Neves with a kitschy, faux-psychedelic toss-off album, aimed at cashing in on the "jovem guarda" teenpop scene, but perhaps a few years behind the times. These goofy instrumental tracks are the type of things that loungecore buffs go wild over -- Brazilianized versions of Burt Bacharach songs, neutered renditions of early tropicalia hits (such as Gilberto Gil's "Domingo No Parque"), and the like. Composer Geraldo Vespar seems to have been the driving force behind this schmaltzfest, although it must be said that drummer Neves and his crew did a pretty good job with the material. The second half of the album picks up a lot of steam, particularly on tracks such as "Tem Do" and "Joao Belo," which are actually rather vigorous and fun.
Wilson Das Neves "Som Quente E O Das Neves" (Polydor, 1969)

Wilson Das Neves "Sambi-Tropi: Ate Ai Morreu Neves" (Philips-Elenco, 1970)





<! 1 Se vocź pensa (Erasmo Carlos - Roberto Carlos) 2 Sambaloo (Salvador) 3 Irene (Caetano Veloso) 4 California soul (V. Simpson - N. Ashford) 5 Wilsamba (Roberto Menescal) 6 Jornada (Roberto Menescal) 7 Zazueira (Jorge Ben) 8 Tio Macrô (Salvador) 9 The love is (Tibério Gaspar - Erlon Chaves) 10 Fly me to the moon (B. Howard) 11 Bólido 74 (Jočo Carlos Pegorero) 12 Soulful strut (S. Sanders - E. Record) >

Wilson Das Neves "O Som Quente E O Das Neves" (Copacabana, 1976)



<! 1 Estou chegando agora (Wilson das Neves) 2 Berimbau (Baden Powell - Vinicius de Moraes) 3 Mambito de arake (Geraldo Barbosa - Célio C.M.) 4 Santeiro (Paulo Bruce - Sergio Carvalho) 5 Unidunitź (Orlandivo - Jočo Donato) 6 Pick up the pieces (Ball - Suart) 7 Rock around the clock (De Knight - Freedman) • The saints rock'n roll (Haley-Gabler) 8 Os caras querem (Orlandivo - Jočo Donato) 9 Que é isso menina (Wilson das Neves) 10 O canto do pagé (C. Paula Barros - Villa-Lobos) 11 Tema pra Elizeth (Wilson das Neves) 12 Sá Nega (Geraldo Barbosa - Ineres - Wilson das Neves) >

Wilson Das Neves "O Som Sagrado De Wilson Das Neves" (CID, 1996)


Wilson Das Neves "As Fugas Do Sol" (UMES, 2007)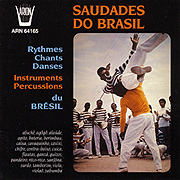 Amaro Da Souza & Haraldo De Oliveira "Saudades Do Brasil" (Arion, 1975)



A fabulous album! Half scholarly, ethno-musicological exposition, half butt-shakin' block party, this is a fab collection of instrumental tracks that run the gamut Brazilian dance styles, from thumping bass-heavy batucadas and slinky capoeira to sambas and proto-sambas like the maxixe, baiao and choro. Although true to the rhythms, Da Sousa's ensemble leans heavily towards the melody, which is just fine by me... The CD reissue features a half dozen or so extra tracks, separate from the original recordings with Da Souza's ensemble... they're a little less engaging, but certainly don't detract from the charm and vitality of the album. I love this disc!

Daude "Daude" (Tinder/Natasha, 1995)


Poppy soul music from Bahia, featuring smoothed-out, funky-drummered versions of songs by Carlinhos Brown, Caetano Veloso, and Jorge Ben. Gilberto Gil's guitarist, Celso Fonseca, plays throughout and provides several songs. When I first heard this album, I thought it was really cool hearing a Soul II Soul style mix em portuguese... But revisiting this album, I find it hasn't held up that well; now it sounds jittery and a little forced. One of the more compelling moments is her version of "Objeto Nao Identificao," a tropicalia era favorite of Gal Costa's.
Daude "Daude 2" (Natasha, 2000)


Daude "Neguinha Te Amo" (RealWorld, 2003)



A disappointing follow-up to her slinky debut... Daude's funky side is engulfed by a light, frothy, slightly dancey pop sensibility. It's a pretty lightweight mix of hiphop-tronica and Brazilian-style pop, easy on the ears and full of positive lyrics about being black, female and Brazilian... But there's a treble-heavy perkiness that can be a bit grating. That being said, by the end of the album I was mostly on board with what she was doing. It's worth checking out, though you might also find it a bit too prefab.
Daude "Simbora" (Natasha, 1999)





<! ?? >

Ze Da Velha & Silverio Pontes "So Gafieira" (Kuarup/Biscoito Fino, 1996)

Ze Da Velha & Silverio Pontes "Tudo Danco: Choros, Maxixes E Sambas" (Rob Digital, 2001)


Ze Da Velha & Silverio Pontes "Ele E Eu" (Kuarup, 2001)


Ze Da Velha & Diplomata "Coracao Machucado" (Atracao, 2002)

Ze Da Velha & Silverio Pontes "Si Pixinguinha" (Biscoito Fino, 2006)



Marcos Davi "Criacao" (Self-Released, 2004)
A self-released album of mellow, pretty-sounding acoustic guitar music. The set is less "Brazilian" than "new acoustic," in keeping with other solo guitar work across the globe by fancy pickers such as William Ackerman, et al, with maybe just a hint of hometown heros like Baden Powell or Laurindo Almeida. It's a little too much on the soft side for me, but quite nice if you like the style. (Available through the artist's website at: www.marcosdavi.com.br.)

Luiz Carlos Da Vila "Luiz Carlos Da Vila" (RCA, 1983)



Fine, low-key modern sambas from Luiz Carlos Da Vila, a well-respected songwriter for Cacique de Ramos, one of Rio's most prestigious samba schools, which also nurtured the talents of artists such as Jorge Aragao, Zeca Pagodinho, Almir Guineto and the band, Fundo Do Quintal. Working behind the scenes, Da Vila wrote many hits for the escola during the 1970s and '80s; this is his first solo album and while it is not as dynamic or technically polished as the albums of more popular pagode samba stars, there is a nice, relaxed, down home charm to it. Da Vila is a plainspoken, almost hesistant singer, but his lack of bravado is one of his most appealing traits -- instead, what you hear in his voice is his enthusiasm and emotional connection to the songs. All the musicians backing him up are samba school pros, along with MPB veterans such as guitarist Rosinha De Valenca, drummer Wilson Das Neves and samba star Martinho Da Vila, who produced the album, and sings one one song. Nice stuff...!! (The CD reissue includes two bonus tracks, taken from a single released around the same time...)
Luiz Carlos Da Vila "Um Cantar De Vontade" (Musart)

Luiz Carlos Da Vila & Jorge Claudio "Matrizes"

Luiz Carlos Da Vila "A Luz Do Vencedor: Luiz Carlos Da Vila Canta Candeia" (CPC-Umes, 1999)

Luiz Carlos Da Vila "Benza Deus" (Carioca Discos, 2004)


Another excellent old-school samba set of the 1970s/'80s pagode style, reminiscent of classic work by Brazilian stars such as Clara Nunes, Martinho da Vila and Joao Nogueira, packed with sweet melodies, compelling rhythms, warm lead vocals and a cheerful backing chorus. Apparently this was recorded and released after Da Vila underwent cancer treatment and is partly an affirmation of life, following his ordeal. All songs were written or co-written by Luiz Carlos Da Vila, along with other talented artists such as Wilson Das Neves, Moacyr Luz and others. If you like old-fashioned roots samba (or "samba raiz") you'll love this album. Highly recommended


<! Born in the working class suburb of Ramos, Luís Carlos daVila became known as "the poet of the vilas" (villages) for his singing about the life of the suburban people of Vila Isabel, Vila Kennedy, and Vila da Penha. He took eight accordion classes and learned the violčo by himself. In the '70s, he frequented the bloco Cacique de Ramos, playing and singing his compositions. His first solo album came in 1983, Luís Carlos da Vila (RCA). He is one of the composers of the samba-enredo "Kizomba: a Festa da Raća" (with Jonas/Rodolfo), with which the samba school Unidos de Vila Isabel won its first Carnival contest in 1988. The group Nosso Samba recorded his "Graća do Mundo." Among the other artists who recorded his songs, there are Beth Carvalho, (her interpretation for "Além da Razčo" was awarded with the Sharp prize of 1988 as best samba), Simone, Fundo de Quintal, and Zeca Pagodinho. In 1997, he released Uma Festa No Samba. He had success with "O Sonho Nčo Acabou" (a tribute to Candeia), "Nas Veias do Brasil," "Heranća," and "Além da Razčo." In 1998, he released A Luz do Vencedor (CPC-Umes), dedicated to Candeia's works. Along with his many solo albums, he also participated in the anthology Esquina Carioca (1999) with Beth Carvalho, Walter Alfaiate, Jočo Nogueira, Ivone Lara, and Moacyr Luz. ~ Alvaro Neder, All Music Guide >


Martinho Da Vila - see artist discography




Mano Decio Da Viola "Capitulo Maior Da Historia Do Samba" (Tapecar, 1974) (LP)


A founding member of the Imperio Serrano samba school, Mano Decio Da Viola (nee Decio Antonio Carlos) was a popular Bahian-born samba musician, known as the composer of several hundred sambas songs. This is one of three LPs he recorded in his long career...


<! 11/12: reissued on Discobertas > <! 1909-1984 >

Mano Decio Da Viola "O Legendario" (Polydor, 1976) (LP)

Mano Decio Da Viola "O Imperador" (CBS, 1978) (LP)

Paulinho Da Viola - see artist discography
---
Brazilian Music - More Letter "D"
---



Main Brazil Index
World Music Index

---