<! MP3 9/12/08 > <! update 9/12/08 > <! pix 11/01/09 - some loose threads > <! icons 01/22/11 >

---
Born Severino Dias de Oliveira, the accordionist known as Sivuca was a great popularizer of Brazilian forro and baiao music... In the 1950s he built his reputation as a recording artist and radio performer, closing the decade with an extended European tour, where he found great acclaim. Sivuca later moved to the United States, where he continued to work as an arranger and studio musician, although it was in Europe where he was most famous.
---
Discography
---
Sivuca "Eis, Sivuca!" (Copacabana, 1956)
Solo accordion performances with a mix of Brazilian oldies, pop standards ("Lover," by Rodgers & Hart) and a showboating performance of J.S. Bach's famed "Toccata In D Minor," as well as "The Flight Of The Bumblebee," both of which I bet were real showstoppers in his early repertoire... I have to confess that I'm not enough of an accordion freak to really be all that into this one, although I imagine more devoted fans of the instrument (and of Sivuca) will get a kick out of it. I did like his version of Ary Barroso's "Morena Boca De Ouro," which closes the album, but that was the only one that really drew me in.


<! 01 - Tocatta Em Ré Menor (Johann Sebastian Bach) 02 - Vôo do Besouro (R. Korsakow) 03 - Primeiro Amor (Patápio Silva) 04 - Tenebroso (Ernesto Nazareth) 05 - Quando Me Lembro (Luperce Miranda) 06 - Lover (Rodgers / Hart) 07 - Corrupio (Guerra Peixe) 08 - Música Em Carrossel (Tradicional) 09 - Coraćčo (Felinho) 10 - Morena Boca de Ouro (Ary Barroso) >

Sivuca "Motivo Para Dancar" (Copacabana, 1956)



<! pic >

Sivuca "Motivo Para Dancar, v.2" (Copacabana, 1957)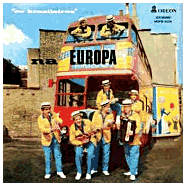 Sivuca & Os Brasileiros "Os Brasileiros Na Europa" (Odeon, 1958)
A joyful, upbeat album by an all-star ensemble that was equally adept in samba, forro and choro. Trio Irakitan provide earnest vocals in front of a band that featured Abel Ferreira - clarinet, Sivuca on accordion, and solid samba rhythms by Pernambuco do Pandeiro and drummer Dimas, along with some percussion by the Irakitan crew. It's all really fun stuff; in some ways I prefer the instrumental numbers where Ferreira and Sivuca deftly meld choro and forro. This album documents one of the numerous tours of Brazilian artists in Europe, and inspired the group to record at least one other album. Be great to see this in digital reissue some day!




Sivuca "Ve Se Gostas: Gravado Na Europa" (Odeon, 1959)



<! Recorded in Europe 01. Vź Se Gostas (Waldir Azevedo / Otaviano Pitanga) 02. Faceira (Ary Barroso) 03. André de Sapato Novo (André Victor Correia) 04. Sai o Trem (Leda Moutinho / Sivuca) 05. Meu Bem Me Deixou (Eddy Édson / Waldir Cardoso) 06. O Lapes do Lopes (Barredo / Simões) 07. Fita Amarela (Noel Rosa) 08. Guriatč de Coqueiro (Ratinho) 09. Apanhei-te Cavaquinho (Ernesto Nazareth) 10. Cante Novamente (Paulo Gilvan / Édson Franća) 11. Praias de Nazaré (Humberto Teixeira) 12. Cidade Maravilhosa (André Filho) >

Sivuca "Rendez-Vous A Rio" (Barclay, 1965)



<! Sivuca: Acordeon, Piano; Claude Civelli: Flauta; Bill Tamper: Trombone; Ney de Castro: Bateria; Dimas Sedicas e Silvio Silveira: Percussčo; Nestor Campos: Violčo; Marcel Hrasko: Clarinete; Alphonse Masselier: Contrabaixo; Arranjos: Sivuca 01. Samba de Uma Nota Só (Tom Jobim / Newton Mendonća) 02. Fala Amor (Djalma Ferreira / Luiz Antônio) 03. Nčo Me Diga Adeus (Paquito / Luis Soberano / Jočo Correia da Silva) 04. Deixe o Breque Pra Mim (Altamiro Carrilho) 05. Maria Ninguém (Carlos Lyra) 06. Recado (Djalma Ferreira / Luis Antônio) 07. Sempre (K-Ximbinho) 08. Tico-tico no Fubá (Zequinha de Abreu) 09. Desafinado (Tom Jobim / Newton Mendonća) 10. Rapaz de Bem (Johnny Alf) 11. Fita Amarela (Noel Rosa) 12. Apanhei-te Cavaquinho (Ernesto Nazareth) 13. Hô-bá-lá-lá (Jočo Gilberto) 14. Rosinha (Sivuca) 15. Flor do Abacate (Álvaro Sandim "Santini") >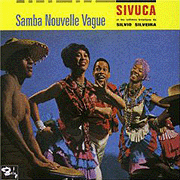 Sivuca "Samba Nouvelle Vague" (Barclay/Sunnyside, 1965/2006)



A fine collection of material from Sivuca's albums on the French label, Barclay. This has all of 1965's Rendez-Vous A Rio, plus bonus five tracks... Includes Sivuca's interpretations of some of the biggest hits of the bossa nova era, standards by Johnny Alf, Joao Gilberto, Tom Jobim, Carlos Lyra, et al., and an oldie or two from the likes of Noel Rosa, as well as Sivuca's own "Rosinha."

Luiz Henrique "Barra Limpa" (Verve, 1967)


A sweet, sometimes goofy, album produced up the States well after the first flush of Braz-Jazz crossovers. Even though this was recorded under the auspices of Verve, it's a pretty straightforward set of bossa flavored acoustic troubadouring, with most songs sung in English with the same guilelessly awkward accent that Caetano Veloso sometimes employs... Most of the songs are written by Henrique, although he also does a quirky, thoroughly enjoyable, version of Jorge Ben's "Mas Que Nada." The sidemen are mostly North American, although accordionist Sivuca also plays thoughout. Apparently, this has recently been reissued on CD... it's not earthshakingly great, but it is very pleasant and sweet, and might be fun for you to check out.
Sivuca "Sivuca" (Inter-Disc, 1968)

Sivuca "Golden Bossa Nova Guitar" (RCA, 1968)

Sivuca "Sivuca" (Grammonfon AB Electra, 1969)

Sivuca "Putte Wickman & Sivuca" (Four Leaf, 1969)

Sivuca & Trio Sonora Musical "Joy" (RCA, 1970)
With Oscar Brown and Jean Pace.
Airto Moreira "Natural Feelings" (Buddah, 1970)

Airto Moreira "Seeds On The Ground" (Buddah, 1971)

Sivuca "Sivuca" (Copacabana/Vanguard, 1972)

Sivuca "Live At The Village Gate" (Copacabana/Vanguard, 1973)


Sivuca & Rosinha De Valenca "Gravado Ao Vivo" (RCA, 1977)


(Produced by Sergio Cabral)
A famed, fabled live performance featuring Sivuca alongside jazz guitarist Rosinha De Valenca, a veteran of the Sergio Mendes stable. Delves pretty deeply into regional styles such as forro, and some similarly challenging material.
Sivuca "Sivuca" (Copacabana, 1979)
(Produced by Talmo Scaranari; arrangements by Sivuca)
A sleek set with up-to-the-moment '70s stylings, overtones of disco and jazz-fusion as well as a Brazilian-style "samba-rock" vibe. It's a lot glossier and more pop-oriented than much of Sivuca's other work... Mostly pretty nice, though you might find a tune or two a little irritating. The second half of the album features several songs with vocals by Sivuca's wife, Gloria Gadelha, and these tracks tend to have a more folkloric, forro sound. A glitzy, poppy outing, and quite strong in the context of '70s MPB -- definitely worth checking out!


<! A great session with the atmosphere of being recorded like a friend's rehearsal. Sivuca has some special guests of note, such as Hermeto Pascoal on tracks Nosso Encontro and Sambura de Peixe Miudo, Glorinha Gadelha, which is Sivuca's wife also takes part at Joao e Maria, Doce Doce and Sambura de Peixe Miudo. Remaining musicians are not credit, but the back cover brings session pictures with Katia de Franca, Ivan Machado, Claudio Jorge, Ze Carlos and Teo Lima on Drums. 01 – Mče África (Sivuca / Paulo César Pinheiro) 02 – A História Se Repete (Sivuca / Paulinho Tapajós) 03 – Nosso Encontro (Sivuca / Hermeto Pascoal) with Hermeto Pascoal 04 – Fogo Pagô (Sivuca / Humberto Teixeira) 05 – Doce Doce (Sivuca / Glória Gadelha) with Glória Gadelha 06 – Le Joies Du Matin (Sivuca / Glória Gadelha) 07 – O Dia Em Que El Rei Voltou ą Terra de Santa Cruz (Sivuca / Paulinho Tapajós) 08 – Jočo e Maria (Sivuca / Chico Buarque) with Glória Gadelha 09 – Barra Vai Quebrando (Sivuca / Glória Gadelha) 10 – Céu e Mar (Johnny Alf) 11 – Samburá de Peixe Miúdo (Sivuca / Glória Gadelha) with Hermeto Pascoal / Glória Gadelha >

Sivuca "Cabelo De Milho" (Copacabana, 1980)

Sivuca "Forro E Frevo" (Copacabana, 1980)

Sivuca "Vou Vida Afora" (Copacabana, 1982)

Sivuca "Forro E Frevo, v.2" (Copacabana, 1982)

Sivuca "Forro E Frevo, v.3" (Copacabana, 1983)

Sivuca "Onca Caetana" (Copacabana, 1983)

Sivuca "Forro E Frevo, v.4" (Copacabana, 1984)

Sivuca "Sivuca & Chicuinho Do Accordeon" (Barclay, 1984)

Sivuca "Som Brasil" (Sonet, 1985)
An almost unreasonably cheesy instrumental album, recorded with Toots Thielmans, on a foray to Rio. Forro accordeon given a lite jazz fusion whirl... sort of like a "version" remix of some "Ebony and Ivory"-era Stevie Wonder tune. Negligible.
Sivuca & Toots Thielemans "Rendez-Vous In Rio" (Sonet, 1986)

Sivuca & Toots Thielemans "Chiko's Bar" (RGE, 1986)


Sivuca & Rildo Hora "Sanfona E Realejo" (Warner/East-West, 1987)


Energetic all-instrumental collaborations between avant accordionist Sivuca and samba-jazz producer/harmonica master Rildo Hora. The music is pretty cheesy -- the kind of jazz I really can't stand, but on the fast passages, Hora really kicks ass on the harmonica. I mean, seriously, he is technically quite amazing. It's kinda icky music, but your jaw will drop when you hear what this guy can do on the harp.




Sivuca & Guitars Unlimited "Let's Vamos" (RGE, 1987)





Sivuca "Um Pe No Asfalto, Um Pe Na Buraqueira" (Copacabana, 1990)
A fine album with modern production, but generally classy performances. Sivuca is in fine form, of course, playing dazzling leads, and while a few tunes are a bit too glossy (the frevo-flavored "Casa Amarela," for example), others are fun. Sivuca's wife, vocalist Gloria Gadelha, sings on a couple of songs, and has composer's credits on about half the album. Harmonicat Rildo Hora also guests on one track, "Arco-Iris," which is even more muzak-y than the others. Again, not really my cup of tea, but plenty of strong musicianship throughout.


<! 01 - Bom e Bonito (Oswaldinho do Acordeom) 02 - Um Pé no Asfalto Outro na Buraqueira (Dominguinhos) 03 - Casa Amarela (Sivuca) 04 - Forró da Gente (Cecéu) with Glória Gadelha 05 - Entortando o Forró (Jorjčo) 06 - Quem Disse Que o Frevo Acabou (Moraes Moreira / Glória Gadelha) with Glória Gadelha 07 - Sanhauá (Sivuca / Glória Gadelha) 08 - Arco-íris (Sivuca / Glória Gadelha) with Rildo Hora 09 - Brejo das Freiras (Sivuca / Glória Gadelha) 10 - Guararema (Sivuca / Glória Gadelha) >

Sivuca "Pau Doido" (Kuarup, 1993)


Sivuca "Enfim Solo" (Kuarup, 1997)


Sivuca "O Desmatelo Continua" (Somzoom, 2003)

Sivuca "...E Quinteto Uirapuru" (Kuarup, 2004)



A live album...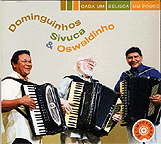 Sivuca/Dominguinhos/Oswaldinho "Cada Um Belisca Um Pouco" (Biscoito Fino, 2004)


Wow! Talk about your accordion music superfests! Three veteran forro stars team up for a giddy, propulsive set of classic forro and baiao instrumentals, all performed at a manic, lightning pace, with each artist adding his own layer to the dense, fast-paced mix. Rhythm piles on rhythm, creating sort of a hyper-syncopation that makes the music simply irresistible. I will readily confess that I often find forro music and (shhhh! don't tell anyone!) accordions themselves a bit monotonous at times, but this is an album that transcends the limitations of the style... It's a really fun, kinda wild little set... Well worth checking out!
Sivuca/Various Artists "Terra Esperanca" (Kuarup, 2006)



A live album...
Sivuca "Sinfonico" (2007)



A live album...
---
Best-Ofs
---
Sivuca "Crazy Groove" (Milan, 1993)

Sivuca "Norte Forte" (Tropical, 1994)


A best-of set that collects material recorded for Copacabana between 1975-84...
Sivuca & Putte Wickman "Swedish Groove" (P-Vine, 1997)


What would appear to be a boot-ish reissue of his 1969 outing with Swedish jazzman Putte Wickman... I haven't laid eyes on this disc myself, so I can't say for sure what material is included on it...

Sivuca "20 Sucessos" (EMI, 1998)


A retrospective covering several albums from 1974-1983. His disco-tinged lite pop-fusion spin on northeastern forro music is mildly interesting... but it's also just plain mild. More than anything else, this is one for the elevator music crowd.
---
Links
---
All Brazilian Music, as usual, has an excellent biographical sketch and discography... (In English and Portuguese.)
---



---
<! creation date: 02/05/07> <! Natural de Itabaiana, interior da Paraíba, Severino Dias de Oliveira comećou a tocar sanfona aos 9 anos de idade, em feiras, festas, batizados etc., e tornou-se um dos estilistas do instrumento. Aos 15 anos foi para Recife, onde comećou a carreira profissional na Rádio Clube de Pernambuco, e adotou o nome artístico. Aos 18 tornou-se aluno do maestro Guerra-Peixe, com quem aprendeu arranjo e composićčo. Gravou o primeiro LP em 1950, em parceria com Humberto Teixeira, que gerou o primeiro sucesso, "Adeus, Maria Fulô", regravada em versčo psicodélica pelos Mutantes em seu disco de 1968. Mudou-se para o Rio de Janeiro em 1955, sendo contratado pela Rádio e TV Tupi. Gravou mais trźs LPs e fez algum sucesso, até que em 1958 foi pela primeira vez para a Europa com o grupo Os Brasileiros, de que era o acordeonista. Acabou radicando-se em Lisboa, e em seguida em Paris, onde gravou discos e fez diversas apresentaćões. Em 1964 mudou-se para Nova York, e lá viveu por 12 anos. Trabalhou com Miriam Makeba, para quem fez o célebre arranjo do mega sucesso "Pata Pata", e com ela excursionou pela Ásia, África, Europa e Américas, até 1969. Nos Estados Unidos trabalhou com outros artistas brasileiros, como Hermeto Pascoal, Airto Moreira e Gloria Gadelha, com quem se casou e compôs "Feira de Mangaio", considerado um dos clássicos do forró. Outras parceria bem-sucedidas sčo "Jočo e Maria" (com Chico Buarque), "No Tempo dos Quintais" (com Paulo Tapajós), "Energia" (com Glória Gadelha) e "Cabelo de Milho" (com Paulo Tapajós). Na década de 70 tornou-se popular nos países escandinavos, gravando discos ao vivo e fazendo muitos shows, atividade que continua até hoje. Sivuca was born Severino Dias de Oliveira. He comes from Itabaiana, countryside of Paraíba (Northeast Brazil), where he started playing accordion in fairs and parties at age 9. As he turned 15, Sivuca moved to Recife (capital of Pernambuco, Northeast Brazil), where he launched his professional music career on the radio and adopted the artistic name. At 18, he became maestro Guerra Peixe's pupil, and with him he studied arrangement and composition. His first album was made in 1950, with partner Humberto Teixeira, and generated his first hit, "Adeus Maria Fulô", recorded in psychedelic mode by the Mutantes in their 1968 album. Sivuca moved to Rio de Janeiro in 1955, being hired by a radio and television network. He made other three slightly successful records before heading to Europe for the first time, in 1958, with the group Os Brasileiros, with whom he played the accordion. He ended up staying in Lisbon and later in Paris, where he made records and shows. In 1964, Sivuca moved to New York, remaining for 12 years. There, he worked with Miriam Mokeba, writing the renowned arrangement for her mega hit, "Pata Pata" and touring Asia, Africa and the Americas with her up till 1969. He also worked with other Brazilian musicians in the US, like Hermeto Pascoal, Airto Moreira and Gloria Gadelha, who became his wife and co-author of "Feira de Mangaio", regarded as one of forró's classics. Other successful associations were made with Chico Buarque ("Jočo e Maria") and Paulo Tapajós ("No Tempo dos Quintais" and "Cabelo de Milho"). In the 70s he became popular in Scandinavian countries, making live records and playing a lot of shows, which he still does to this day.>