<! MP3 09/20/08, 11/17/09, 04/07/12 > <! pix 11/17/09 > <! ALLBM 00/00/00 > <! icons 12/20/10 > <! UPDATES: 04/07/12 - some adds, reviewed Joelma albums - maybe look up new Jota Quest? expand Odair Jose for sure 05/08/12 - researched Odair Jose >
---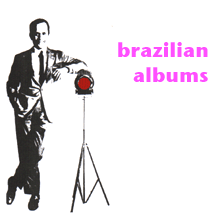 <! Jorginho Pedra 90 "Padrao Nacional" (Discobertas, 1974/2013) single? > <! > <! Juca Mestre - really Severino Filho? > <! JOSDAN > <! Jesse "Jesse" (RGE, 1980) > <! Jane & Herondy "Jane & Herondy" (RCA Victor, 1977) http://pt.wikipedia.org/wiki/Jane_e_Herondy > <! The Jet Blacks "The Jet Blacks" (Chantacler, 1966) JG-era rock. "psychedelic"? or a Shadows wannabee namd? > <! The Jones "The Jones" (Musicolor, 1969) - psych? > <! The Jungles "The Jungles" (RCS, 1969) >

This is a listing of miscellaneous albums and artists under the letter "J".
If an artist or album you like is not reviewed here, please feel free
to contact me and make a suggestion.






---
A | B | C | D | E | F | G | H | I | J | K | L | M | N | O | P | Q | R | S | T | U | V | W | X | Y | Z | Compilations
Brazilian Styles | 30 Recommended Records | Portuguese-language pop | Brazilian Links | Slipcue.Com
---

Jacildo E Seus Rapazes "Lenha-Braca E Bronca" (1964) <! or '66? >
Cooler-than-usual Beatles-era jovem guarda rock, with a distinctly rough, garage-y, surf/frat-rock feel; if other JG bands were emulating Bobby Sherman and Annette Funicello, these guys sound more like they were into the Kingsmen or the Champs. Their songs are clunky and fun; it would be nice to hear these guys collected on a set of more obscure JG bands... they seem like a very sincere, authentic expression of Brazilian fascination with American-style rock -- it's not perfect-sounding, and that's what makes it nice.


<! Grupo do estado do Mato Grosso, formado por Jacildo (guitarra), Bolinha (saxofone), Preto (bateria), Everaldo (teclado), Hélio Japonźs (contra-baixo), Taury (trompete), Eugźnio (percussčo), Carlos Bráulio e Jacy Amorim (crooners). Depois, com a banda já residindo em Cuiabá, foram contratados Neurozito (guitarra base), Formiga (bateria) e Juarez Silva, que substituiu Carlos Bráulio. Eles causaram impacto pelos uniformes coloridos e vistosos, com movimentos coreografados, variando conforme o ritmo da música, em blues, canćões internacionais e especialmente músicas dos Beatles e da Jovem Guarda. Gravou apenas esse LP, em 1964. >

Jacy "Inspiraco" (Copacabana, 1974)



<! COPACABANA COLP 11959///1974 > <! info from eBay > <! Jaime Alem & Nair CČndia http://pt.wikipedia.org/wiki/Jaime_Alem http://www.dicionariompb.com.br/jaime-alem Jaime Alem & Nair Candia "Jaime & Nair" (CID, 1974) B00005MIJI B0046OA826 Nair Candia "A Musica De Dorival Caymmi" (CID, 1978) year? B000S992J8 B00068O8A4 Jaime Alem & Nair Candia "Amanheceremos" (Independente, 1979) (LP) B0040Z1I98 Farrapos label? Nair Candia "Cancao De Um Outro Dia" (CID, 1998) year? B00000G7JF Jaime Alem & Nair Candia "Um Banquinho, Um Violao" (Seven Music, 2001) B00006LVW2 Jaime Alem "Dez Cordas Do Brasil" (Repique, 2009) B003JSUC2G B0041S69SY - instrumentals - sounds kind of like Hawaiian slack key, crossed with xxxxxxxxxxxxxxx >

Nelson Jacobina & Jorge Mautner "Arvore Da Vida" (WEA, 1988) (LP)





<! "...Rubinho Jacobina (irmčo de Nelson Jacobina, parceiro de Jorge Mautner..." >


Jair Do Cavaquinho - see "Do Cavaquinho"





Jamelao -- see artist discography





Jammil E Uma Noites -- see artist discography





Joanna - see artist discography




Joao Bosco & Vinicius "Acustico No Bar" (Atracao, 2003)



Cutesy, New Kids-ish, Brazilian boy-band pop, sung by the duo of "Joao Bosco" (Joao Bosco Homem de Carvalho Filho) and "Vinicius" (Vinicius Fernando Karlinke) who are not to be confused with the MPB greats Joao Bosco and Vinicius De Moraes. Not by a longshot.
Joao Bosco & Vinicius "Joao Bosco & Vinicius" (Atracao, 2004)


Antonio Carlos Jobim -- See artist discography
Jocafi - see artist discography
Joelho De Porco "Sao Paulo 1554 - Hoje" (Crazy, 1974)






<! brazilian controversial hard rock , October 17, 2006 By Flavio Ferretti "flavio ferretti" (brazil) - See all my reviews maybe the most controversial brazilian rock band from the seventies. Although they were very far from Mutantes, they were as creative as the Mutantes were. They passed through many different line-ups, and never hit the top, they were too wierd for that, but still they have a special place in brazilian's rock history. This album is the first, was released in 1974, and is a collection of urban chronicles with lots of humor, gathering hard rock like Led zeppelin and black sabbath: with burlesque elements of regional music. Hey gordao (hey fatty): a warning ballad for fat people, reminding them to forget the spaghetti and start thinking light boeing 723897: a hard rock talking about the arrogance of great cities habitants on country people. it ends wtih a smashing guitar solo in 6/8 by Walter Baillot (R.I.P) mardito fiapo de manga (damned slick of manga fruit): the song is awful but is typical of them, a song with double meaning about oral sex Cruzei meus bracos, fui um palhaco (I fold my arms, was a fool): a ballad, zeppelin style non sense lyrics, maybe a love song. debaixo da palmeiras (underneath the palm trees): another awful one, very hard to describe what is it sound and what is it about. Mexico lindo (pretty mexico): a mexican style song hidding with double meaning lyrics Sao paulo by day: now, back to hard rock, a chronicle about Sao paulo city where they come from. great track aeroporto de congonhas (congonhas airport): another funny chronicle on sao paulo's lifestyle, very hard rock as its best A lampada de eddison (eddison's lamp): a nice ballad kinda reflexive about time, but not very serious Meus 26 anos (my 26 years old): the best song, a real rock anthem, about young man's blues, parents domination, choosing a carrer and getting married after getting your PHD. If you like 70's hard rock, you must have it.>

Joelho De Porco "Joelho De Porco" (Som Livre, 1978)






<! 1. O Rape 2. Sao Paulo by Day 3. Paulette, Mon Amour 4. Rio de Janeiro City 5. Faijao Com Arroz 6. Aeroporto de Congonhas 7. Golden Acapulco 8. Boeing 723897 9. Mandrake >

Joelho De Porco "Saqueando A Cidade" (Continental, 1983)






<! with Ze Rodrix >

Joelho De Porco "18 Anos Sem Sucesso" (Eldorado, 1988)





<! with Ze Rodrix > <! http://cliquemusic.uol.com.br/artistas/joelho-de-porco.asp >

Joelma "Joelma" (Continental)


A pop vocalist from the jovem guarda era, Joelma Giro fit into the same mould as, perhaps, Connie Francis or Sylvie Vartan -- a reasonably perky, youthful singer who worked at the edge of outright rock'n'roll, but tapped into the teeniebopper vibe. One interesting feature is how much Italian pop she covered... One assumes she was of Italo-Brazilian heritage? Anyway, this isn't the best music of the era, but it's hardly the worst. Upbeat, fun, not cutting edge or totally rockin', but certainly worth a spin.


<! Jovem guarda ? Iniciou a carreira ainda jovem, interpretando músicas que faziam sucesso na voz de Śngela Maria e Agnaldo Rayol, no programa de rádio Clube do Guri. Foi descoberta aos 8 anos por Emilinha Borba, que a levou a participar do programa Papel Carbono, de Renato Murce, na Rádio Nacional (Rio de Janeiro). O primeiro disco (compacto simples) saiu em 1963, pela Chantecler: de um lado, o bolero "Incompreendida"; de outro, o samba canćčo "Só ele". Em 1966, o primeiro LP: "Perdidamente te amarei", também pela Chantecler. Entre seus sucessos encontram-se "Nčo digas nada", de Rossini Pinto e Fernando Costa, "Alguém me disse", de Jair Amorim e Evaldo Gouveia, e ainda "Aqueles tempos", "Pombinha Branca" (versčo de Nelson Motta), etc. De grande sucesso popular, fez inúmeras apresentaćões no exterior e gravou discos em espanhol.>

Joelma "Joelma Muito Mais" (Continental, 1968)


A lot of cover tunes -- including more Italian stuff -- and a lingering rock'n'roll sensibility on a tune or two. "O Mar Nao Falara" is a bouncy, fun tune, one of the standouts of her catalog, though the rest of the record is pretty syrupy.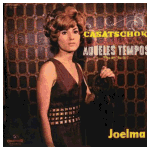 Joelma "Casatschok: Aqueles Tempos" (Continental, 1969)


The rock vibe is almost totally absent, and with more straightforward '60s pop arrangements at the fore, her limitations as a singer become more apparent... Perhaps it's just the tenor of her voice, the low register and limited dynamics, that turn me off, but I wouldn't say this is a record you have to knock yourself out to track down. But if you enjoyed The Lawrence Welk Show ages ago, and would like to hear a Brazilian equivalent, then this might be your record.
Joelma "Vitrola Digital" (Continental, 2007)


Jongo Trio "Jongo Trio" (Gravodisc, 1965)


So far, I haven't been wild about the semi-bossa jazz trio albums I've heard (Tamba Trio, Zimbo Trio, etc.) but I've gotta say, these fellows -- who backed Baden Powell on some of his early recordings, and who worked regularly on the Elis Regina/Jair Rodrigues TV show -- are kind of fun... Their jazz chops seem stronger than many of their contemporary '60s Braz-jazz bands; there are hints of Thelonious Monk and early Miles Davis in here, and several lightly swinging tracks. I wound up not keeping this disc (or giving it to my radio station...) but it was still fairly interesting... worth checking out.
The Jordans "Serie Bis: Jovem Guarda" (EMI, 2000)

The Jordans "25 Sucessos" (2002)

Claudio Jorge "Coisa De Chefe" (Rob Digital, 1993)





<! from the band Batacoto > <! Cláudio Jorge is a renowned composer, arranger, producer, and instrumentalist, mainly associated with samba. As a composer, has has co-written works with Cartola, Jočo Nogueira, Aldir Blanc, Nei Lopes, Hermínio Bello de Carvalho, Ivan Wrigg, Ivor Lancellotti, Délcio Carvalho, Wilson das Neves, Ivan Lins, and Martinho da Vila. His compositions have been recorded by Emílio Santiago, Elymar Santos, Śngela Maria, Elson do Forrogóde, Roberto Ribeiro, Zezé Mota, Jorge Aragčo, Martinho da Vila, Joel Nascimento, Sivuca, Luís Carlos da Vila, Mart'náli Arranco, Alcione, and others. A requested session musician and arranger, he created a distinctive style as a violonista (acoustic guitarist). In this capacity he has worked with Sivuca, Martinho da Vila, Simone, Renato Russo, Ney Matogrosso, Johnny Alf, Leny Andrade, Agepź, Elba Ramalho, Neguinho da Beija Flor, Alcione, Nelson Gonćalves, Leila Pinheiro, Fátima Guedes, Jočo Donato, Leci Brandčo, Negritude Jr., Carlos Lyra, Beth Carvalho, Ivan Lins, Gabriel o Pensador, Miúcha, Katinguelź, Jamelčo, Zé Renato, Elza Soares, Fundo de Quintal, and Malícia; he has also participated in the recordings of the samba school of the first division. He has recorded abroad, participating in albums by Sebastičo Tapajós (Germany), Dionne Warwick (U.S.A.), Sérgio Mendes (U.S.A., Grammy in 1992), Lisa Ono, Carlos Lyra, and Sandii (Japan). As a producer, he has worked with Roberto Ribeiro, Luís Carlos da Vila (Candeia), Nei Lopes (Sincopando o Breque), and Arlindo Cruz e Sombrinha. Jorge was one of the founders and members of the band Batacotô, and is a member of the ala dos compositores (composers' section) of the Unidos de Vila Isabel samba school. He started to work as a violonista around 20 for such composers as Ismael Silva and Cartola. He later performed and recorded with Nelson Cavaquinho and Clementina de Jesus, among others. His first solo album as lead vocalist/composer was released in the '80s. ~ Alvaro Neder, All Music Guide >

Claudio Jorge & Luiz Carlos Da Vila "Matrizes" (2006)


Claudio Jorge "Amigo De Fe" (Zambo/Biscoito Fino, 2007)



Swank, elegant, pop-tinged samba with classically florid MPB arrangements, though with an overall restraint that keeps it classy. Sweet stuff, though not quite saccharine or gooey. Certainly worth a spin, though not quite the rootsy stuff. Like a very mellow Martino da Vila album.

Frank Jorge "Vida De Verdade" (Trama/YBrazil, 2003)



Excellent! A simple, unassuming set of contemporary melodic power-pop, sung em Portugues by songwriter Frank Jorge (formerly of the bands Cascavelettes and Graforreia Xilarmonica...) While not as bright or aggressive as some of the foundational '70s power-pop bands, such as The Romantics, Eric Carmen, et. al., this is still quite nice, even moreso since Frank sings all his lyrics in Portuguese, rather than English. (Yay.) This album is very much in keeping with the modern power-pop scene, recalling artists such as Frank Bango, The Wondermints, Pearlfishers, etc. If you like "foreign" indie rock, this is definitely an album you'll want to pick up! (PS - does anyone know if this is the same Frank Jorge who was active in the 1960s Jovem Guarda scene? Or is it just two different Brazilian rockers with the same name?)


<! other albums: "Carteira Nacional De Apaixonad" B00008O709 "Trilha do filme Houve Uma Vez Dois Verões" >

Robson Jorge & Lincoln Olivetti "Robson Jorge E Lincoln Olivetti" (Som Livre, 1982)





<! Antonio Jose "Um Mito Uma Coruja Branca" (Carmo, 1984) (LP) B0050G3K7O solo jazz piano; Egberto Gismonti - guests on sarongue (08) >


Odair Jose - see artist discography




Jota Junior "Nova Bossa Nova" (Musidisc, 1966)





Jota Quest "J. Quest" (Sony/Chaos, 1996)

Jota Quest "De Volta Ao Planeta" (Sony/Chaos, 1998)



(Produced & Arranged by Jaques Morelenbaum)


Jota Quest "Oxygenio" (Sony/Chaos, 2000)


(Produced by Marcelo Susskind & Ronaldo Viana)
Sometimes jittery, often ornate alt-rock/pop. The uptempo numbers (which may have been singles) such as "Oxygenio" and "Velocidade" are too hyperactive and cluttered for me, but softer songs, like the synthy "Dias Melhores," are kinda nice. I don't really listen to this kind of mainstream pop much -- in English or in Portuguese -- and it sounds a bit too prefab for me, especially with the layered guitars, etc. But for the style, I guess this is okay. Mostly seems pretty cheesy.
Jota Quest "Discotecagem Pop Variada" (Sony, 2002)

Jota Quest "MTV Ao Vivo" (Sony, 1996)

Jota Quest "Ate Onde Vai" (Sony-BMG, 2005)

Jota Quest "Rio De Janeiro: 28/01/2005" (Sony-BMG, 2005)






<! aka "Bootleg Ao Vivo"? > <! other Jota Quest -- DVDs B0007TKHLQ "Clipes" B000NIVJ9K "Ate Onde Vai">

Jovem Braza "Samba Jovem" (RCA Victor/Vik, 1966)
This teen-oriented project included pianist Mario Castro-Neves, along with bassist Novelli as well as guitarists Chico Feitosa and Pedrinho (of the jovem guarda rock band, The Fevers), jamming together on a fusion of bossa nova and teenybopper rock... Haven't heard it, but I sure am curious!


<! Acho que esse é o Único LP lanćado por este obscuro conjunto brasileiro que fazia uma fusčo do som da jovem guarda com o samba/bossa nova. É uma espécie de embričo do que iria culminar com o samba-rock dos anos 70. Os músicos que compõem o Conjunto Jovem Braza sčo: Mário Castro Neves e Chico Feitosa (guitarras), Novelli (baixo), Miguel (sax) e Pedrinho dos The Fevers(também na guitarra) e Normando (bateria). Merece ressaltar duas composićões presentes neste álbum, da dupla Mário Castro Neves e Chico Feitosa, a cheio de balanćo "Em Sua Homenagem" e "Jovem Braza" que faz a apresentaćčo do conjunto e suas influźncias. >

Os Jovens "Os Jovens" (CBS, 1967)


(Produced by Jairo Pires)
These guys get name-checked in relation to Brazil's tiny garage-rock scene of the late 1960s, and are included in fine collections such as the "Hearts Of Stone" compilation. Although this album is tamer and closer to the mainstream of the "ie-ie-ie" pop, than their more raucous singles, it still shows a hipness and toughness that a lot of their JG contemporaries didn't quite have. Includes covers of Dave Clark Five and P.F. Sloan songs, as well as homegrown Brazilian rock by the likes of Renato Barros and Luiz Ayrao... Worth a spin!
Joyce - see artist discography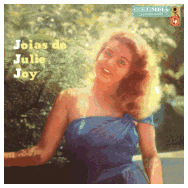 Julie Joy "Joias De Julie Joy" (Columbia, 1958)
Romantic vocals from the "radio singer" era... Julie Joy was a nice, expressive singer and the swooping big-bandy orchestral arrangements are actually quite fun, though completely over the top. A heavy non-Brazilian Latin dance influence on a lot of the tracks. Joy is comparable to many divas of the era -- Elizete Cardoso, Hebe Camargo, Dolores Duran -- but in many ways I find her more accessible and more enjoyable. Wonder why she wasn't more successful... But this is a very fun album.




Junior "Felicitacoes Ao Campeao" (RCA, 1982)
A pop-samba album recorded by athlete Leovegildo Lins da Gama Jr., a star player of the Flamengo soccer team... He also competed in the 1976 Olympics as well as two World Cup tournaments, in 1982 and 1986. This album includes songs written by well-known sambistas such as Jorge Aragao, Martinho da Vila, Noca Da Portela, Sombrinha and others, including a number of more obscure samba composers. I haven't heard this one, but I imagine it's relatively rootsy.


<! 01 – Coisas da vida (Noca da Portela) 02 – Tenha dó (Memeco – Betinho – Nando) 03 – Ser Mangueira (É ser feliz) (Nonô – Memeco) 04 – Vocź zaranzou (Alceu do Cavaquinho) 05 – Apesar de tudo (Sombrinha – Dedé da Portela) 06 – No terreiro (Martinho da Vila – Luiz Carlos da Vila) 07 – Chamego (Jorge Aragčo – Ruy Quaresma) 08 – Vai amanhecer (Décio Carvalho) 09 – Lavadeira (Dedé da Portela – Dida) 10 – Pior que é (G. Martins – Tičo do Cavaco) 11 – Equilíbrio (Dedé Paraízo) 12 – Felicitaćões ao campečo (Rode do Jacarezinho) Direćčo – Élcio do Carmo Coordenaćčo artística – Lúcio Varela Produtor – Alceu Maia Técnicos de gravaćčo e mixagem – Mário Jorge Bruno, Luiz Carlos T. Reis, Flávio Sena e Augusto Paulo Silva Filho Arranjos – Alceu Maia, Rildo Hora, Ruy Quaresma >

Jupiter Apple "Plastic Soda" (Trama, 2000)


Jupiter Apple "Hisscivilization" (Nolandman, 2002)


Hip Brazilian indie-rock, with an icy cool, ironic attitude. I liked the first track a lot -- a fifteen minute long, Moog-drenched prog-pop jam that could be compared to the ever-dreary Stereolab, yet is redeemed through its amatuerish rough edges, and comes off a bit more krautrock-y... something that the folks from Can could be proud of. The rest of the album is okay, too, though less audacious than this opening salvo. I was disappointed, though, that the lyrics were in English, rather than Portuguese -- it would have been much more fun the other way around. (Not that it matters that much; these songs are driven more by their grooves than by the lyrics... But I still prefer hearing "foreign" pop singers performing in their native languages; it seems so much more compelling and true to one's roots, somehow...) All in all, this disc is interesting for the light it sheds on Brazil's nascent indiepop scene, and it stands on its own with the UK and European music it seeks to emulate, though it also doesn't quite set the woods on fire. I'm telling you: they shoulda sung in Portuguese!


<! Jupiter Maca in this band? Also has a solo album >

Jupiter Apple "Uma Tarde Na Fruteira" (Elefant, 2007)



(Produced by Thomas Dreher)
Far-flung, clever, eclectic, bilingual indie-pop -- this set is less groove-oriented and Stereolabby and more guitar-y, with chunky bits, psychedelic flights and spasmodic shifts galore. Os Mutantes are an obvious point of reference, since these guys are also from Brazil, but Redd Kross are another possible touchstone. Definitely worth checking out if you are interested in Brazil's teeny, off-the-radar indie scene. (PS -- I love the graphic art homage to the old Elenco label's cover art... Very groovy!)

Jupiter Apple "Jupiter Apple And Bimbo Presents Bitter" (Tratore, 2007)

Jupiter Maca "A Setima Efervescencia" (Polygram, 1996) <! label? info from AM >


(Produced by Egisto; Arranged by Marcelo Birck)
Jangly indie-rock, sung in Portuguese, with nods to music by folks such as XTC and The Buzzcocks, with plenty of Beatles-y baroque psychedelia in there as well, and lots and lots of guitar. While I can appreciate the stylistic diversity and the pioneering elements (historically, Brazil hasn't been a major hotbed of indiepop...) I have to admit I found most of this record too shrill and irritating to really get into. But if you're eager to hear the Brazilian spin on classic indiepop and power-pop music, you'll definitely want to give this one a whirl.
Jurema "O Samba Nao Pode Parar" (Odeon, 1978) (LP)





<! A 1 Deus dá a farinha - (Velha - Jair do Cavaquinho) 2 Juro - (Carlos Pedro - Joel Teixeira - Toninho) 3 Águas demais mata planta - (Austeclínio - Irineu Silva) 4 Eu vou navegar - (Ávila - Cacipore - Marcelo) 5 Tudo em včo - (Jair do Cavaquinho) 6 Falso compositor - (Joel Teixeira - Da Benjamin) B 1 Festanća - (Miro - Adilson do Cavaco - Claumir do Pandeiro) 2 Voltei - (Joel Teixeira - Carlito Cavalcante - Bentana) 3 O samba nčo pode parar - (Jurema - Tita - J. das Neves) 4 Eu vou cobrar - (Zé Catimba - Toninho) 5 O dinheiro é meu - (Jair do Cavaquinho - Jan) 6 Linda manhč - (Colombo - Edir) > <! and others! > <! Filha de Benedito Costa, músico (flautista) e sapateiro. Com a morte do pai, ficou órfč juntamente com seus 11 irmčos. Foram internados no Colégio Espírita Jesus Cristo, de onde saiu aos 14 anos de idade para ajudar a mče (lavadeira) a sustentar a família. Interessou-se por música ainda menina, juntamente com uma de suas irmčs. Comećou sua carreira como caloura nos programas de Salvador Macedo e Sr. Sales, ambos da Rádio Cultura de Campos. Mais tarde, cantou em casas noturnas de Campos como Barril e Boliche. Por essa época, foi para o Rio de Janeiro apresentar-se como caloura no "Programa Buzina do Chacrinha". Casou-se com Waldir Cassiporé, músico de choro que tocava com vários artistas da MPB como Waldir Azevedo, Jacob do Bandolim, Claudionor Cruz, entre outros. >

Jurema "Eu Nasci No Samba" (Odeon, 1979)





Jurema "Sinal De Paz" (Odeon, 1980) (LP)

Jurema & Jandira "Outra Noite De Amor" (Copacabana) (LP)

---
Brazilian Music - Letter "K"
---



Main Brazil Index
World Music Index

---