<! MP3 09/26/08 > <! update 09/26/08 > <! pix 11/25/09 > <! ALLBM 09/26/08 > <! icons 02/15/11 > <! Belo Xis - samba composer - worked with DJALMA PIRES Xixa E Seu Conjunto "Um Cavaquinho No Samba" (Premier, 1968) - mostly choro and samba cancao oldies (Barroso, Noel Rosa, Herivelto Martins, etc) one Geraldo Vandre songs, one by Jose Di >
---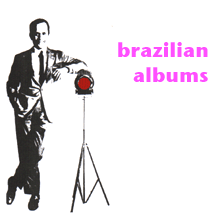 This is a listing of miscellaneous albums and artists under the letter "X"
If an artist or album you like is not reviewed here, please feel free
to contact me and make a suggestion.
---
A | B | C | D | E | F | G | H | I | J | K | L | M | N | O | P | Q | R | S | T | U | V | W | X | Y | Z | Compilations
Brazilian Styles | 30 Recommended Records | Portuguese-language pop | Brazilian Links | Slipcue.Com
---
X "Um Homem So" (Trama, 2001)


Brazilian hip-hop...
Xangai "Acontecivento" (1976)

Xangai "Que Qui Tu Tem Canario" (1981)

Xangai "Mutirao Da Vida" (Kuarup, 1984)


Xangai/Geraldo Azevedo/Elomar/Vital Farias "Cantoria 1" (Kuarup, 1984)



Beautiful, relaxed live acoustic recordings by this informal foursome from the Brazilian Northeast... The more upbeat numbers echo Gilberto Gil's acoustic improvisations, while the quieter numbers seem to draw on the Latin American "new song" movement... At any rate, these are gentle, stately performances, and well worth checking out.
Xangai/Geraldo Azevedo/Elomar/Vital Farias "Cantoria 2" (Kuarup, 1985)


Xangai "Xangai Canta Cantigas, Incelencias, Puluxias & Tiranas De Elomar" (Kuarup, 1986)



A brisk but elegant acoustic tribute to fellow Northeasterner Elomar Figueira Do Melo... With Jaques Morelenbaum on cello.
Xangai "Northeast Brazilian Songs" (1988)

Xangai "Eugenio Avelino (Lua Cheia, Lua Nova)" (1990)

Xangai "Dos Labutos" (1991)

Xangai & Renato Texeira "Aguaraterra: Ao Vivo" (Kuarup, 1995)

Xangai "Cantoria De Festa" (Kuarup, 1997)



Xangai "Um Abraco Pra Ti Pequenina" (Kuarup, 1997)


(Produced by Ricardo Anisio; arrangements by Sergio Galo)
Wow! This is a real find... Northeasterner Xangai combines his own passionate, poetic lyrics with an offbeat, improvisational accompaniment by the Quinteto Da Paraiba chamber orchestra... The cello-based arrangements are amorphous and wild, reflecting the searching, creative fervor of Xangai's vocals... There's a kooky vibe to this album that's similar to Tom Ze's work, though with a softer acoustic feel... It's certainly worth checking out if you're looking for evidence of the unique crosscultural creative ferment that makes Brazilian music so special. Recommended (...though it might not be for everyone!)
Xangai & Teca Calazans "Cantoria Brasileira" (Kuarup)

Xangai & Quinteto Da Paraiba "Brasileiranca" (Kuarup, 2002)


Xangai & Juralides Da Cruz "Nois A Jeca, Mais A Joia" (Kuarup, 2004)


Xango Da Mangueira "Rei Do Partido Alto" (Copacabana, 1972)

Xango Da Mangueira "Velho Batuqueiro" (Tapecar, 1975)

Xango Da Mangueira "Chao Da Mangueira" (Tapecar, 1976)

Xango Da Mangueira "Xango Da Mangueira" (1978)





<! http://pt.wikipedia.org/wiki/Xang%C3%B4_da_Mangueira Olivério Ferreira, de nome artístico Xangô da Mangueira (Rio de Janeiro, 1923 - Rio de Janeiro, 7 de janeiro de 2009) foi um sambista, cantor e compositor brasileiro.[1] Xangô da Mangueira iniciou-se no samba na escola de Samba Uničo de Rocha Miranda, transferindo-se posteriormente para a Portela, onde foi discípulo do célebre Paulo da Portela. Após a saída de Paulo da escola, no início da década de 1940, Xangô seguiu Paulo por um tempo na Lira do Amor, porém, como também admirava a Mangueira, pediu permissčo a seu mestre, sendo por ele indicado a diretoria mangueirense, onde Paulo da Portela também possuía grandes amigos. Na Mangueira, Xangô permaneceu pelo resto da vida, notabilizando-se como diretor de harmonia, cargo que ocupou por várias décadas. Foi também o intérprete oficial do samba da escola até 1951, sendo antecessor de Jamelčo.[2] Na década de 1970, gravou quatro LPs pela gravadora Tapecar e desenvolveu extensa atividade artística, apresentando-se como cantor em todo o Brasil e no exterior. Como compositor, teve diversas obras gravadas por cantores como Clara Nunes e Roberto Ribeiro. >

Ximo & Judy "Via Brasil" (Rillenschlange, 1982)
A gentle bossa set featuring Spanish guitarist Ximo and a singer identified only as "Judy," who were apparently living in Germany at the time this album was recorded... It's not bad; there's better bossa, but this sounds nice. BTW: anyone know if this guy is the same as jazz guitarist Ximo Tebar??


<! same as Ximo Tebar?? >

Xis "Seja Como For" (Trama, 1999)


The first solo album from rapper Xis, formerly of the groups DMN and Cada Vez Mais Preto...


<! Taking his stage name from Malcolm X, Brazilian rapper Xis started his career in 1992 with a joint for the rap compilation Consciźncia Black. Leading the group DMN, which participated for eight years in the most important hip-hop festivals in the country, in 1994 he launched Cada Vez Mais Preto. The group was nominated for the Video Music Brasil (in the rap category) with the song "Aformaoriginalmental." After the hit "De Esquina" (with Dentinho), produced by DJ Hum for the compilation O Poder da Transformaćčo (1997), in 2000 Xis launched his solo career with the socially concerned Seja Como For, having "Us Mano e as Mina" won the MTV award as the Best National Rap Music Video. In late 2001, already hired by a major label (WEA Music), Xis launched Fortificando a Desobediźncia. ~ Alvaro Neder, All Music Guide >

Xis "Fortificando A Desobediencia" (Warner, 2001)







Belo Xis "A Festa E Suas" (Continental, 1987)



<! Belo Xis - samba composer - worked with DJALMA PIRES Lado A 1 INHA DE INHO 2 COISAS DO CORAāŐO 3 DE TANTO TE AMAR 4 ARREBENTA CORAāŐO 5 MASSA BAIANA 6 VENDAVAL DE AMOR Lado B 1 PROPORāÕES DA VIDA 2 SO RESTA ILUSAO 3 A FESTA E SUA 4 CONTENCAO 5 ERROU DE NOVO 6 MOTIVO MAIOR >

Belo Xis "Sambando No Meio Do Povo" (Baccarola, 1982) (LP)

Belo Xis "Fax Ou Telegrama" (Atracao, 1998)


With Banda Cartao Postal...
Belo Xis "Garra E Coracao" (Continental) (LP)


(Produced by A. C. Carvalho & Wilson Souto, Jr.)





Belo Xis "25 Anos Do Samba" (Polymusic, 2001) <! CD >



<! also: Pagode Do Leao com Belo Xis "Homanagem A Torcida Do Sport Club Do Recife E Admiradors" A nice, straightforward roots-samba set which only briefly drifts into '80s pop tones... Mostly sticks to a straightforward acoustic sound, with singer/composer Belo Xis leading a typical cavaquinho-and-chorus ensemble through a lively set of tunes. The first track is a lion-themed number, complete with imitation lion roars and everything. (I assume the lion is the mascot of the Recife soccer team?) >

(Grupo) Xodo "Morena Moreno" (Copacabana, 1977) (LP)
(Produced by Antonio Carlos de Oliveira & Paulo Rocco)



<! supposedly samba-funk >

XRS Land "Sarau" (Trama, 1999)


Xupanomanga "Foreggae" (Som Livre, 2002)

Xuxa "Xou Da Xuxa, v.1" (Som Livre, 1986)


Hard to imagine, but I actually don't have any reviews (yet) for any albums from the porn-star-gone-children's-show-host Xuxa... I can only hope you aren't too disappointed in me.
Xuxa "Xuxa, v.2: Xegundo" (Som Livre, 1987)

Xuxa "Xou Da Xuxa, v.3" (Som Livre, 1988)

Xuxa "Xou Da Xuxa, v.4" (Som Livre, 1989)

Xuxa "Xuxa 5" (Som Livre, 1990)

Xuxa "Xuxa 6" (Som Livre, 1991)

Xuxa "Xuxa 7" (Som Livre, 1992)

Xuxa "Xuxa 8" (Som Livre, 1993)

Xuxa "10 Anos" (Som Livre, 1996)

Xuxa "20 Anos" (Som Livre, 2006)





<! from ALLBM: Xangô da Mangueira 1920s sambista - a few MP3s, no albums 12/09 Xororó - cowboy stuff? some MP3s, a bunch of albums >

---
Brazilian Music - Letter "Y"
---



Main Brazil Index
World Music Index

---