<! MP3 10/04/08, 02/10/10, 11/28/12 > <! update 00/00/00 > <! pix 11/29/09, 11/28/12 > <! ALLBM 00/00/00 > <! icons 02/14/11 > <! OTTO - listed here and in Rock - needs a separate page?? > <! Osvaldinho Da Cuica - create artist page? > <! Orchestra Radio "Sambolandia: O Samba Na Sua Expressao Mais Pura" (Radio, 1958) date-?? (LP) B00IEOW4GW Orchestra TV "Musica Do Nosso Tempo" (Fantasia, 1957) Orchestra TV "Musica E Sorriso" (Fantasia, 1957) Orchestra TV "xxxxxxxxxxxxxxxxx" (Fantasia, xxxxxxxxxx) North American standards - Irving Berlin, Victor Herbert, Cole Porter, etc - no Brazilian material on Sorriso album - some on Nosso Tempo - Fantasia apparently a Philips imprint? > <! The Outcasts "My Generation" (ELPA, 1967) anglophile "garage" (?) (label?) > <! Odibar > <! Oficina G3 - Brazilian Christian rock band http://pt.wikipedia.org/wiki/Celso_Machado - why is this the URL???? > <! OTONIEL E OZIEL: PROFECIAS (BEAUTIFUL SIGNED XIAN LP BRAZIL Discos Boas Novas) religious, I think > <! ORQUESTRA SOM BATEAU: Som Bateau Ataca Novamente (Polyfar, 1974) > <! Orquestra Harmonicas De Curitiba "Orquestra Harmonicas De Curitiba" (Som Da Gente, 1988) > <! Jair Oliveira - need labels, genre info Jair Oliveira "A Turma Do Balao Magico" (xxxxx, 1984) - children's music band - guess he started out here? Jair Oliveira "A Turma Do Balao Magico" (xxxxx, 1985) Jair Oliveira "A Turma Do Balao Magico" (xxxxx, 1986) Jair Oliveira "Jairzinho & Simony" (xxxxx, 1987) Jairzinho (Jair) Oliveira "Dis'ritmia" (Trama, 2000) B004LP1VJ4 B000XURC4Y Jair Oliveira "Outro" (Trama, 2002) B000066SEQ B00DGPMO5U Jair Oliveira "3.1" (Trama, 2004) B004RCX360 B000Y98D24 Jair Oliveira "3.2 (Virtual)" (xxxxx, 2004) Jair Oliveira "Simples" (S de Samba, 2006) B000RT3RRC B0010YW59Y Jair Oliveira "Simples Ao Vivo" (DVD) (Brazilmusica, 2006) B00153ZQW8 Jair Oliveira "Grandes Pequeninos" (xxxxx, 2009) (CD & Book) B0052OX93O - children's music? Jair Oliveira & Luciana Mello "O Samba Me Pegou" (Universal, 2009) B003ZUCJNS >
---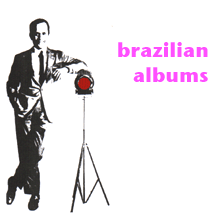 This is a listing of miscellaneous albums and artists under the letter "O".
If an artist or album you like is not reviewed here, please feel free
to contact me and make a suggestion.
---
NOTE: for bands such as Os Fevers, Os Incriveis, Os Mutantes, etc. -- See: Fevers, Incriveis, Mutantes, etc.
---
A | B | C | D | E | F | G | H | I | J | K | L | M | N | O | P | Q | R | S | T | U | V | W | X | Y | Z | Compilations
Brazilian Styles | 30 Recommended Records | Portuguese-language pop | Brazilian Links | Slipcue.Com
---
Obina Shok "Obina Shok" (RCA/Celluloid, 1986) <! 1988 in USA? >






<! Odair Cabeca De Poeta & Grupo Capote Odair Cabeca De Poeta & Grupo Capote "A Forronatica E O Forramba" (LP) >


Oitos Batutas - see Pixinguinha




No Olho Da Rua "Hard Bossa" (Paulo Rego, 1999)


An adequate but unremarkable smooth jazz album, featuring saxophonist-composer Paulo Rego and pianist Roberto Alves. With the exception of two songs adapted from Villa-Lobos and Ary Barroso, all the songs are Rego originals. It's not a bad album, just not my cup of tea.
No Olho Da Rua "O Feijao Da Bre" (Tratore/Ethos, 2004)


No Olho Da Rua "Sacopenapa" (Tratore/Ethos, 2005)


No Olho Da Rua "Ele E Carioca" (Tratore, 2007)








Oliveira E Seus Black-Boys "Em Novas Travessuras Musicais" (Copacabana, 1962--?) <! CLP 11258 >
This was a dance band led by Sao Paulo-born saxophonist Antonio Oliveira da Souza, with vocals by a gal identified only as "Maria." The album has six tracks total, each being a three-song medley. The song "Dang Dang" resurfaced on compilations several decades later, taken from this old album. I'm not sure if Oliveira recorded any other albums as a leader... Anyone know more about these folks?


<! LADO A: LIBERDADE DEMAIS /MOEDA QUEBRADA /DEIXA A NEGA GINGAR / DANG DANG/PEDRO TWIST/ TEN LONELY WEEKENDS / PIZZICATI PIZZICATO/SOUVENIR DE AMOR/ TEU NOME É NINGUÉM LADO B: ÁGUA COM AREIA /SAMBA BRASILEIRO /QUE SABE VOCś DE MIM / BONGO NO CHA-CHA-CHA /AMOR EM CHA-CHA-CHA/ADELANTE / CHORANDO CHORANDO/E A VIDA CONTINUA/MUDEMOS DE ASSUNTO ?

Cesar Oliveira "Compositor E Trompetista Do Ouro" (Revivendo, 2003)

Mauricio Oliveira "...E Seu Violao" (Musiplay, 1960)

Mauricio Oliveira "Um Violao... E Novas Emocoes" (Musiplay, 1960)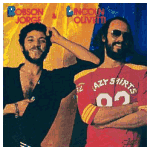 Lincoln Olivetti & Robson Jorge "Robson Jorge E Lincoln Olivetti" (Som Livre, 1982)


Pianist Lincoln Olivetti was one of the most ubiquitous producers of the 1970's MPB scene, working with many of the biggest stars of the era, and helping shape the mainstream MPB sound, for better or for worse. Amazingly, this appears to be the only record he recorded under his own name, a pop-oriented jazz-fusion set with guitarist Robson Jorge.
Olodum - See artist discography
Lisa Ono - see artist profile
Os Originais Do Samba - see artist profile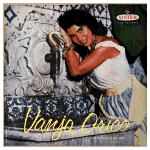 Vania Orico "Encontro Com Vania Orico" (Sinter, 1958)
(Arranged by Leal Brito)
Ms. Orico was a Brazilian actress who landed parts in several Fellini films, and also made a few records, which perhaps should be considered vanity projects. This is an odd album that mixes early bossa nova (a couple of Jobim songs) with older samba-cancao and has a rather genteel, folklorish sound. I'm not sure if the fustiness was a result of Orico's songbirdish vocals or from Leal Brito's arrangements, but for the most part this album is too old-fashioned and rinky-dink sounding for me... There are a couple of straight-up samba songs that are okay, but she gets on my nerves, and I guess overall I'd rather just listen to old Carmen Miranda records, and stick to the good stuff. This didn't do much for me.


<! http://pt.wikipedia.org/wiki/Vanja_Orico Actress and director - was in some Fellini films Vanja Orico - Encontro com Vanja Orico (Sinter, 1958) 01 - Sucedeu assim (Tom Jobim-Marino Pinto) 02 - O vento (Dorival Caymmi) 03 - Marmelo é fruta gostosa (J.Cascata-Osvaldo Orico) 04 - Roda carreta (Paulo Ruschell) 05 - Sou baiana (Luis Bittencourt-Tuiu) 06 - Mocambo de palha (Gilvan Chaves) 07 - Lá vai a garća voando (Tradicional: Adpt. Vanja Orico) 08 - Eu nčo existo sem vocź (Tom Jobim-Vinicius de Moraes) 09 - Capina menino (Victor Simon) 10 - Confissčo (Vanja Orico) 11 - Rio Grande do Sul (Paulo Ruschell) 12 - Rio triste (Tito Madi) Arranged by: Tom Jobim (1,10) Leal Brito (2,3,4,5,6,7,8,9,11,12) Regional de Canhoto (2) Leal Brito - piano (12) José Menezes - guitar (12) Vidal - contrabass (12) Paulinho - drums (12) >

Vania Orico "A Volta De Vanja Orico" (Chantecler, 1967) (LP)



<! several compositions by Fernando Lona >

Vania Orico "Vanja Orico" (Seta, 1981) (LP)

Vanja Orico "Te Quero Brasil" (Independente, 1989) (LP)

Vanja Orico "The Music Of Brazil: Recordings 1955-1958" (Black Round Records, 2009)


This digital-only release includes the 1958 Encontro album, along with some earlier stuff...
Orlandivo "A Chave Do Sucesso" (Musicdisc, 1962)

Orlandivo "Orlann Divo" (Musicdisc, 1963)

Orlandivo "Samba Em Paralelo" (Musidisc, 1965)

Orlandivo "Orlandivo" (EMI-Odeon, 1977)





<! 1961 - Samba Toff/Amor Vai e Vem/Vem Pro Samba/Dias de Verčo - Musidisc (EP) 1962 - Samba no Japčo/Amor Quadradinho - Musidisc (78) 1962 - Vai Devagarinho/Brincando de Samba - Musidisc (78) 1962 - A Chave do Sucesso - Musidisc (LP) 1964 - Orlan Divo - Musidisc (LP) 1965 - Samba em Paralelo - Musidisc (LP) 1976 - Orlan Divo - Copacabana (LP) 2006 - Sambaflex - DeckDisc (CD) >

Orlandivo "Sambaflex" (Deck Disc, 2006)

Orquestra Afro-Brasileira "Obaluaye" (Todamerica, 1958)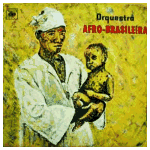 Orquestra Afro-Brasileira "Orquestra Afro-Brasileira" (Columbia, 1968)
A fascinating album... Much is made about Brazil's African cultural heritage, but this album delves deeper into those roots than most, with clanging, metallic percussion and loose horn arrangements that echo the early dance bands of mid-20th Century West Africa, as well as Yoruban traditional music. The tracks, which are all credited to Abigail Moura, explore the orixa spiritual tradition, as did their first album from a decade earlier, Obaluaye, Cool stuff.


<! Afro Brazilian Instruments: Genny Pires (Urucungo), José Pedro (Angona-puíta), Joércio Soares (Agogô), Antônio Cruz (Gonguź), Oswaldino Lucas (Rum), Carlos Negreiros (Rumpi), CČndido Santos (Lź), Valmir Rosa (Afoxź), Djalma da Paixčo (Adjá). Brass Instruments: Horácio Soares (Sax alto, Clarineta), Carmélio Alves (Sax tenor, Clarineta), Jočo AmČncio (Sax alto, Clarineta), Álvaro Nascimento (Sax tenor, Clarineta), Ananias da Silva (Trumpete), Gamaliel da Silva (Trumpete), Jaime da Silva (Trumpete), Alfredo Alves (Trombone) e Milton Profeta (Trombone) > <! hi, great you're sharing this, those interested in listening home can purchase the cd reissue I produced for the Pinacoteca do estado de Sao Paulo with its former director Emanoel Araujo back in the early 2000's. 20 pages booklet with pictures covering the 1940's & 50's, text in portuguese (sorry guys). Available exclusively at the MUSEU AFRO BRASIL in sao paulo, features 4 tracks from the mentionned LP + the whole first orquestra afro brasileira LP released on todamerica in 1958. I have no specific comercial intention at saying this, just that you can get much more than just a cover & some music. Special mention to Haroldo Costa & Emanoel Araujo, Carlos Negreiros & Helcio Milito, the 4 main persons responsible for turning the project a reality, back in the 60's as well as in the 2000's. easy Greg Villanova from Oriki Music /diasporarecords.com http://orogod.blogspot.com/2009/03/initiation-into-voodoo-music-brazil.html >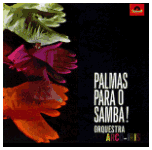 Orquestra Arco-Iris "Palmas Para O Samba!" (Polydor, 1963)
Zippy, forceful, frequently goofy big-band arrangements of popular samba-cancao and bossa nova themes are the trademarks of this sleek orchestra. Led by saxophonist Arcy Barbosa, Orquestra Arco-Iris was the house band at TV Rio in the early '60s, and they clearly didn't mind making light of "the hits," adding comedic touches on a number of tracks, as well as intrusive handclaps as punctuation and as a way to make them sound more poppy and modern. Mostly, they had an overly-robust, muscular approach, sort of a harkening back to the jazzy swing style of the old gafieira bands, leavened with orchestral pop kitsch popular at the time. Sort of a Doc Severinsen-meets-Ary Barroso feel. Mostly this is too corny for me, though some songs are close enough to the Orquestra Tabajara style that I can get into it... If only they didn't all have that hand-clapping thing going on all the time! Oh, well. Worth checking out, though mostly the appeal would be to lounge-music fans.


<! Maestro Carioca and Maestro Arcy Barbosa are the leaders of Orquestra Arco-Iris, which is a group of musicians from the cast of the legendary TV Rio – Rio de Janeiro, Canal 13. Maestro Carioca is in charge of arrangements and Maestro Arcy Barbosa plays sax and conducts Orchestra Arco-Iris. Y Maestro Arcy Barbosa (orchestra leader, sax) Luis Mendes, Darci Cruz, Jočo Parma Neto "Joca", Clélio Ribeiro (pistom) Manoel Araújo, Antônio Bogado, José Leocádio, Armando Palla (trombone) Pedro Henrique de Souza "Pedrinho", Juarez Araújo, Walter Rosa, Alberto Viana Gonćalves (sax) Célio Felicio (piano) Raul Gagliardi (bass) Geraldo Miranda (guitar) Sut Chagas (drums) Mário Godoy, Jorge Gomes de Resende "Jorginho" (percussion) Homero Gelmini, Domingos Colacicco, Cinira R. Millions, Raimundo Loyola Rźgo, Yuri Michelew, Álvaro Vetere, Bove, Adolpho Pissarenko, Antônio Piersanti, Salvador Piersanti (violin) 01 – Brasil Moreno (Ary Barroso / Luis Peixoto) 02 – Deixa Andar (Jujuba) 03 – Fechei a Porta (Sebastičo Mota / Ferreira dos Santos) 04 – Pergunte ao Jočo (Helena Silva / Milton Costa) 05 – Nosso Samba (Djalma Ferreira / Iza Ferreira) 06 – Chega de Saudade (Tom Jobim / Vinicius de Moraes) 07 – Eterno Motivo (Célio Ferreira / Oldemar Magalhčes) 08 – Mulher de Trinta (Luis Antônio) 09 – Ginga das Palmas (Carioca) 10 – Faćo Um Lź-lź-lź (Luis Reis / Haroldo Barbosa) 11 – Boato (Jočo Roberto Kelly) 12 – Nega (Waldemar Gomes / Afonso Teixeira) >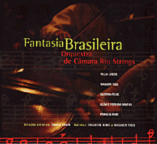 Orquestra De Camara Rio Strings "Fantasia Brasileira" (Biscoito Fino, 2003)


A fine modern classical performance, featuring work by four composers -- the prelude to "Bachianas Brasileiras No.4," by Heitor Villa-Lobos, who was sort of the Bela Bartok of Brasil, mixing folkloric and popular themes with dense, highbrow musiciality, opens the album, and it is a real winner, a cool, eliding progression that butts up against the atonal school. This is followed by a medley of songs by pop-classical keyboardist Wagner Tiso, who solos on the performance, and then a piece by Cesar Guerra-Piexe (who I've never heard of) and closes with a more galloping number by Francis Hime, a tune which seems to have more than a smidge of Copeland to it. I readily admit I am no expert in classical music, but I did like this recording, particularly what I took to be a notably accomplished take on Villa-Lobos's work. Nice stuff... recommended!
Orquestra De Dancas "Jubileu De Ouro Do Sindicato Dos Musicos Profissionais Do Rio De Janeiro" (Sinter, 1957)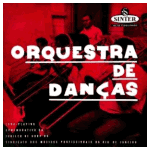 Shock and awe, samba-style... Actually the music is underwhelming but the lineup of musicians in this jovial big-band outing is like a membership list of the jazz/orchestral elite of the pre-bossa nova era, folks like arrangers Lyrio Panicali and Astor Silva, sax players K-Ximbinho and Paulo Moura, pianists Fats Elpidio and Zeca, and drummer Dom Um Romao... And I'm just hitting the highlights -- there are dozens of other players on here, and the sound is bright and robust, cheerful orchestrations of numerous samba-cancao and choro oldies. It's not mind-blowing, but it's really fun to listen to... And man, what a lineup!


<! 01. Tira a Minha Letra (Valdrido Silva) Samba 02. Sedutor (Osvaldo Lira / Carlito) Choro 03. Volta Para Mim (Cyro Monteiro / Osvaldo Lyra) Samba 04. Glorinha (Arcy Barbosa) Choro 05. Depois do Baile (Astor Silva) Choro 06. Selećčo de Baiões (Pot-pourri) Baičo 07. Discos na Vitrine (Luis de Franća / Nelson Bastos) Choro 08. Esquisito (Osvaldo Lyra / Bucy Moreira / Haroldo Torres) Maxixe > <! Orquestra Dos Bossambistas "So Danco Samba" (Dimp, 196_) A set of instrumental covers of various Jobim classics. Pianist Fats Elpidio is in this band, along with guitarist Geraldo Vespar, Waltel Branco on bass, and a trio of horn players. 01 - Vivo sonhando (Tom Jobim) 02 - Água de beber (Tom Jobim - Vinicius de Moraes) 03 - Garota de Ipanema (Tom Jobim - Vinicius de Moraes) 04 - Desafinado (Tom Jobim - Newton Mendonća) 05 - Insensatez (Tom Jobim - Vinicius de Moraes) 06 - Só tinha de ser com vocź (Tom Jobim - Aloysio de Oliveira) 07 - Corcovado (Tom Jobim) 08 - Meditaćčo (Tom Jobim - Newton Mendonća) 09 - Samba de uma nota só (Tom Jobim - Newton Mendonća) 10 - O morro nčo tem vez (Tom Jobim - Vinicius de Moraes) 11 - Só danćo samba (Tom Jobim - Vinicius de Moraes) 12 - Inútil paisagem (Tom Jobim - Aloysio de Oliveira) Arranged by Clerio Ribeiro Clerio Ribeiro - piston Jose Barreto - piston Waldemar Moura - trombone Fats Elpidio - piano Geraldo Vespar - guitar Waltel Branco - bass Waldir Marinho - bass Reizinho - drums Gilson Mello - percussion Also released as: Bossa Brass Apresenta a Maravilhosa Música de Antonio Carlos Jobim (Plaza PZ 13002) >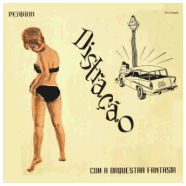 Orquestra Fantasia "Distracao" (Penthon, 1962) (LP)
A pleasant, though perhaps unremarkable bossa-pop set... Mostly light orchestral stuff with a little pop/samba bounce, and a couple of rock-oriented tunes from back when the Brazilians still thought the "hully gully" was a major American dance craze, with vocals that sound a little like Louis Prima. Apparently fabled avant-arrangenik Rogerio Duprat had something to do with this album, and though he isn't credited on the album or in the liner notes, you can hear his signature sound on some of the string arrangements. Overall, this seems like a very cobbled-together, see-what-sticks hodgepodge of various popular styles -- the teenybopper rock stuff is the least convincing, but probably the most noteworthy, especially to devoted scholars of Brazilian jovem guarda. Not a great record, but it has its charms. Nice bikini, too.
Orquestra Imperial "Valsas Eternas, v.1" (EMI-Odeon)

Orquestra Imperial "Valsas Eternas, v.2" (EMI-Odeon, 1966)
Old-fashioned waltzes, tunes by Strauss and Tchaikowski, played by a Brazilian orchestra, but pretty much "straight," (i.e. without discernable Brazilianness). It's an odd record to have been reissued on CD but, actually, it's kind of nice, in a square but not-too-fusty way. 'Taint no samba, though. (Not to be confused with the pop-samba outfit of the same name, which made records forty years later...)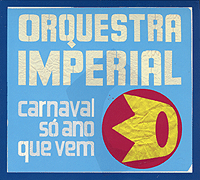 Orquestra Imperial "Carnaval So Ano Que Vem" (Som Livre, 2007)


(Produced by Berna Ceppas, Kassin & Mario Caldato, Jr.)
A far-flung cast of generation-next Brazilian upstarts propel this giddy, willfully cheesy mix of Brazilian pop and old-school Latin-dance schmaltz. It's unusual to hear Brazilians plying themselves so directly to Cuban-style salsa and son, but Orquestra Imperial seem to make it their mission, adapting it with Portuguese lyrics and numerous original compositions. The bandmembers include singer Thalma De Freitas, old-timer Wilson Das Neves, and all three of the guys from the "+2" project -- Domenico, Kassin, and Moreno Veloso -- along with their pal, guitarist Pedro Sa, who recently made his mark fronting an electric rock band backing Brazilian pop legend Caetano Veloso on his album Ce. I have to confess, although I was prepared to really enjoy this album, I wound up finding it hard to get into. The production is slick and fairly cheesy, and although that slickness is (partially) being used in an ironic way, the joke doesn't really carry. Some of the grooves are cool, but everything feels mediated and remote -- they're so busy being clever, cool and self-congratulatory, they never really seem to let their hair down and just enjoy the music, or to let the music take over, rather that the recording of the music. It seems heavy on concept and coyness, and light on either the genuine joyfulness or the cool reserve that has made many of the earlier albums (under their individual names) that have made these young artists so noteworthy. I bet these guys would be a blast to see live, though!
Orquestra Imperial "Fazendo As Pazes Com O Swing" (Mais Um Discos, 2014)






<! 'Fazendo as pazes com o swing (Making peace with 'the' swing)' is Orquestra Imperial's sophomore album and a majestic offering of gafieira samba shot through with a psychedelic twist of rock guitar riffs, tropicalia, salsa, bolero and beyond. The release of their debut album 'Carnaval Só No Ano Que Vem' in 2007 wowed critics and fans alike and Imperial have since toured the US and Europe spreading their carioca carnival joy across the globe. Their eclectic live shows have featured everyone from Brazilian legends Seu Jorge and Caetano Veloso to Bernard Purdie, Gruff Rhys, Jane Birkin, Jean-Claude Vannier (who directed the band in a special Serge Gainsbourg concert), The Bees and Chrissie Hynde. Reading the Orquestra line-up is like a who's-who of Rio's most sought-after musicians: the inventors of post-tropicalia formerly signed to David Byrne's Luaka Bop, Kassin, Domenico and Moreno Veloso (Caetano's son); member of Devendra Banhart's live band and founder (with Fabrizio Moretti of The Strokes) of rock super-group Little Joy, Rodrigo Amarante; Brazilian soap opera queen & vocalist Thalma de Freitas plus legendary percussionist Wilson das Neves, to name but six. Rewind to the beginning of the 20th century and gafiera samba was Rio's most stylish form of entertainment, yet the tradition slowly dwindled out until 2002, when members of Imperial turned up at their first rehearsal, armed with their iPods and grandparents' LPs. Alternately spinning their favourite vinyls and MP3s, they set about arranging their favourite tunes, reinterpreting them with post-tropicalia zest. As Kassin explains "The Orquestra's currency is music and friendship. People come to chat, meet like-minded musicians, have a jam." Though treading well-established territory, all twenty of the band's members are keen to stress they are no Buena Vista Social Club, and more readily identify with the progressive ilk of Ondatropica, Will Quantic's Colombian super-group. "Our music is spontaneous and comes from the chaos of living in an era where you have access to everything, can listen to everything and like all kinds of music." confirms Orquestra drummer, Domenico Lancelotti. The cover photo for 'Fazendo As Pazes Com O Swing' is a portrait of Nelson Jacobina, one of the founding member of the Orquestra and author of various Brazilian classics such as 'Maracatu Atomico'. Taken at a pre-carnival Orquestra Imperial show in 2009 Nelson sadly passed away in 2012 after fighting a lengthy battle with cancer - 'Fazendo As Pazes Com O Swing' is duly dedicated to him. >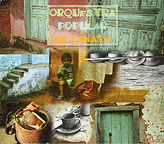 Orquestra Popular De Camara "Orquestra Popular De Camara" (Adventure Music, 1998/2004)



Benjamin Taubkin leads this eclectic ensemble through a smooth, soft-jazz set with rich layers of indigenous Amazonian traditions (courtesy of Nana Vasconcelos, who plays percussion), African motifs and a hefty dose of bossa nova... Vocalist Monica Salmaso was also part of this project, though her contributions are a bit muted, compared to her own solo albums. Overall, this is a bit too gooey and amorphous for me, though I'm sure for fans of super-mellow world-jazz, this disc would be a real treat.
Orquestra RCA Victor "Hi-Fi Samba" (RCA Victor, 1968) <! BBL-1140 >
(Produced by Alberto Soluri)
Big band-y instrumentals, with musical direction by bandleader Zaccarias and arrangements by Nelsinho and Mestre Carioca... The liner notes don't call out individual artists, but one imagines it's the usual cast of characters, with four saxophonists, four trombones, robust percussion, etc., as well as an equally anonymous vocal chorus that does a super-goofy scat-singing accompaniment to a bouncy version of Ary Baroso's "Aquarela Do Brasil." This is sort of a gafieira jazz-meets-Mancini outing, with the easy listening vibe clearly winning out. Includes several Jobim songs, and one by Carlos Lyra, showing the ascendency of the bossa scene. Pretty kitschy and not quite as meaty or complex as Zaccarias's earlier work under his own name... Still, easy listening fans might get a kick out of this.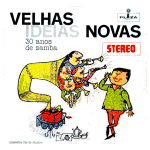 Orquestra Rio De Janeiro "Velhas Ideias Novas: 30 Anos De Samba" (Plaza, 1960)
(Produced by Henrique Gandelman; arrangements by Severino Filho)
Samba-cancao oldies from the 1930s, given a glossy hi-fi era makeover, with swinging, bright, brassy big-band arrangements, in sort of a Doc Severinsen/Billy May style. I'd count this one as a guilty pleasure -- maybe not as robust as contemporary bandleaders like Severino Araujo or Zaccarias, but cheerful and fun nonetheless. Apparently Severino Filho of Os Cariocas was involved with some of the arrangements, although I don't know who the actual musicians were... Anyway, kind of a fun, jaunty old record -- nostalgia on top of nostalgia. And, yes, producer Henrique Gandelman is indeed the father of jazz saxophonist Leo Gandelman... guess talent ran in their family!


<! Orquestra Rio de Janeiro - Velhas Ideias Novas (30 Anos de Samba) (1960), for Plaza, the single LP released by this wonderful orchestra that features arrangements by Severino Filho (Os Cariocas) and direction by Maestro Henrique Gandelman, the father of the Brazilian musician Leo Gandelman. 01 - A Voz do Morro (Zé Keti) 02 - Na Baixa do Sapateiro (Ary Barroso) 03 - Onde o Céu Azul É Mais Azul (Alberto Ribeiro / Jočo de Barro / Alcyr Pires Vermelho) 04 - Ai Que Saudade da Amélia (Ataulfo Alves / Mário Lago) 05 - Copacabana (Alberto Ribeiro / Jočo de Barro) 06 - A Felicidade (Tom Jobim / Vinicius de Moraes) 07 - Madureira Chorou (Carvalhinho / Julio Monteiro) 08 - Aquarela do Brasil (Ary Barroso) 09 - Maracangalha (Dorival Caymmi) 10 - Meu Consolo É Vocź (Roberto Martins / Antônio Nássara) 11 - Feitićo da Vila (Noel Rosa / Vadico) 12 - Agora É Cinza (Alcebíades Barcelos "Bide" / Armando "Marćal") >

Orquidea "Choro E Samba Em Niteroi" (Rob Digital, 2001)






<! choro >

Os Ostras "Os Ostras" (Top Cat/Abril, 1997)



Os Ostras "Operacao Submarina" (Top Cat/Abril, 1998)



(Produced by Brian Butler)
Ska-tinged, surfy, power-pop indie-rock from Brazil? I am so there! The first song is a bouncy indie-pop tune that's kinda catchy... Unfortunately most of the rest of the songs are just straightforward surf-garage instrumentals, and while it's cool to know that there are bands in Brazil that play this style of music, it's not something you couldn't hear plenty of places elsewhere. Os Ostras play well, though: bet they were fun live, too!
Os Ostras "Os Ostras" (Top Cat/Abril, 1997)


Ostheobaldo "Passa O Corredor" (EMI, 2003)





<! alt-rock >

Osvaldinho Da Cuica & Grupo Vai-Vai "Vamos Sambar" (Discos Marcus Pereira, 1974) (LP)

Osvaldinho Da Cuica "Historia Do Samba Paulista, v.1" (UMES, 1995) <! - date? >

Osvaldinho Da Cuica "Preto No Branco" (Rio 8 Fonografico, 2005)


Osvaldinho Da Cuica "Convida Em Referencia Ao Samba Paulista" (Rio 8 Fonografico, 2006) <! - also DVD? >

Osvaldinho Da Cuica "70 Anos" (Tratore, 2010) <! - date? >

Osvaldinho Da Cuica "O Velho Batuqueiro" (Tratore, 2013) <! - date? >





<! Osvaldinho Da Cuica "Historia Do Samba Paulista, v.1" (UMES, 1995) B00029COBM - date? Osvaldinho Da Cuica "Preto No Branco" (Rio 8 Fonografico, 2005) B000WMFR40 B000QZVPOY Osvaldinho Da Cuica "Convida Em Referencia Ao Samba Paulista" (Rio 8 Fonografico, 2006) B000O75KEK - also DVD? Osvaldinho Da Cuica "70 Anos" (Tratore, 2010) - date? Osvaldinho Da Cuica "O Velho Batuqueiro" (Tratore, 2013) B00LCMLJV4 - date? - known for his work with Adoniran Barbosa - > <! "Osvaldinho da Cuíca 70 anos" é um trabalho vigoroso de um artista que faz do samba seu trabalho e seu prazer. Nas 13 faixas que compõem o CD, Osvaldinho transita por várias vertentes do samba, desde o samba tradicional, passando pelo samba-rural, partido-alto, samba-enredo, até o samba-rock. No repertório, estčo as inéditas "Vai Haver Temporal", "Partido Baixo", "A Cuíca do Maninho", "Gato Maloqueiro" e "Acorda Brasil", além de sucessos antigos de sua carreira, como "Minha Vizinha". O trabalho ainda traz duas regravaćões de composićões de Geraldo Filme ("Vá Cuidar da Sua Vida" e "A Morte do Chico Preto") e uma da parceria Jočo Bosco e Aldir Blanc ("Ronco da Cuíca"). Os arranjos contam com a assinatura de grandes músicos do País, como Maurílio de Oliveira e Everton Pessoa (do Quinteto e Branco e Preto), Luizinho 7 Cordas e Thiago Franća, além do próprio Osvaldinho. Também participam do CD, Nylor Proveta (sax), Ventura Ramirez (violčo), Vitor Pessoa (surdo), Magnu Sousá (pandeiro), Ivison Casca (repique), Gerson da Banda (tantč), entre outros bambas do samba. >

Otto "Samba Pra Burro" (Trama Music, 1998)



(Produced by Apollo 9)
First-rate Brazilian electronica, liberally mixing hip-hop beats and samba riffs into a richly-textured ambient backdrop, with the occasional drum-and-bass skittering-about. The best tracks on here are outstanding -- and where there's one record this good, more are sure to follow. Otto was once the percussionist for the band Mundo Livre s/a... Sounds pretty good, too, here on his first solo outing...

Otto "Condom Black" (Trama Music, 2001)



Otto gets a bit spacier and mellower on this disc, in some ways perhaps less "electronic", but still kinda cool. He even does a bit of more or less straight-up shoegazer electric guitar pop, and sings on hseveral songs. I can't say that this album leapt out at me the way the best tracks on Samba Pra Burro did, but it's certainly easy on the ears and worth checking out if you want something kinda mellow to listen to. (By the way, I know that Beto Lee, who pitches in on this album, is Rita Lee's son... does anyone know if Valmir Gil, who also plays on this album, is related to Gilberto?)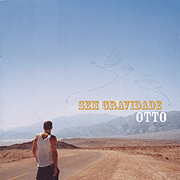 Otto "Sem Gravidade" (Trama Music, 2003)



(Produced by Apollo 9 & Otto)
Getting even looser and more indierock, Otto opens up with the giddy, guitar-y "Lavanda," followed by the dance-y "Tento Entender," which features guest vocals by Rita Lee (and her son Beto, on guitar....) The rest of the album slips into spacier, less poppy material, odd, off-kilter tunes that have a laidback, bossa-esque feel to them. By using less high-tech sound processing over the lyrics, Otto reveals the plainness of his own voice, giving this album a more personal, intimate feel. Another mellow record, certainly worth checking out.
Otto "MTV Apresenta" (Trama Music, 2005)

Otto "MTV Apresenta" (DVD) (Trama Music, 2005)

Otto "Certa Manha Acordei De Sonhos Intranquilos" (Nublu, 2009)


Ovelha "Coisas Do Coracao" (Copacabana, 1988)

Ovelha Negra "Amor De Rapariga" (Atracao, 2002)


Ovelha Negra "Ao Vivo" (Atracao, 2004)


Dante Ozzetti & Ceumar "Achou!" (MCD, 2006)



Na Ozzetti's brother, guitarist/producer Dante Ozzetti, in collaboration with singer Ceumar Coelho...
Na Ozzetti "Na Ozzetti" (MCD, 1988)





<! originally from the band Rumo with Luiz Tatit > <! 01 - Sua estupidez (Erasmo Carlos, Roberto Carlos) 02 - Nós (Tičo Carvalho) 03 - Ah! (Luiz Tatit) 04 - No rancho fundo (Ary Barroso, Lamartine Babo) 05 - Dio come ti amo (Domenico Modugno) 06 - Sócrates brasileiro (José Miguel Wisnik) 07 - A olhos nus (José Miguel Wisnik) 08 - Libra (José Miguel Wisnik) 09 - Cardápio barra pesada (Paulo Le Petit, Itamar Assumpćčo) 10 - Orfeu (José Miguel Wisnik) 11 - Diva (Dante Ozzetti) >

Na Ozzetti "Na" (Nucleo Contemporaneo, 1994)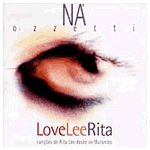 Na Ozzetti "LoveLeeRita: Cancoes De Rita Lee Desde Os Mutantes" (Dabliu, 1996)


A tribute to Brazilian rocker Rita Lee... Ms. Ozzetti may be Rita Lee's number one fan -- this album of cover songs sure would be a strong indicator. But, like her idol, Ozzetti's music is plagued by goofy, mainstream pop production -- she's a little less over-the-top than Lee, but this stuff still doesn't float my boat.
Na Ozzetti "Estopim" (Na Records, 1999)


Na Ozzetti "Show" (Som Livre, 2001)

Na Ozzetti & Andre Mehmari "Piano E Voz" (MCD, 2005)


---
Brazilian Music - Letter "P"
---



Main Brazil Index
World Music Index

---