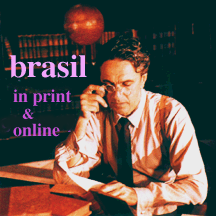 ---
OTHER BRAZILIAN WEBSITES
AND RESOURCES
---
Thanks for checking out Slipcue's Brazilian music guide
...hopefully it will be of use to you!
If you want to keep poking around here,
my Main Brazil Index has plenty of info, including
artist profiles, album recommendations (and warnings!)
and all sorts of other spiffy stuff.
If you're looking to dig deeper, the links below may help...
There are dozens of other links throughout the Slipcue site
(particularly on the individual artist pages...) but this page features
some favorite websites of general interest & general excellence
that hopefully will be as useful for you as they are for me...
Of course, this page is a work in progress:
your suggestions for other sites are always welcome.
---
Brasil... In Print
---
"The Brazilian Sound"
by Chris McGowan and Roberto Pessanha (Temple Press, 1996)

Concise, conversational, informative and very well laid out, this is an exceptionally readable book. Chapters on samba, bossa nova, tropicalia, forro and jazz include focussed biographical sketches of dozens of key artists, as well as succinct historical information about the progress of Brazilian music from its European and African folk roots into its bewildering and often beautiful modern offshoots. The book's focus is nonpartisan: although there is plenty of room for aesthetic criticism within the various styles, the authors generally hold their preferences and dislikes to themselves. They do, however, give readers a good sense of which recordings might be best to check out -- an invaluable service considering how little of Brazil's vast musical output makes it to the United States. Highly recommended! Certainly the best English-language guide to Brazilian pop that you will find, great for casual listeners and hardcore fans alike.
BRAZZIL magazine -- This Los Angeles-based magazine offers articles on a wide range of subjects, including contemporary culture, politics, and literature. Music, of course, takes the center stage, and there are articles and recommendations by a wide range of writers. The presentation is dense and knowledgable... their website also has a lot of good content, and draws heavily on articles origianlly written for the magazine.
Other print resources can be found in my book review section.
---
Announcements
---
Brazilian Music Treasure Hunt is a blog with an insane amount of informational links. The organizational principles of the site elude me, but there's a ton of cool info to be found here... This blogger has left no stone unturned!
I can't keep up with local show listings and whatnot, but here are some folks who do: SFMPB.com maintains a nice calendar of events in and around the San Francisco Bay Area, and nationwide in the US. (Anyone know of other similar regional Web listings? I'd be glad to post links...) <! I'VE BEEN RIPPED OFF: It was recently brought to my attention that a website calling itself "Bossanova.FM" has used, without permission, the text to over a dozen webpages that I wrote for Slipcue.Com (the site you are now in...) In addition to stealing my artist essays and many of my graphics, this site has also used dozens of album reviews and even my personal opinions (for example, my Nara Leao page, which begins, "One of my all-time favorite Brazilian singers...") I have sent an e-mail to this website protesting the theft of my intellectual property, and encourage any interested readers to do the same: my website represents over five years of work on my part, work that has been aimed at sharing information about Brazilian music with people across the world, and encouraging the growth of interest in all sorts of music. I publish my website for free as a nonprofit public service, and have spent hundreds of hours and thousands of dollars just so that I could add my unique voice to a discussion of global culture and art. However, it is copyrighted material, and I greatly resent someone stealing my work in this fashion, and encourage you to write them and ask them to cease and desist... They are at **a href= "mailto:radio@bossanova.fm"**radio@bossanova.fm**. Also, if anyone has suggestions on how to bring these criminals to justice, I'm all ears. Thanks for letting me vent.>
---
Brasil... On Line
---