---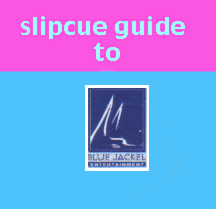 BLUE JACKEL RECORDS is one of very few labels in North America which is mainly devoted to Brazilian music. Their catalog is mainly modern, and mostly slickly produced, but strikes a delicate balance between the excesses of MPB and the soulfulness of Brazilian roots. Here are several recommendations and reviews.
---
Artist Albums
---
Banda Mantiqueira "Aldeia" (Blue Jackel/Pau Brasil, 1996)


A smooth Braz-jazz album from one of Sao Paulo's more innovative modern ensembles. The 13-piece Mantiqueira is heavy on the brass section, although this all-instrumental album takes a few smart nods at choro legend, Pixinguinha, as well as towards the smooth bossa nova sounds of the early '60s... This all by way of a peppy Doc Severinsen-style latter-day big band sound. This was a little too smooth for me, but it's not overly glitzy by any means, and may be something you'd like, if you're looking for something in a mellow jazz mode.
Banda Mantiqueira "Bixiga" (Blue Jackel/Pau Brasil, 2002)


Anyone intrigued by the mix of Brazilian and big band motifs on Banda Mantiqueira's 1996 album, Aldeia, will be delighted by this outing, in which the swanky jazz elements are punched up and perfected. This is the kind of dynamic crosscultural mix that Stan Kenton and his peers were searching for in their mid-'50s explorations of Cuban and Latin-American melodies... pretty engaging and seldom overplayed, and less mellow than earlier Mantiqueira recordings. Nice lingering hints of the Dixieland-ish choro style of dimly-remembered Brazilian artists such as Sinho and Pixinguinga. Includes radically reimagined arrangements of songs by Joao Bosco and old-school sambista, Cartola. Definitely worth checking out!
Gal Costa/Caetano Veloso "Tieta do Agreste" (Soundtrack) (Blue Jackel, 1996)


Smooth MPB ballads and incidental music from a film by director Carlos Diegues. Both Costa and Veloso are in fine form, although overall this album may be too mellow for some. The arrangements have an Italian feel to them, like something from Fellini's Amarcord. But there's nothing overtly drekky here, just a couple of old pros knocking out another solid album.
Sekouba "Bambino" Diabate "Sininkan" (Blue Jackel, 2002)


Ornate, expansively arranged West African music, very much in keeping with the world-pop crossovers of Youssou N'Dour, Habib Koite, Toumane Diabate and others. Bambino is one of the younger Guinean griots, son of singer Marlama Samoura, a popular vocalist during the late 1960s. Bambino's approach is pretty adventurous and varied; on with a hip-hop flavored tune, "Promesse," a duet with Parisian-based Senegalese rapper Diziz La Peste. Kinda slick, but nice!
Dominic Duval/Jason Kao Hwang "The Experiment" (Blue Jackel, 2000)
Avant classical/jazz, in the style of Oliver Messiaen. These noisesome bass-and-violin duets are not my cup of tea, and they certainly are different from pretty much everything else on Blue Jackel. Challenging material, and probably not that accessible to the average listener.
Gilberto Gil "Sol De Oslo" (Blue Jackel, 1998)


A very pleasant surprise. This ranks up there as one of Gil's best records, and is very much in a mellow tone. The drifting, melodic dreamscape is largely defined by the ever-present, ever-subtle accordion of Toninho Ferragutti, who weaves throughout the record, playing half-forro, half-Piazolla. Guest vocals by Marlui Miranda are also a treat: on her own records she has chosen a stark, dark style, and hearing her sweetened harmonies on this disc is a revelation. Gilberto is in peak form, continuing to build on the focussed, less jittery, style of the last five years or so. A highly recommended album, and hopefully an indicator of more great things to come.
Gilberto Gil/Various Artists "Z: 300 Anos De Zumbi" (Pau Brasil/Blue Jackel, 2002)


A relaxed, somewhat frivolous set of incidental music taken from the stage production of a musical ballet honoring the legendary Brazilian slave rebel leader, Zumbi. Gilberto Gil, Carlinhos Brown, Marlui Miranda and producer Rodolfo Stroeter collaborate on this light melange of Afro-Brazilian, African and world-pop styles. Typically, this sort of production has at least one "real" pop song in it somewhere, but not so on this album. Didn't do much for me, but folks looking for something nonlinear and soundtrack-y might enjoy this.
Joyce "Astronauta: Songs of Elis" (Blue Jackel, 1998)


A longtime devotee of Elis Regina, Brazilian jazz chantuese Joyce finally went whole-hog and put out a tribute album. Firmly in the "dinner-jazz" camp, this ensemble features contemporary jazz sidemen such as Joe Lovano, Renee Rosnes and Mulgrew Miller, as well several Brazilian cohorts. The material is drawn from songs that are closely identified with Regina, including compositions by Ary Barroso, Milton Nascimento, and even Joyce herself, who co-wrote one of Elis' later hits, "Essa Mulher". Since Elis Regina was one of Brazil's definitive vocal stylists, you gotta give Joyce credit for taking such radically different melodic and harmonic directions on most of these standards, even when the results can be iffy. (This is especially on such strongly defined, hook-laden songs such as Aldir Blanc's "Querelas do Brasil," or Edu Lobo's super-perky "Upa Neguinho," which Joyce slows to a crawl... ) Other arrangements work wonderfully, such as the tabla-and-classical guitar setup on Gilberto Gil's "Oriente", or her vocal duet with Dori Caymmi on Antonio Carlos Jobim's "Aguas de Marco". A bit on the slick side, but well worth checking out.
Tony Martinez & The Cuban Power "Maferefun" (Blue Jackel, 1999)
A very strong latin-jazz album with deep Cuban/Yoruban roots. Multi-instrumentalist and arranger Martinez is joined by several latin-jazz veterans, including Gonzalo Rubalcaba. This has never been my favorite genre, but this album ranks right up there with top artists such as Tito Puente, etc -- tight arrangements and more vigor than most contemporary jazz releases.
Marlui Miranda "Ihu: Todos Os Sons" (Blue Jackel/Pau Brasil, 1995)


Marlui Miranda "Ihu II" (Blue Jackel/Pau Brasil, 1997)


A challenging figure on the world music landscape, Miranda's Ihu albums draw on the musical and oral traditions of Brazil's 200-plus native tribes. As she herself puts it, the project is "artistic, not ethnographic" -- she's sort of like a Brazilian Meredith Monk, crafting highly unusual vocal landscapes, presenting music from an astonishingly broad range of cultures, but all within a modern artistic framework. Gilberto Gil and Rodolfo Stroecher pitch in, and Miranda's vocal chorus hits harmonies which would make both Le Voix Mysterie Bulgares and the Monks of Santo Domingo stand around a while, just scratching their heads in wonder. The first album is the more sonorous; many listeners may find Ihu II much starker and less accessible.
Tony Mola "Bragada" (Blue Jackel, 1996)


A strong, poppy blend of forro and pagode, smoothly incorporating galloping, clattering Afro-Brasilian percussion as well as Caribbean-flavored soca arrangements. The drumming may be a little too muted in the mix, but still this is a pleasant, listenable album, with warm lead and bright chorus vocals.
Tony Mola & Bragada "Quebra Mola" (Blue Jackel, 1998)


A sharp, punchy mix of forro, soca-tinged pagode, and rapid-fire bloco afro style percussion. The album starts on a sour note (bad rock guitars), and about half the tracks on here don't do much for me. The other half are pretty irresistable, though, with infectious melodies and seductive rhythm. Recommended.
Paulo Moura & Os Batutas "Pixinguinha" (Blue Jackel, 1998)


A beautiful live tribute to choro/samba pioneer Pixinguinha. Multi-instrumentalist Moura, who is known for his work in jazz as well as traditional styles, skillfully recreates sixteen classic compositions of the pre-bossa nova years. With the advantage of modern fidelity, these recordings bring out the full complexity of Pixinguinha's compositions. The melodic interplay between Moura on clarinet or alto sax, and the mandolin, ukelele and guitar work of the rest of the band is a technical -- and soulful -- tour de force. Admittedly, there is not much stylistic variation here, and your attention may wander after a dozen tracks or so, but chances are you'll whistling the tunes later that day. HIGHLY RECOMMENDED.
Maria Ochoa "Asi Quiero Vivir" (Blue Jackel, 2000)


Fabulous "campesina" music from Cuba. This is the sister of the well-known acoustic guitarist, Eliades Ochoa, of Cuarteto Patria and Buena Vista Social Club fame. Eliades guests on a couple of tracks, but this is mainly Maria's show, and she takes things at a slightly more relaxed and gentle pace, with a healthy dose of languid bolero vibes woven in with all the hypnotic guitar lines. The material includes several tracks by classic Cuban son singers such as Siro Rodriguez and Miguel Matamoros, of the Conjunto Matamoros, and even a Puerto Rican jibaro song, by the great Pedro Flores. Nice stuff!
Pau Brasil "Babel" (Blue Jackel, 1995)


On old-fashioned jazz-fusion group, featuring bassist Rodolfo Stroeder and vocalist Marlui Miranda. Sounds a LOT like old Chick Corea, Return To Forever, etc. Distinctively Brazilian elements include compositions based on indigenous tribal music -- a theme which is explored better on Miranda's solo albums (see above). My aversion to the soprano saxophone is one of the reasons I found this hard to get into.
Monica Salmaso "Trampolim" (Blue Jackel/Pau Brasil, 1999)


A gorgeous, alluring blend of acoustic pop and multi-layered Brazilian jazz. For the first half of this album, I was entranced by Salmaso's gorgeous voice, which is sort of like Gal Costa's, though tonally richer, and somewhat sweeter. Then, I started to notice how similar the songs all sounded, and after a while my attention started to drift. Produced by Rodolfo Stroeter (who also produced Gilberto Gil's awesome O Sol Oslo album, this has a similarly lavish, multi-textured sound, although it got little drippy towards the end. Nonetheless, Salmaso is a joy to listen to -- if you're looking for something mellow and dreamy, try this out.
Monica Salmaso "Voadeira" (Blue Jackel/Pau Brasil, 2002)


Continuing along the same path as Trampolim, this album is another imtimate collaboration with producer Rodolfo Stroeter. It's elegaic and super-mellow, a bit sugary, though sure to please anyone with a relaxed, jazzy world music sweet-tooth.
Sergio Santos "Eu E A Musica" (Blue Jackel, 1998)
A solidly-produced melodic album, with bits of acoustic balladry, bits of samba, bits of jazz. Depending on your temprement, this may hit you as too fluffy and yuppified, or it may seem absolutely lovely. Skirts the edges of lite-jazz overproduction, and comes out rather nicely. Worth checking out.
Daniel Taubkin "BRAzSIL" (Blue Jackel, 1998)


I gotta say, this one is just too slick for my tastes. Easy bossa-jazz, in a Kenny G-ish vein, with delicate, Jobim-derived string arrangements and wispy female vocals. Guest performers include Dori Caymmi and Egberto Gismonti... If your temprament runs towards lite jazz, this album may be a spectacular find for you -- but it honestly didn't do much for me.
Daniel Taubkin & The Uandi Uandi "A Picture Of Your Life" (Blue Jackel, 2002)

---
Compilations
---
Various Artists "BRASIL: A CENTURY OF SONG" (box set)(Blue Jackel, 1995)


Various Artists "BRASIL v.1: FOLK & TRADITIONAL" (Blue Jackel, 1995)


Various Artists "BRASIL v.2: CARNAVAL" (Blue Jackel, 1995)


Various Artists "BRASIL v.3: BOSSA NOVA ERA" (Blue Jackel, 1995)


Various Artists "BRASIL v.4: MPB" (Blue Jackel, 1995)


This four CD set is meant to show the full sweep of Brazilian pop from the late 1800s, when samba was created, to the present day. It's available both as a box set, or as individual CDs. The first volume -- Folk and Traditional is the strongest: it contains a lot of early pop artists, such as Carmen Miranda, and Ary Barroso, as well as contemporary artists with an acoustic bent, such as Geraldo Azevedo and Joao do Vale. But with a lineup like that, why quibble over terminology? Later discs, especially the Bossa Nova Era and MPB are a bit thin and lack bite, at least in my humble opinion. One suspects they ran onto problems licensing the best stuff for inclusion in this anthology, which really is a shame. Well worth checking out, though, as it is one of the only collections of its kind available in the U.S.

Various Artists "CASA DA MAE JOANA" (Blue Jackel/Natasha, 1998)


Beautiful acoustic music -- one of the best new collections you can find, if you're searching for the gentle balladry style of yesteryear. These are new recordings, but include several old masters, such as Ze Keti, Nelson Sargento and Wilson Moreira. Gorgeous songs and gentle sambas, with more emphasis on the melody than the rhythm... This brings to mind the wonderful albums made by the acoustic sambistas of the early '70s. Highly recommended!
Various Artists "CUBA: I AM TIME" (Blue Jackel, 1995)


The Cuban equivalent of the BRASIL collection listed above... I haven't had a chance to hear this 4-CD set yet, but from the looks of it, it may lean more heavily towards the older stuff. If you want a groovy crash course in the spendors of Cuban music, this would be a great place to start.
---
Links
---
Check out the Blue Jackel website... which will give you further information, and even a chance to check out some of these groovy records for yourself... Tell 'em I said "howdy"!
---



Main Brazil Index
World Music Index



---