---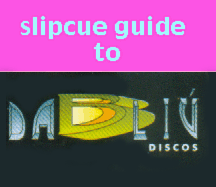 DABLIU RECORDS features many of Brazil's newer independent artists... A variable and challenging catalog, which ranges from lovely acoustic music to more eclectic, experimental stuff, and outright rocknroll. Her are some recommendations and impressions...
---
Artists
---
Kleber Albuquerque "Para A Inveja Dos Tristes" (Dabliu)
A well-produced, understatedly mellow rock-pop album which drifts gently between reggae and folkie leanings, similar to Arnaldo Antunes new records -- though not quite as punchy (or as risky). This also has an interesting, Northeastern back-country undercurrent, similar to some of Tom Ze's softer material. Not earthshaking, but quite pleasant.
Saul Barbosa "Bahia, Cidade Aberta" (Dabliu, 1995)
This tribute to the spirit of the songwriter's hometown of Bahia yields mixed results... For the most part the poppy, Carribean-tinged arrangements are a little too light and synthy and '80s for my tastes, but with an all-star cast of guest (including Caetano Veloso, Gilberto Gil, Margareth Menezes and Elba Ramalho), this still scores a few homers. A nice MPB potpourri.
Vincente Barreto "Mao Direita" (Dabliu, 1996)
Lovely acoustic album, reminiscent of early Chico Buarque and Joao Bosco, but with a sprightliness that also reminds me of Cuba's Silvio Rodriguez. Nice stuff -- not a bum note or an irritating track on here. Guitarist Barreto is a longtime collaborator with oddball tropicalista legend Tom Ze who pitches in on several tracks, and many of these songs were co-written with Paulo Cesar Pinheiro. Recommended!
Vincente Barreto "E A Turma Chegando Pra Dancar" (Dabliu, 1999)
Wonderful! Silky, sensual, multi-layered gentle pop, along the lines of Arnaldo Antunes and Vinicius Cantuaria, with more than a slight nod towards Jorge Ben's best stuff of the early '70s... and of course towards his work with Tom Ze. A relaxed, dreamy album with only a few misfires (such as the reggae-based "O Crague". On the whole, I'd say this is record well worth checking out, and obviously one which the artist spent a fair chunk of time planning out and composing. Recommended!
Adrianna Capparelli "Pequeno Circo Intimo" (Debliu, 1999)
A stagey pop tribute to songwriter Aldir Blanc (with plenty of songs that were co-written with Joao Bosco). Capparelli's declarative, sometimes syrupy, style is very showtune-influenced, sort of a blend of Maria Bethania and Elis Regina's cabaret-jazz phrasings. In many ways her delivery is well-suited to these drippy romantic tunes, but it's really not my cup of tea. For the style, though, this is pretty solid stuff, with relatively stripped-down arrangements.
Consuelo De Paula "Samba, Seresta & Baiao" (Dabliu, 2000)
A gentle exploration of several acoustic styles... For want of a better vocabulary, I'd have to say that De Paula has a sort of classic "folk" flavor to her sound; although this music is solidly Brazilian, there's also a hint of Judy Collins floating around in there. Closer to home, she also shares a winnow-y similarity to Gal Costa, if Costa were to stick to more traditional material. Pleasant to hear, and also a bit unusual in its approach... worth checking out.
Laura Finocchiaro "Ecoglitter" (Dabliu, 1997)
Disco dance and synth-pop that's not quite as glitzy as it would like to be. Somewhat Bjork-like, but it doesn't do much for me.
Luiz Gavotto "Viver E O Amor Na Cidade Grande" (Dabliu)
Ackward, dated rock, with a goofy, overproduced feel. Not my cup of tea. (Kleber Albuquerque helps out on several tracks).
Eduardo Gudin "... & Noticias Dum Brasil" (Dabliu, 2000)
Pretty stuff, originally recorded in 1994. If you've ever heard the glitzy vocal gymnastics of Quarteto Em Cy, and thought, "Hmmmm... almost, but not quite..." then maybe you'd enjoy giving this album a try... Fluid and honeyed where Em Cy are merely chirpy and acrobatic, this vocal ensemble features early work by Monica Salmaso, along with a slew of lesser-known (but no less talented) performers. A little goopy, sure, but also stately and gentle, and nowhere near as irritating as the original bossa vocal groups were. Definitely worth checking out.
Eduardo Gudin/Marcia/Paulo Cesar Pinheiro "Tudo O Que Mais Nos Uniu" (Dabliu, 2000)
A warm, stately bossa nova concert, recorded in 1996, but featuring music that was composed by Gudin and Pinheiro between 1967 and 1976. Mostly it's quite lovely, occasionally on the syrupy side, but with sufficient rough edges and earthiness to satisfy our traditionalist impulses. Nice stuff with a heavy samba flavor.
Moacyr Luz "Mandingueiro" (Dabliu, 1996)
Sweet, rhythmically rich acoustic sambas. Similarities to early Joao Bosco should come as little surprise, since most of this album was co-written along with Bosco's old partner, Aldir Blanc. Nice, mellow stuff... recommended!
Regina Machado "Sobre A Paixao" (Dabliu)
One of the most fascinating releases on this challenging Brazilian indie label. Machado combines a bossa-informed acoustic style with lightly operatic vocals and chamber music orchestration -- the Brazilian equivalent, if you will, of Elvis Costello's Brodsky Quartet outings. For those less inclined towards art songs, her vocals may wear thin after a while, but overall this is an intriguing, atypical release, well worth checking out. (Also includes a pair of older German-language Heinrich Heine pieces, and a cover of Caetano Veloso's "Este Amor".)
Madan "A Opera Do Rinceronte" (Dabliu, 1999)
Acoustic-based folk-rock which recalls some of Joao Bosco's work. Each song on here was co-written with a different collaborator, including one called "Deus", which he wrote with Arnaldo Antunes. For the most part, this stuff doesn't work that well for me, although if you lined this up against similar material in English -- say, the Dave Matthews Band -- Madan would probably wind up holding his own.
Jorge Mautner "O Ser Da Tempestade: 40 Anos De Carreira" (Dabliu)
Fans of old Os Mutantes or of Tom Ze's oddball surrealist rantings may enjoy this 2-CD set... An interesting, often goofy collection of songs by an MPB old-timer and musical absurdist... This is divided in two parts, one is a disc of violinist-vocalist Mautner playfully lurching his way through a newly-recorded, sideways-tilted collection of songs, some old, some new, and several which are recognizable from old records by various MPB and tropicalia stars. Those same folks -- including Gilberto Gil, Caetano Veloso, Gal Costa -- pitch in on the second CD, which is made up of their versions of Mautner's songs, including two versions of "Maracatu Atomico", Gilberto Gil's 1973 original, and a new one by Chico Science. Mautner's own performances are super-goofy, kinda like once got in the studio he just couldn't resist the opportunity to mug his way through them... The arrangements around his silliness are pretty solid, though, and have a latter-day music-hall feel to them, in the tradition of Ray Davies and the Kinks. Nothing earth-shattering, but worth checking out if you're interested in the history of the whole tropicalia/MPB phenomenon.
Maria Miranda/Alzir Espindola "Ninguem Pode Calar" (Dabliu, 2000)
Angular, jazz-tinged, torch-ish cabaret samba, sort of like a Portuguese-language Rickie Lee Jones. Not really my cup of tea -- a bit broadly drawn -- but I could see where folks could get pretty interested in this one...
Lucila Novaes "Frestas de Ceu" (Dabliu, 1998)
Slightly over-sweetened bossa-pop, with songs by Roberto Menescal, Lo Borges, Dori Caymmi and others. Also features music written by label-mate Vincente Barreto, and collaborator Juca Novaes. Her vocals are fine, and the arrangements are understated, though a little too soft for me. Still, if you want something mellow and acoustic, this might fill the bill.
Na Ozzetti "LoveLeeRita: Cancoes de Rita Lee Desde Os Mutantes" (Dabliu, 1996)
Ms. Ozzetti may be the world's number one Rita Lee fan-- this album of cover songs sure would be a strong indicator. Unfortunately, like her idol, Ozzetti's music is plagued by goofy, mainstream pop production -- she's a little less over-the-top than Lee, but this stuff still doesn't float my boat.
Ione Papas "Noel Por Ione" (Dabliu, 2000)
A solid modern tribute to Noel Rosa, one of the great early songwriters of the classic samba cancao era of the Great Depression. Papas glides atop sleek, bright, catchy MPB arrangements, reminiscent (and on a par with) the best work by Gal Costa and Elis Regina. The cover art's a bit "blah," but the record's certainly worth checking out!
Piraja Esquina Carioca "Uma Noite Com A Raiz Do Samba 0 Ao Vivo" (Dabliu, 2000)
A gorgeous live samba album! It wouldn't be unfair to compare this fab acoustic ensemble to Cuba's much-beloved Buena Vista Social Club -- although this particular group of sambistas, including Beth Carvalho, Joao Nogueira and Dona Ivone Lara never found their fame eclipsed in the same way that the Cuban old-timers did, and they didn't need Ry Cooder to gather their forces together. Still, this is a loving, lively tribute to the old days, and it's done by a bunch of veteran performers who really know their stuff. Every time Carvalho gives a little shout-out to encourage the band, she sounds so joyful that you can't help but smile. Great stuff. HIGHLY recommended!
Fernando Salem "Disco" (Dabliu, 2000)
MPB with strong rap and '80s rock leanings -- clearly influenced by Caetano Veloso's more "pop" material. You might find the forceful Caribbean/disc/hip-hop sound that permeates several tracks to be a bit jarring, but Salem does hold things together fairly well. Not entirely my cup of tea, but it's not disasterous or unlistenable in the way that MPB was in the '80s.
Marcia Salomon "Mundos E Fundos" (Warner/Dabliu, 1995)
Soft pop with good vocals, but cheesy arrangements. The album is a tribute to songwriter J.C. Costa Netto, who apparently worked a bit with Roberto Menescal (who plays guitar on here). Menescal gets in some nice licks, but on the whole this is too slick and "adult-pop" for me.
Luiz Tatit "Felicidade" (Dabliu)
A singer-songwriter on the acoustic end of the MPB spectrum... Delicate, fairly fey vocals, not unlike some of Chico Buarque's more genteel moments. Not bad.
Luiz Tatit "O Meio" (Dabliu, 2000)
More delicately crafted, Caetano-influenced pop... Tatit builds off an acoustic foundation, adding light Afro-Brazilian percussion and rather precise light-classical string instrumentation. In parts it feels a little overly-deliberate and cerebral, although it is well produced. Highlights include some tandem scatting with labelmate Na Ozetti that are reminiscent of Marcos Valle's old duets with his wife, Anamaria. Nice stuff, though perhaps overly restrained.
Inacio Zatz "Zatz" (Dabliu, 2000)
A striking, surprising, and quite pleasant new example of the Brazilian mix-n-match method of music making... The album opens on a potentially troublesome note -- a piercing, BB King-style, electric blues riff, the sort of thing that in the United States has signified a muscle-bound, moribund musical genre ("urban blues") that has completely lost its creative edge for the last few decades... Naturally, when you hear someone in Brazil pick up a twang bar and wail away, your first instinct is to run and hide -- yet far from sucking, Inacio Zatz is a gas. For one thing, he's not a blues musician... at least he's not limited to the style. Actually, he doesn't seem to be limited to any style: this is an impressively eclectic record, incorporating various shades of rock, bossa nova, afro-bloco percussion, tango, torch song and Django-y acoustic swing and stereotypical Japanese traditional music -- all with equal ease. A few overly-goofy moments, but on the whole, well worth checking out!
---
Compilations
---
Various Artists "ONDE E QUE ESTA O MEU ROCK'N'ROLL? - ARNALDO BAPTISTA NOVAMENTE REVISITADO" (Dabliu, 1999)
This low-rent rocknroll tribute to ex-Mutante Arnaldo Baptista has its charms and its iffy moments as well... The repertoire includes material from Baptista's Mutantes days, as well as a bunch of his solo stuff. The bands are also pretty diverse, ranging from actively painful Pat Travers-style rockers (Nata Violeta, Ligacio Direta) to space rockers, grindcorers, Green Day clones, and goth-ish indie types of varying ability. It's not, to be honest, the greatest album ever. But you could look at it as the Brazilian equivalent of one of those zillions of mid-1980s postpunk rock comps that came out during the days when they still called it "college" rock. Also, keep in mind that Baptista wasn't the world's most coherent composer, so anyone covering his raggedy-ass material has a tough act to follow. Some of these songs hit the mark, others don't -- but for the hardcore Mutantes fan, this could definitely be worth checking out.
---
Links
---
The Dabliu label's website... will give you further information, and even a chance to check out some of these groovy records for yourself... Tell them I said "hi"!
---



Main Brazil Index
World Music Index



---