---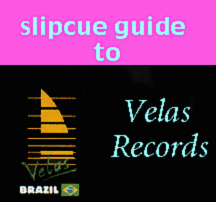 VELAS RECORDS showcases contemporary jazz and Brazilian pop artists... Started by MPB composer Ivan Lins, Velas has dozens of albums out in Brazil, and has recently begn to market select releases in the USA... and here are some of the best.
---
Recommended Records
---
Vania Abreu "Seioda Bahia" (Velas, 2000)


I'm going to go out on a limb here, and say that Ms. Abreu is a better vocalist than her more musically outgoing and more famous big sister, soul-axe star, Daniella Mercury. Her phrasing is more consistent, her voice is sweeter, and her persona less strained. And, of course, there is also the music. This is an exceptionally solid, pleasantly mellow album which recalls the natural, relaxed warmth of the best of mid-'70s samba cancao artists such as Jair Rodrigues, as well as the jazz-inflected torch song phrasings of Maria Bethania and other MPB divas. Abreu's vocals, as well as her arrangements, connect emotionally and don't feel forced or desperate to fit into some sort of pop or rock crossover niche. Definitely one of the strongest new releases in the Velas label's North American catalog. Recommended!
Chico Cesar "Aos Vivos" (Velas, 1995/2000)


Great live album by one of Brazil's best-beloved new rock artists. Here, he's on more of an acoustic Dave Matthews-y tip, except that unlike Matthews, he doesn't suck. This fab debut got a lot of airplay, and the charisma and warmth that Cesar exudes goes a long way to explain his continuing popularity, despite the flaws of his more high-tech later releases. Recently reissued domestically in the US.... Recommended!
Dominguinhos "Cantam Luiz Gonzaga" (Velas-Brasil, 1997)


A nice, if somewhat moderately-paced tribute to forro founder Luiz Gonzaga. Guest performers include Gilberto Gil, Daniela Mercury, Joao Bosco and Djavan, as well as lesser-known folks, like Nando Cordel and Marines... It's a pleasant album, but as I mentioned, a bit on the plush side, perhaps reconciling the frantic pace of forro with the more languid, glossy pop ethos of the Velas label. Pretty sweet overall, though.
Ivan Lins/Chucho Valdes/Irakere "Live In Cuba" (Velas, 2000)


A live exploration of Lins' love of Cuban music, recorded live, with one of the island's most popular artists. Valdes and Lins are pretty simpatico -- both of them have veered towards bouncy synth-pop over the years. Although also rather glossy, this is nonetheless a little less drekky than the Live At MCG disc listed above. Lins' more sugary tendencies are tempered by the percussive drive of Chucho Valdes and his band, Irakere, imbuing these songs with a more-than-usual degree of vigor. While still not my cup of tea, this is probably one of your better bets if you want to check out his recent stuff.
Ernan Lopez-Nussa "From Havana To Rio" (Velas, 2000)


Considering my strong habitual disinterest in "latin jazz" as a marketable genre, this album comes as a pleasant surprise. Lopez-Nussa, a Cuban pianist with a strong Brazilian jones, performs with a passion and immediacy that is sorely lacking in the by-the-numbers jazz albums that swamp us up North. Although he does have his fair share of tried-and-true latin-jazz noodling around, Lopez-Nussa also has some weird, challenging riffs that he uses instead of the sleepy easy listening approach that is standard in jazz circles these days. Although the playing is accomplished, it isn't polished down to a nub; and if you're inclined towards the genre, I'm pretty comfortable recommending this one to you.
Rosa Passos "The Best Of Rosa Passos" (Velas, 2000)


It's hard not to gush about this album, so I won't even try. One of Brazil's greatest (but less well-known) vocalists, Passos hasn't had a record released domestically in the U.S. before this excellent collection. Her down-south praises have been well placed: Rosa Passos is certainly one of the most striking singers I have ever heard. Completely serene and at ease on all her recordings, she has a confident, understated persona that evokes Ella Fitzgerald as much as Joao Gilberto. Passos sings small, completely foregoing the muscular, gymnastic projections of MPB divas such as Maria Bethania and Gal Costa... There is some similarity to the much-beloved jazz legend Elis Regina, but really it's mostly in the choice of musical terrain: Passos is a much less strained singer, and much easier on the ears. As a stylist, her sense of timing is stunning. With seemingly effortless accuracy, her soft, pure tones invariably strike a perfect compliment to her gentle bossa-based arrangements. Even while brilliantly re-orchestrating Brazilian standards such as "Aquarela Do Brasil" or "Aguas De Marco", Passos seems unhurried and calm. I don't normally care for this style of soft-pop/jazz, but when it frames a talent as remarkable as this, I can go for it in a big way. Highly recommended!
Rosa Passos "Me And My Heart" (Velas, 2002)


Gloriously understated acoustic performances featuring Passos, her guitar, and sympathetic, subtle accompaniment by Paulo Paulelli on bass. Passos's voice is so youthful on here I had to check the liner notes to make sure this wasn't an old, reissued recording she'd made as a teenager... But sure enough, this was recorded in the Fall of 2001. Packed with bossa and MPB standards, this is quite nice and very lovely to listen to... Recommended!
Zizi Possi "Valsa Brasileira" (Velas-Brasil, 1993)


A nice match-up of artist and label. Possi's background was in the theatre, but she was propelled into the MPB mainstream int he late '70s with some assist by Chico Buarque and others. Her albums from the 1980s are mostly too glitzy and slick for my tastes, but this was made after she made a conscious choice to go back to a simpler, more cabaret-based style. This jazzy album features some of Possi's brighter, more creative arrangements. She tackles a lot of familiar material, but from unusual and unexpected vantage points -- working with a small trio of instrumentalists, Possi introduces some creative melodic and rhythmic twists into material by the likes of Gilberto Gil, Edu Lobo, Geraldo Pereira, and even old-timers like Pixinguinha and Jackson do Pandeiro. Although by the end of the album, the band starts to sound bit static, overall this is one of the freshest-sounding albums of its time... Certainly of her albums that I've heard, this is the one that I would most strongly recommend.
Quarteto Jobim-Morelenbaum (Velas, 2000)


A sweet tribute to Antonio Carlos Jobim which features his son, grandson, and former cellist and bandleader Jaques Morelenbaum, as well as Paula Morelenbaum, who serves as the group's chanteuse, trading vocal duties with the Jobim lads. Spanning the breadth of Jobim's career, these songs are fairly standard bossa fare, but nice and pleasant... Morelenbaum -- one of the most well-rounded musicians imaginable -- is capable of moodier, more mysterious, arrangements, but I guess he didn't feel that was his job in this instance... But I'm not complaining... this is a pretty solid record. By the way, if you have the chance to see this ensemble perform, don't hesitate -- they are even more ethereal and sublime live!
Toque De Prima "Se Tem Que Ser Sera" (Velas, 2000)


A heartily welcomed throwback to the soulful acoustic samba style of the '70s, recorded by a crack band out of the Rio samba scene. These fellas keep great company, as seen in guest appearances by sambista Zeca Pagodinho, jazz singer Joyce and forro accordionist Dominguinhos. Only lightly dipping into glossier material, this is pretty much a solid, upbeat, beautifully paced album, well worth checking out.
Chucho Valdes & Irakere "Unforgettable Boleros" (Velas, 2000)


Despite what all the other kids say, I've never been a big Irakere fan, and while this relaxed collection of slow boleros is more restrained than many of their more bombastic, synthesizer-heavy pop tunes, it's still a bit too slick for my tastes. Of course, a lot of the tone is completely in keeping with the romanticism of the bolero style, and fans of the genre may enjoy this little change of pace from one of Cuba's biggest contemporary bands.
---
Links
---
The Velas website previously offered information about the label's domestic (US) releases, including many of the Afro-Cuban and Latin jazz records which are not reviewed here... Unfortunately, in the Spring of 2002 I heard the American wing of Velas folded up shop, and by the end of the year the site no longer had anything to do with music. Many of the records reviewed above can still be found through US retailers, though... so that's the good news!
---



Main Brazil Index
World Music Index



---