<! MP3 10/10/08, 11/18/09 > <! update 00/00/00 > <! pix 11/05/09 > <! ALLBM 00/00/00 > <! icons 01/22/11 > <! Lomma "Um Mate Por Ti" (RGE, 1991) > <! La Vai Samba "La Vai Samba" (Todamerica) - similar to Os Originais? > <! NILO LOPES & Copacabana Orchestra Product Of Brazil" (Seeco) 1960s > <! Carlos Lacerda - only three albums? Carlos Lacerda "xxxxxxxxxxxxxxxxx" (???????, ??????) ?? Carlos Lacerda "Um Piano De Bahia" (Audio Fidelity, 1963) Carlos Lacerda "Piano De Informal (E Bossa)" (JS Discos, ????) Apenas para agućar a curiosidade do leitor, neste discaćo Lacerda se faz acompanhar por Moacir Albuquerque no baixo, Tutti Moreno na batera e Miguel na percussčo...pouca coisa hein? Oućam a faixa "Desintegraćčo" e percebam porque este disco, além de ser objeto de cobića de colecionadores estrangeiros, é um dos mais bem guardados segredos da MPB instrumental. Nčo encontrei informaćões sobre o relanćamento em cd deste disco, portanto... >
---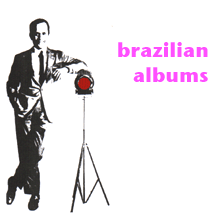 This is a listing of miscellaneous albums and artists under the letter "L"
If an artist or album you like is not reviewed here, please feel free
to contact me and make a suggestion.
---
A | B | C | D | E | F | G | H | I | J | K | L-1 / 2 / 3 | M | N | O | P | Q | R | S | T | U | V | W | X | Y | Z | Compilations
Brazilian Styles | 30 Recommended Records | Portuguese-language pop | Brazilian Links | Slipcue.Com
---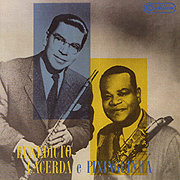 Benedito Lacerda & Pixinguinha "Benedito Lacerda E Pixinguinha" (RCA Camden, 1966)



Some of the finest and most dazzlingly pure choro instrumentals by two masters of the genre, flautist Benedito Lacerda and multi-instrumentalist Alfredo Da Rocha Viana Filho, better known as Pixinguinha. This album of vintage recordings was first compiled in 1966, reviving classic melodies such as "1 x 0," "Naquele Tempo" and "Andre De Zapato Novo" for a generation that had since moved on to the charms of bossa nova and the pop-jazz hybrids of MPB. The original allure of these zippy tunes comes through loud and clear, though -- these tracks were recorded between 1946-50 (though many of the compositions are much older) and feature both performers at the peak of their powers. There's plenty of overlap between this disc and other Pixinguinha retrospectives, but there's something nice about hearing the music as it was first revisited by the Brazilians of the bossa nova era. Also, this is a very strong presentation, with a lean, compact selection of songs that wastes no time bringing out the best music the style has to offer. Highly recommended!
Benedito Lacerda "Minha Flauta De Prata" (Revivendo, 2005)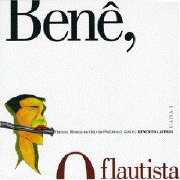 Benedito Lacerda/Various Artists "Bene, O Flautista" (Maritaca, 2008)



A stunning 4-CD set covering the career of fabled Brazilian flautist Benedito Lacerda (1900-1958), who is best known for his work with saxophonist and choro pioneer Pixinguinha, but who also recorded profilically with many of the greatest samba stars of the 1930s and '40s. This collection includes many of his most famous recordings, including a flurry of dazzling duets recordings from the 1940s that included lively, definitive versions of instrumental duets with Pixinguinha, as well as classic samba-cancao tracks from Francisco Alves, Silvio Caldas, Carlos Galhardo, Carmen Miranda, Mario Reis and other stars of the 1930s, as well as numerous recordings of Lacerda's own bands, Grupo Gente Do Morro and Velha Guarda de Almirante. Some of the greatest treasures come from the Grupo Gente recordings (an entire disc's worth!) that often feature Lacerda singing, as well as taking the lead on his flute. The sound of his pixielike piping laces through all these recordings, and is remarkably familiar to anyone who has delved into the music of this era -- nice to finally put a name to the face, as it were! There is significant overlap between this set and other recent reissues -- notably the CD reissue of RCA's old Lacerda-Pixinguinha LP -- but you'd be hard pressed to find any music fans who will complain about the duplication. Personally, I could listen to this stuff for days on end. Just start off with the jaw-dropping "1 x 0," perhaps the best-known Pixinguinha tune, and you will be in awe of Lacerda's technical skill and soulfulness. This beautiful, compact box set includes a capacious, chatty, authoritative booklet that gives background on all the songs, steers you towards more modern versions, and provides much-welcome biographical sketches of dozens of Lacerda's collaborators -- bandleaders, composers, guitarists, percussionists, singers -- that will help fill in a lot of gaps in ones general knowledge of the early 20th Century Brazilian music scene. A great, great box set -- highly recommended!
Genival Lacerda - see artist discography

(Quarteto) Lacos "Concerto Show -- Gravado Ao Vivo" (Som Livre, 1976)
A wide-ranging, energetic live show, featuring Luiz Eca on piano, and a sharp-edged, alert jazz ensemble, backing vocalist Claudia Versiani. The repertoire is mainly composed of solid, mid-'70s MPB, but with a distinct jazz edge to the performances, ranging in tone from near-free jazz and fusion to a pleasantly updated version of the uptempo style practiced in the bossa days. Marcos Paulo (apparently a popular Brazilian actor?) also contributes some dramatic spoken word pieces atop brooding musical backing, poems by Ruy Guerra and others -- the musical elements are more compelling, but the poetry is a nice change of pace. In some ways this is a slightly odd album, but overall it's rather strong; a good indicator of the vibrancy and power of the 1970s Brazilian music scene.


<! I read on e-bay and popsike saying it is has some killer funky fusion tracks, great electric keys, sticking percussion and cool treated wah wah guitar cuts with great scat voice. There is a quartet backing the trio of main performers, featuring Claudio Caribe, Helio Delmiro, Luizao and Marcio Montarroyos, which is probably the real Quarteto Lacos. >

Lady Zu "A Noite Vai Chegar" (Philips, 1977)

Lady Zu "Femea Brasileira" (Philips, 1979)

Lady Zu "Number One" (Abril, 2002)

Nubia Lafayette - see artist discography

Mario Lago/Various Artists "NADA ALEM" (tribute album) (Som Livre, 1991)


Guest performers abound in this heartfelt tribute to velha guarda poet-actor-songwriter Mario Lago, whose professional career began in the 1930s, when samba cancao stars such as Atualfo Alves, Carmen Miranda, Mario Reis and Orlando Silva recorded his early hits. The songs have a very distinctive feel to them; Lago certainly had a "sound," which I suppose could be typified as not-too-lachrymose saudade, a romantic sense of longing and sadness... Although Lago is pictured on the album cover, I don't think he actually performs on the disc -- no matter, with elegant performances by Gal Costa, Paulinho Da Viola, Nelson Goncalves, Ivone Lara and Raphael Rabello, this tribute disc has its share of talent... Most of the arrangements are cheesy, but some are real gems, particularly Costa's reading of the title track, "Nada Alem."


<! Mário Lago (Rio de Janeiro, 26 de novembro de 1911 — Rio de Janeiro, 30 de maio de 2002) foi um advogado, poeta, radialista, letrista e ator brasileiro. Autor de sambas populares como "Ai, que saudades da Amélia" e "Atire a primeira pedra", ambos em parceria com Ataulfo Alves, fez-se popular entre as décadas de 40 e 50. Biografia Filho do maestro Antônio Lago e de Francisca Maria Vicencia Croccia Lago,[1] e neto do anarquista e flautista italiano Giuseppe Croccia, formou-se em Direito pela Universidade do Brasil, em 1933, tendo nesta época se tornado marxista. A općčo pelas idéias comunistas fizeram com que fosse preso em sete ocasiões - 1932, 1941, 1946, 1949, 1952, 1964 e 1969.[2] Foi casado com Zeli, filha do militante comunista Henrique Cordeiro, que conhecera numa manifestaćčo política, até a morte dela em 1997. O casal teve cinco filhos: Antônio Henrique, Graća Maria, Mário Lago Filho, Luiz Carlos (em homenagem ao líder comunista Luís Carlos Prestes) e Vanda.[2] Torcedor do Fluminense, chegou a declarar, na época do 1ľ rebaixamento do clube, que a virada de mesa em favor do tricolor carioca havia sido uma atitude vergonhosa de todos os responsáveis, envolvidos no esquema. Ele afirmava veementemente, que o time deveria ter voltado ą divisčo de elite do Campeonato Brasileiro no campo, e nčo no tapetčo. [editar] Carreira artística Comećou pela poesia, e teve seu primeiro poema publicado aos 15 anos. Formou-se em Ciźncias Jurídicas e Sociais na década de 30, na entčo Faculdade de Direito da Universidade do Rio de Janeiro, atual Faculdade Nacional de Direito da Universidade Federal do Rio de Janeiro (UFRJ), onde iniciou sua militČncia política no Centro Acadźmico CČndido de Oliveira, entčo fortemente influenciado pelo Partido Comunista Brasileiro. Durante a década de 1930, a entčo principal Faculdade de Direito da capital da República era um celeiro de arte aliada ą política, onde estudaram Lago e seus contemporČneos Carlos Lacerda, Jorge Amado, Lamartine Babo entre outros. Depois de formado, exerceu a profissčo de advogado por apenas alguns meses. [3] Envolveu-se com o teatro de revista, escrevendo, compondo e atuando. Sua estréia como letrista de música popular foi com "Menina, eu sei de uma coisa", parceria com Custódio Mesquita, gravada em 1935 por Mário Reis. Trźs anos depois, Orlando Silva realizou a famosa gravaćčo de "Nada além", da mesma dupla de autores. Suas composićões mais famosas sčo "Ai que saudades da Amélia", "Atire a primeira pedra", ambas em parceria com Ataulfo Alves; "É tčo gostoso, seu moćo", com Chocolate, "Número um", com Benedito Lacerda, o samba "Fracasso" e a marcha carnavalesca "Aurora", em parceria com Roberto Roberti, que ficou consagrada na interpretaćčo de Carmen Miranda. Em "Amélia", a descrićčo daquela mulher idealizada, ficou tčo popular que "Amélia" tornou-se sinônimo de mulher submissa, resignada e dedicada aos trabalhos domésticos. Na Rádio Nacional, Mário Lago foi ator e roteirista, escrevendo a radionovela "Presídio de Mulheres". Mas só ficou conhecido do grande público mais tarde, pela televisčo, quando passou a atuar em novelas da Rede Globo, como "Selva de Pedra", "O Casarčo", "Nina", "Elas por Elas" e "Barriga de Aluguel", entre outras. Também atuou em pećas de teatro e filmes, como "Terra em Transe", de Glauber Rocha. Mário esteve na Uničo Soviética, em 1957, a convite da Rádio Moscou, para participar da reestruturaćčo do programa Conversando com o Brasil, do qual participavam artistas e intelectuais brasileiros. Mas os programas radiofônicos produzidos no Brasil, que Mário mostrou aos soviéticos, foram por eles qualificados de "burgueses" e "decadentes". A avaliaćčo que Mário Lago fez da Uničo Soviética também nčo foi das melhores. Ali, segundo ele, a produćčo cultural sofria pelo excesso de gravidade e autoritarismo. Apesar da decepćčo com a experiźncia soviética, Mário Lago jamais abandonou a militČncia política. [4] Em 1964, foi um dos nomes a encabećar a lista dos que tiveram seus direitos políticos cassados pelo regime militar, e perdeu suas funćões na Rádio Nacional.[1] Em 1989, ligou-se ao Partido dos Trabalhadores e atuou como Čncora dos programas eleitorais do entčo candidato do partido, Luís Inácio Lula da Silva, ą presidźncia da República, em 1998.[1] Autor dos livros Chico Nunes das Alagoas (1975), Na Rolanća do Tempo (1976), Bagaćo de Beira-Estrada (1977) e Meia Porćčo de Sarapatel (1986), foi biografado em 1998 por Mônica Velloso na obra: Mário Lago: boźmia e política. No carnaval de 2001, Mário Lago foi tema do desfile da escola de samba Acadźmicos de Santa Cruz.[5] Em dezembro de 2001, recebeu uma homenagem especial por sua carreira durante a entrega do Troféu Domingčo do Faustčo, que, no ano seguinte, ganharia o nome de Troféu Mário Lago, sendo anualmente concedido aos grandes nomes da teledramaturgia. Em janeiro de 2002, o presidente da CČmara, Aécio Neves, foi ą sua residźncia no Rio para lhe entregar, solenemente, a Ordem do Mérito Parlamentar. Na sua última entrevista ao Jornal do Brasil, Mário revelou que estava escrevendo sua própria biografia. Estava certo de que chegaria aos 100 anos, dizia Mário, "Fiz um acordo com o tempo. Nem ele me persegue, nem eu fujo dele". Morreu no dia 30 de maio de 2002, aos noventa anos de idade, em sua casa, na Zona Sul do Rio de Janeiro, de enfisema pulmonar. Para o velório foi aberto o palco do Teatro Jočo Caetano onde vivera importantes momentos de sua carreira de ator.[1] Até o fim de sua vida manteve intensa atividade política e mesmo doente chegou a se engajar na campanha presidencial apoiando o entčo candidato Luís Inácio Lula da Silva. Por ter sido estudante do Colégio Pedro II da Unidade Sčo Cristóvčo, hoje em dia existe, em sua homenagem, dentro do colégio o Teatro Mário Lago, onde ali se faz apresentaćões do grupo de teatro do Colégio Pedro II da Unidade Engenho Novo (CRIARTE). Encontra-se sepultado no Cemitério de Sčo Jočo Batista no Rio de Janeiro. >

Mario Lago/Various Artists "90 Anos" (Revivendo, 2003)





<! RETRATO Continental - 1978 A MÚSICA BRASILEIRA DESTE SÉCULO POR SEUS AUTORES E INTÉRPRETES - MÁRIO LAGO SESC - SP - 2000 >


Guilherme Lamounier - see artist discography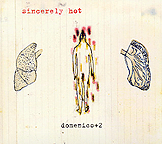 Domenico (Lancellotti) +2 "Sincerely Hot" (Pingpong, 2003)



An atypical band, seeking an atypical audience, this trio was known a year earlier as Moreno Veloso +2, gaining widespread praise in Brazil and abroad for an alluring mix of indie rock, electronica and modernized MPB. Part of their acclaim came from the presence of Moreno himself, son of the mega-superstar Caetano Veloso, who showed much of his father's adventurous musical spirit and relaxed performance style. But, having established itself as a "world music" band to content with, the Plus Twos went ahead and followed the ultrademocratic game plan they'd set out with at the start, to have each of the band members record a disc under their name... This time around, it's drummer Domenico's turn, and the shift in musical direction is quite remarkable... This album boasts a pronouncedly modern, American-style tilt towards brash, bright electronic pop and indierock motifs worthy of any critic's darling out of Seattle, Portland or Chicago. The band dips into some softer, textured melodies that borrow from the bossa nova stylebook, but for the most part the point seems to be to make sure that we can see that the kids in Brazil are keeping up with hipsters in the rest of the world. This disc may not have the same mellow, mystic allure as their debut, but it's still pretty darn good, and consistently engaging. Worth checking out! (See also: the +2 discography page.)
Domenico Lancellotti "Cine Prive" (Malintenti Dischi, 2011)

Ivor Lancellotti "Cantador De Rua" (EMI-Odeon, 1986) (LP)

Ivor Lancellotti "Ivor Lancellotti" (1990)

Ivor Lancellotti "Ivor Lancellotti" (Dabliu, 2000) <! 1999 >


Ivor Lancellotti "Bolero Eterno" (2004)

Ivor Lancellotti "Em Boas E Mais Companhias" (Dubas, 2010) <! 2007 >






<! Domenico appears on this album >


Dona Ivone Lara - see artist discography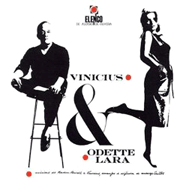 Odette Lara & Vinicius De Moraes "Vinicius + Odette Lara" (Elenco/Polygram, 1963)



Bossa nova with a playful edge. Poet/songwriter Vinicius De Moraes, sort of a bossa beatnik, is teamed up with actress Odette Lara, who acquits herself quite well in the role of Brazil's Brigitte Bardot. Vinicius' vocals are whisper-y, conversational and penetrating, and Lara's are appropriately lush and sultry -- on duets, their voices don't always mesh, but since they mostly trade off on the songs, it doesn't matter much. Features the tune, "Berimbau", which is credited with helping re-popularize the twangy folk instrument of the same name. Strong arrangements and solid delivery make this one well worth checking out.

Odette Lara "Contrastes" (Elenco, 1966)



There may be a reason why actress Odete Lara is seldom mentioned when the greats of the bossa nova generation are recalled... In all honesty, it may mostly be because she didn't really have all that great a voice. The arrangements are vintage Aloysio Oliveira/Maestro Gaya Elenco label bossa-pop, but all the studio talent assembled behind her couldn't save this album from foundering under the weight of Lara's sluggish, lumpen vocals. It's not exactly awful... it just doesn't measure up that well to all the stellar music that was being recorded in Brazil around the same time.
Lazzo "Viver, Sentir E Amar" (Pointer, 1983) (LP) <! year >

---
Brazilian Music - More Letter "L"
---



Main Brazil Index
World Music Index

---