<! MP3 10/14/08, 11/14/09 - need separate Fagner discography > <! pix 11/14/09 - reorg > <! ALLBM 00/00/00 > <! icons 01/22/11 > <! UPDATES: 10/14/08, 03/24/12 - updated Marcio Faraco, Vital Farias > <! GERALDO FLACH: Alma Bibi Ferreira - oldschool - five albums on AM > <! Os Filhos Do Rio Grande "Chegaram Os De Bombachas" (Chantecler) Os Filhos De Goias "Cotovelo Do Povo Brazil" (Phonodisc) >
---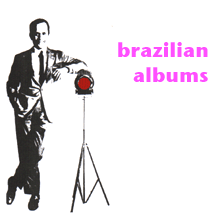 This is a listing of miscellaneous albums and artists under the letter "F"
If an artist or album you like is not reviewed here, please feel free
to contact me and make a suggestion.
---
A | B | C | D | E | F-1 / 2 | G | H | I | J | K | L | M | N | O | P | Q | R | S | T | U | V | W | X | Y | Z | Compilations
Brazilian Styles | 30 Recommended Records | Portuguese-language pop | Brazilian Links | Slipcue.Com
---

Fabio "Os Frutos De Mi Tierra" (Polydor, 1970) (LP)


Spacy, starry-eyed folk rock (there's even a Cat Stevens cover!) from this little-known Brazilian hippie pop singer. Some of this is fun in an archival, nostalgia time-capsule kind of way, although very little of it is really that satisfying to listen to: his vocals aren't always great, and the music often meanders. Some great folk-freak noodling, though, as well as some boring attempts at straight pop songwriting. Not a gem, but still a nugget. Fabio was also mildly infamous for recording a 1968 single called "LSD" ("Lindo Sonho Deliriante") which did not make it onto this album.
Fabiola "Luz Da Mim" (PPA, 1983) (LP)





<! label: PPA?? >

Fafa - see "De Belem, Fafa"




Raimundo Fagner - see artist profile




Fala Mangueira! "Fala Mangueira!" (Odeon, 1968)


A magnificent old-school samba album. It's a little difficult to know just where to file this one... "Fala Mangueira" is actually the album title, but while five of the greatest traditional samba artists of the 1960s and '70s share the stage, as it were, on this disc, they are all performing together, taking turns singing the leads on longer medley tunes. At any rate, if you want to hear Odete Amaral, Nelson Cavaquinho, Cartola, Clementina De Jesus and Carlos Cachaca all busting loose on a nice set of tunes associated with (and about) Cartola's famous samba school, then check this disc out. The arrangements and performances are all first-rate, and this has a really nice, friendly feel. Recommended!


<! 130 x 130 >

Fred Falcao "Imparceria" (Tratore, 2007)


Fred Falcao "Voando Na Cancao" (Saladesom, 2011)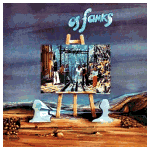 Os Famks "Os Famks" (Continental, 1975) (LP)


Formed in the late 1960s, Os Famks was initially a family band, with several brothers in the Cataldo family and some friends... They backed rock-oriented artists such as Ze Rodrix and had members coming in and out of other bands for years, but didn't record their first single until 1974 and only released two albums before morphing into the soft-rock band Roupa Nova in the '80s.




Os Famks "Famks" (EMI-Odeon, 1978)



<! Os Famks "Tristes Can‹o/Querida/Sylvia/Eu e Voc" (1974) (compacto duplo) Os Famks "N‹o Deixe Terminar" (compacto simples) (1979) >

Marcio Faraco "Ciranda" (Universal/Blue Thumb, 2000)



Gentle acoustic pop from a Brazilian expatriate living in France, this has traces of early Joao Bosco, Edu Lobo and Chico Buarque (who Faraco worked with in the 1980s, and who joins him for a duet on the title track)... For a more North American reference point, think -- perhaps -- of early Bruce Cockburn material: soft at the core, but not overly cloying. These bossa-derived ballads are pretty easy on the ears, and while your attention may drift a bit, there's nothing on here that will make you cringe in terror. An artist with a smooth voice and a light touch.
Marcio Faraco "Interior" (Universal, 2003)


Marcio Faraco "Com Tradicao" (Universal, 2006)

Marcio Faraco "Um Rio" (Le Chant Du Monde, 2008)


Marcio Faraco "Invento" (Universal, 2009)

Marcio Faraco "O Tempo" (Le Chant Du Monde, 2011)


Ruy Faria & Carlinhos Vergueiro "So Pra Chatear" (Rob Digital, 2005)


A "solo" album from Ruy Faria, former lead singer of the fabled vocal group, MPB-4, his first album after leaving the quartet in 2004.
Vital Farias "Vital Farias" (Polydor, 1978)

Vital Farias "Taperoa" (CBS-Epic, 1980)

Vital Farias "Sagas Brasileiras" (Polygram, 1982)


Vital Farias/Elomar/Geraldo Azevedo/Xangai "Cantoria 1" (Kuarup, 1984)



Beautiful, relaxed live acoustic recordings by this informal foursome from the Brazilian Northeast... The more upbeat numbers echo Gilberto Gil's acoustic improvisations, while the quieter numbers seem to draw on the Latin American "new song" movement... At any rate, these are gentle, stately performances, and well worth checking out.
Vital Farias/Elomar/Geraldo Azevedo/Xangai "Cantoria 2" (Kuarup, 1985)






<! Vital Farias "Vital Farias" (Polydor, 1978) Vital Farias "Taperoa" (CBS-Epic, 1980) Vital Farias "Sagas Brasileiras" (Polygram, 1982) Vital Farias "Do Jeito Natural" (Polygram, 1985) Vital Farias "Ao Vivo E Aos Mortos Vivos" (Discos Vital Farias, 2002) >

Vital Farias "Do Jeito Natural" (Polygram, 1985)





Vital Farias "Ao Vivo E Aos Mortos Vivos" (Discos Vital Farias, 2002)






Dick Farney - see artist discography




Farofa Carioca "Moro No Brasil" (Universal, 1998)



(Produced by Farofa Carioca & Carlos Beni)
This contemporary samba-soul band is most notable for the presence of future solo star Seu Jorge... Much less so for the music itself, which is a generic, hyperactive update of the Brazilian funk sounds of yesteryear -- it lacks any semblance of subtlety or grace, and reminds me of Earth Wind & Fire or Ed Motta, more than P-Funk or Bootsy. It's the manic pace that really turns me off, as well as the wall-of-sound production style, which has a forced, artificial feel to it, and seems rushed and not very heartfelt. Seu Jorge knew what he was doing when he shifted gears and got out of this band. They kinda sucked.

Os Farroupilhas "Os Farroupilhas Na TV" (Columbia, 1960)
Formed in Porto Alegre in the late 1940s, this perky group (aka Conjunto Farroupilhas) starred on Brazilian TV during the first bloom of the bossa nova movement, and although they were known in part for their popularizing of various "regional" styles, they also tackled plenty of bossa material as well. This album has several nice bossa covers, including "O Pato" (complete with duck quacks at the end), "Samba De Uma Nota So" and "Dindi," all sung with such a brazen commercial appropriation that they are utterly charming. There are also several international songs -- one in French, one in German, another in Italian, a swinging Perez Prado-style cha-cha-cha number and a realy silly-bad English-language rendition of "When The Saints Go Marching In." It's all sung with great gusto by a tight, modest-sized male-female chorus, with punchy arrangements: if Mitch Miller came from Sao Paulo, this is what his music would have sounded like. I never would have suspected how appealing this group would be -- indeed, where I find Quarteto Em Cy and the MPB4 to be rather irritating and bland, this band was pretty fun.


<! no producer info on LP > <! B0064R9UKO LP > <! Grupo criado em 1948 na Rádio Farroupilha em Porto Alegre, integrado por Danilo Vidal de Castro (Porto Alegre, RS - 1927), Tasso José Bangel (Taquara, RS - 1931), Iná Bangel (Porto Alegre, RS - 1933), Estręla d'Alva Lopes de Castro (Livramento, RS - 1934) e por Sidney do Espírito Santo (Sorocaba, SP - 1925). >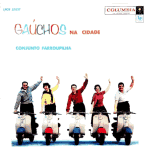 Os Farroupilhas "Gauchos Na Cidade" (Columbia, 1960) <! 1958? >
Another goofy, giddy mix of regional styles and 'Fifties-ish pop vocals, with some tracks sounding like Brazilian Doris Day recordings, others like a toned-down version of northeastern traditional material, and a few German-language tracks thrown in for good measure. The German immigrant (Boys From Brazil?) population doesn't often overtly factor into Brazilian popular culture: this is one of those rare instances where it does. BTW - love the photo of them riding mo-ped scooters on the album cover!


<! 01 - Por causa de voc (Tom Jobim - Dolores Duran) 02 - Chanson d'amour (Wayne Shanklin) 03 - Muy cerca de ti (F.Gimenez - B.Molar) 04 - Ein glaeschen wein und du (Mueller - Verch) 05 - Tem que ter (Tulio Piva) 06 - Madrugada llanera (Juan Vicente Torrealba) 07 - Basta un poco di musica (M.Marini - D.Calcagno) 08 - La petite valsa (Joe Heyne) 09 - Mr. Lee (H.Dixon - H.Gathers - E.R.Pought - L.Webb - J.Pought) 10 - Entrevero no jac‡ (Barbosa Lessa - Danio Vital) 11 - Liechtensteiner polka (Kotscher - Lindt) 12 - Clases de cha-cha-cha (Ram—n Marquez - Sergio Marmolejo) Conjunto Farroupilha: Danilo Vital de Castro Tasso JosŽ Bangel In‡ Bangel (Inah) Estrla d'Alva Lopes de Castro (Estrella) Alpheu de Azevedo - acoustic guitar, voice > <! Os Farroupilhas "Temas Gauchos" (Continental) B004S085SW Os Farroupilhas "Eternos Sucessos vol. 2" (Imperial) B004ZBPQEK >

Fausto Fawcett "Fausto Fawcett E Os Robos Efemeros" (Warner, 1987) (LP) <! /or B0086KMNWY >

Fausto Fawcett "Imperio Dos Sentidos" (Warner, 1989) (LP)

Fausto Fawcett "Fausto Fawcett E Falange Moulin Rouge" (1993)

---
Brazilian Music - More Letter "F"
---



Main Brazil Index
World Music Index

---