<! cd = 02/07/13 > <! MP3 02/07/13 > <! pix 00/00/00 > <! SOURCES 02/07/13 - ABM, WP > <! icons 02/07/13 > <! UPDATES: 02/07/13 - posted >

---
Carlos Dafe was a leading figure in Brazil's soul scene of the 1970s and early '80s... He's more of a crooner rather than a funkster, and I have to confess, it's not a style I really care for. Still, here's a quick look at his work... You might like it more than I did.
---
Discography
---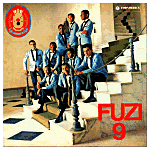 Fuzi 9 "Fuzi 9" (Todamerica, 1970)
Authentic, though semi-inept pop-funk with slight psychedelic tinges, apparently recorded by a bunch of guys who were enlisted in the army at the time... Although I'm sure this qualifies as a genuine "samba soul" lost nugget, you have to admit that the rhythm section is kinda wobbly, the horns are off-key, and the organ soloist is a little ragged, as are the group vocals. But once you get past all that, this album does have its charms. Mostly, I think, this is notable for the presence of bandmember Carlos Dafe... Not sure what he was up to between this group and his solo stuff...
Carlos Dafe "Pra Que Vou Recordar" (Warner, 1977)


Re-released on a single disc along with Dafe's 1978 album, Venha Matar Saudades.

Carlos Dafe "Venha Matar Saudades" (Warner, 1978)


A slick, glossy pop-soul set, it's pretty cheesy, but well-produced, and occasionally fun. Sort of has a Lionel Richie/"Love Boat" theme song vibe, mixed in with a bit of Djavan's pop elegance. The upbeat songs are best, including "Escorpiao" and "Acorda Que Eu Quero Ver"; the slower ballads are dreadful. Production-wise, though, this sounded very contemporary, and up to date with what was going on in the USA at the time. (Re-released on a single disc along with Dafe's 1977 album, Pra Que Vou Recordar.)

Carlos Dafe "Malandro Dengoso" (Warner, 1979)


The cover art is cool, but the album is surprisingly lame. This is a set of adequately-produced but unexciting samba-soul from a highly regarded 'Seventies scenester... The arrangements are uniformly static and flat, while Dafe's voice is remarkably limited and unexpressive. I don't get it. Then again, I suppose this does help put some of Gilberto Gil's middle-period work, and Djavan's early albums into a wider context. One things that's noteworthy, though, is that Dafe wrote or co-wrote all the songs on here, with the lone exception of a revamped version of Ary Barroso's "Folhas Mortas." One of the originals was written along with fellow "Black Rio" soulster Dom Mita...

Carlos Dafe "De Repente" (RCA, 1983)



Blehh. More of the same -- Dafe thrashing about amid slick, synthy modern soul arrangements... The music is in the Lionel Richie/Bobby Brown sphere, though Dafe hardly has the vocal finesse of those guys. Didn't do much for me, though fans of global soul might find it more compelling.
Carlos Dafe "O Trem Da Gente" (Acordo, 1992)

Carlos Dafe "Seu Jeito De Olhar" (Perfil Musical, 1996)

---
Links
---
---



---