<! cd = 10/28/12 > <! MP3 10/28/12, 12/01/12 > <! pix 10/28/12 > <! SOURCES 00/00/00 > <! icons 10/28/12 > <! UPDATES: 12/01/12 - posted 01/24/13 - reviewed live albums, added pix >

---
Singer-guitarist Seu Jorge is perhaps best known to non-Brazilians for his supporting role in the film, The Life Aquatic, where he played a mellow Brazilian musician crewing a small boat on an unlikely journey... On his own records, he emerged as a mellow Brazilian musician playing an acoustic-based mix of samba, funk and soul, reminiscent of Gilberto Gil's classics from the '70s. Here's a quick look at his work...
---
Discography
---

Farofa Carioca "Moro No Brasil" (Universal, 1998)



(Produced by Farofa Carioca & Carlos Beni)
Seu Jorge made his debut with this contemporary samba-soul band, a group more notable for his presence than for the music itself, which is a generic, hyperactive update of the Brazilian funk sounds of yesteryear. This album lacks any semblance of subtlety or grace, and reminds me of Earth Wind & Fire or Ed Motta, more than P-Funk or Bootsy. It's the manic pace that really turns me off, as well as the wall-of-sound production style, which has a forced, artificial feel to it, and seems rushed and not very heartfelt. Seu Jorge knew what he was doing when he shifted gears and got out of this band. They kinda sucked.

Seu Jorge "Carolina" (Mr. Bongo, 2002)



(Produced by Mario Caldato)
I listened to this album when it first came out, but took several years to get around to reviewing it, mostly because it didn't do much for me the first time around, and I didn't want to be (once again!) in the role of pooh-poohing some trendy album that all the pretty people in Europe think is cool... So, just to be a nice guy, I set Seu Jorge's debut aside for a while, and avoided comment, then forgot it was in the stacks until the Summer of '05, when his second album (reviewed below) came along and made my toes curl a little... So, I dutifully dug this one up and gave it another listen: Produced by Mario Caldato of Beastie Boys fame...? Check. Mostly original material, with a few well-chosen covers by the likes of Jorge Ben and Carlos Dafe...? Check. A soul-disco-funk-samba mix that sounds a lot like Jorge Ben's work in the early '80s...? Check. Gets better the longer you listen to it and the deeper you go into the album...? Check. Still kind of flat and prefab? Yeah... check. Gets not-so-great again towards the end of the album? Um... yeah. I mean, this album is okay, but not electrifying; Seu Jorge often comes close to drifting into Luiz Melodia territory, but he does manage to keep just this side of cool. I guess it's really the first few and the last few tracks on here that seem only so-so; the middle of the album gets a little slinkier and more genuinely groovy. It's worth checking out, for sure, though perhaps not quite as earth-shatteringly super-cool as you might be led to believe. (Released in Brazil under the title, Samba Esporte Fino.)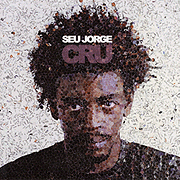 Seu Jorge "Cru" (Wrasse, 2004)



A wonderfully low-key record, which starts off with a lively, cavaquinho-led acoustic number, recalling the glory years of the '70s pagode scene, and moves into a series of equally subtle, understated performances. On track after track, Seu Jorge implies more musical power than he displays, and even on the few tunes where he dips back into his soul roots, it is with the greatest of restraint... A couple of moments are mildly taxing -- his vocal duel with a cuica, for example -- but nothing will interfere with your enjoyment of what is clearly a superior album. Features mostly original material, including a couple of songs by collaborator Fernando Brant (who also plays guitar on about half the album), another Carlos Dafe song, an old samba number by Noca Da Portela, as well as an updated version of an old Serge Gainsbourg song, "Chatterton," which is like capnip for all the Euro-hipsters eager to get a healthy dose of cool new Brazilian music as well. Very nice and very listenable... Recommended!

Seu Jorge "The Life Aquatic Studio Sessions" (Hollywood, 2005)



Cute record. Taken from Wes Anderson's glib, irony-drenched film The Life Aquatic With Steve Zissou (which I hated, but that's another story...) these Portuguese transliterations of classic David Bowie tunes are pretty charming and funny (Although I kinda wish he'd done some with a full band though...) It's worth pointing out that this isn't the first time this has been done. A few Brazilian artists have covered Bowie before, notably the pop band Nenhum De Nos, who had a hit in the 1980s with a Portuguese-language cover of "Starman." (I suspect Bowie was really big in Brazil in the '70s and '80s -- why wouldn't he be? -- which would explain why he was covered so often... Seu Jorge would appear to have been one of his many Brazilian fans...) Also, these aren't really "bossa nova" versions of Bowie's work (as some of the movie's fans have mistakenly said...) It's actually straightforward acoustic rock, which is a rarity in Brazilian music... Some of the performances, like "Oh! You Pretty Things" seem a little strained -- I think the filmmakers asked Jorge to come up with an album's worth of Bowie covers, and several seem a bit choppy, but on the ones he's been playing for a long time, like "Life On Mars" and "Changes," he seems completely at home: these are the album's real gems, although all the songs are amusing and clever. PS -- although Seu Jorge's performances were woefully under-utilized in the film itself, you can see the full takes of many of his acoustic sessions on the "extras" reel on the 2-disc Criterion Collection DVD, and those performances are pretty illuminating. Fun stuff!
Seu Jorge/Various Artists "The Life Aquatic" (Soundtrack) (Hollywood, 2005)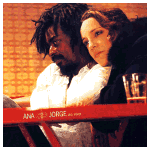 Seu Jorge & Ana Carolina "Ana & Jorge" (BMG, 2005)



A set of individual live acoustic performances and duets with singer Ana Carolina... Seu Jorge opens the album with several mellow tracks, laid-back and relaxed folk-samba strummings similar to his Life Aquatic work, and then Carolina joins him and things go South for a while: their initial duets are a bit torturous and indulgent. You can tell they enjoy each other's company, but the songs aren't much fun to listen to. Then she does some solo stuff, again, slower and mellower, and that's okay. Seu Jorge joins her for the closing number and they kind of lose me -- I just don't like the way they harmonize, and find it puzzling that since they each sing mellow material so well, why they choose such clunky uptempo, rock-flavored stuff to collaborate on. There are some tracks on here that are okay, but mostly I found this album to be irritating and skippable.
Seu Jorge & Ana Carolina "Ana & Jorge" (DVD) (BMG, 2005)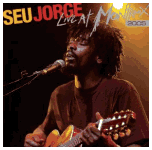 Seu Jorge "Live At Montreaux: 2005" (Eagle, 2007)



As with many of his records, the mellow stuff is nice and Gilberto Gil-ish, but the uptempo tracks are kind of clunky. There an interesting call-and-response section where his band's samba drummers really get the crowd going... But a lot of this lacks the subtlety I enjoy on his other albums. Worth checking out, I suppose.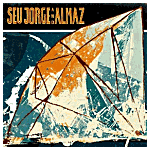 Seu Jorge & Almaz "Seu Jorge & Almaz" (Cafune, 2010)



(Produced by Almaz & Mario Caldato, Jr.) <! (?) >
Trying something new, Seu Jorge hooks up with the art-rock trio Almaz, and introduces sort of a Giant Sand-ish, math-rocky vibe into his work... His usual groovy samba-pop rhythm is obscured and sometimes abandoned in favor of trippy sonic textures, echo-y guitar noodlings and a generally experimental, rock-oriented vibe. Doesn't really do much for me -- there's little to propel me through as a listener, no melody or momentum to latch onto. Includes some interesting cover songs, such as a noodly version of Martinho Da Vila's "Ciranda," A Tim Maia song, a cover of Roy Ayers' "Everybody Loves The Sunshine," and perhaps most unexpectedly a song by the avant-weirdnik Tribo Massahi, "Pai Joao," which dates back to their 1972 album. I guess Seu Jorge gets points for pushing himself artistically, but I'm not gonna be blasting this one at any garden parties anytime soon...
---
Links
---
---



---