<! cd = 04/30/12 > <! MP3 04/30/12 > <! pix 04/30/12 > <! ALLBM 04/30/12 > <! UPDATES: 04/30/12 - posted >

---
One of Brazil's highly-regarded old soul artists, Hyldon Sousa started his career in the rock-soul band, Os Diagonais along with bandmate Cassiano, who also became a key figure in Brazil's '70s soul scene. Hyldon worked in bands that backed artists such as Wilson Simonal and Tim Maia and has had several of his songs covered by other artists. Here's a quick look at his work.


<! Um dos grandes representantes da soul music brasileira (ao lado de Tim Maia e Cassiano), o cantor, violonista e compositor baiano Hyldon tocou com os Diagonais (de Cassiano), Wilson Simonal, Tony Tornado e Tim Maia (de quem foi parceiro) e produziu discos de Jerry Adriani, Erasmo Carlos e Odair José. Teve seu primeiro e maior sucesso em 1975, com a balada "Na Rua, na Chuva, na Fazenda", título de seu primeiro disco, que ainda estourou "Na Sombra de uma Árvore" e "As Dores do Mundo". Gravou "Deus, a Natureza e o Amor" em 1976, sem conseguir repetir o źxito. Hyldon voltou ą luz nos anos 90 através do interesse de bandas como o Kid Abelha, que regravou "Na Chuva" e do Jota Quest, que fez o mesmo com "As Dores do Mundo". >

---
Discography
---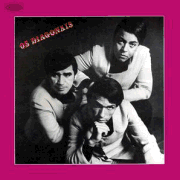 Os Diagonais "Os Diagonais" (CBS-Epic, 1969)


A fun set of Brazilian pop-soul, with a youthful, cheerful vibe. This Rio-based band featured several key players in the burgeoning "Black Rio" soul scene, notably singer-guitarist Hyldon Souza and singer-songwriter Cassiano. In the late '60s, they backed Tim Maia, who was perhaps the most influential of the Brazilian soul singers. This was the band's first full-length album, and it has kind of an Arthur Conley-ish feel... Not quite all-out funky, but close. Personally, I find this a lot more enjoyable than their later work in the 1970s (particularly Cassiano's) where the music got pretty overbaked. Here, it's still all fresh and earnest, and not too serious or syrupy. Definitely worth checking out.


<! Os Diagonais started in 1964 as Bossa Trio. They had a very short career, recoding several singles, this first LP in 1969 and the last one in 1971, making a mix of Samba and Soul music blended with nice vocal harmonies. Among several members during these years, it is very easy to highlight several names that became later renowned artists, such as: Cassiano, Luizao, Hyldon, Osmar Milito, among others. Tracks include: >

Os Diagonais "Os Diagonais (Cada Um Na Sua)" (RCA, 1971)



The album opens with some overly-bright, perky sunshine-pop, straight out of the Southern California/LA playbook; Philly-style soul and a bit of harder funk come into play later. I can't say I actually liked this record that much -- most of the songs seem a bit shrill and hyperactive -- but serious students of Brazilian funk and soul will definitely want to check it out. Several of the songs on this disc were written by Cassiano, who seems to have been the dominant performer in the band.

Hyldon "Na Rua, Na Chuva, Na Fazenda" (Polydor, 1975)



(Produced by Guti & Jairo Pires)
This is one of his best albums, pretty nice, fairly spacy stuff, as much acoustic-fusion noodling as soft-soul... But a nice album nonetheless... Hyldon Sousa was on the scene for several years before he put out his own solo stuff, mostly contributing as a songwriter for other people's albums. This is a sweet record, sort of what you hoped Djavan would sound like, if he hadn't gotten so Sting-ed out. Worth checking out.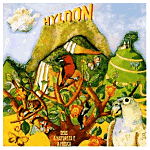 Hyldon "Deus, A Natureza, E A Musica" (Polydor, 1976)


(Produced by Guti & Hyldon)
An absurdly lavish, overly-baroque, semi-psychedelic soul-folk outing which is -- in turns -- playful, goofy, soulful and sort of hard to listen to. It's definitely interesting and a signpost of the eclectic vibe of mid-1970's Brazil, but I'm not sure how much I could actually sit down and listen to this record. Some tracks, like "O Boiadeiro," have a kinship to the spacey, loose-limbed stuff Gilberto Gil was doing at the time, and while this does have a connection to the Black Rio soul scene, it is, thankfully, much fresher and more original than most of that material. The CD reissue includes a trio of bonus tracks, all more pop-oriented, clunky and mainstream than the songs on the original album. Worth checking out, but not as accessible as you might desire.

Hyldon "Nossa Historia De Amor" (CBS, 1977) (LP)


Hyldon's artistic successes at Polydor don't seem to have extended over to his later gig on CBS... The high regard which Hyldon is now held in seems a bit odd, considering how thin his sound actually seems. To begin with, he doesn't have the greatest voice, and the arrangements are as much acoustic folk-rock as they are Philly soul... He does get funky on a couple of numbers, but on the whole this is not a very rhythmic album. That being said, this disc does kind of grow on you after a few listens - his songs are kind of catchy - and it's definitely worth checking out. Guest artists include fellow soulsters Ed Lincoln and Tony Bizarro; Waltel Branco leads the string and orchestral arrangements, light as they are, and forro whiz-kid Dominguinhos plays accordion on one track.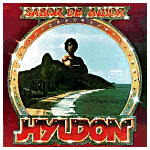 Hyldon "Sabor De Amor" (Continental, 1981) (LP)


(Arranged by Hyldon)
A gooey soft-pop/soul set, musically accomplished, I suppose, but pretty sappy. Some noteworthy session players, including Antonio Adolfo on a few tunes, and Azymuth's Ze Roberto Bertrami playing synths. Also some yucky electric bass and flugelhorn -- I guess he was going for a Djavan-like vibe? Well, whatever.


<! 01 - Vadiagem (Hyldon) 02 - Sabor de amor (Hyldon) 03 - A última balada (Hyldon) 04 - Leva-la-ei (Like a Bird Flying) (Hyldon) 05 - Renascimento (Hyldon) 06 - Siga o teu caminho (Hyldon - Ivan Miguel) 07 - Cubana (Hyldon - Jackson Goes) 08 - Sčo Conrado (Hyldon) 09 - Amor risos e lágrimas (Hyldon) 10 - Amor na terra do berimbau (Hyldon) 11 - Vem danćar o samba (Hyldon - Alexandre) 12 - Viveiro de pássaros (Hyldon) Arranged by Hyldon Hyldon - voice, acoustic guitar Alexandre Malheiros - contrabass Mamčo (Ivan Conti) - drums Sergio Carvalho - hammond organ, piano fender Zé Roberto Beltrami - sintetizadores Antonio Adolfo - piano yamaha (1,3,4) Renato Piav - guitar Marcio Montarroyos - solo flugh (9) Mario Monteiro (Picolé) - drums (1,3,4) Chacal - percussion Neném da Cuíca - percussion Carlinhos da Mocidade - percussion Grupo Alma Brasileira (4) >

Hyldon "Coracao Urbano" (Recarey, 1986)





Hyldon "Hyldon" (Esfinge, 1989)





Hyldon "Mo Ni Ise Re" (Leblon, 1993)





Hyldon "O Vendedor Do Sonhos" (Trama, 2003)

Hyldon "Balanco" (Trama, 2004)

Hyldon "Soul Brasileiro" (Microservice Brazil, 2004)


Hyldon "Ao Vivo" (Universal, 2010)

---
Links
---
---



---