<! cd = 05/01/12 > <! MP3 05/15/12 > <! pix 05/15/12 > <! ALLBM 05/15/12 - still wondering about Erasmo Carlos connection > <! icons 05/15/12 > <! UPDATES: 05/15/12 - posted >

---
The Bubbles aka A Bolha was a Brazilian garage/psych/prog band from Rio de Janeiro which struggled through the jovem guarda teenybopper rock era, then found fame as Gal Costa's live band during her most rock-oriented tropicalia years, and also worked with rockers such as Erasmo Carlos and Leno, both veterans of the 1960s jovem guarda scene. In the early '70s The Bubbles shifted from garage rock into a harder psychedelic/prog sound and renamed themselves A Bolha, releasing two albums and a number of singles. Here's a quick look at this dynamic band's remarkable career...


<! also with Erasmo Carlos? Which albums? >

---
Discography
---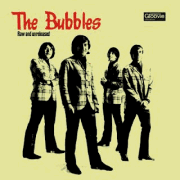 The Bubbles "Raw And Unreleased" (Groovie Records, 2010) (LP)


A swell collector's item classic, which includes the original band's lone 45rpm single, as well as a slew of unreleased demos, and the first single released under the A Bolha name. When I first listened to this, I thought it might be a hoax: they were just too good to be true! Pure, pleasurable freakbeat/garage pop that fits into the rock explosion going on throughout Latin America (and the rest of the world). Includes a fun cover of Los Shakers' "Break It All" (in both demo and single form) as well as Stones, Yardbirds and Beatles covers... Their likeness to Uruguay's legendary Los Shakers is notable: if you like that band, you'll love these guys. I particularly dig their version of the Yardbirds "For Your Love": goofy translation, but a cool recording.

Leno "Vida E Obra De Johnny McCartney" (CBS, 1971)


A surprisingly convincing heavy rock outing (with dips into soft pop and psychedelic folk) from a former teen-scene jovem guarda star who was once half of the Leno & Lilian duo. The opening cuts have tons of fuzzed-out electric guitars, worthy of Pretty Things, Humble Pie and Cream... and for Brazilian rock, that's saying a lot! Standout tracks (and there are several) include the thudding, Spinal Tap-esque "Sentado No Arco Iris" and the more country-rockin', Monkees-ish "Nao Ha Lei Em Grilo City." Indeed, I wouldn't have thought it, when I first laid eyes on this disc, but it's pretty darn good. Apparently the Bubbles were the backing band, providing powerful drive even as they were moving into an acid rock/prog phase themselves... If you're checking out hippie-era Brazilian rock, this album is a strong entry... Worth checking out!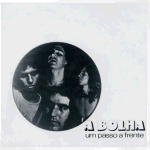 A Bolha "Um Passo a Frente" (Continental, 1973)


Vintage Brazilian acid/prog rock, with long guitar solos, rolling snare drum crescendi, even a bit of Jethro Tull-ish flute... the works. After making the scene at the Isle of Wight, the Bubbles came home to Brazil and, keeping up with the times, set a course into more grinding hard-rock territory. If you like this brand of early '70s rock, then this is a doozy of an album... If on the other hand, Yes, and "Tommy" by the Who, or Can or ELP are all things that taxed your patience back then and still do now, you may want to approach this record with some caution. It's a good record for its time, and almost by definition it's self-indulgent and excessive. Not being a stoner myself, I find it hard to listen to in more than very small chunks. You'll have to check it out yourself to see what you think.
A Bolha "E Proibido Fumar" (Polydor, 1977)

---
Links
---
---



---