<! cd=03/28/05 > <! MP3 09/12/08, 12/20/09, 01/24/11 - only two on Amazon, 03/05/12 > <! update 09/12/08, 03/05/12 > <! pix 11/24/09 > <! icons 01/24/11 >

---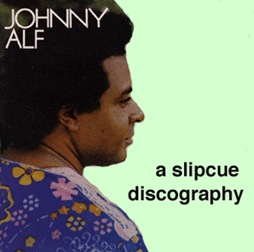 An icon of cool, pre-bossa nova singer and singer Johnny Alf (b. Alfredo Jose Da Silva, in 1929) is credited as one of the early influences on the bossa style, and his song "Rapaz De Bem," first recorded in 1955, is considered by many to be the first proper bossa nova song. His professional career started in the early 1950s, and he was a constant figure on the Rio nightclub scene while the bossa generation was finding its voice... Alf has recorded sparingly -- he didn't make his first albums until the early 'Sixties, when bossa had already become the dominant popular style, but has always proved himself adept at keeping up with the times, and he has a loyal and vocal group of devotees, including many of the best-known musicians of his era. Here's a quick look at his career...
---
Discography
---

Johnny Alf "Rapaz De Bem" (RCA Victor, 1961)


(Arrangements by Maestro Nelsinho)
The first solo album by this swinging bossa-era vocalist. Although he actually began his career in the early 1950s, during the height of the "radio singers" era, Johnny Alf is considered a key figure in the development of bossa nova. This album give a nice picture of Alf at his peak. The perky, chugga-chugga arrangements and slushy string sections may get irritating after a while, but taken in small doses, this is pretty classy stuff. Like his idol, Dick Farney, Alf was still a bit of a Sinatra-esque crooner, but he also had a handle on the soulful downbeat that links him to the hipness of his times.

Johnny Alf "Diagonal" (RCA Victor, 1964)


(Arrangements by Celso Murilo)

Johnny Alf "Johnny Alf" (Mocambo, 1967)



This album was reissued in 1986 under the title Eu E A Brisa, with one track difference between the two editions. (The song "Kao Xango" is substituted with a live track recorded in 1974...)
Johnny Alf "Ele E Johnny Alf" (EMI-Odeon, 1971)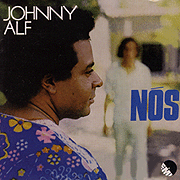 Johnny Alf "Nos" (EMI, 1973)



One of Alf's hippest and most swinging albums! Although he eventually settles into a more staid, romantic mode, this disc is steeped in 'Seventies-style funk and fusion, with some pretty wicked arrangements swirling around Alf's understated vocals. The ensemble backing him includes heavyweights such as Gilberto Gil, Egberto Gismonti, Paulo Moura, Wagner Tiso and Arthur Verocai, who are all credited with providing orchestrations, and who presumably play on the album as well. Folks who don't dig funk-fusion might want to steer clear of this (although old-fashioned bossa vocals do assert themselves as well) but if you're looking for Johnny Alf's wild side, this is a great album to track down. Recommended.

Johnny Alf "Desbunde Total" (Warner, 1978)


(Produced by Coelho Netto)
Sleek, sweet, mellow swinging fusion vocals with a breezy, relaxed vibe that, surprisingly enough, I liked quite a bit. Joao Donato helped with the arrangements, and together they craft a sly, slinky sound that stands up well to repeated listens. Recommended!

Johnny Alf "Olhos Negros" (BMG Ariola, 1991)


(Produced by Miguel Plopschi & Liber Gadelha)
A mellow set, packed with high-powered guests stars from the upper eschelons of MPB... Chico Buarque, Gal Costa, Gilberto Gil, Roberto Menescal and Zizi Possi are among the convivados who pay reverent homage to their host in a series of lush, swank duets. No surprise that high marks go to Caetano Veloso, who transcends the project's gooey jazz-vocals format on the title track, "Olhos Negros," and imparts a warmth and emotive presence that puts him on another level altogether -- and also brings out Alf's strengths as well. Gil does okay; also noteworthy is the duet with jazz chanteuse Leny Andrade who brings some power to "Nossa Festa," although she also goes a bit overboard. Alf also performs solo on the two closing tracks... All in all, a strong record, though perhaps too goopy and monochromatically paced, but classy in an old-school MPB way.
Johnny Alf & Leandro Braga "Noel Rosa -- Letra E Musica" (Lumiar, 1997)


An homage to fabled 1930s samba-cancao composer Noel Rosa
Johnny Alf "Cult Alf: 40 Anos De Bossa Nova" (Natasha, 1998)


A live acoustic set honoring the birth of bossa nova...


<! B0015KI71I >

Johnny Alf "Eu E A Bossa" (Rob Digital, 1999)

Johnny Alf & Pedro Casaldaliga "As Sete Palavras De Cristo Na Cruz" (1999)

Johnny Alf "Mais Um Som" (Guanbara, 2005)

Johnny Alf/Various Artists "Ao Vivo E A Vontade Com Seus Convidados" (2008)


A live album, with guest appearances by Leny Andrade, Ed Motta, Cauby Peixoto and others...
---
Links
---
Clique Music/AllBrazilianMusic has a good artist profile and discography. (In Portuguese and English.)
MPB.net also has a nice, detailed biographical entry...
SomBras has a good discography, including information on the handful of 78rpm singles and EPs Alf recorded in the 1950s, before his LP debut in '61, as well as singles-only releases and appearances on various projects. Great resource.
---



---