<! cd = 00/00/00 > <! MP3 00/00/00 > <! pix 00/00/00 > <! ALLBM 00/00/00 > <! icons 00/00/00 > <! UPDATES: 00/00/00 >

---
'70s songwriter Marku Ribas (1946-2013) bore a resemblance -- particularly in the vocals -- to Black Rio soul crooner Tim Maia however, Marku had much weirder, more eclectic musical interests, with all sorts of freaky instrumental twists that make his music far more intriguing and consistently listenable. Here's a quick look at his work...


<! Com 63 anos de idade, Marco Antônio Ribas, nascido na cidade mineira de Pirapora, filho de pai negro médico e de mče descendente de índios kayapó, tornou-se no Brasil e em diversos países conhecido como Marku Ribas, nome artístico adotado a partir de 1969. Artista intenso e de grande diversidade nas atuaćões, Marku é tido por muitos como um dos gźnios da cultura brasileira. Na música, ele é dono duma profusčo criativa, com miscigenaćões rítmicas marcantes. A estréia nos palcos foi em 1962, ainda em Pirapora, com o grupo chamado Flamingo, em que Marku era acompanhado por amigos. Eram os irmčos Haroldo e Paulo Anunciaćčo, Hélio Ramos e Osvaldo Damásio, conhecido como Duzinho. Em 1965, eles gravaram um compacto no Rio de Janeiro, pela gravadora Musidisc. Já em 1967, Marku vai a Sčo Paulo, e lá grava pela Continental o LP "Déo e Marco", com um antigo parceiro de Pirapora. Ainda no mesmo ano, em momento efervescente nas composićões participou do Festival da Música no Rio de Janeiro, com a canćčo Canto Certo, que mais tarde foi intitulada Alerta Geral e gravada por Alcione. A música foi censurada pela ditadura, pois trazia os versos: "Como viver calado se também sofro as dores da situaćčo?/ Cada dia tá mais difícil de cantar (...) / Vamos fazer nossa revolućčo/ Porque chorar, chorar pra quź? / Quem tem consciźncia pesada é vocź". Diante da represália, a resposta de Marku veio no próximo festival com Nunca Vi, canćčo que também foi censurada e depois teve versos modificados em parceria com o mago Paulo Coelho (Mente e Coraćčo, Phillips, 1980). A perseguićčo nos festivais resultou na prisčo de Marku em outubro de 1968. Diante disso, o artista resolveu exilar-se em Paris, onde participou como ator de filmes importantes da Nouvelle Vague, como Quatre Nuit D?une Revźur (1969), de Robert Bresson, e Revolution (1970), de Jean-Marc Tibeau. Em Paris, montou o grupo Batuki, que se apresentou na Europa e Caribe, onde veio a morar por quatro anos na Martinica, ainda no princípio dos anos 1970. De férias, esteve no Brasil nessa época, quando gravou o emblemático disco Underground, recheado do que Marku sabe fazer melhor: polirritmias, harmonias bem elaboradas e melodias difusas, expressando sua "internacionalidade", com uma atenćčo especial para as tradićões africanas e caribenhas. O disco foi lanćado nos anos de 1972 e 73, pelas gravadoras Copacabana (Brasil) e Vogue (Franća), e traz o grande sucesso Zamba Ben, que está entre os maiores hits brasileiros do samba-rock. Novamente de passagem no Brasil, em 1975, Marku grava o álbum Marku, lanćado também aqui e na Franća em 1976 pela Copacabana. Em 2002, a gravadora EMI em parceria com o selo Aorta Música colocou novamente no mercado brasileiro, remasterizados e em único CD, os dois discos com o título Marku 72/75. Completa discografia do artista: Barrankeiro (Phillips, 1977), Cavalo das Alegrias (Phillips, 1979), Mente e Coraćčo (Phillips, 1980), 20 Anos (Timbre/Piraporarte, 1983), Autóctone (Piraporarte, 1991), Cor da Pele (108/Piraporarte, 1997) e o DVD Marku Ribas - Toca Brasil (Itaú Cultural/+ Brasil Música, 2008). Em fase de finalizaćčo, Marku prepara um novo disco autoral com inéditas, com previsčo de lanćamento ainda este ano. Como compositor, Marku é parceiro de Jočo Donato, Arnaldo Antunes, Erasmo Carlos, BiD, Luizčo Maia, entre outros. Já foi gravado por artistas do quilate de Alcione, Emílio Santiago, Paula Lima, Clube do Balanćo, Marcelo D2 e Jair Rodrigues. Participou como músico de gravaćões com Chico Buarque, em Ópera do Malandro (1979), Sebastičo Tapajós e Maurício Einhorn, Erlon Chaves, Sivuca e do disco Dirty Work (1985), do Rolling Stones. Visto como "um dos verdadeiros arquitetos da música brasileira", a quem Ed Motta considera "ultraoriginal", Marku é referźncia cultuada e respeitada por uma nova geraćčo de músicos por todo Brasil. Como se nčo bastasse a música, no cinema Marku também fez trabalhos relevantes. Antes de atuar em filmes na Franća, participou como músico, em 1966, da peća Cantos de Amor ą Bahia, de Jorge Amado, e teve atuaćões de destaque nos filmes de Helvécio Ratton, Uma onda No Ar (2002) e Batismo de Sangue (2007), em que viveu nesse último o revolucionário Carlos Marighela. Recentemente, participou de Lula, Filho do Brasil, de Fábio e Luís Carlos Barreto, e em Chega de Saudade, da diretora Laís Bodanzky. >

---
Discography - Best-Ofs
---

Marku (Ribas) "Selecao De Ouro: 18 Sucessos" (Copacabana)


Inventive Brazilian funk'n'samba with some weird, unexpected touches. I'm not sure exactly when these tracks were recorded; I'd guess late '70s, early '80s. At any rate, as the Brazilian soul scene goes, this is a pretty interesting record. Worth tracking down.
Marku (Ribas) "72/75" (Copacabana)


This disc draws on two albums, Underground, from 1972 and 1975's Marku.
Marku Ribas "Zamba Ben" (Dubas, 2007)


Yet another best-of featuring material from his first two albums; a modest collection packed with killer material. (Note to Brazilian record industry: why isn't any of his Philips/Polygram stuff out yet?)
---
Discography - Albums
---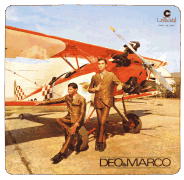 Deo & Marco "Deo & Marco" (Continental, 1967)
(Produced by Alfredo Borba & Rogerio Gauss)
A very good jovem guarda teen-pop rock album by a vocal duo that featured a still-teenaged Marku Ribas, recording under the name Marco. All of the songs were written or co-written by Marku and Deo -- all but two tracks are credited to both singers, with one song each credited exclusively to Deo and to Marco. It's all good, solid stuff, on a par or better than the other Brazilian teenpop of the time, and refreshingly free of sluggish romantic ballads, sticking instead to uptempo material. Orchestral bandleader Portinho provides surprisingly effective accompaniment, with brisk horn arrangements, playful keyboards and drumming that's a little bit stiff, but still pretty rockin'. It's a testament to the creative vigor of these two kids that they were able to get an album this good from a studio session with a non-rock band... The only real question was, who the heck was Deo, and what else did he do besides this album? Anybody out there have more info?


<! NOT(?) Dori Edson and Marcos Roberto) >

Marku Ribas "Marku" (Copacabana/Underground, 1972) <! date????? >
(Produced by Leo Peracchi; arrangements by Erlon Chaves)



<! Marku Ribas "Marku" (1973) aka Underground 01 - Zamba Ben (Marku Ribas) 02 - 5,30 schoelcher (Marku Ribas) 03 - O adeus, segundo Maria (Marku Ribas) 04 - Nębiri Nębiri (Folclore Angolano. Adapt: Marku Ribas) 05 - Porto Seguro (Marku Ribas) 06 - Pacutiguibź iaô (Marku Ribas) 07 - Madinina (Marku Ribas) 08 - Tira teima (Marku Ribas) 09 - Matinic moins (Marku Ribas) 10 - Orange lady (Marku Ribas) Arranged and conducted by Erlon Chaves Musical production - Leo Peracchi >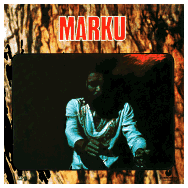 Marku Ribas "Marku" (Copacabana/Underground, 1976)
(Produced by Marku Ribas, Paulo Rocco & Talmo Scaranari)
A multilayered blend of Tim Maia-style Brazilian soul, horn-heavy Tower Of Power funk-rock, and some cool hints of Nuyoriquan salsa. The improvisational, expressive vocals are a little too Maia-esque for me -- and a bit too Barry White at times -- but folks who are into the Black Rio soul scene will definitely want to check this out. It's one of the more unique and deeply funky albums of the style... Also noteworthy is the all-star backing band, which includes a bunch of legendary Brazilian jazz players, such as Wilson das Neves and Pascoal Meirelles on drums, Tenorio Jr. on keyboards, and Joao Donato playing piano and a number of other instruments, as well as providing orchestral arrangements, while MPB diva Miucha sings harmony on about half the album, heard most clearly on "In Via Brasil." Marku wrote all the songs, and he sings, plays percussion and guitar, and generally seems to have been having a fun time. The six-minute closing track, "Kazumbanda," is a highlight, with a slinky, trancelike acid-laced, psychedelic vibe... Pretty cool!


<! Marku Ribas "Marku" (Copacabana, 1976) 01 - Zi Zambi (Marku Ribas) 02 - Coisas de Minas (Marku Ribas) 03 - Meu samba regué (Marku Ribas) 04 - La pli tombé (Marku Ribas, Folclore Martinica) 05 - Canaviá (Marku Ribas) 06 - Kaćuada (Marku Ribas) 07 - Deixa comigo (Marku Ribas) 08 - Curumim (Marku Ribas) 09 - In via Brasil (Marku Ribas) 10 - Kazumbanda (Marku Ribas) Marku - voz (1,2,3,4,5,6,7,8,9,10), percussion (1,2,4,5,6), effects (1), acoustic guitar (3,5,7,10), tumba (5,9) Jočo Donato - electric piano (1,2,5,6,8), harp string (1,6,8), clavinete (2,3,10), vocal (2,4), timbale (6) Luizčo Maia - bass (1,2,3,4,5,6,7,8,10) Pascoal Meirelles - drums (1), caixa (9), ximbau (9) Wilson das Neves - ximbaue (1), tumba (1), drums (5,8,10), quinto (9) Chiquito Braga - guitar (1,2,3,4,5,6,7,8,10) Hermes - tumba (1,2,3,4,5,6,8,10), bongô (2,10) Mamčo "Ivan Conti" - drums (3) Miucha - vocal (1,2,5,8,9) Adilson - timbale (3) Ariovaldo - cincerro (3) Aladim - drums (4,6,7) Geraldo - tamborim (5) Georgiana - vocal (5,9) Tenório Jr - electric piano (6,7,8), harp string (6,8) Ariovaldo - tumba (7) Ana Maria - vocal (9) Manoel Araujo - trombone solo (10) >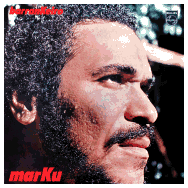 Marku Ribas "Barrankeiro" (Philips, 1978)
(Produced by Armando Pittigliani & Roberto Santana)
The change of labels also seems to have brought a big change in musical direction... Ribas is still inventive and idiosyncratic, but a strong streak of swank '70s brega MPB-pop dominates, and gives his music an even more cluttered feel. There are still some funky tunes, like the title track,"Barrankeiro" and "Kalenda," as well as a few more stripped-down, folkloric tracks, such as Raul Torres' acoustic "Colcha De Retalhos" and the West African-flavored "Kele," which was co-written with Joao Donato and Djalma Correia. But the slower pop-soul ballads are pretty dreadful, at least to my ears. If you like the schmaltzier end of Brazilian soul, artists such as Benito di Paula and Ed Motta, you might want to check this out -- Ribas gives a more challenging, "out there" version of that sound. Not my cup of tea, though.


<! 01 - Com o apito do vapor (Markú Ribas) 02 - Nessa ela me amarrou (Markú Ribas) 03 - Kelé (Markú Ribas - Djalma Correia - Jočo Donato) 04 - Ô mulher (Markú Ribas) 05 - Delícia de damasco (Markú Ribas) 06 - Kalenda (Danća da Kalenda) (Markú Ribas - Armando Pittigliani) 07 - Colcha de retalhos (Raul Torres) 08 - Quem sou eu... pra bela (Markú Ribas) 09 - Barrankeiro (Markú Ribas, Kleber Diniz) 10 - Cruzeiro do Sul (Markú Ribas - Armando Pittigliani) 11 - Maleme (Markú Ribas) 12 - A lua e o rio (Markú Ribas) >
Marku Ribas "Cavalo Das Alegrias" (Philips, 1979) (LP)


A very fun record. In production terms -- the overall "sound" of the album -- Ribas is working solidly in the mainstream '70s disco-soul tradition, but he goes all over the map stylistically, playing light funk, regional forro-flavored pop, samba-pop and even some Cuban-style Latin dance music, as on "Caribe, Ei," and classic jazz-ish MPB. It all sounds good - Ribas is cheerful and expansive, and skillfully avoids the cheesier side of Brazilian pop, even while dancing around its margins. Nice stuff, mostly, although the slick production does give a sort of sterile feel to the music. But definitely worth checking out if you're into '70s MPB. Also, Antonio Adolfo apparently did some of the arrangements...


<! w/Erasmo Carlos - orchestral arrangements by Antonio Adolfo. >

Marku Ribas "Mente E Coracao" (Polygram, 1980) (LP)

Marku Ribas "20 Anos" (Piraporarte, 1983) (LP)





<! aka "Timbre"? >

Marku Ribas "Autoctone" (Piraporarte, 1991)





Marku Ribas "Cor Da Pele" (Piraporarte, 1997)





Marku Ribas "Toca Brasil" (Itau Cultural, 2008) (DVD)





Marku Ribas "4 Loas" (Tratore, 2010)


A typical old-soul guy comeback album -- he's trying to be all funky but he hasn't quite got the same energy level he had when he was young. If you're a diehard fan, you might want to check this out, but I thought it was monotonous and lacked spark. The rhythm section, in particular, seems pretty uninspired -- almost all the songs sound the same.
---
Links
---
---



---