! MP3 03/26/10, 04/16/11 > <! update 04/16/11 > <! outside 00/00/00 > <! pix 00/00/00 > <! icons 04/16/11 >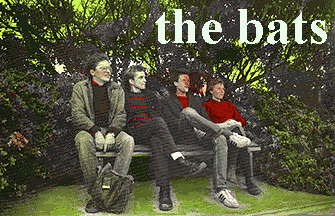 ---
Songwriter Robert Scott and his longtime cohorts, The Bats, are probably the longest lived and most stable of the great kiwipop bands. Founded in the mid-1980s, the Bats continue to produce lovely, listenable, slightly mystical albums -- sweet, somber and subtle. Several Bats songs have been covered by other artists, most notably by Barbara Manning, and though it's been quite some time since we've heard a peep out of the band, I have faith we'll hear more from them soon. Here's a quick look at their fab catalog, and some other related projects...
---
Discography
---
The Bats "By Night" (Flying Nun)
Collected on the Compiletely Bats album.
The Bats "...Music For The Fireside" (Flying Nun)
Also collected on the Compiletely Bats album.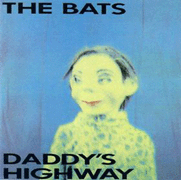 The Bats "Daddy's Highway" (Flying Nun/Mammoth, 1987)



One of the landmark albums in the kiwi canon. Dreamy, jangly, irresistible guitar pop with an unidentifiably dark, moody undercurrent. Highly recommended -- a classic, as a matter of fact.

The Bats "The Law Of Things" (Communion/Mammoth, 1988)



This kiwipop masterpiece is a logical extension of Daddy's Highway, though, interestingly enough, mostly at a much slower tempo. That being said, it also has several of the best, most upbeat janglecore tunes ever laid to wax, with songs such as "Never Said Goodbye"... Also highly recommended, and also a classic.
The Bats "Smoking Her Wings" (7")

The Bats "The Black And The Blue" (7")

The Bats "Live At WFMU" (7") (Merge, 1993)
An acoustic/electric live set from the studios of New York/New Jersey's most influential community radio station... Four songs, featuring a cover of Bobby Bare's countrypolitan classic, "Streets Of Baltimore," and Bats faves such as "Block Of Wood" and "North By North"...

The Bats "Silverbeet" (Mammoth, 1993)



Propulsive, driving, drony, chiming guitar rock which has the feel of a gebtly rolling ocean liner... All these songs are immediately catchy, although they do also sound a lot alike. Yummy stuff!
The Bats "Courage" (Mammoth)


A 4-song EP.

The Bats "Fear Of God" (Mammoth, 1991)



One of their more direct attempts at sounding like a "college rock" band, this has moments which may be offputting in comparison to their earlier, more mystical vibe. But the disorientation is only momentary: this is another lovely album. Hook-laden, but more subtle than it seems at first blush.

The Bats "Couchmaster" (Mammoth, 1995)



How many masterpieces is one band allowed to have? A gorgeous, dreamily transcendent space rock album which is comparable to Yo La Tengo's "Heart" album, though less aggressive. Just lovely. One track, "Afternoon In Bed," is practically the album's manifesto -- just the thing for a quiet day at home.

The Bats "Spill The Beans EP" (Mammoth, 1994)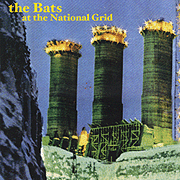 The Bats "At The National Grid" (Magic Marker, 2006)



Bee-yoo-tee-ful, dreamy guitar pop from one of my favorite New Zealand kiwipop bands. The Bats have had a few missteps in recent years -- iffy solo stuff, etc. -- but this disc landed with a big BANG onto my sound system... It's great. One of their best records, if you ask me. Fans of late vintage Yo La Tengo, or other kiwi dronemasters such as David Kilgour will love this record... It's got a mellow, hypnotic feel and while, yeah, there's not a lot of stylistic variety from song to song, that's okay, because this is a sameness that I really want to hear. Great in a mix, too. Recommended!

The Bats "The Guilty Office" (Hidden Agenda, 2009)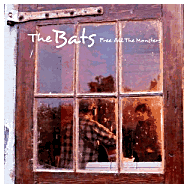 The Bats "Free All The Monsters" (Flying Nun, 2013)



This record is another winner, with a typically Bats-y brace of droning, propulsive kiwipop anthems, the kind of record that I, personally, enjoy cranking up to eleven, and letting the super-grooviness wash over me. Robert Scott's voice and the band's comfortable chorus, and especially the ease with which they collaborate and the clarity and simplicity of their songs... It's pure indiepop catnip! For a while there, a decade or two ago, the band got a little jittery sounding, but they have definitively retuned to the mellower, mystical, velvety hypnosis of their classic mid-'80s albums and with the exception of one woeful misfire, this record is another quiet masterpiece to notch on their belt. Skip track #5, pump up everything else, and you'll be in Batsy heaven.
---
Best-Ofs
---

The Bats "Compiletely Bats" (Flying Nun, 1987)



Collects and remasters songs off the first few Bats EPs: By Night, and ...Music For The Fireside. Lovely stuff, and nice to have in one place.

The Bats "Thousands Of Tiny Luminous Spheres" (Flying Nun, 2000)



A swell career overview, with a couple of extra tracks that ain't seen the light of day before. Recommended, of course!
---
Related Records
---
The Magick Heads "Before We Go Under" (Flying Nun, 1994)


Those who are entranced by the pure pop possibilities of Robert Scott gigging around with some other kiwipopsters (notably, the guitarist of the 3Ds...) may find themselves a bit baffled by this sometimes-difficult outing. Yes, there are pretty, melodic moments, but also plenty of darker, perhaps folk-influenced tracks... This is a band that's hard to get a handle on, but worth checking out if you're already a Bats fanatic.
The Magick Heads "Woody" (Flying Nun)

The Magick Heads "The Back Of Her Hand" (7") (Flying Nun)

The Magick Heads "Transvection" (Flying Nun, 1999)


Robert Scott "The Creeping Unknown" (Flying Nun/Thirsty Ear, 2001)



Not what you might expect from a pairing up of Robert Scott and David Kilgour of the Clean... This is a dark, artsy, open-ended, semi-instrumental album that sounds a little like Looper at times, but a whole lot more like New Zealand's brooding, avant-ish guitar whiz, Roy Montgomery. Only jangly in tiny traces, but captivating in an odd kind of way.
---
Links
---
Flying Nun's Bats Page will give you the full skivvy on these luvly pop magicians. Up until recently, Mammoth Records had some of the Bats' stuff in print, but alas, no more. So, if you want to mail-order these albums, contacting Flying nun is probably your best bet.
Fetishville, an aptly-named pop music haven has a pleasantly obsessive Bats page, with plenty of links to other sites. Such as....
The Impryan Emporium, has a pleasantly gabby Bats page, along with lots of pictures and related info on the kiwi pop scene. Definitely worth checking out!
---



Kiwipop Index
Indiepop Indiedex





---