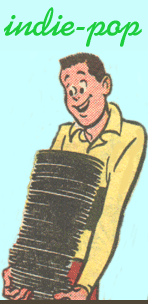 ---
Here's a look at some of my favorite recent records, recommended artists, and a few groovy scenes. Depending on your point of view, I'm sure this will either be incredibly fascinating or incredibly passe... But hey, I'm not trying to score points -- I just like the music. Hopefully some of you will, too!!
---
People
---
Holly Golightly - Garage Rock Goddess
Scrawl - Ohio's Answer to Prozac
Norm Wooster - The King of Barbershop
Stephin Merritt and The Magnetic Fields
Mr. T Experience - Pop-Punk Progenitors
Mr. T Experience vs. Magnetic Fields - A preposterous comparison!


---
Places
---
Asian Pop Rock - from Tokyo to Thailand
Tropicalia - Psychedelia do Brasil
Vive La France! - French pop music
Kiwipop - New Zealand's finest
Scotland - Sweet 'N' Shaggy
Foreign Pop Collections


---
Things
---
New Pop - recent records of interest (currently defunt)
Classic Albums - and other assorted favorites
Girl Group & Teen Pop - terrible turntable treble
Rock 'n' Roll Book Reviews - by and for music geeks...
Finally... Sweet Jazz and Big Band Blues!
The Fun Page!! - death, politics and book reviews!



---


---